Looking for the perfect wedding dress is every bride's top priority, do you agree? And with so many options available, where do you even start? Doing research is usually the first step we advise to all brides. Browse through Pinterest and Instagram to get some ideas and search for shops that carry your favorite designs.
To help kickstart your dress hunting journey, we put together a list of Hong Kong bridal shops with gorgeous wedding dresses and asked them for some dress hunting tips, too.
We also added some suggestions on how to find the perfect pair of wedding bands at the end of the article. Read on now to learn more.
(1) Understand your body.
Before you even start looking for styles, the first thing you need to do is to understand your body, advises Gardenia Bridal. Once you understand your body, shape, and height, you can find a gown that will emphasize your assets and hide your flaws.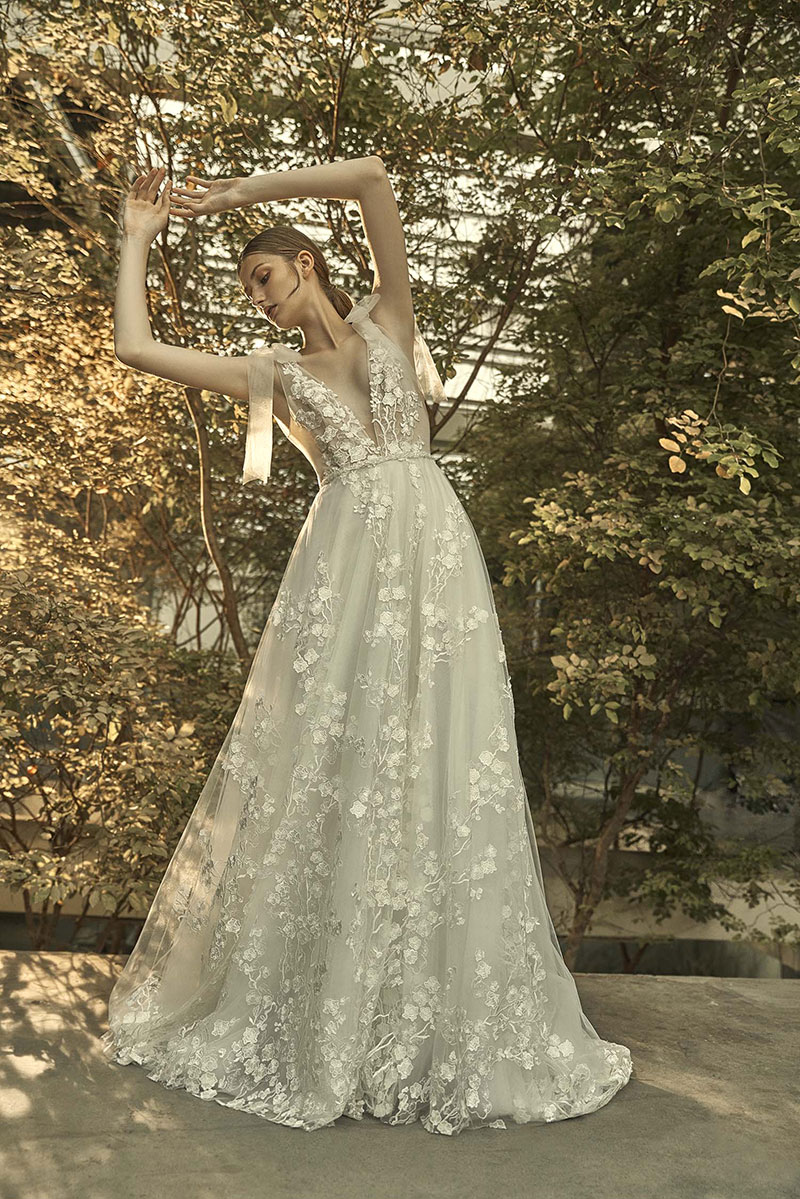 This V-neck gown is great for slimming the chest and lengthening your body. At the same time, the floral lace detail transitions smoothly between the upper and lower body, for an elegant and feminine look.
(2) Keep your look coherent with your wedding theme.
When looking for a wedding dress style that suits your body type, don't forget to have your wedding theme in mind, reminds Gardenia Bridal. You need to ensure your wedding gown is coherent with your overall wedding theme.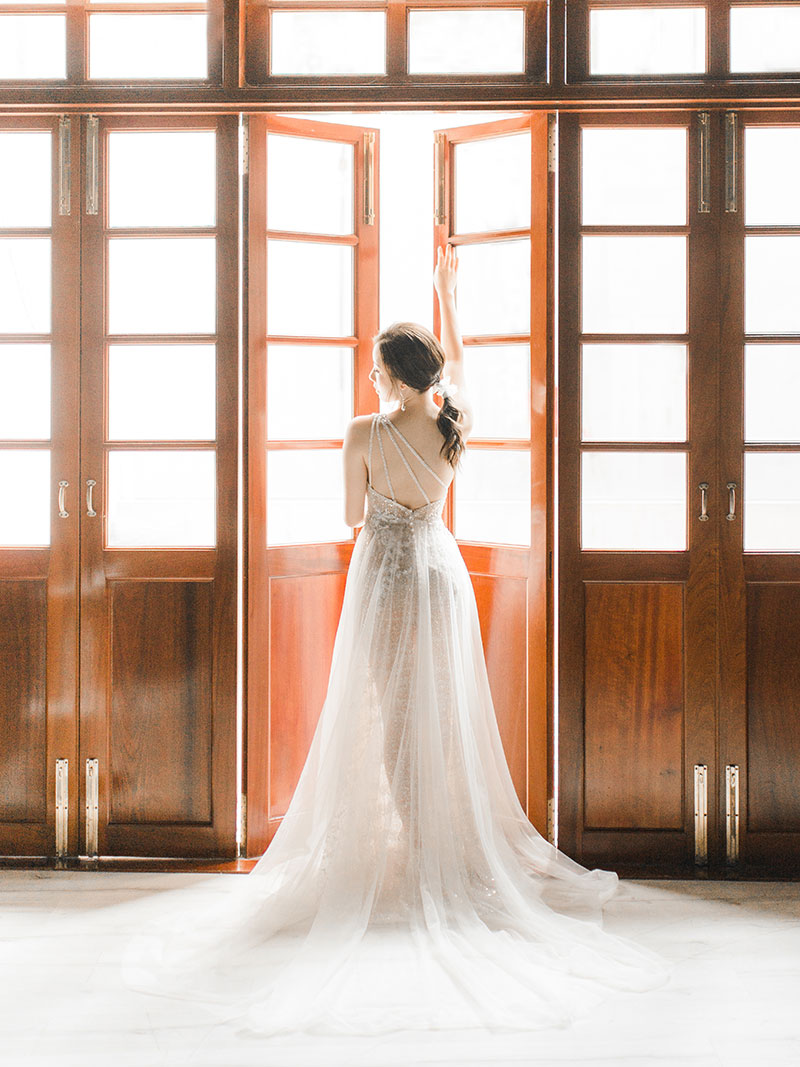 For a romantic outdoor wedding, this lightweight and transparent fabric, complete glamorous bead work will best complete your bridal look.
(3) Start dress hunting early.
Le Soleil Bridal Closet suggests for all brides to start wedding dress hunting at least six to nine months prior to the wedding. If you intend to purchase a designer gown, it takes about four to six months to order. On the other hand, if you plan to rent a gown, popular gowns are often reserved for nine months, specially for wedding dates during peak season.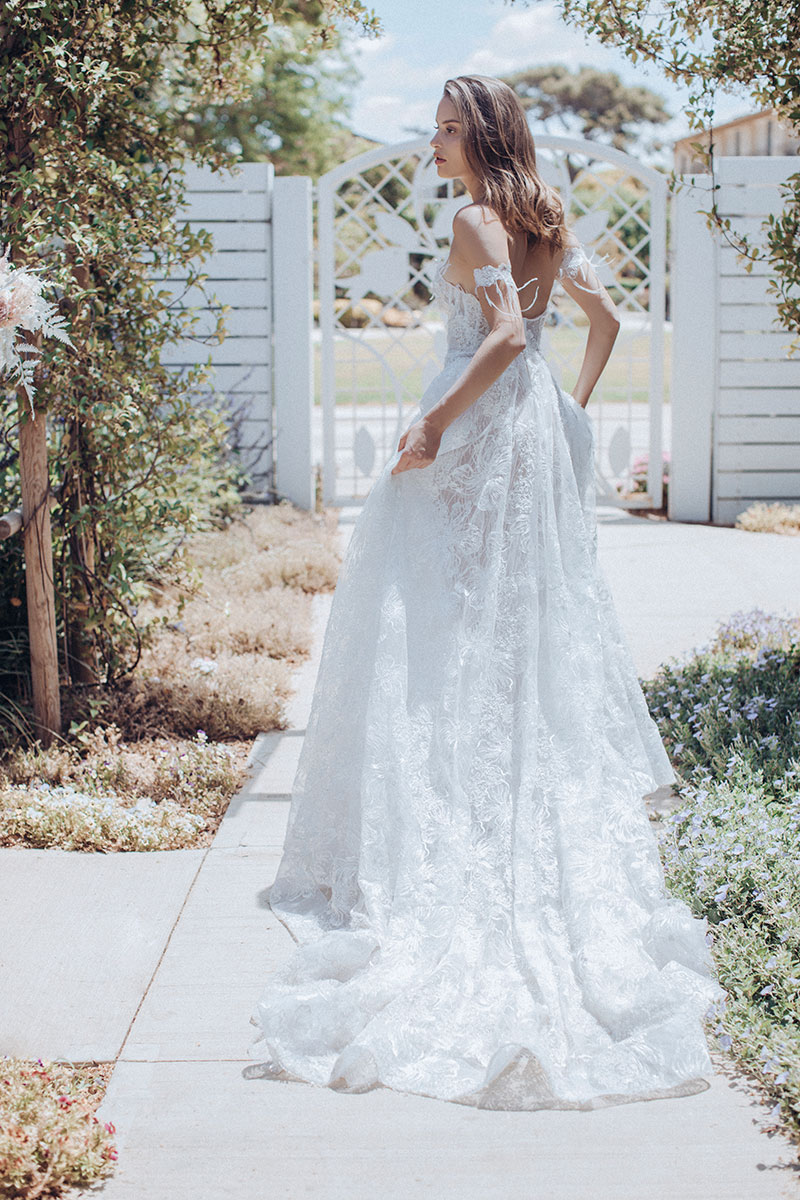 For instance, Elia Vatine is a designer known for her unique line of classic designs that have a modern twist to them and are made with great textiles. If you're eyeing something like this ivory sparkling sweetheart, A-line dress, you'll need to secure this dress early!

(4) Bring proper underwear to fittings.
Make sure that you bring the right underwear when you go to fittings so you know exactly how you will look. Your underwear will affect how the dress fits and looks on you, so having the right underwear from the beginning–during fitting–matters. Le Soleil Bridal Closet advises to bring nude panties and suggests to bring a silicon nude bra that dips low or has transparent fabric in between the chest. If you're going for the sticker-type bra, you'll need a new one for the wedding to ensure the adhesive is still strong. The one used during your fitting may not be as secure anymore come the wedding day.
Here's a dress that will only work with the right underwear. This luxurious ivory trumpet gown with a plunging V-neck from Neta Dover is a gorgeous creation. Embellished with 3D flower appliqué and hand-beaded details throughout the semi-sheer dress require seamless, well-fitted nude underwear.
(5) Bring a friend.
So you can also get another perspective, bring a friend or someone who knows you well, when you go to your fitting, shares To Be Wed. It can be your mom, Maid of Honor, or one of your bridesmaids. Choose someone you knows you–what you like, what you're comfortable with–and can be honest with you, so you can get her genuine opinion on the dresses you fit. Avoid bringing many people with you because having too many opinions might just confuse you.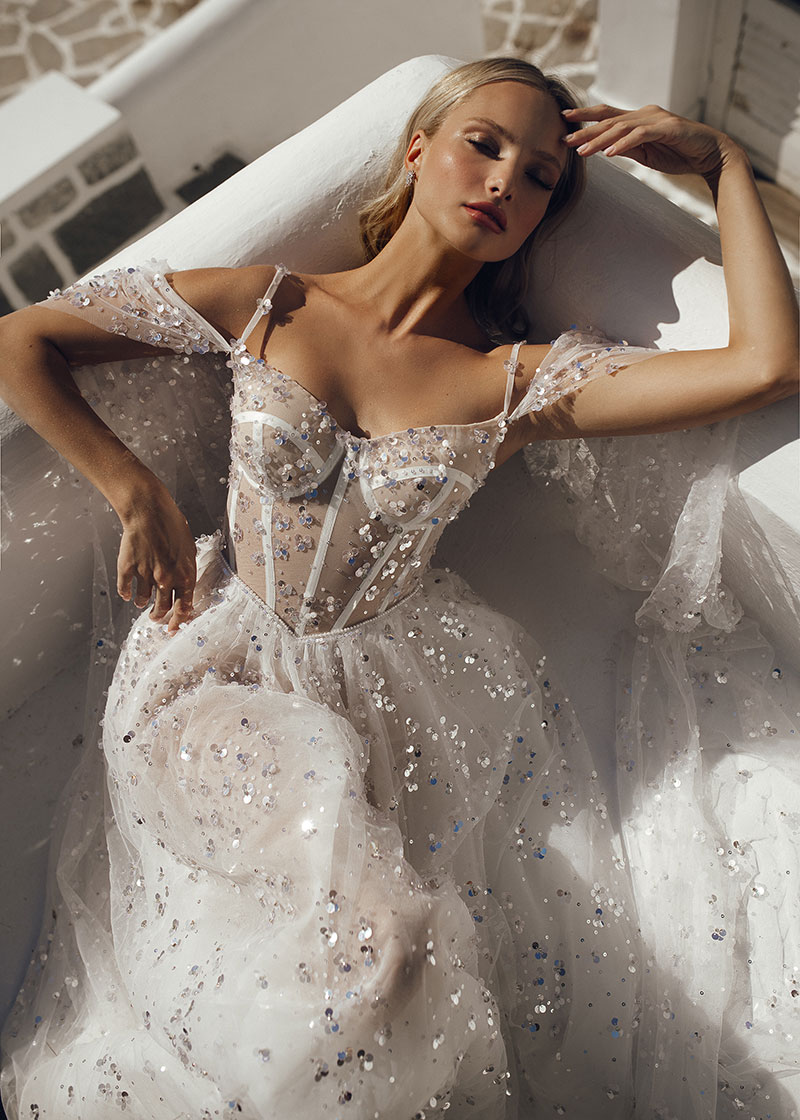 The Gal Avitan Gown is features a semi-transparent vest design that effectively modifies the figure. Moreover, it is a little sexy, so getting a friend's opinion on something like this might help. But if not for your wedding day, this faintly romantic wedding dress is a good choice for your pre-wedding shoot too.
(6) Take photos of your favorite dresses.
If you plan to fit a lot of dresses at several bridal shops, how will you remember them all? Take lots of photos of your top choices, says To Be Wed. Not only will you remember them better, but can compare them side by side using your photos.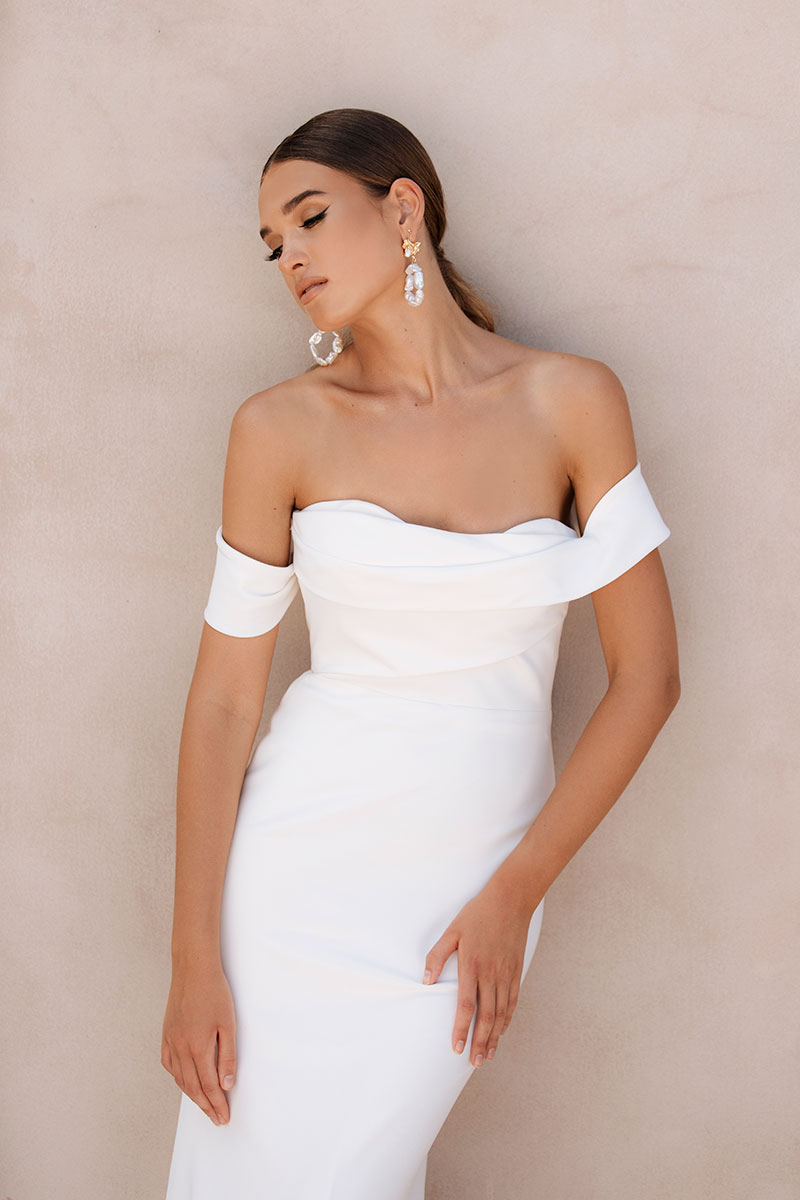 "Less is more" perfectly describes the design concept of the Australian brand, Jane Hill. Maybe at first you won't completely appreciate the asymmetrical shoulder design. But after looking back at your photos, you may realize that it's a stylish and elegant touch unlike any other.
(7) Try on different dress styles even if they're not part of your initial list of choices.
Designer Noel Chu Atelier advises brides to try on different styles of dresses, even styles that aren't initially your choice because sometimes, the style you didn't ever consider fits your body type better.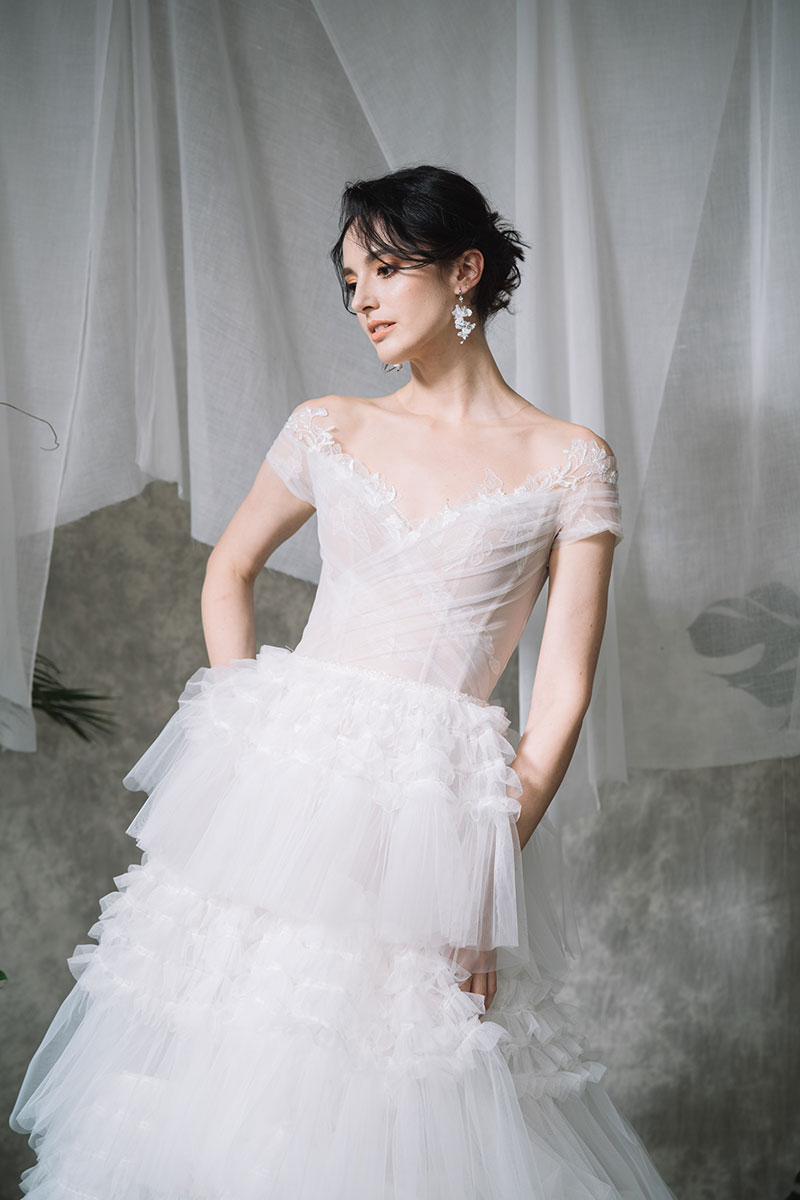 Let's take this dress as an example. This romantic tiered ruffle skirt offers a very sweet and ethereal look for brides. Not only that, the illusion off-shoulder design is also an amazing way to add a touch of elegance to your look. You might not have considered such a dress, but fall in love with it upon trying it on!
(8) Have your wedding venue in mind.
Aside from looking good on your wedding day, you'll also want to feel good and move comfortably. In that case, having your venue in mind when you pick out a wedding dress is also important, stresses Noel Chu Atelier. Noel continues to explain by sharing examples, "We mostly recommend a simple, slim or soft A-line style for outdoor venues, such as a beach or a garden wedding, and ball gown for a hotel ballroom wedding."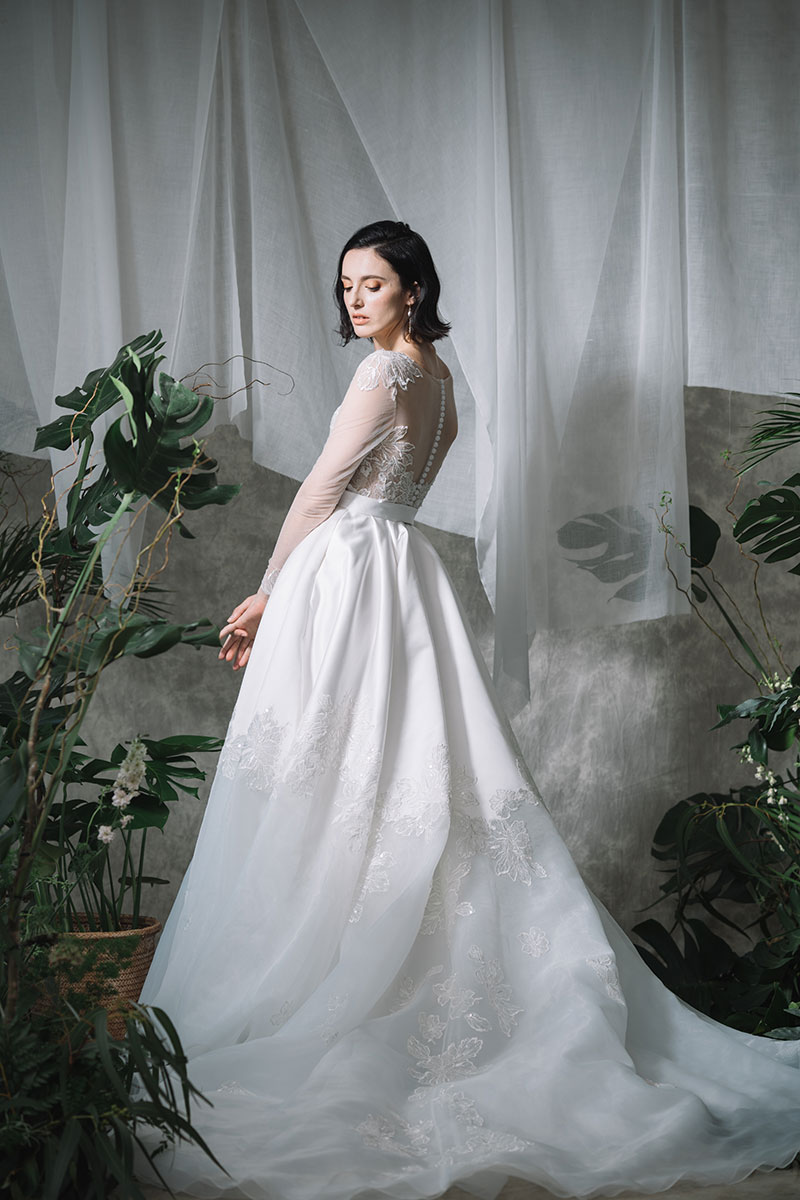 This ball gown, made with Intricate floral lace appliqué on an illusion plunge bodice and mixed fabric skirt, is perfect for a grand ballroom wedding.
(9) Try on dresses with an Asian cut.
When you go dress hinting, searching for an Asian-cut gown can guarantee better fit for your body shape in all the best ways, advises Tickled Pink Bridal. As Asians, we are relatively petite and our average body shape may differ from Caucasians. So trying on Asian-cut dresses is a must, especially if you want something especially suited for your body frame.
Modern classicism at its finest, this gorgeous gown which has detachable sleeves adds a slight element of drama to your bridal look. It's the perfect choice if you want to highlight your figure and show your confidence as a blooming bride-to-be.
(10) Doll up before your trial.
Here's a fun tip from Tickled Pink Bridal. To set the mood of your trial session, put on some makeup and pin up your hair in a bun or style your long hair to give you a glimpse of that exciting feeling of being a bride as you slip into your dresses. Remember to bring the pair of shoes your are most likely to wear during the wedding, too. Wearing your shoes will also give you some inspiration when choosing a dress.
Imagine trying on this gorgeous Dovita Miracle gown, complete with dramatic ruffles and a plunging neckline. If you have some makeup on and are wearing glitterly shoes while fitting, you will feel the perfect balance of sweetness and sexiness in this one dress!
Here's a bonus for all of you! Complete your wedding day look with a gorgeous wedding ring. Lovebird Diamond offers a wide variety of selection of wedding rings to suit any wedding style or theme. Let them know what styles you prefer, like the thickness, choice of metals, before your visit. They will professionally pick the relative rings for you to choose when you are there. This will narrow down your selection and save your time to look for your perfect rings.
Check out some of the styles below.
These Japanese wedding rings are made with meticulous craftsmanship, which is highly reliable and high quality, with never-fading platinum. This perfectly symbolizes that the true love of a couple will stand the test of time.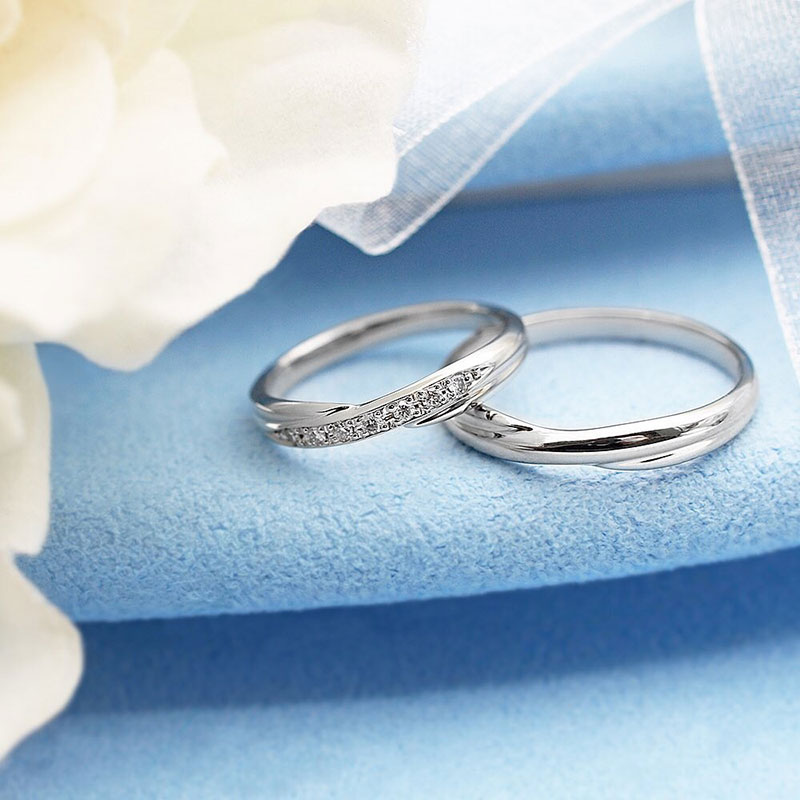 Hong Kong styled wedding rings are fashionable and chic, and also easily customized. You can show your romantic commitment with your own style.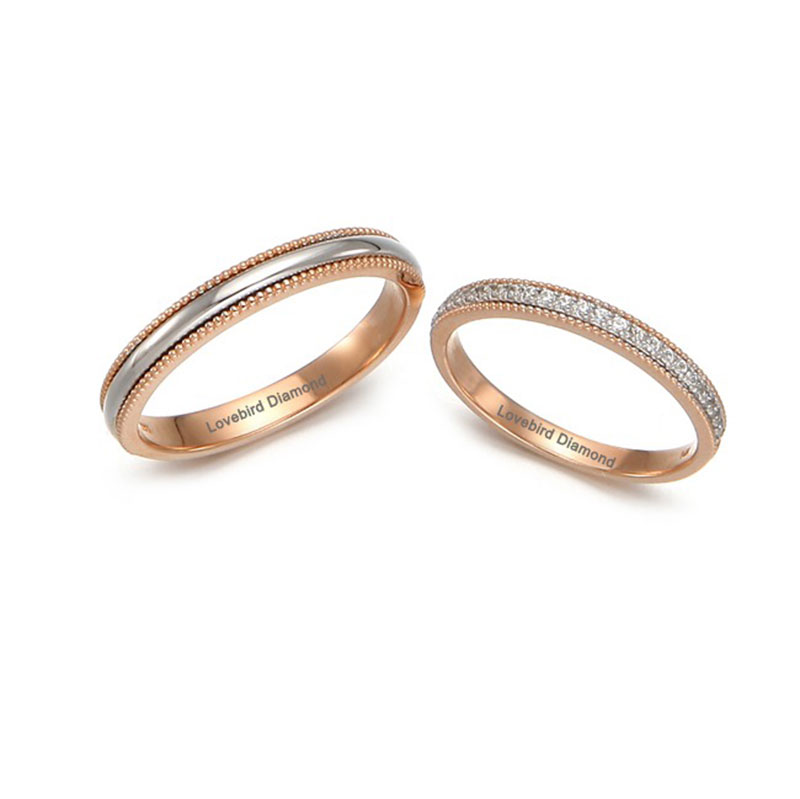 Lastly, Korean style consists of both rigidity and softness. A delicate touch symbolizes love and commitment.
For more expert tips on how to choose the perfect wedding dress, check out these other articles below.