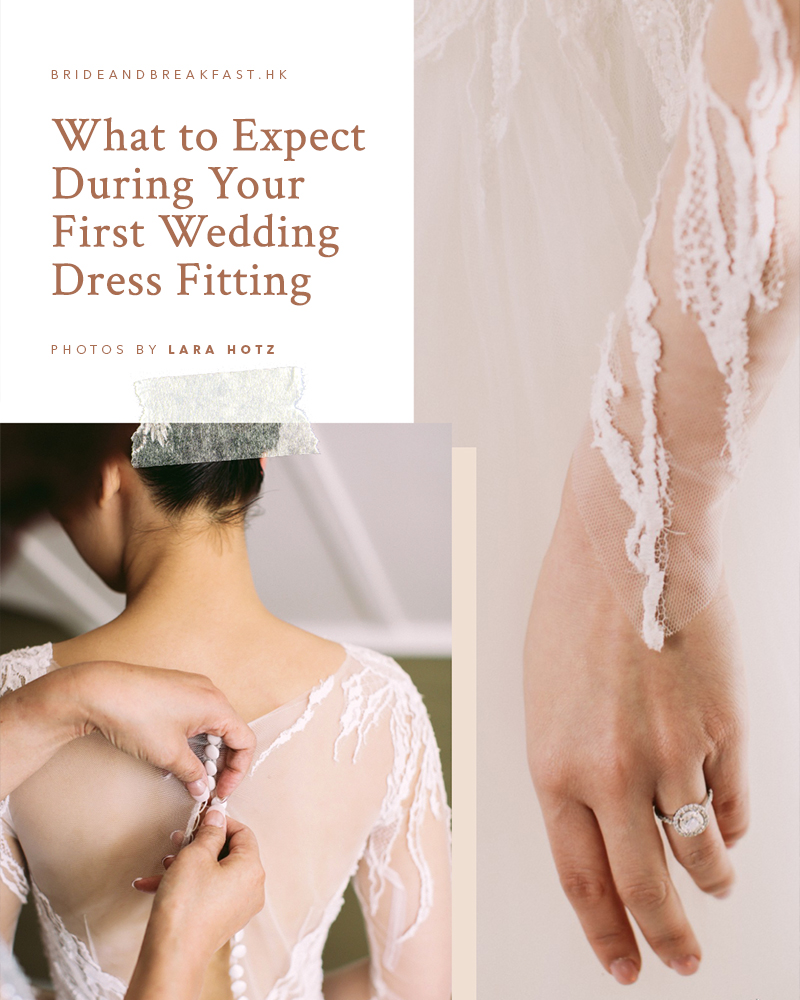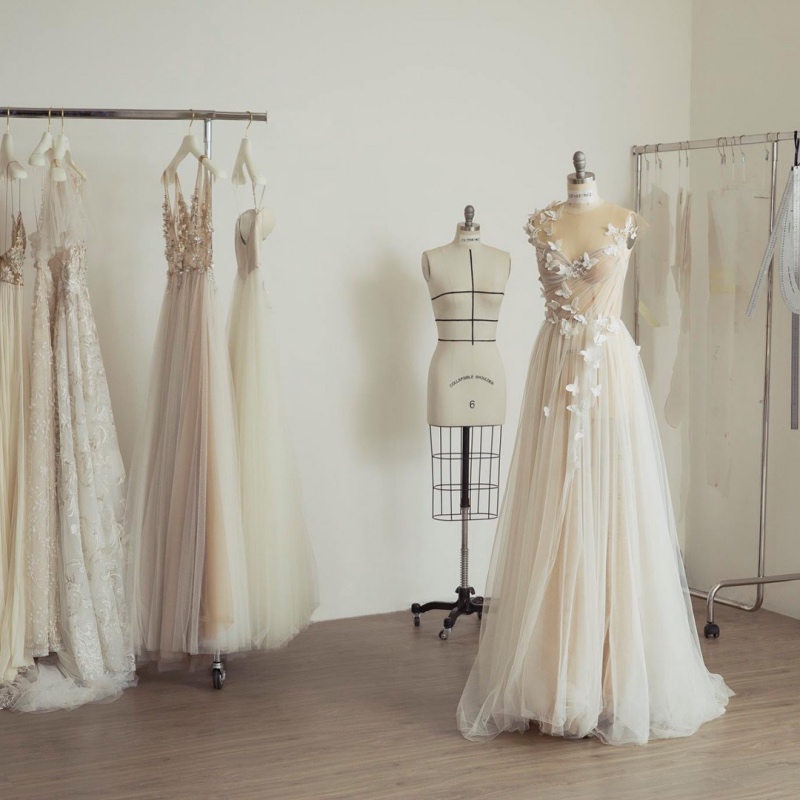 [From: What You Need to Know if You're Planning to Rent Your Wedding Gown / Photo: The Wedding Gown]
Finding your dream wedding dress entails months of dress fittings and alterations. But worry not, these months of preparation are for you to stitch your ideas together with those of the seamstress' in order to achieve perfection for the beautiful dress that you'll be wearing on your big day. Crucial to this whole process is your first wedding dress fitting, which is also called the "pinning session". To help you know how you can prepare and make your first session worthwhile, here are some points about what to expect during your first wedding dress fitting.
It usually lasts about an hour.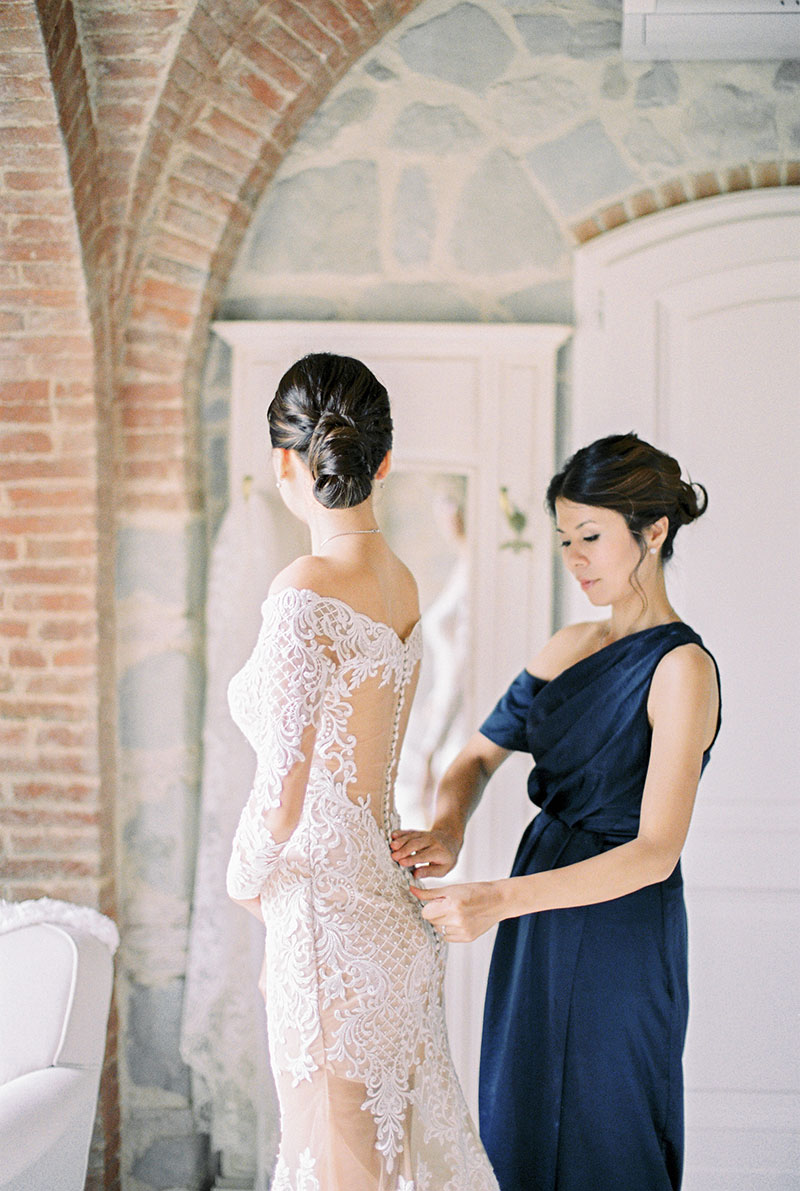 [From: This Romantic Garden Wedding is Set in a Rustic Countryside Venue / Photo: Jenny Tong]
This is the time for you to meet the designer or stylist you'll be working with until your big day. Make use of this time to ensure that he or she knows what you want. This is also the time to build trust with the people who will be working on your dress and establish a relationship that is open. Make the most of the time you have to communicate your ideas and establish rapport with your designer.
The stylist will be helping you to dress up.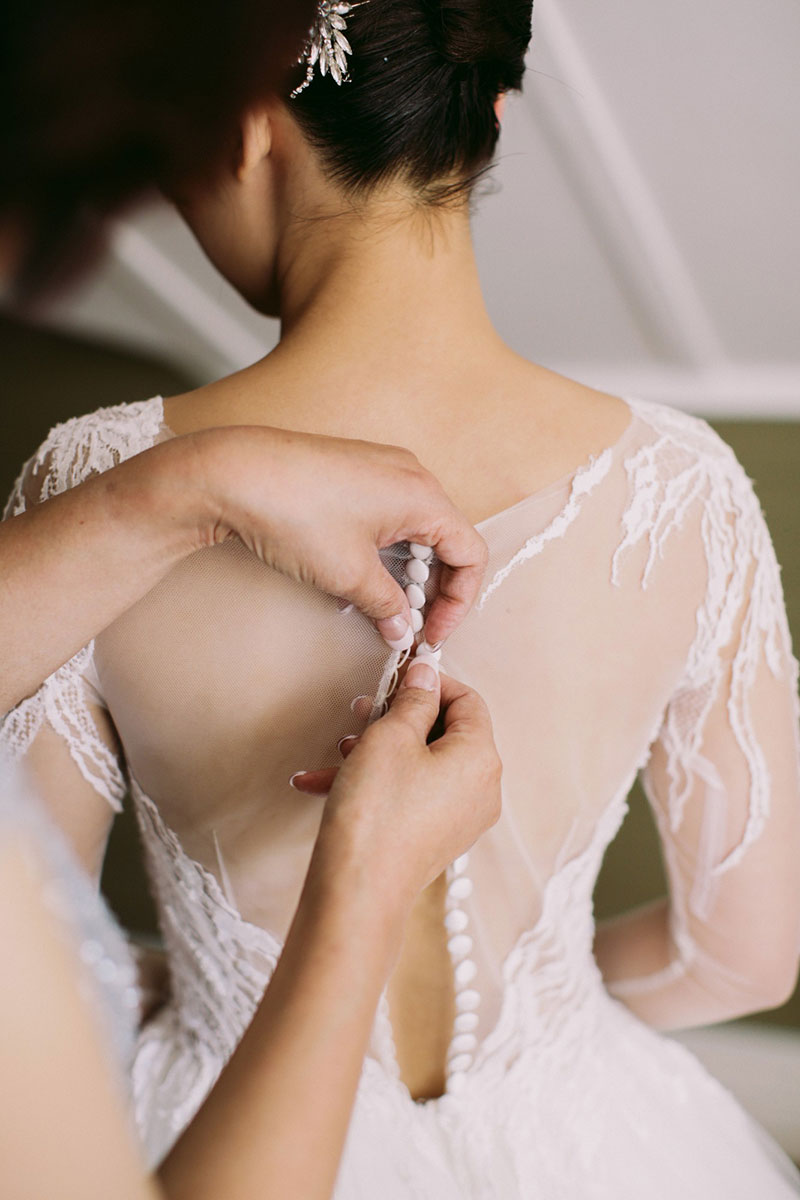 [From: Gorgeous Garden Wedding / Photo: Lara Hotz]
When going on dress fittings, make sure to wear undergarments that you'll be comfortable to be seen in by the stylist or other people assisting you. You'll be working with them for quite a long time, so it's important to be comfortable and not do anything that will make you feel embarrassed to come for another fitting.
The stylist will be noting the necessary adjustments needed for the fit of the dress.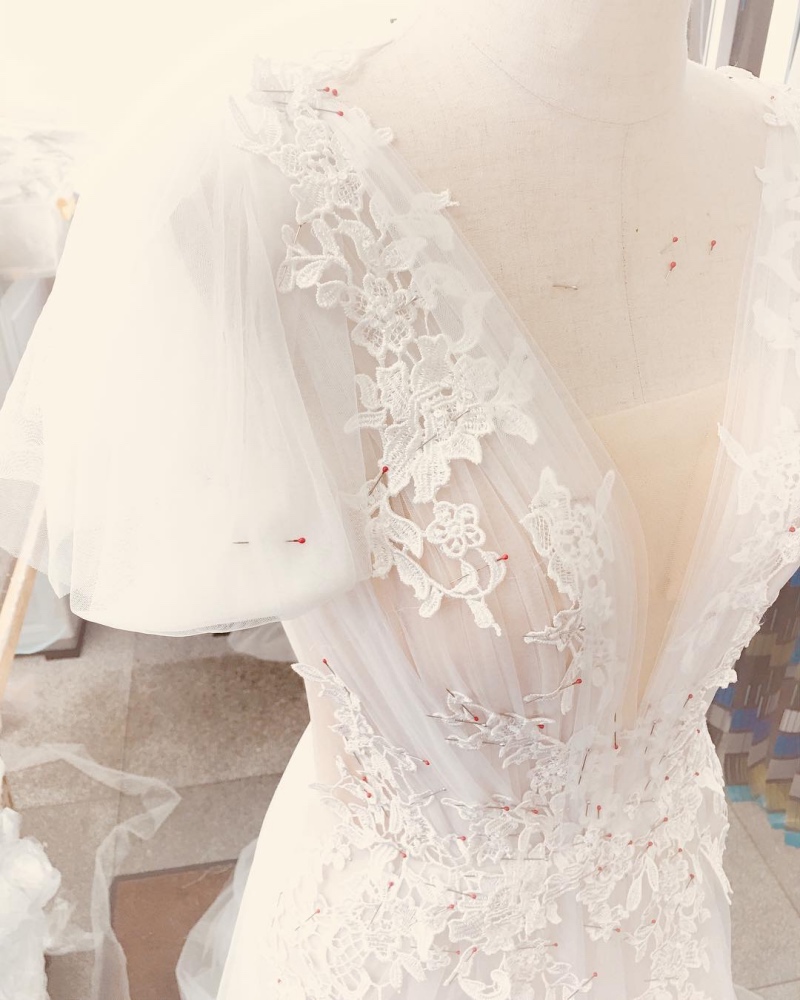 [From: What You Need to Know if You're Planning to Rent Your Wedding Gown / Photo: Cocoon Bridal]
While you're wearing the dress, your designer or stylist will be tucking and pinning the fabric to mold your body shape, check how the fabric falls, and note other adjustments needed. Since he or she will be measuring adjustments to achieve the perfect fit, you should wear the same undergarments and heels (or heels of the same height) that you'll be wearing on your wedding day.
The stylist will want to know what's on your mind.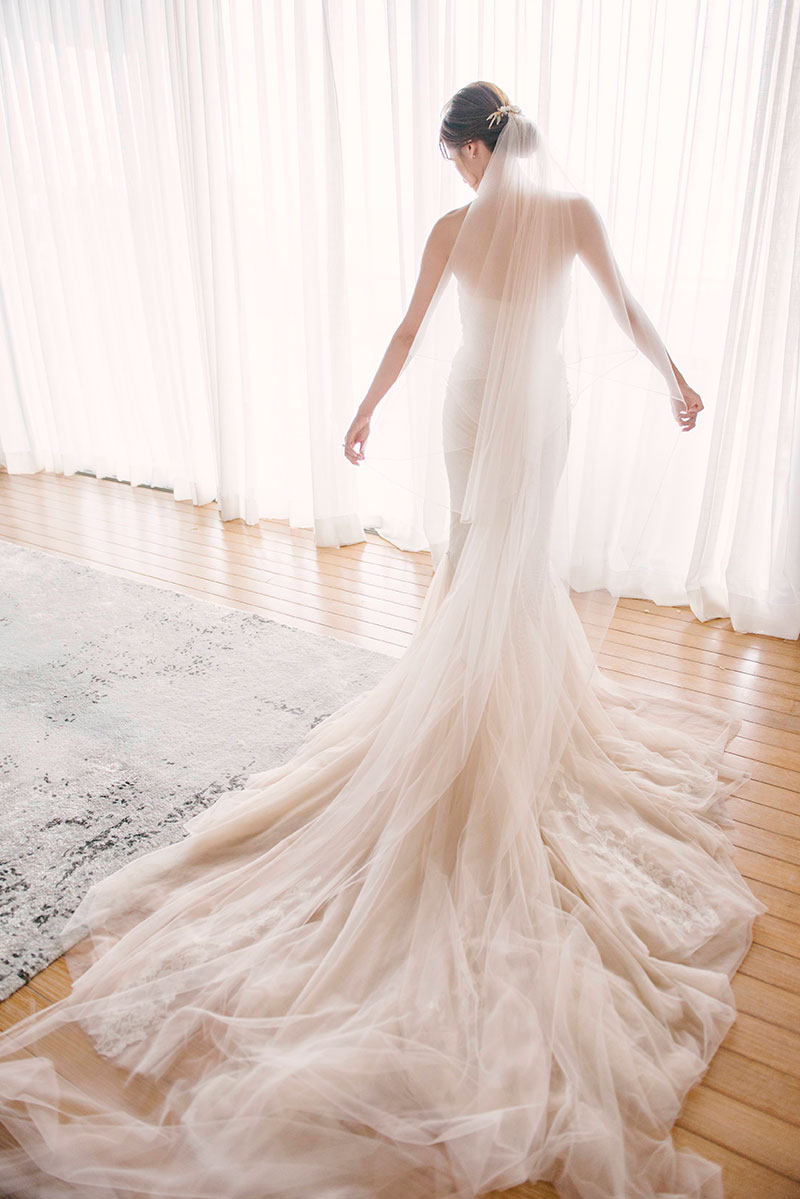 [From: You Have To See The Beautiful Blush and White Details of This Enchanting Wedding in Phuket! / Photo: Darin Images]
Don't hesitate to tell your designer or stylist about things you have in mind. If there's something you don't like about the dress, say it. You will also be asked about how you feel in the dress – comfortable? Itchy? Difficult to move in? These are important things to consider telling your stylist. Also, if there are major changes you want such as the sleeves or neckline, make sure to say so early on during the first dress fitting.
You'll be asked about the schedule of your next fitting.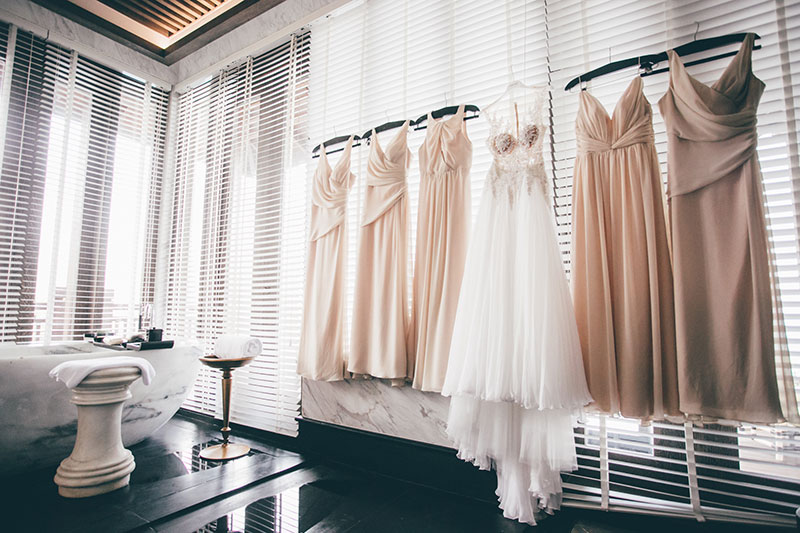 [From: 5 Things You Need to Do Before Visiting a Bridal Shop / Photo: Binc Photography]
Most likely, your stylist will be suggesting a schedule for the next dress fitting based on the amount of time needed for the adjustments and will control the pacing of the next dress fitting sessions. Check your availability beforehand, you can both agree on a workable timeline.