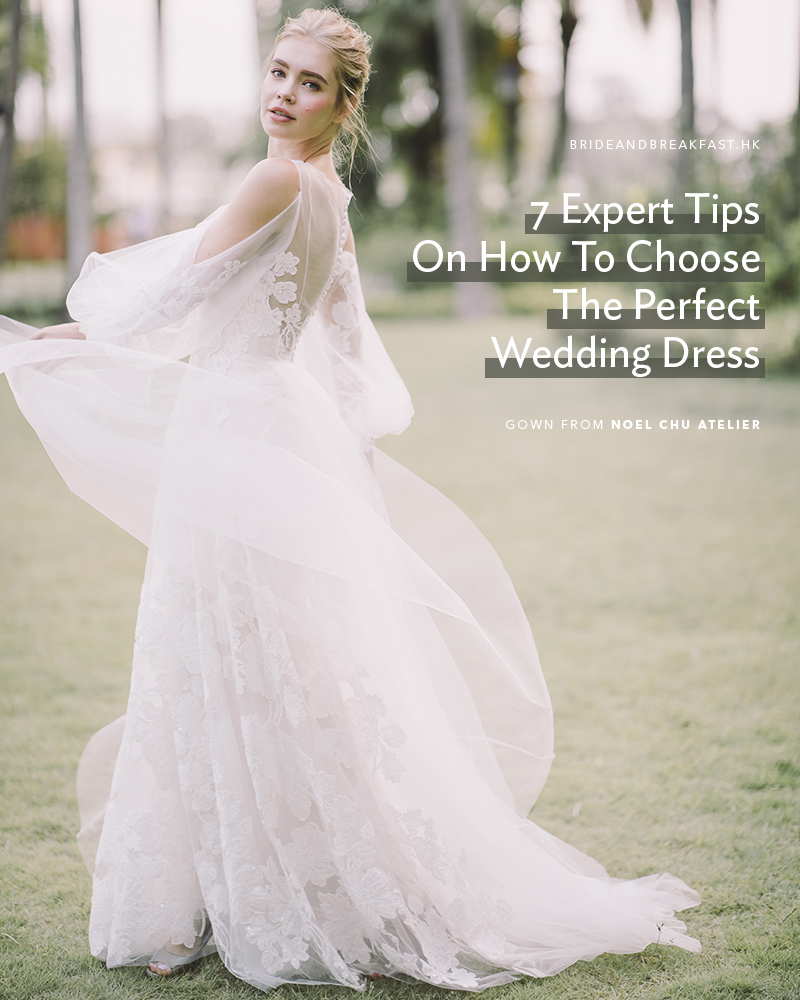 Listen up, brides! We have something extra special for you today. We know wedding dress shopping can be very overwhelming–where do you start, what do you need to remember, and how does one choose just ONE dress? Today, our partner Hong Kong wedding stylists and bridal salon owners share their top tips on the matter! Get a pen and a piece of paper, number it from one to seven, and start listing down these seven points to help you find the wedding dress of your dreams.
1) Know Who You Are and Trust in Yourself
Staying true to who you are and what you love should be the number one rule for every bride, says Hong Kong designer, Noel Chu. It is easy to bend or give in the moment your mom, sister, or maid of honor raves about a gown she loves on you. But it is very important to consider how you feel in the dress, regardless of other people's expectations. The gown that makes you feel the most beautiful is the gown you should choose. It may not perfectly fit into all the ideal criteria but sometimes your true feelings could lead you to your dream dress!
2) Know Your Body and Be Open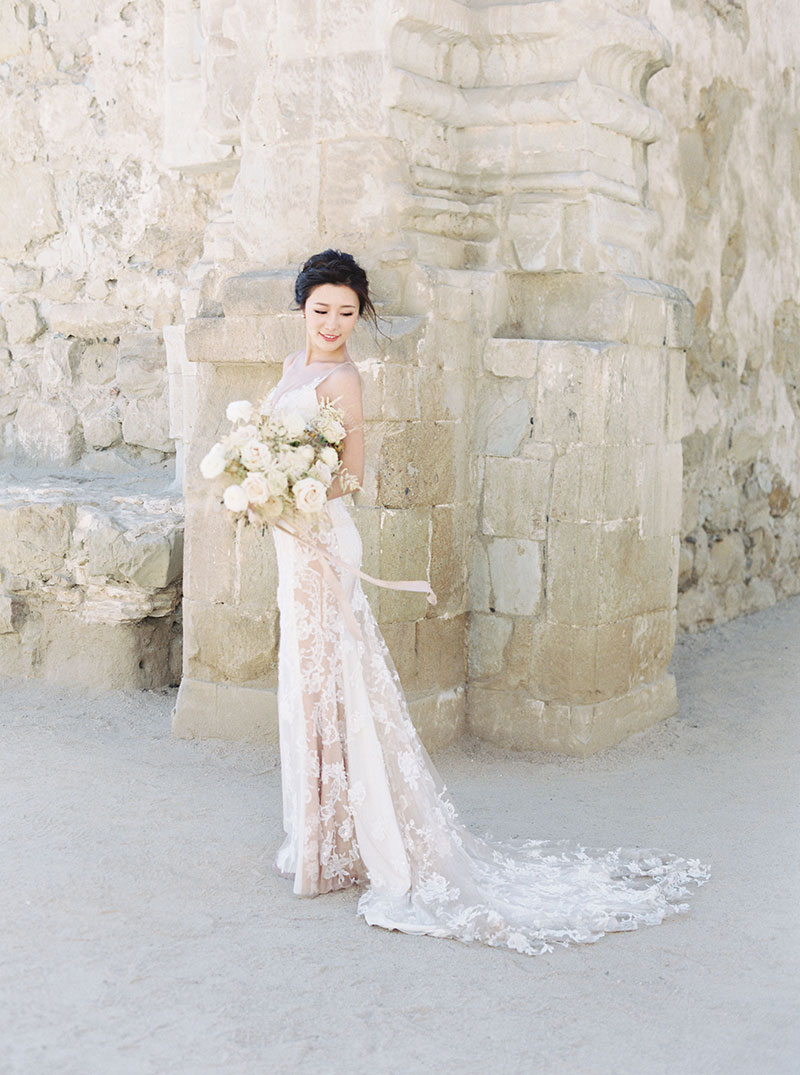 Understanding your own body type is key because that will guide you with your dress choices. Embrace your body and do not be afraid to be open to different styles. "A fit-n-flare is both contemporary and traditional and works on many body types, while a simple fitted dress is best on tall or curvy brides. A voluminous ball gown adds drama, and mermaid styles show off curves. Keep an open mind and talk to your bridal consultants", affirms Noel Chu, "You might find something completely different from what you initially had in mind but actually more suitable." Keep in mind as well that even if you plan on losing weight before the big day, shop for dresses in your current size rather than going smaller. It is easier to take in a dress than working on a dress that is too tight.
3) Have Your Wedding Theme, Location and Venue in Mind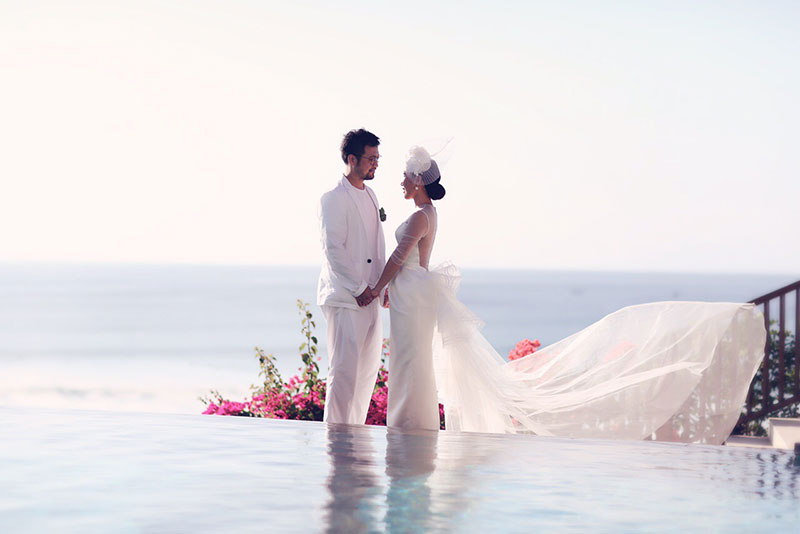 Your dream gown is mostly based on the style you like but the venue and mood of your wedding are equally important factors. Keep the season in mind–if your wedding is in the summer or some beautiful overseas location in warm weather, go for light-weight fabrics in breezy styles, while if you are getting married in a church with a grand royal touch, then it is all about luxurious fabrics like satin, taffeta material or even sparkles. Always keep your the venue and theme in mind, stresses Noel Chu, as you are searching for gowns, because every detail and aspect should seamlessly fit together.
4) Do Your Research
Research is the fundamental way to find what you like! You can start by picking 3 adjectives to describe your dream dress–this is usually how Noel Chu gets to know her brides and their personalities and preferred dress styles. Then, discuss with your loved one and share your initial thoughts! Once you have your pegs in mind, it's time to hunt for local bridal boutiques and try on gowns. This would be the best way to visualize your research and see what works or not. You should love every aspect of your wedding dress! Part of fitting and doing research is moving around in the dresses. The gown must fit comfortably when you are sitting down and the neckline will should not require adjusting throughout the big day. Keep in mind as well that the top part of the gown will appear most in wedding photographs.
5) Find a Great Bridal Salon
If you are looking for the ultimate special dress, it's important to work with a bridal salon and stylist you trust, claims Noel Chu. Find a team you feel you can easily collaborate with throughout the whole design process–from silhouette, color, embellishments, and fabric. It will make a big difference on how a gown will look on you.
6) Have a Budget in Mind
Having a budget in mind is crucial, shares The Wed Genie. How much would you be willing to spend on THE DRESS? We often hear brides going to shops that are way over their budget and end up wasting their time. Ask the shop in advance of the price range so you will be comfortable with looking at and trying on dresses in the shop without hesitation and limitation.
7) Ask Around
Finally, if you have a venue and vendors confirmed, ask for their advice! They can easily recommend stylists and bridal salons that are reputable and trustworthy. Another tip from The Wed Genie: Ask your friends too if you know they have impeccable taste which you love! Local vendors tend to know each other in the community. It's so much easier and useful to get recommendation from them as you probably hire them based on their previous portfolio.
8) Be 100% Sure Before Saying Yes to the Dress!
Finally, you will know when it's the one, confirms Noel Chu. So until you get that defining feeling, hold off the purchase. When you feel 100% sure, then it's time to say YES!