Every couple wants to look good in their wedding photos. Every couple wants to stand out. But for some, being in front of the camera isn't something they're very comfortable with. Hence, many fear looking too stiff, awkward, or even overly dramatic. In the hope of getting decent wedding day photos, couples sometimes resort to copying poses they see on the internet. While there's nothing wrong about this, it can lead to photos that look unnatural and forced. Here's what you all should know, soon-to-weds! The ultimate trick to having picturesque wedding photos is quite simple. We've listed seven tips you can follow to have natural-looking shots on your wedding day. Check this list below.
(1) Get to Know Your Photographer
[From: A Grey and Red Themed Wedding at the Peninsula / Photo: Patrick Photography]
This is the most basic yet most crucial point to prioritize if you want to achieve natural-looking photos on your wedding day. It is recommended that you meet with your photographer beforehand and assess whether you can work well with that person. In booking your wedding photographer, you should not only look through their work, it is necessary to consider your working relationship as well. Working with a photographer that you are comfortable with can help bring out the most genuine emotions.
(2) Enjoy Your Special Day
[From: A Delicate Peach-Themed Indoor Wedding / Photo: La French Touch Photography]
Remember that your wedding is a significant event in your life. Focus on the moment, enjoy yourself, shower yourself with love and affection that everyone is giving. And most importantly, don't stress yourself out! On the actual day of your wedding, let your wedding planner do the work. Forget about the petals on the aisle, the dried leaf on your bouquet, the unaligned seats, or even your bridesmaid's missing earrings! Set your mind in the presence of your loved one and savor each passing moment of it.
(3) Relax, and Be Comfortable in Your Own Skin
[From: Elegant Burgundy Hotel Wedding / Photo: Martin Aesthetics]
One thing brides worry a lot about is whether they look good in their photos. Well, the secret is, you need to keep yourself calm. Don't panic or be conscious about yourself, thinking that cameras are pointing at you. Forget about the audience and the cameras. Don't overthink either trying to remember every little details thinking: are my joints locked and stiff, are my hands relaxed? You might be surprised to know that you can bring out the best in you by doing less, and surely you'll glow in a way you didn't ever expect.
(4) Accept Compliments Graciously
[From: Stylish Outdoor Resort Wedding / Photo: Binc Photography]
When someone says "Wow, you look beautiful!", say, "Thank you." Instead of feeling extra 'shy' whenever anyone gives you a compliment on your wedding day, use it to your advantage. Accepting compliments graciously and use these to boost your confidence enough to make you feel good about your appearance. When you started accepting the flattering remarks, it will positively reflect on your wedding photos. Own it, lovely bride!
(5) Speak Up If You're Not Comfortable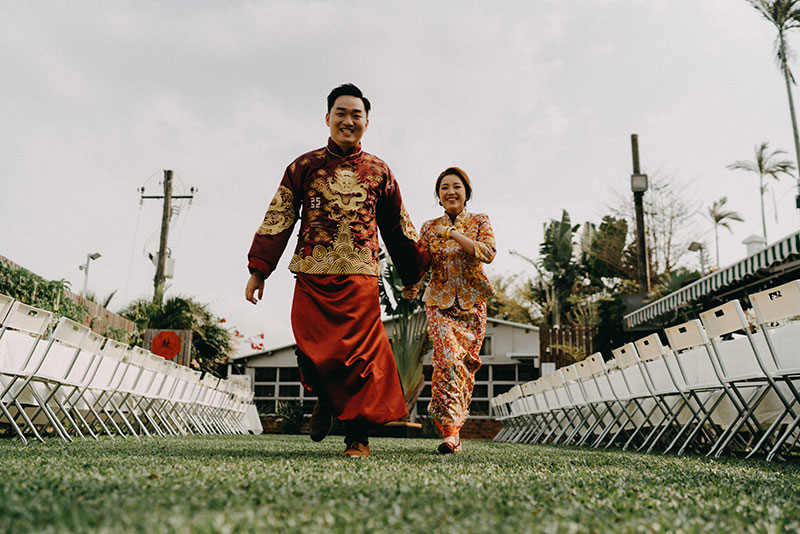 [From: Romantic Hong Kong Garden Wedding / Photo: Hyggeland]
You booked a photographer that you're comfortable working with for a reason: you don't want to feel pressured! If the photographer directs you on how to pose and you're not comfortable doing it, you can be honest and say so. Movements and actions that you're not comfortable doing will look awkward on photos, and you obviously don't want that. This is your wedding, so don't hesitate to speak up when you have to.
(6) Get Lost in Each Other
[From: Delightful Wedding at Four Seasons Hong Kong / Photo: Blink Photography]
Your wedding is about you, your partner, and the love you have for one another. Forget about everything for a moment and just focus on each other. Don't be afraid to get romantic: touch, kiss; don't mind the people around you. And remember that it's not always about the smile: show your real emotions, be vulnerable, and let your walls down. Trust us when we say, this will definitely make your wedding day photos extra captivating!
(7) Remember to Breathe
[From: A Sweet Blush-Themed Cathedral Wedding / Photo: Binc Photography]
And lastly, don't forget to stop, pause, and take a breather every now and then. Your wedding day will go by fast and things will be happening left and right. You don't need to stress about everything, and you obviously don't need to engage yourself with all the logistics of the day. Breathe. Rest. And allow yourself, even in a few seconds, to savor the moment in silence. This will allow you to be in the moment and this will truly show in your photos.