When thinking about the details of your wedding, are you drawn to trendy ideas and the latest in thing, or in contrast, are looking for classic elements? Both options will work; it all depends on what kind of celebration you want to achieve. Some trendy wedding really make their mark precisely because the wedding details are undeniably memorable and unique. On the other hand, classic details can also turn a wedding into a timeless event.
Today's blog feature is all about the latter: classic and timeless wedding details that will stand the test of time. We talked to some local vendors to ask them for elegant wedding details will make a lasting impression and stand the test of time. Here's what they told us.
(1) Floral Arches and Roman Pillars
If you would like to pull off a classic and modern wedding, you must include elements that are everlasting, claims floral stylist Eucalyptus. When it comes to wedding decorations, use floral arches, roman pillars with flowers, floor flowers, etc. These natural elements are ethereal and will make your wedding timeless. If you still think that it's too simple, you can increase the number of categories of the flowers to be used to add layers to your design.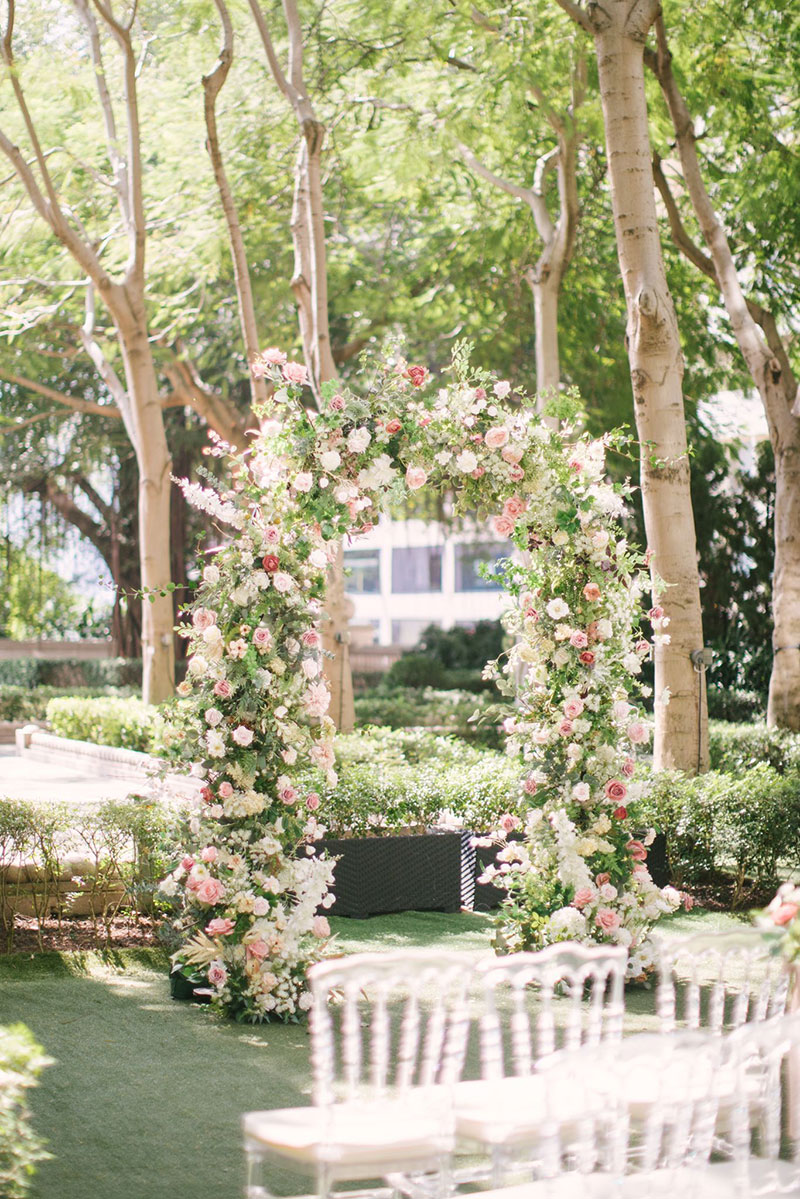 (2) Instrumental Music
You may be fond of a lot of contemporary songs and there are also a lot of choices for wedding songs. However, the most iconic Wedding March is surely your best bet to create a romantic and timeless wedding atmosphere, shares Felice Studio, local live music band. Other classical music choices include Canon in D, and Bridal Chorus. Instrumental music combining the violin and cello can create a solemn vibe to your union.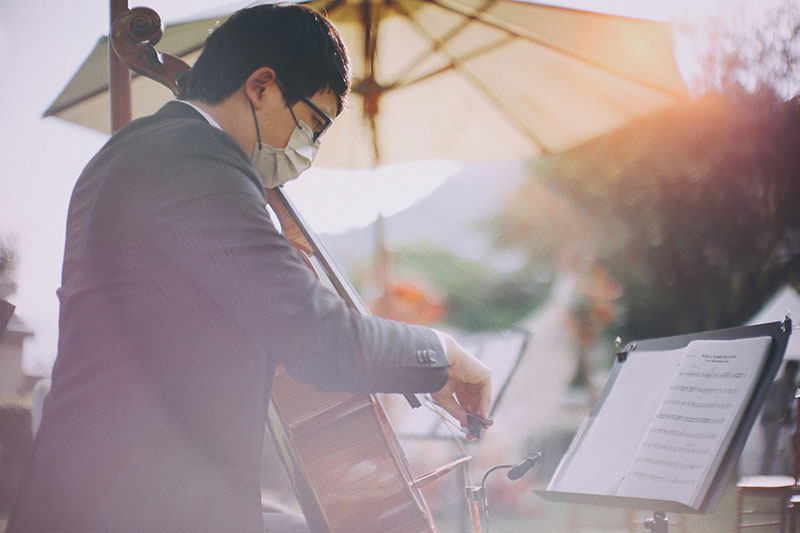 (3) A Neutral Color Palette
You can never go wrong with neutral colors. Once Wedding Decoration, a decoration stylist since 2014, says that neutral colors are not only timeless, they're also very chic. Whatever wedding venue end up with, neutral colors are easy to work with  and can be used to achieve all kinds of looks and feels–rustic, modern, and so on.
(4) Regal Headbands and Tiaras
If you want to achieve a classic princess look, The Hairpin Boutique, highly suggests styling your hair with regal-looking headbands or tiaras. Brides who are fans of royal weddings and want to channel a similar bridal look should not overlook this important detail.
(5) A Touch for Red Flowers
As the luckiest color of them all, red is a favorite among brides as well as a traditional wedding hue for centuries. Hence, red is a classic color that you can use to add vibrance to your celebration. Hong Kong floral designer Never Ending Story shares that there are many ways to use the color red. You can use it as a contrast to softer colors or you can play around with it alongside fun colors, too.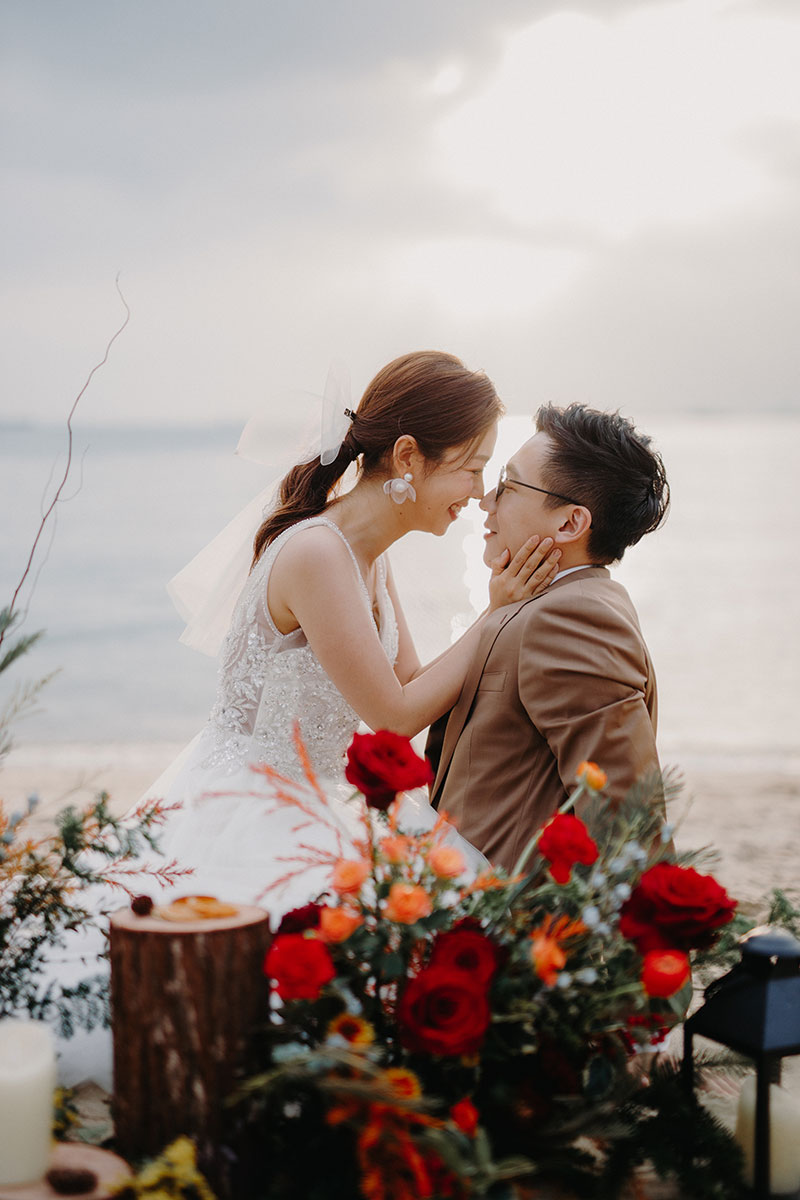 (6) String and Up-lighting
Did you know that string lighting is romantic and timeless at the same time? In this wedding, Once Wedding Decoration, used string and up-lighting to set this wedding a glow come nightfall. This decoration alone is more than enough to make your wedding a classic celebration.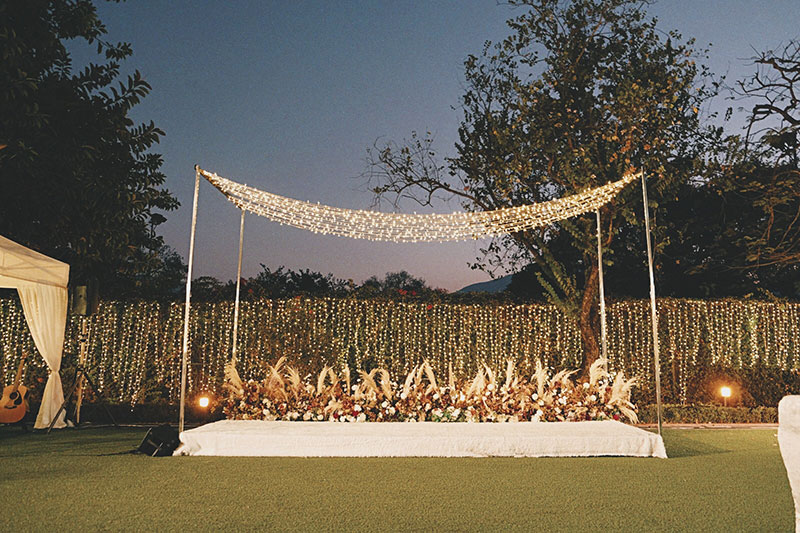 (7) Soft and Delicate Color Palette
For colour choice, Eucalyptus recommends using green, white, or pastel colours, which are soft and natural. These colors are popular and have been around for years for a reason–they're classic and enduring hues that never go out of style.
(8) Jewelled Hair Pins
Bejewelled hair pins go exceptionally well with elegant hairdos. They work well with updos but the also look stunning if you plan to leave your hair down. Here are some beautiful hair pins from The Hairpin Boutique.
(9) Briefing, Briefing, Briefing!
Spotknight MC founder Yuki Wong shares that while all these elegant elements are essential, couples should not overlook the nitty gritty details that will put everything together. Details constantly change, so it's important to always keep your family and entourage up to date with the latest information about your wedding details.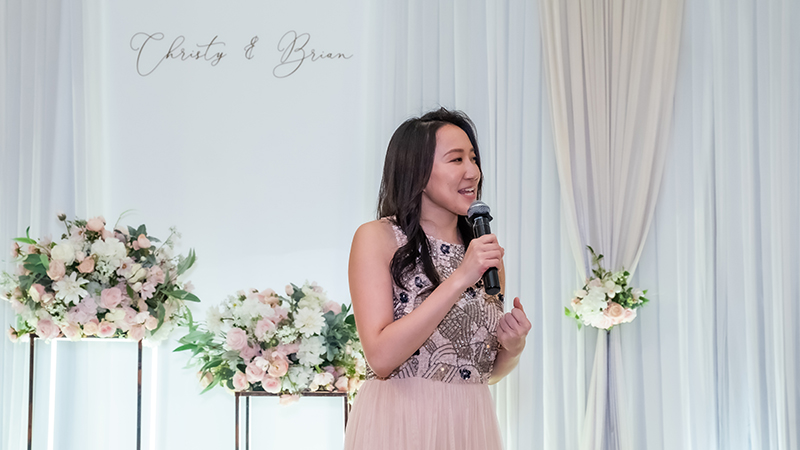 (10) Periodic Time Checks
Lastly, something that will never ever go out of style is a seamless wedding day timeline, says Spotknight MC. While it's very common for weddings to usually overrun, you can avoid this by making sure your bridesmaid or wedding planner does regular time checks and adjusts the day's schedule as needed. You don't want to miss or cut down time for any major milestone–table toasting,  games, more time for photos, do you?