When the pandemic spread early this year, everyone and everything got affected, including the wedding industry. Brides and grooms alike were caught off guard and had to adjust to the situation by changing plans and deciding on what next steps to take. Throughout our conversations with couples planning their wedding in the middle of the COVID-19 pandemic, we were moved by how they responded to all that was happening around them. Today we're sharing with you 8 life lessons to learn from brides and grooms who have hurdled over what the pandemic has thrown at them and are on their way to becoming Mr and Mrs. We can all learn a thing or two from these amazing couples!
(1) Be open.
Life will always surprise us. Sometimes it's a good surprise, other times it's an undesirable surprise. Being open to whatever life throws at you will help you make the most of any given situation.
[From: These High School Sweethearts Reenact Their Love Story For Their Engagement Shoot / Photo: Jason Pang Gallery]
(2) Accept the things you can't change.
Just like during this situation, there are things that you won't be able to change no matter how you try. As much as couples want to push through with their original wedding, they can't. Instead of getting stuck, accept what you can't change and think of alternatives.
(3) Be flexible.
If you're open and if you accept the things you can't change, then you can be more flexible to the things happening around you. If you're flexible, you can easily bounce back and work on what you can do or how you can work around your situation.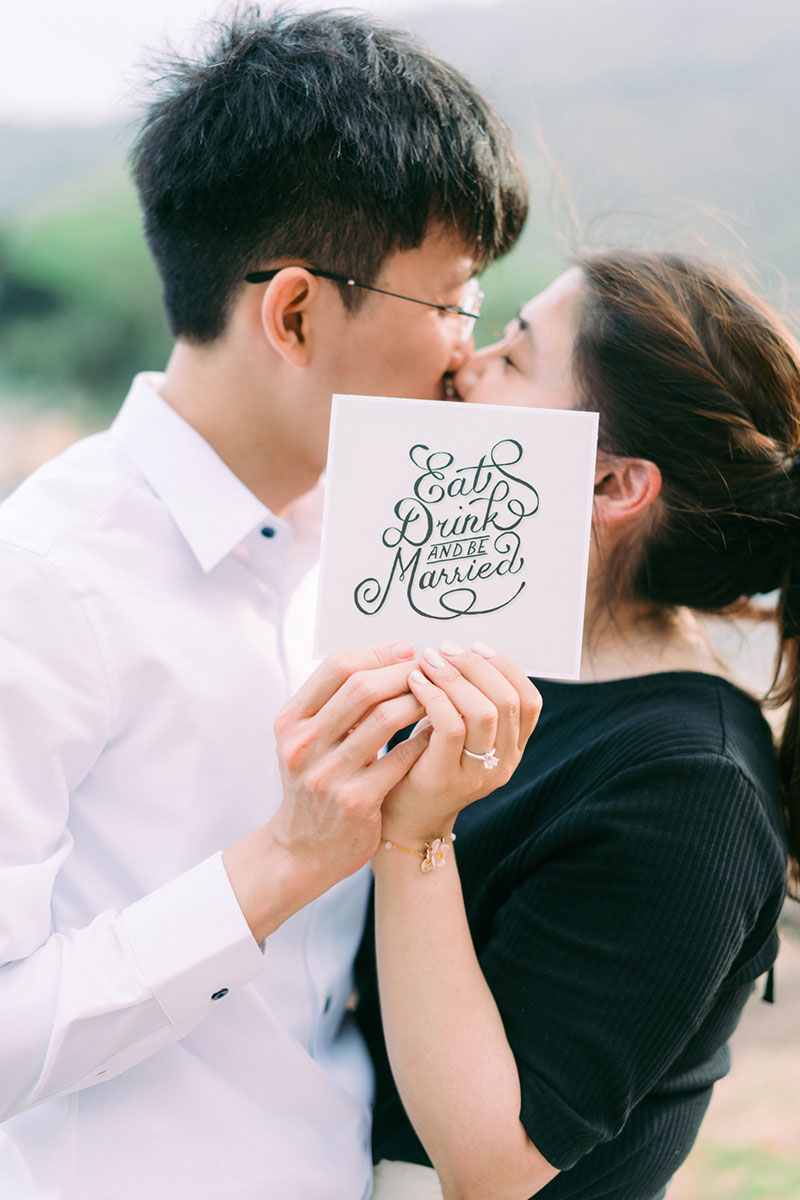 [From: For Their Pre-wedding Shoot, This Couple Opened a Box Full of Keepsakes / Photo: Michelle Kwok]
(4) Acknowledge your frustration, but don't dwell on it.
Feeling frustrated is normal and it's important to acknowledge your feelings, not shove them away or disregard them. But don't get stuck dwelling on those feelings because this will hinder you from taking action. Instead, allow yourself some time to recover then get back on your feet.
(5) Use your energy to move forward.
Coming from number four, you can definitely convert your energy and use it to move forward. Instead of dwelling on what can no longer be done, use your feelings to propel you into action. What can you do? How can you remedy your current situation?
[From: This Pre-wedding Shoot Features The Couple's Adorable Pomeranian Dogs / Photo: Tammy Shun]
(6) Think positive.
Converting your energy into something actionable goes hand in hand with thinking positively. Let optimism reign when you feel challenged and let your positivity inspire you to keep going.
(7) Ask for help.
As much as you might want to take on challenges on your own, you need to recognize when you need help. Don't be ashamed to reach out when you need it. Your family and friends will surely be more than willing to lend a hand.
[From: This Couple Made Hong Kong Their Playground for Their Engagement Shoot / Photo: Terralogical]
(8) Don't lose sight of your "WHY".
Lastly, don't lose sight of your purpose or your WHY. Why are you doing this? What makes it important? For brides and grooms, love is the sole reason behind the wedding. In the end, that's what matters and keeping that in mind will give you a perspective on what to do next. The same is true for all other challenges that will come your way. Keep sight of your "why" and let that guide you always.