Another year as gone by and we're just about the luckiest people to have gorgeous weddings all around us all the time. Season after season we see love, joy, and happiness. Love is keep us inspired and we'd like to share some of the most loving and captivating moments we've seen this 2018. Here are eight weddings that have truly been an inspiration to us this year, not only because of the beautiful elements that came into play in each of these celebrations, but also because of the adorable couple's infectious devotion to one another.
On Top of the City
This heartwarming wedding at Duddell's was one that caught our eyes instantly. We love the idea of rooftop weddings in the city!  Eilidh and Willfilled filled Duddell's with palms and greenery, transforming the place into a lush-looking venue that looked as though they all were able to escap the city entirely! The very organic look and feel of the theme really turned their special day into a warm, inviting event tucked in the skies, away the bustling metropolis below.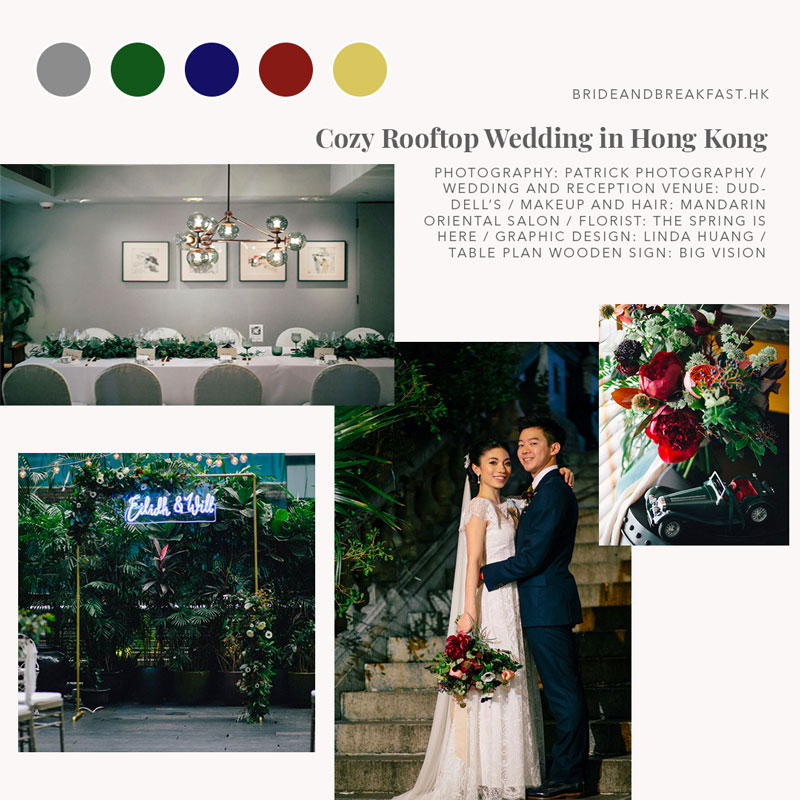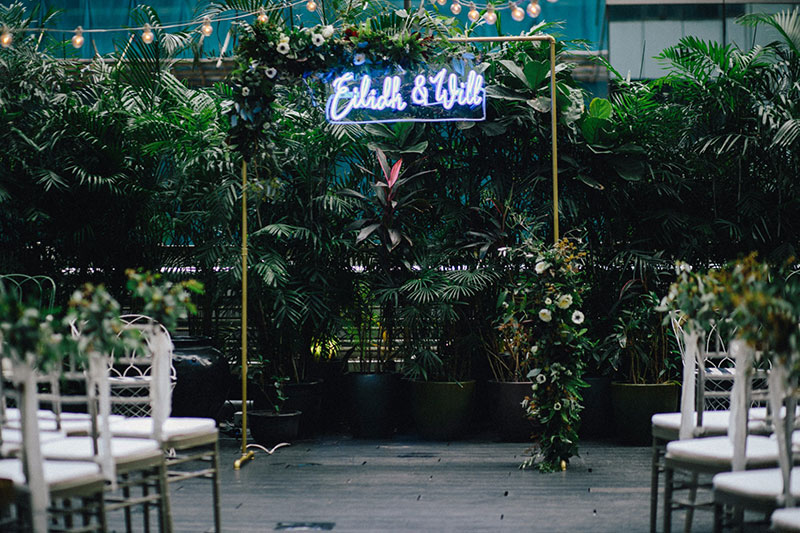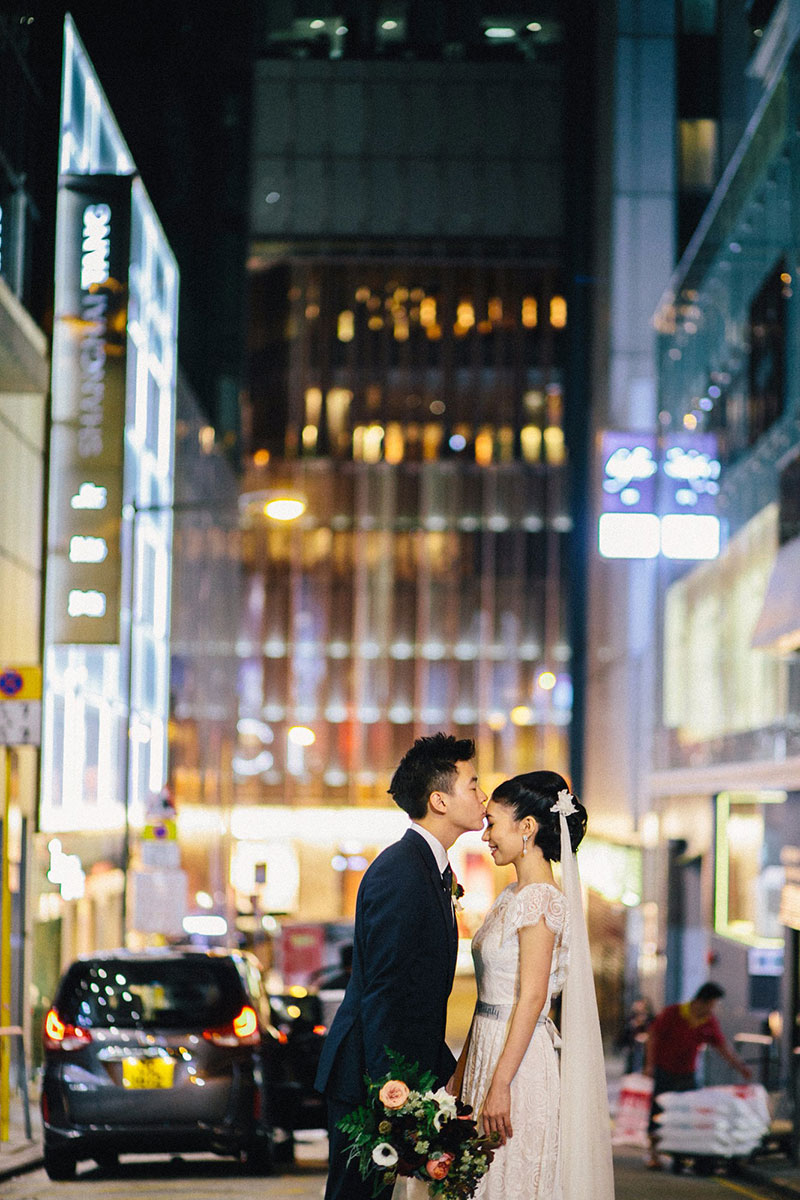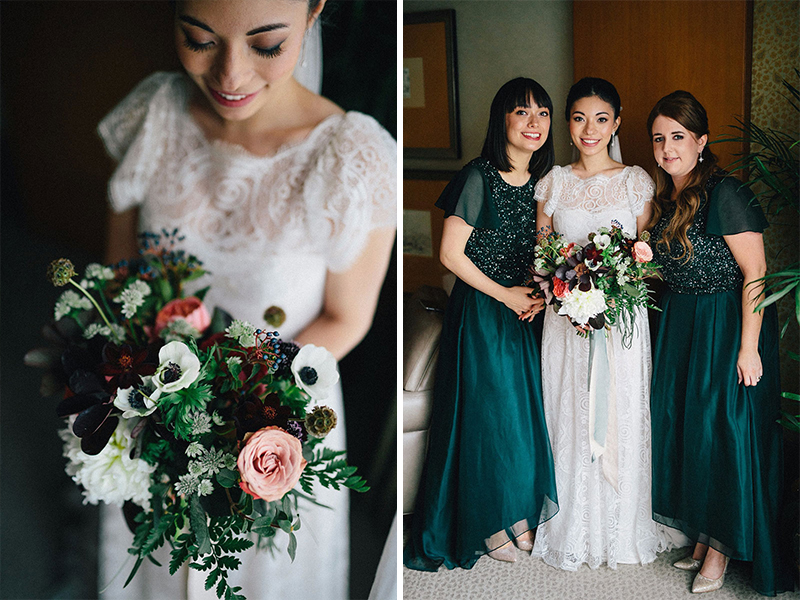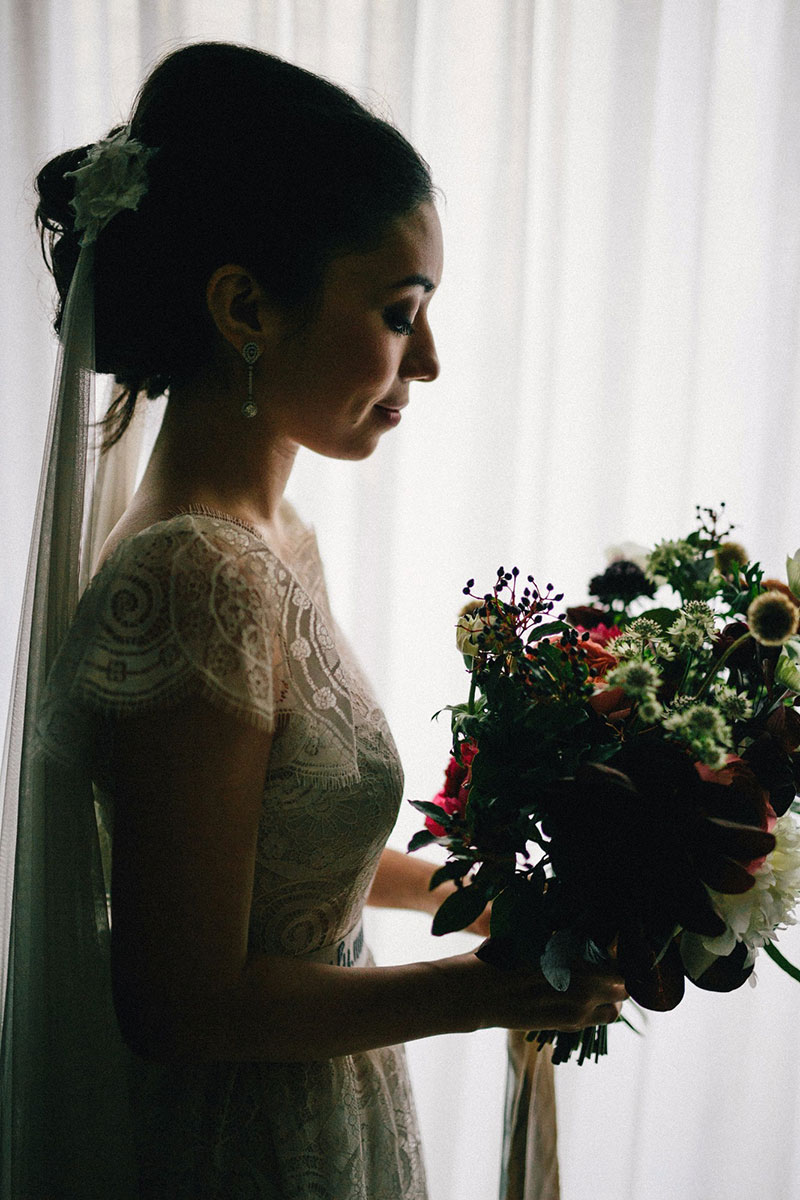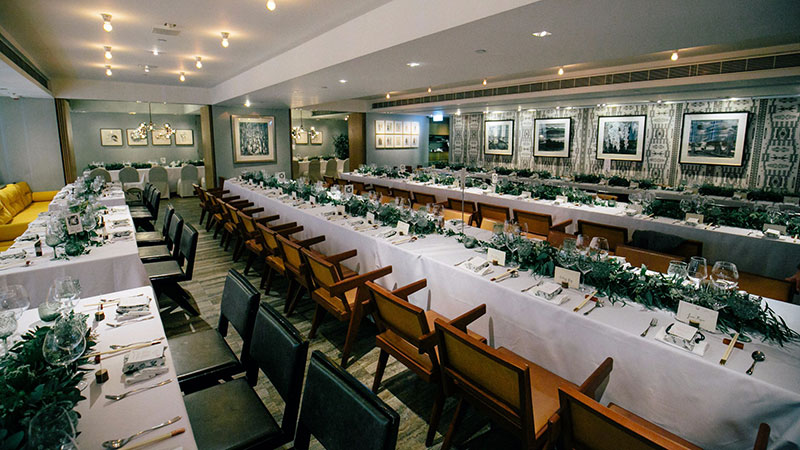 Photography: Patrick Photography / Videographer: Twenty One Visuals / Wedding and Reception Venue: Duddell's / Bride's Dresses: Katya Shehurina (white dress), Linva Tailor (cheongsam) / Bride's Shoes: Dune, Lu Lu Guinness / Bridesmaid Dresses: Coast / Groom's Suit and Tie: Paul Smith / Groom's Shoes: Grenson / Groomsmen Costumes: Adidas Originals / Groomsmen Accessories: OTAA (tie, socks, and pocket squares) / Makeup Artist and Hairstylist: Mandarin Oriental Salon / Florist: The Spring is Here / Illustrations: Eilidh Ho / Graphic Design: Linda Huang / Neon Sign: D&A Electronic Neon Light / Table Plan Wooden Sign: Big Vision / Entertainment: DJ Tsoi / Bagpipes: Stuart Fung
Saying "I Do" at PMQ
A wedding at PMQ? It's never crossed our minds before, neither did we ever imagine that this place could turn into a gorgeous wedding venue! But thanks to Jenny and Jonathan, we've witnessed an astonishing venue transformation! They decorated PMQ with minimalist white details and added some greens which kept the venue looking immaculate and elegant. This wedding is truly unique, hence, one of 2018's best.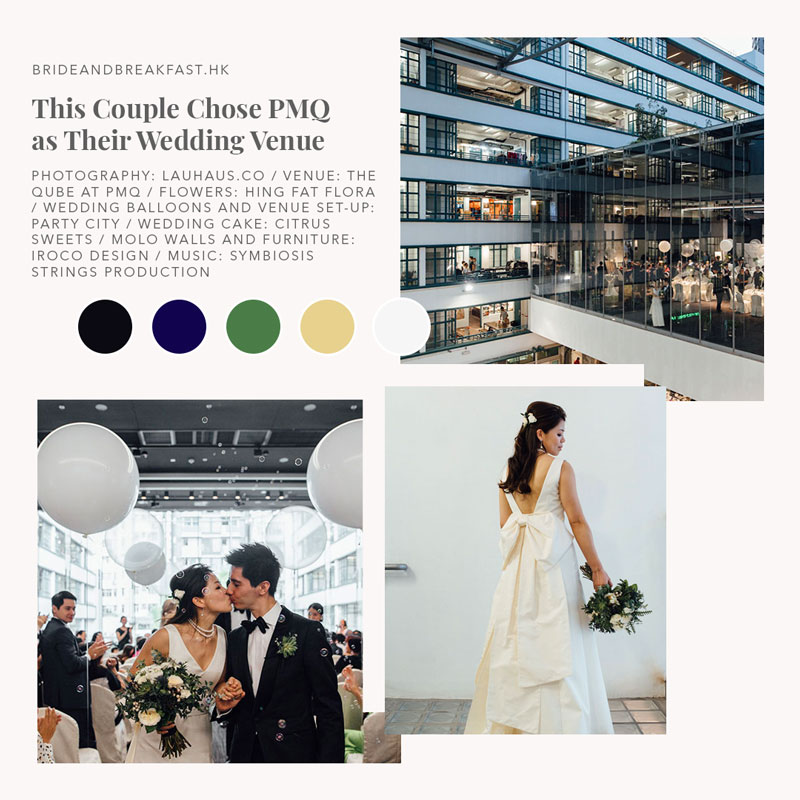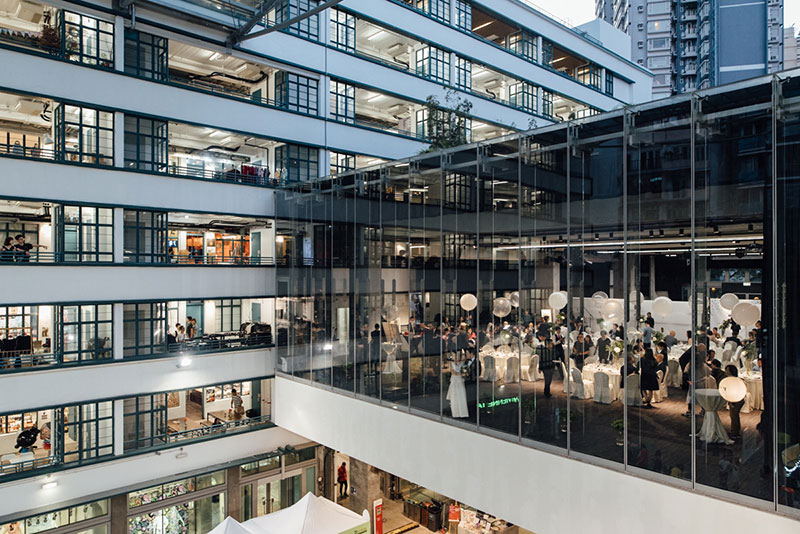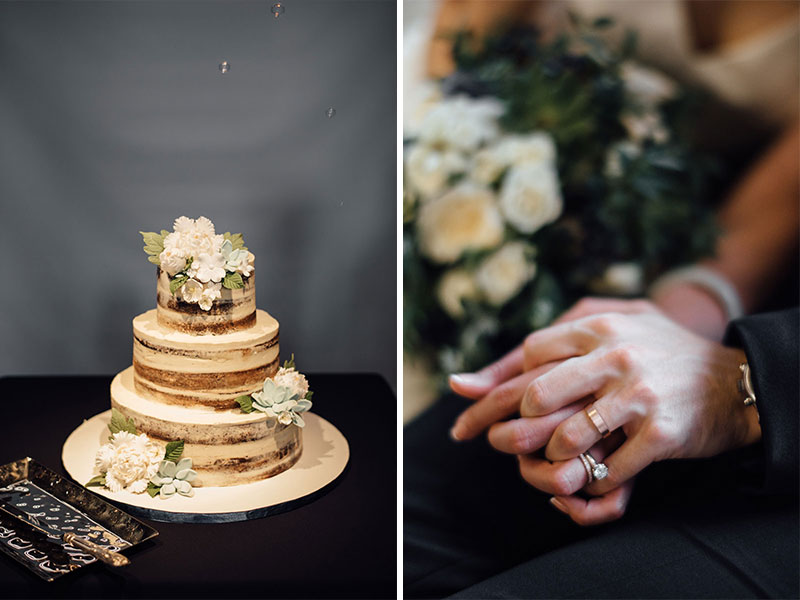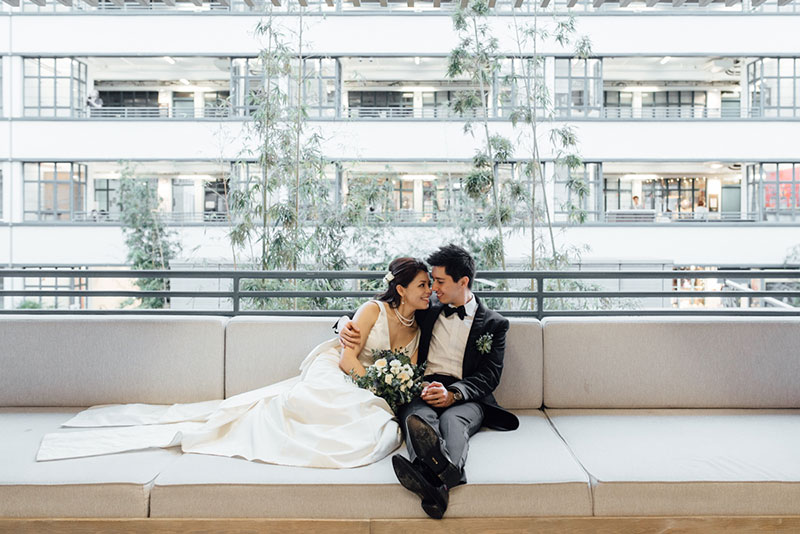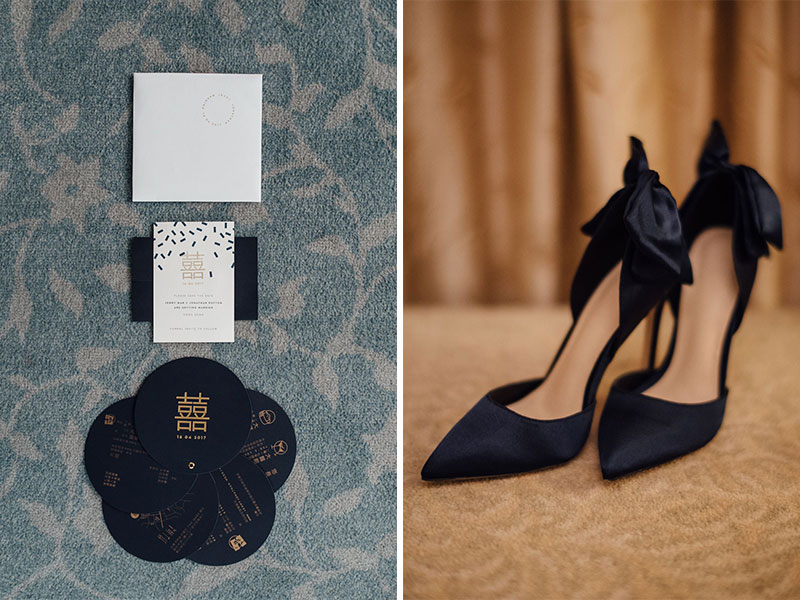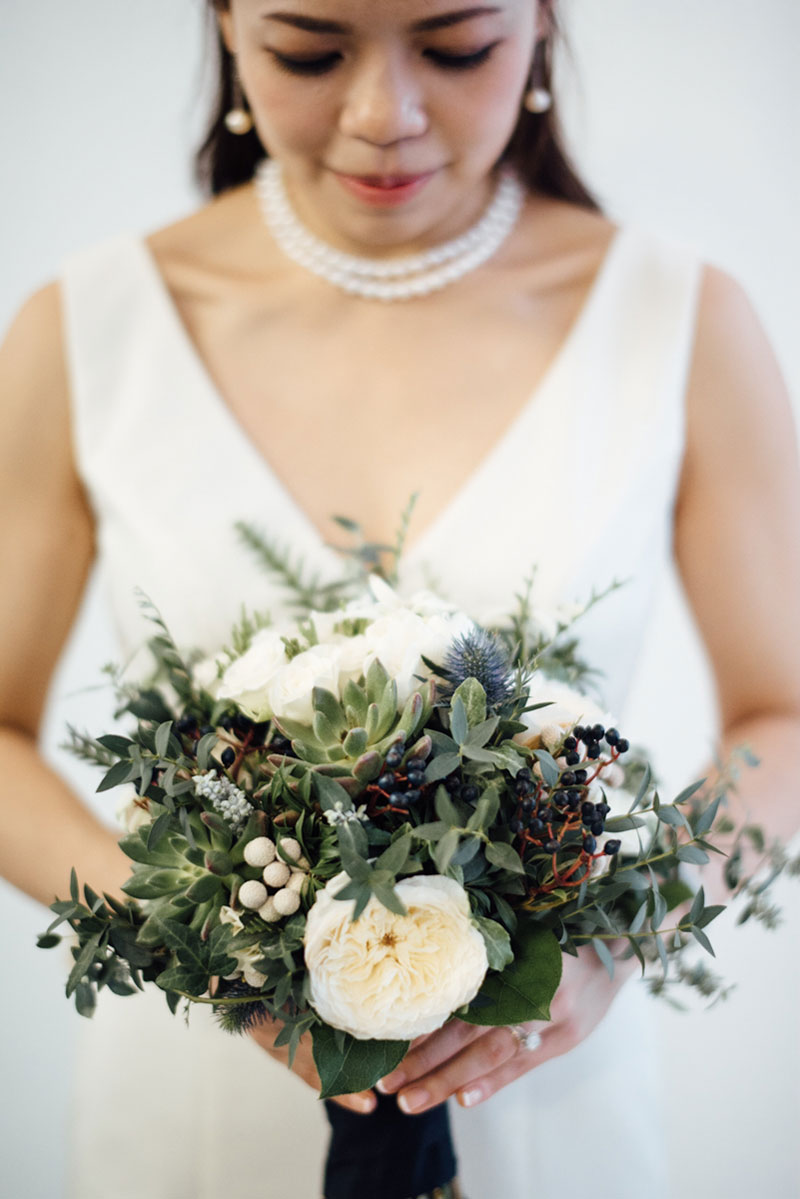 Photography: Lauhaus.co / Venue: The Qube at PMQ / Flowers: Hing Fat Flora / Wedding Balloons and Venue Set-up: Party City / Wedding Cake: Citrus Sweets / Molo Walls and Furniture: IROCO Design / Music: Symbiosis Strings Production
Sweet Garden Romance
There are weddings that leave us speechless–when the photos unfold, we're left with no words. Jessie and Samuel's wedding in Italy was of that kind. They chose the elegant Villa Cora as their venue. Aside from its grand interiors of gold details and 19th century inspired architecture, Villa Cora is surrounded by the most beautiful garden ever. Hence, the moment the event started to unfold in front of use, we were all just filled with awe at this undeniably captivating union.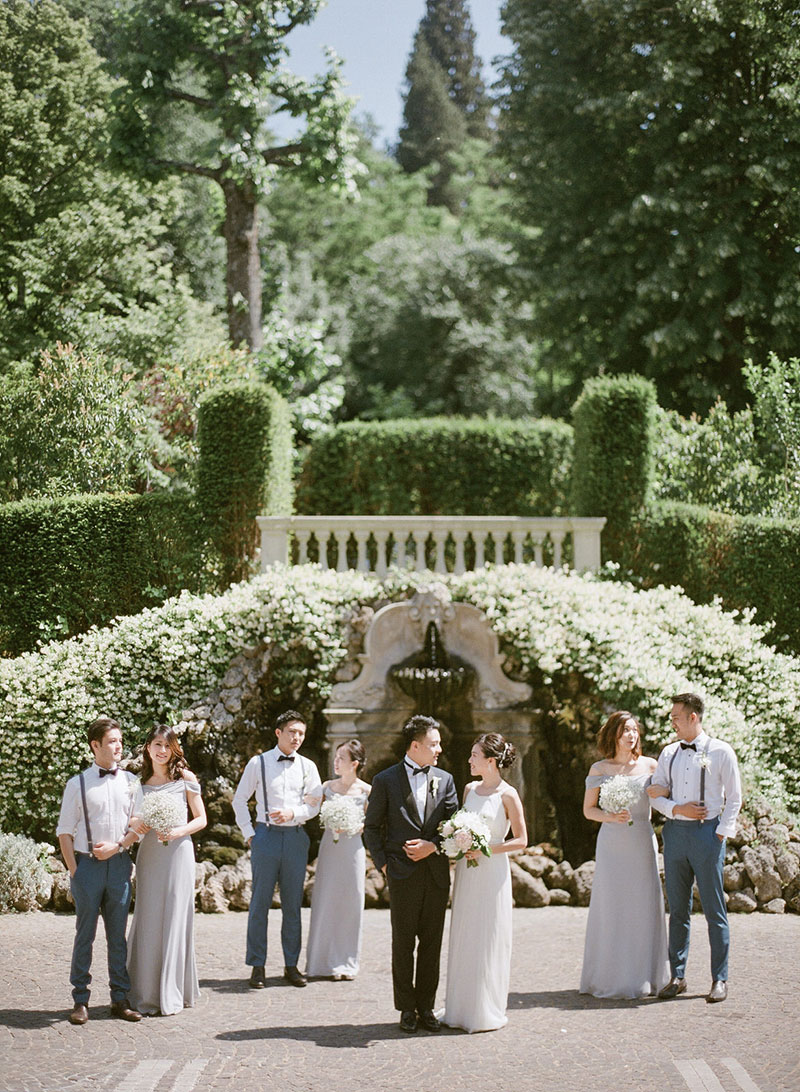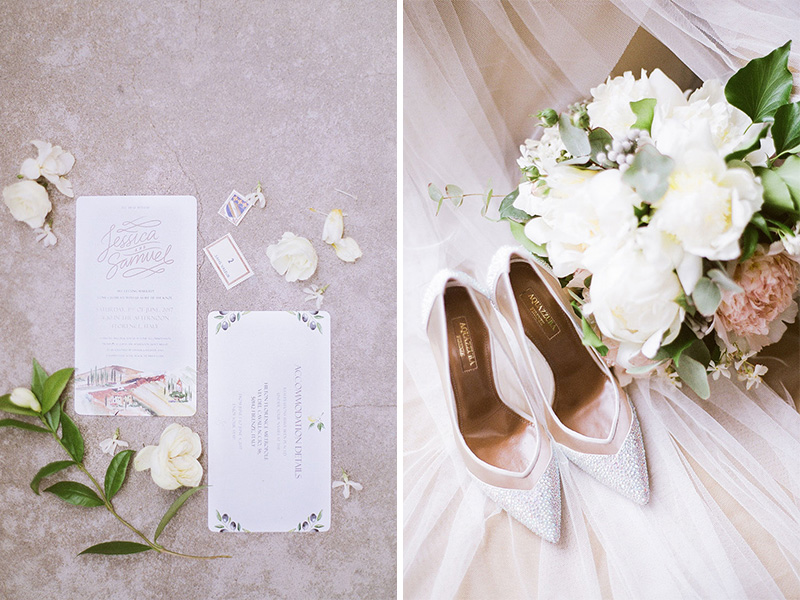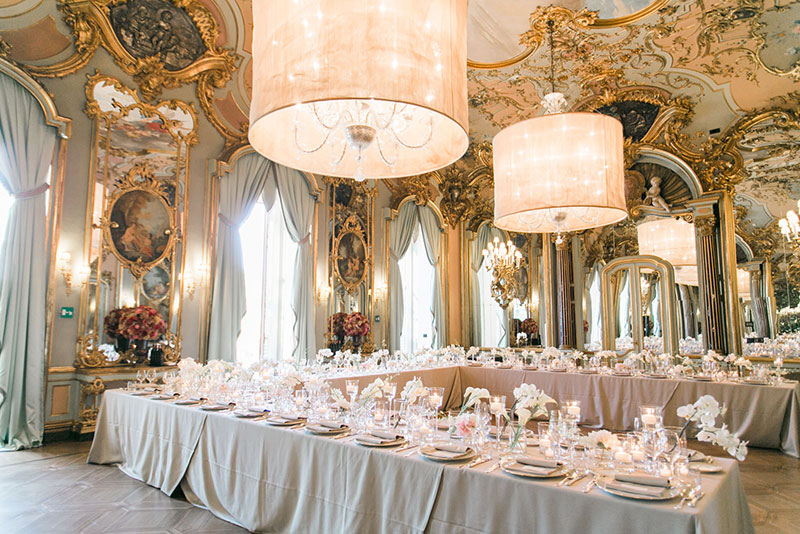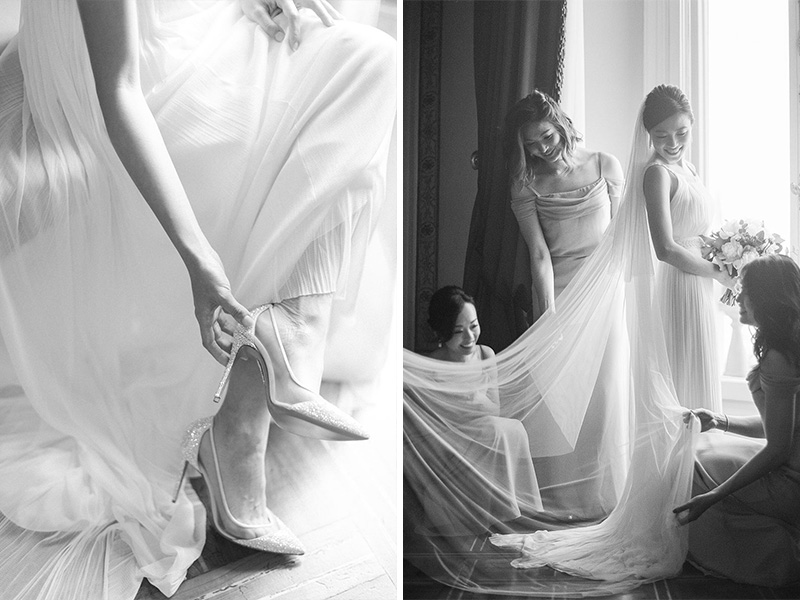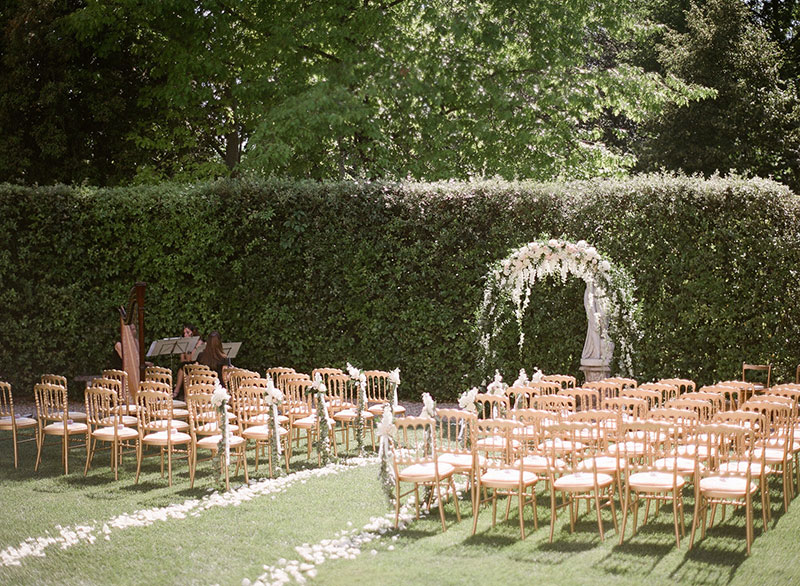 Photographer: Jada Poon Photography / Videographer: Woody Storytelling / Venue: Villa Cora, Italy / Bride's Dress: Ellie Saab / Bride's Shoes: Rene Caovilla, Aquazzura / Event Styling: Terrain Styles / Floral Design: Stiatti Fiori / Wedding Coordination: Wed in Florence / Civil Celebrant: Tuscan Pledges
Spellbinding in Burgundy
What really made Claudia and Marvin's wedding extra enticing was the rich burgundy color theme that brought life to the entire celebration. From Claudia's bouquet, to her bridesmaids' dresses, and the geode reception table decorations–the boldness of the color really made all the difference. Styled to perfection with the color in all the right places, this celebration really had that special touch that was both irresistible and addicting–we didn't want the photos to end!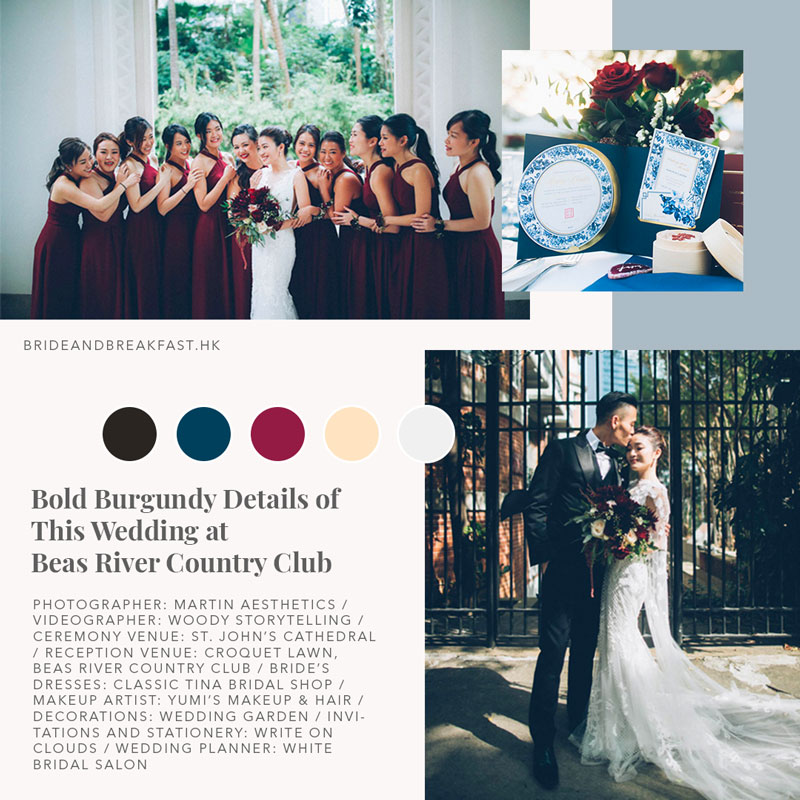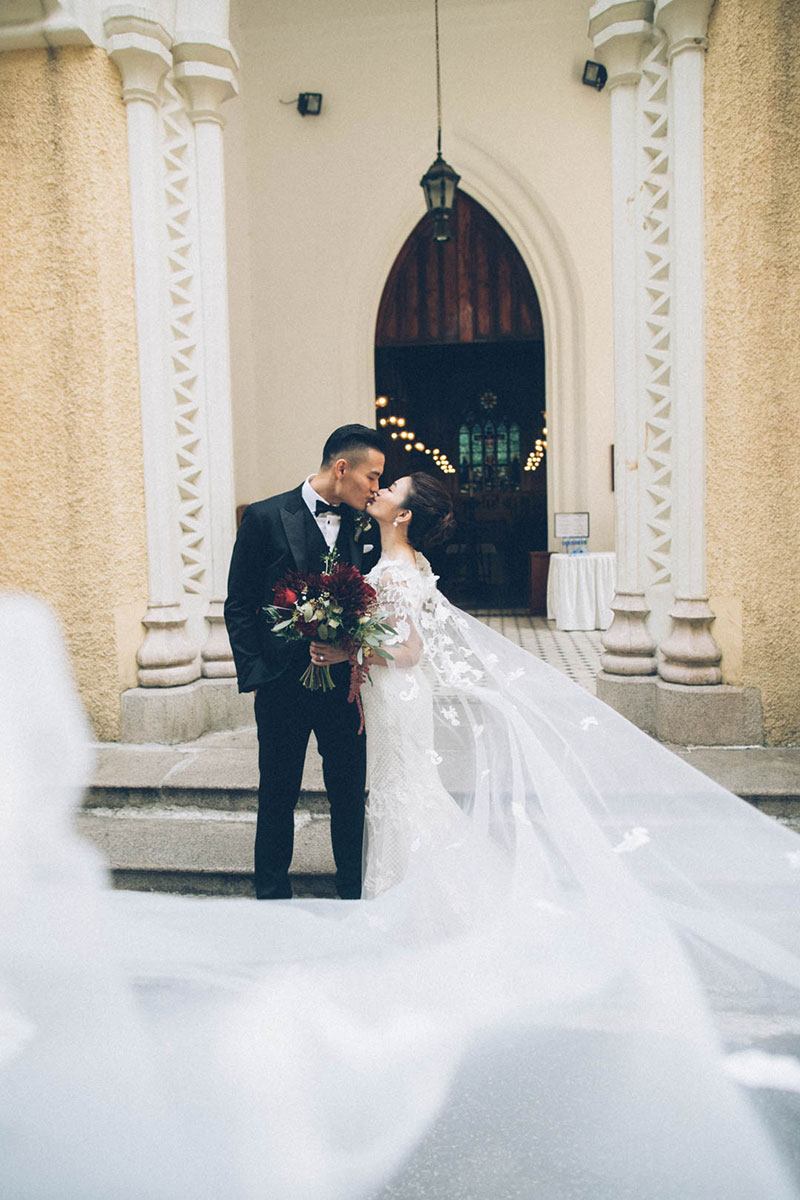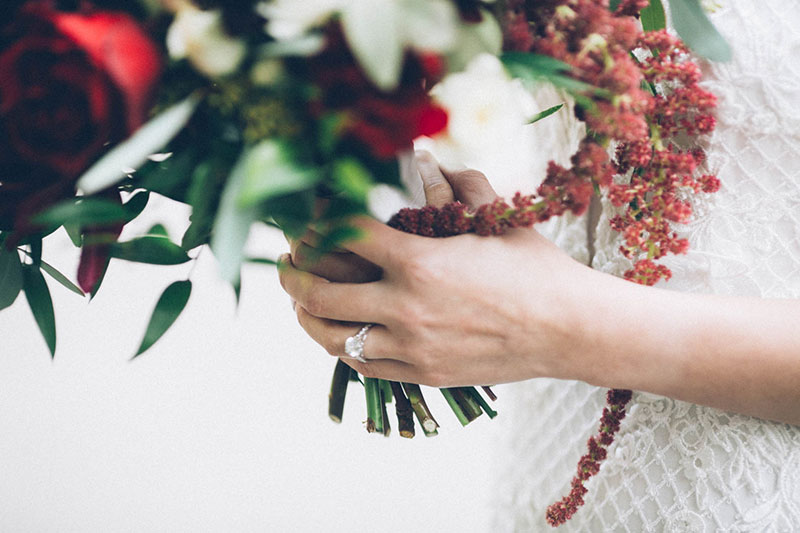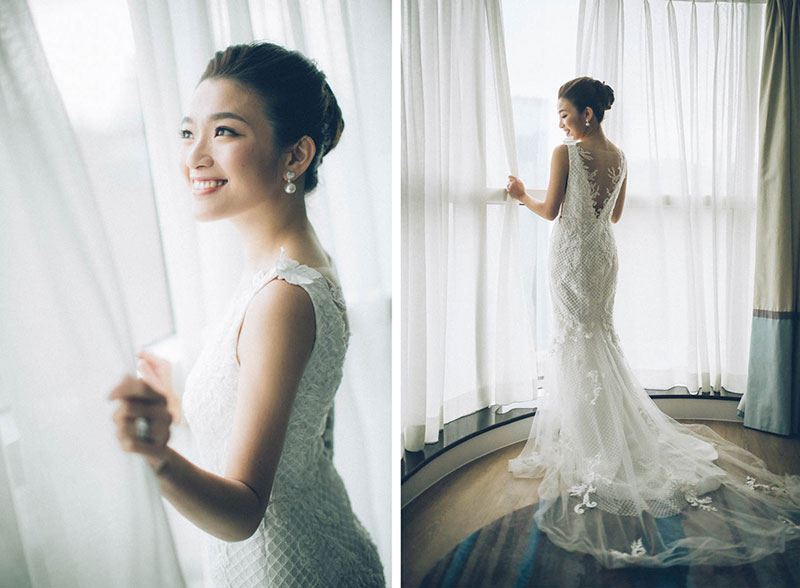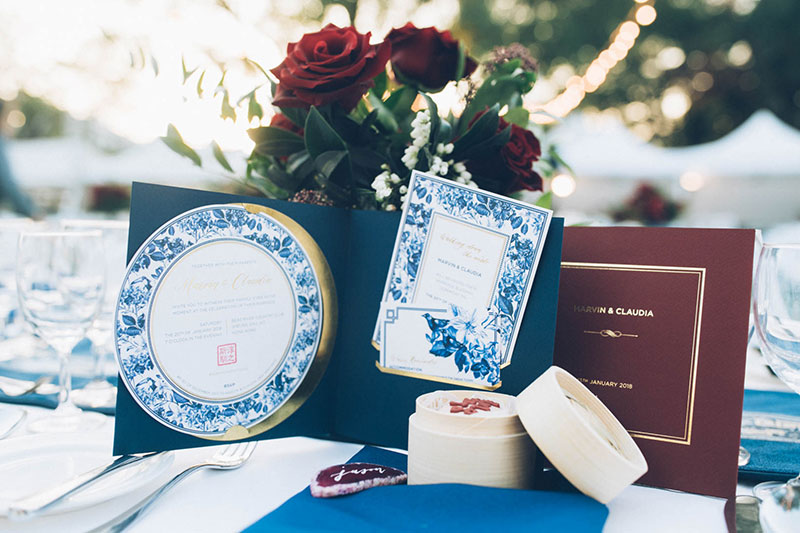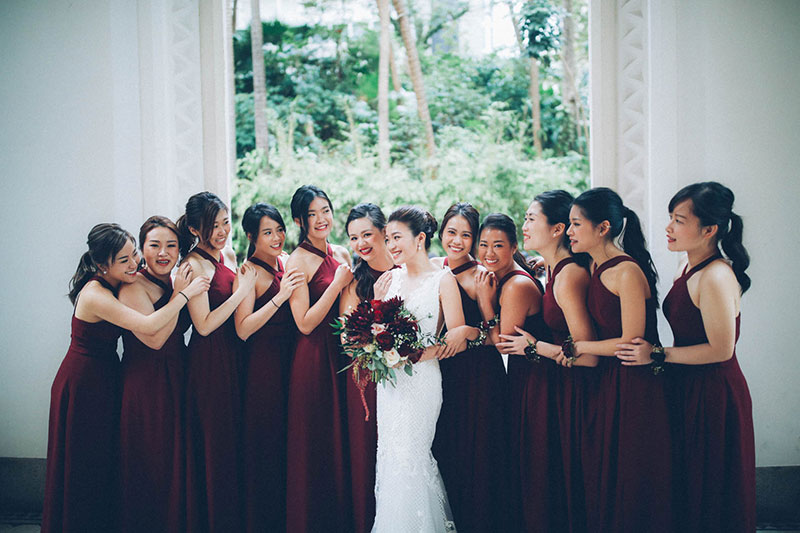 Photographer: Martin Aesthetics / Videographer: Woody Storytelling / Ceremony Venue: St. John's Cathedral / Reception Venue: Croquet Lawn, Beas River Country Club / Bride's Dresses: Classic Tina Bridal Shop / Makeup Artist: Yumi's Makeup & Hair / Decorations: Wedding Garden / Invitations and Stationery: Write on Clouds / Wedding Planner: White Bridal Salon
Romantic Sunset Sessions
How can one not fall head over heels for this gorgeous wedding? When Tina and Tao began their journey as husband and wife, they had a beautiful floral arch over them, a view that overlooks the sea, and a colorful sunset as their backdrop. We were instantly drawn to the utterly romantic view and luxurious flowers everywhere! The pastel color theme only made everything look even more stately and the bride's ensemble was just as enchanting.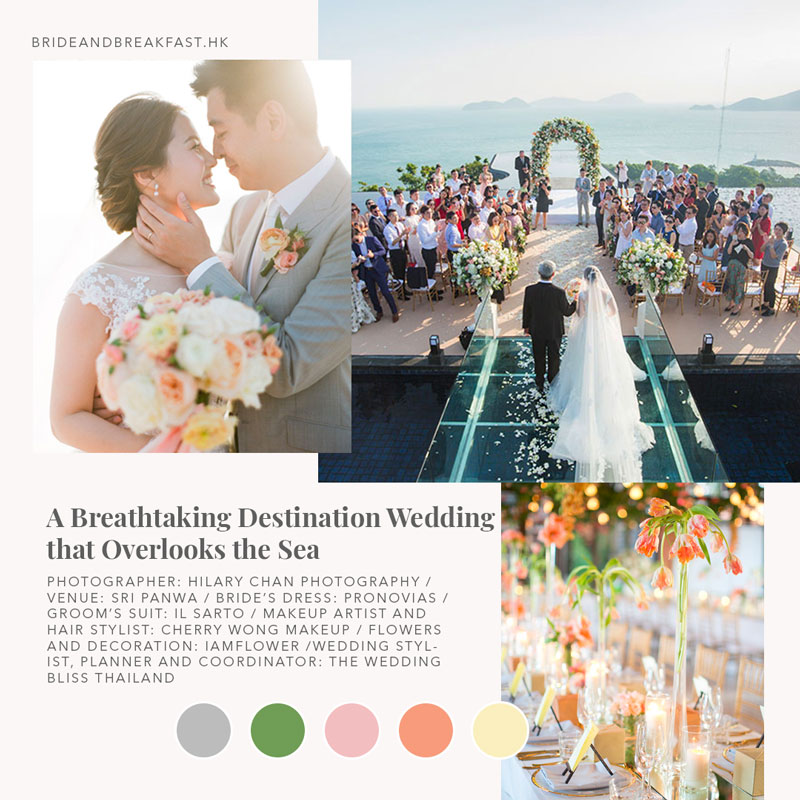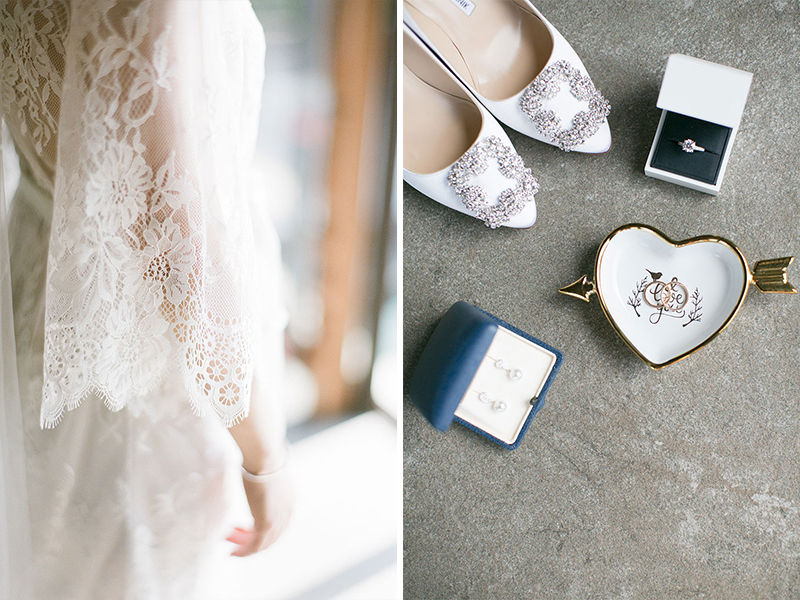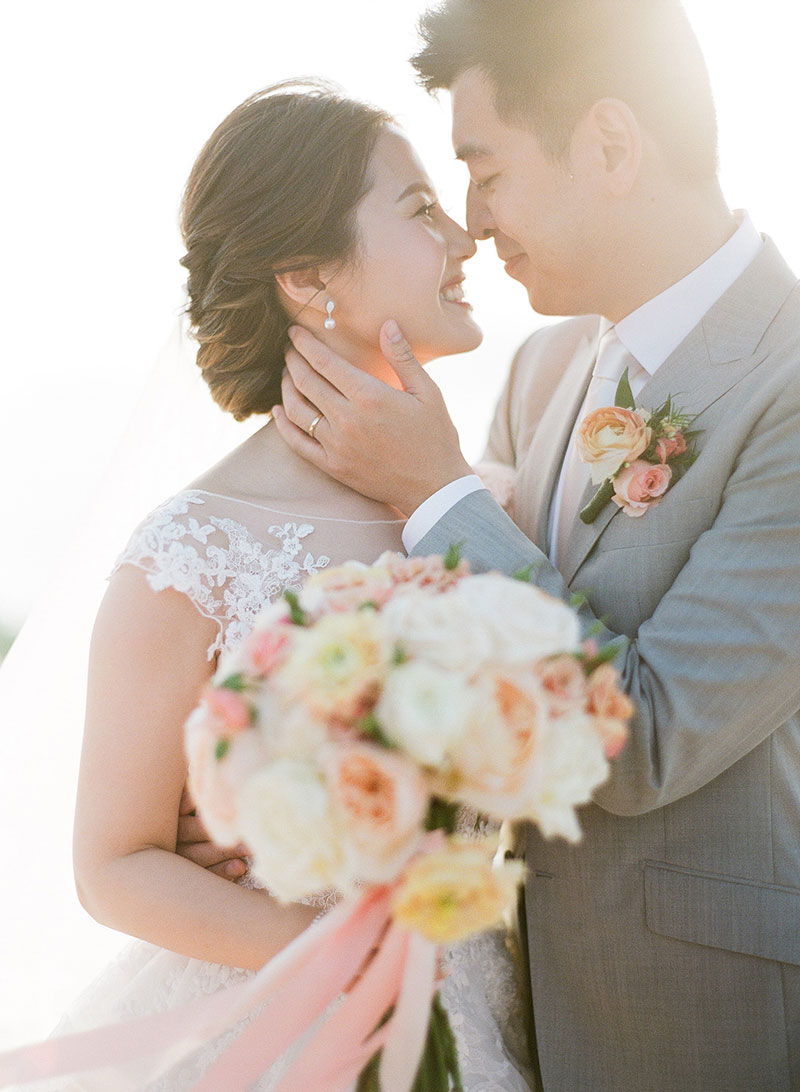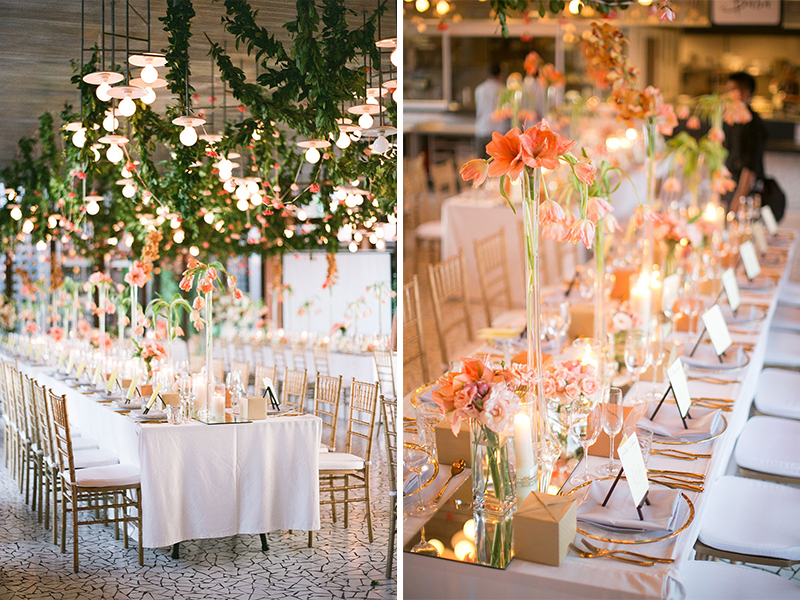 Photographer: Hilary Chan Photography / Venue: Sri Panwa / Bride's Dress: Pronovias / Bride's Shoes: Manolo Blahnik / Groom's Suit: Il Sarto / Makeup Artist and Hair Stylist: Cherry Wong Makeup / Flowers and Decoration: IAMFLOWER / Cake: Joob Joob / Rings: De Beers / Wedding Stylist, Planner and Coordinator: The Wedding Bliss Thailand
In All Its Majesty
Every little girl dreams of marrying a prince and becoming a princess. And if people today say this only happens in fairy tales, this surely didn't stop Peiwen and Thanh from making the dream a reality. Their castle wedding in France was just as magical and majestic as in any child's dreams! Now every other girl out there knows that just because you grow up, it doesn't mean you can't live your dreams, no matter how outlandish it may seem, even when it comes to your wedding.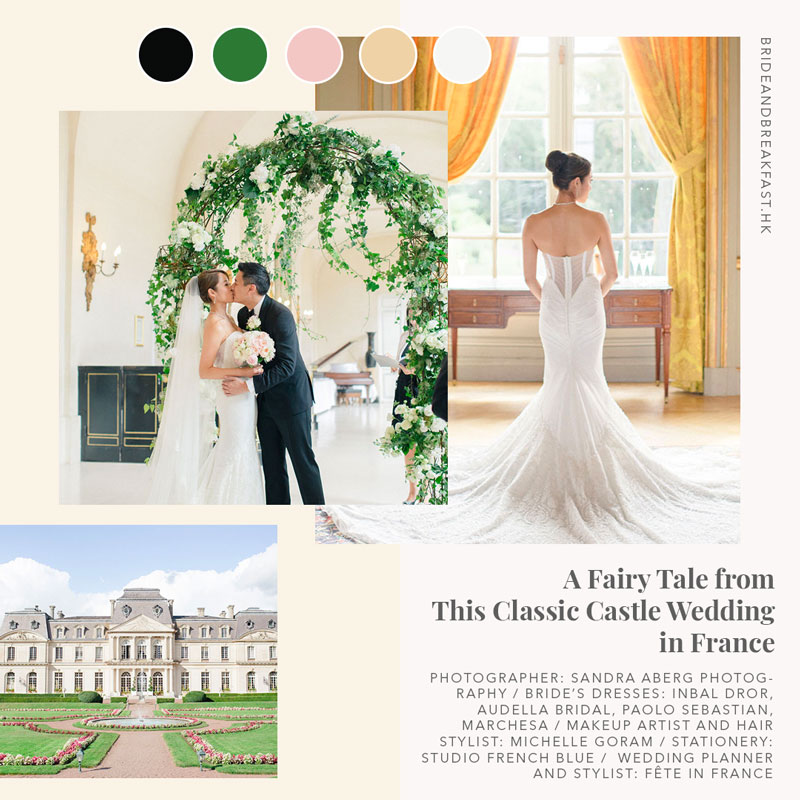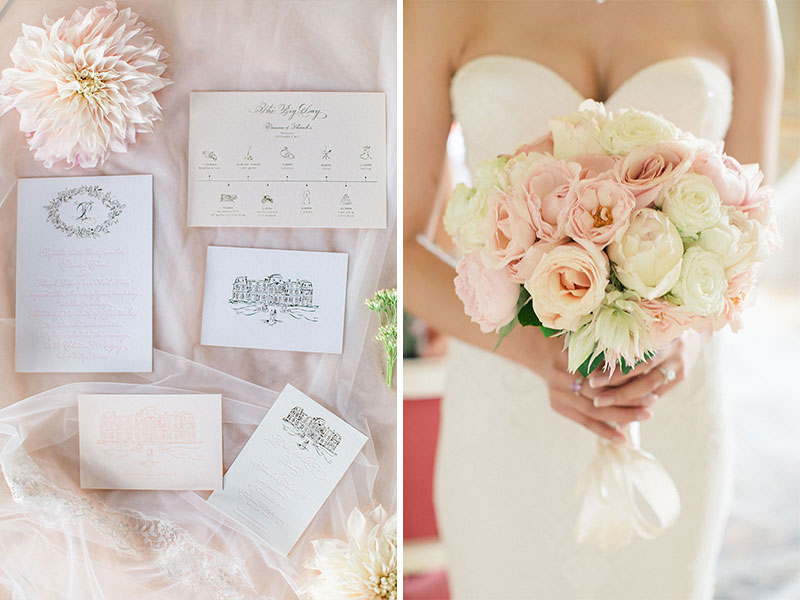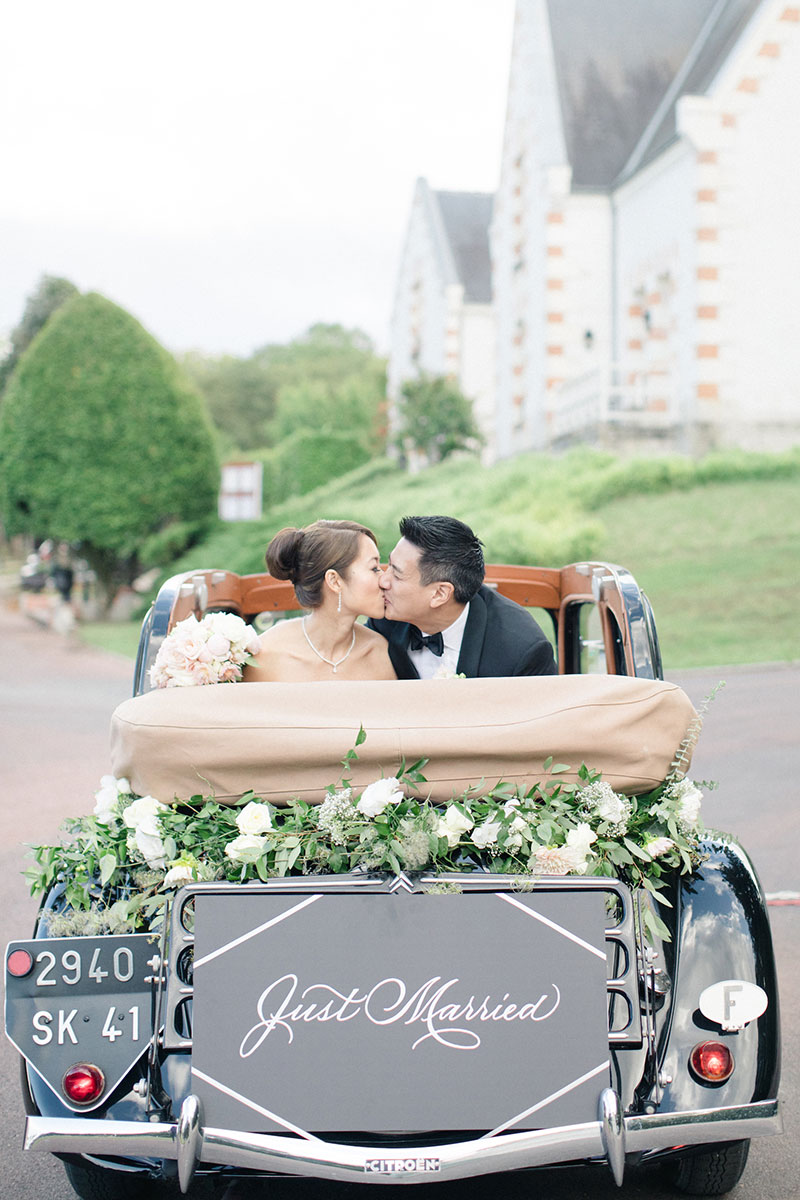 Photographer: Sandra Aberg Photography / Videographer: Zen Film Works / Venue: Chateau D'artigny , Loire Valley, France / Bride's Dresses: Inbal Dror, Audella Bridal (wedding dress), custom Paolo Sebastian (red reception dress), Marchesa (dancing dress) / Bride's Shoes: custom Jimmy Choo / Groom's Suit: custom tuxedo Ralph Lauren, Purple Label / Groom's Shoes: Hugo Boss / Bridesmaids' Dresses: BHLDN and Zimmerman / Makeup Artist and Hair Stylist: Sanni Sorma of Miss Mai, Michelle Goram / Bride's Nails: Eightyeight /  Accessories and Jewelry: Tiffany & Co (wedding rings and engagement ring), C & W Jewelry Design Co Ltd. (diamond necklace and earrings), Jannie Baltzer (headpiece) / Printer: Studio Passion / Invitations and Day-of Stationery: Studio French Blue with drawings by the bride / Florist: Sol y Flor / Cake: Synies / Ring Box: The Mrs Box / Ceremony Music: Bass player and string quartet / Party Band: Brightlights / Chairs and Tables: Options / Fireworks: PyroConcept / Wedding Planner and Stylist: Fête in France
Lakeside Lovers
Picturesque from all angles and surrounded by the serene waters of Lake del Garda, Loraine and Nick's wedding day was a touching celebration that filled our hearts to the brim. While we adore everything about their lakeside venue, we also loved all the intimate moments from their celebration. They kept styling at a minimum–with an all-white color theme–so that every one could better appreciate the beautiful location and peaceful surroundings. And it worked, because we surely did.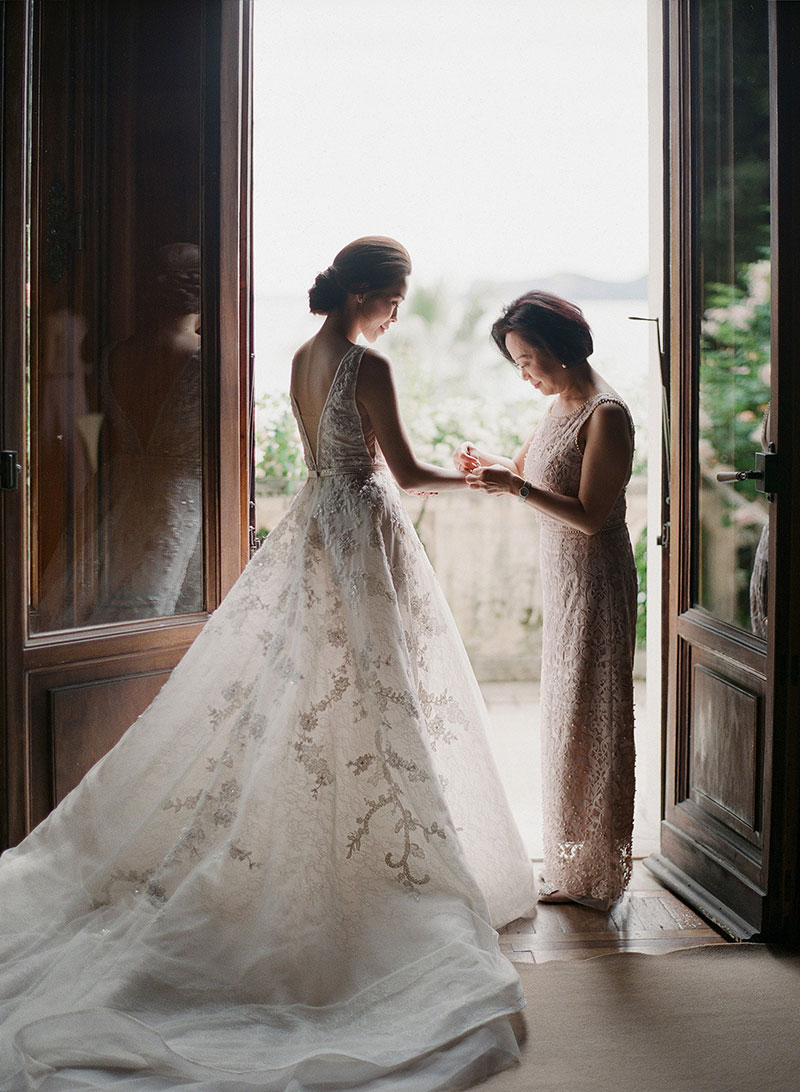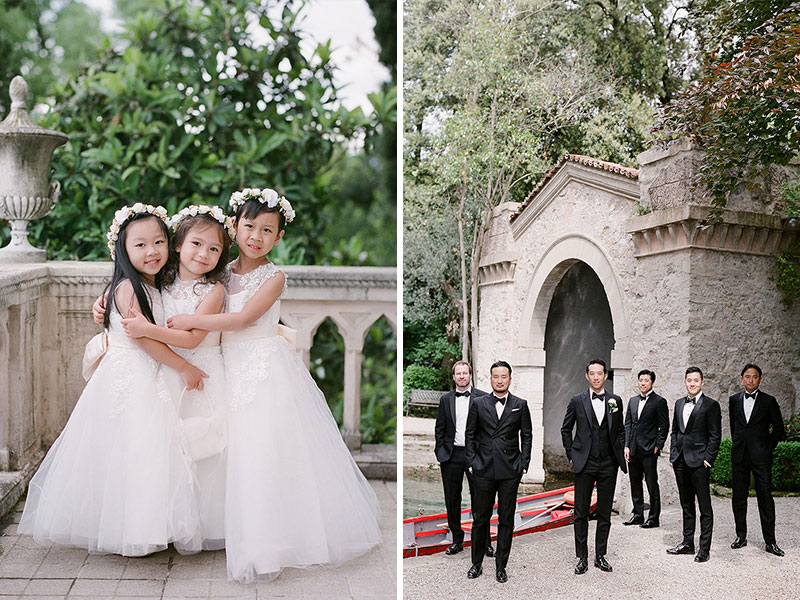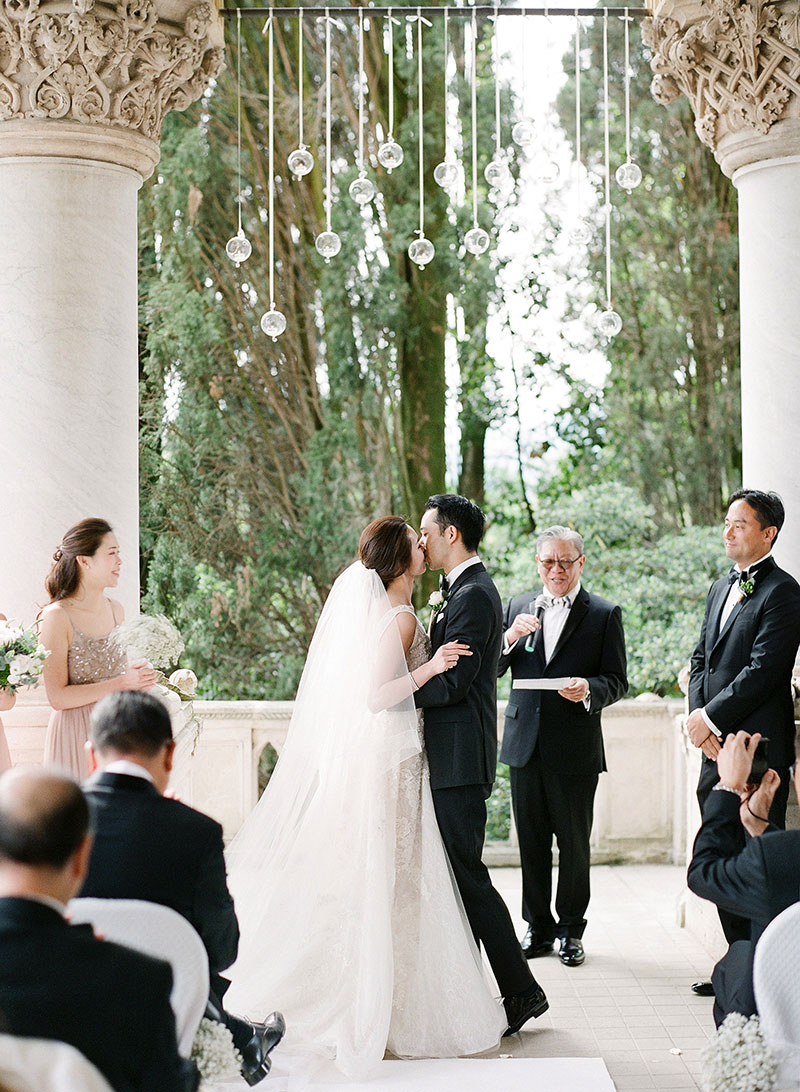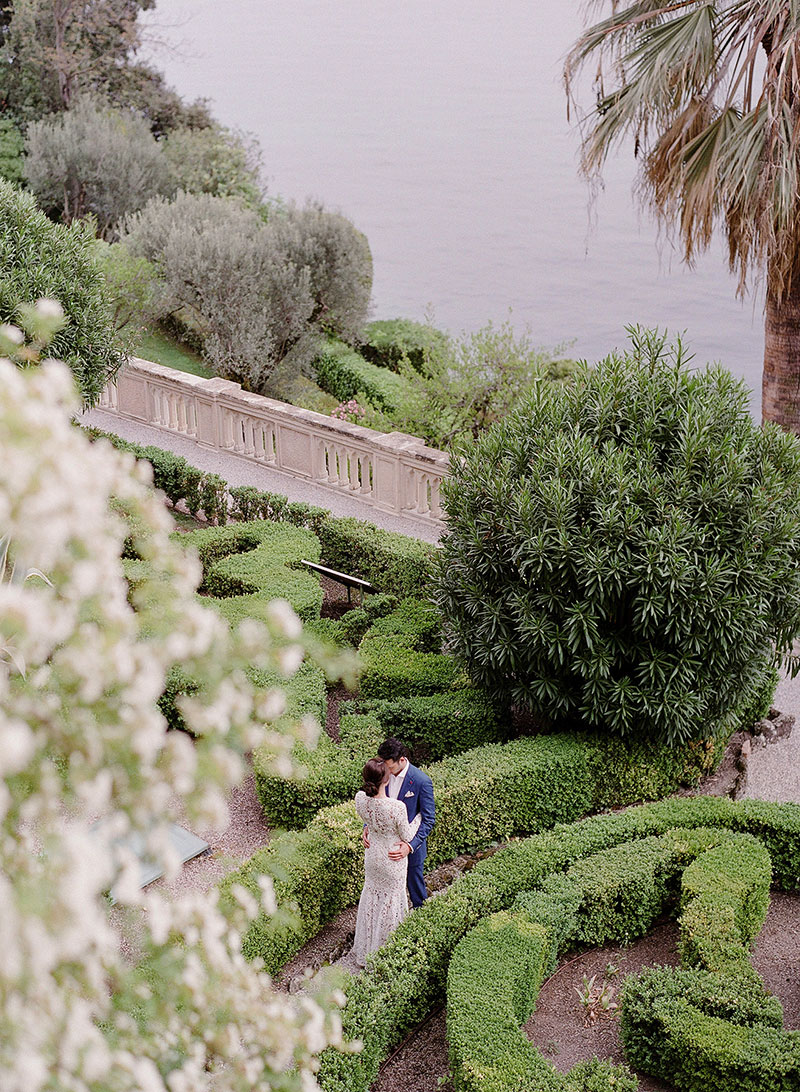 Photography & Videography: KC Chan Photography / Venue: Isola Del Garda, Italy / Bride's Gowns: Classic Tina Bridal Shop / Bride's Shoes: Stuart Weitzman / Makeup & Hair: Pinky Ku Makeup / Hong Kong Wedding Planner: White Bridal Salon
Let the Love Begin
Finally, we can't quite forget Ada and Kelvin's garden wedding just yet. It was a natural charmer with the gorgeous greenery all around the couple and the classic white flowers and decorations as chic accents. Elegant elements, such as white Tiffany chairs and gold calligraphy, also served as tasteful details turning the whole event into a glamorous celebration. What a beautiful start to their new life together!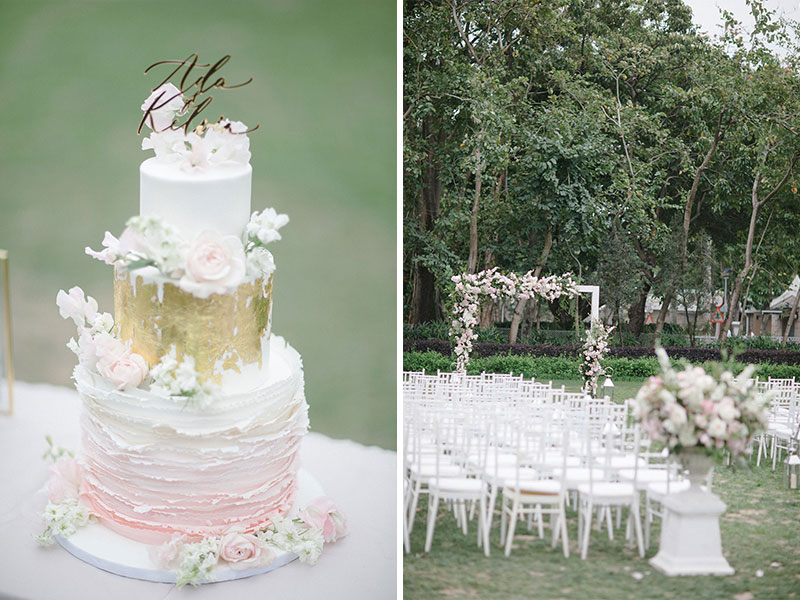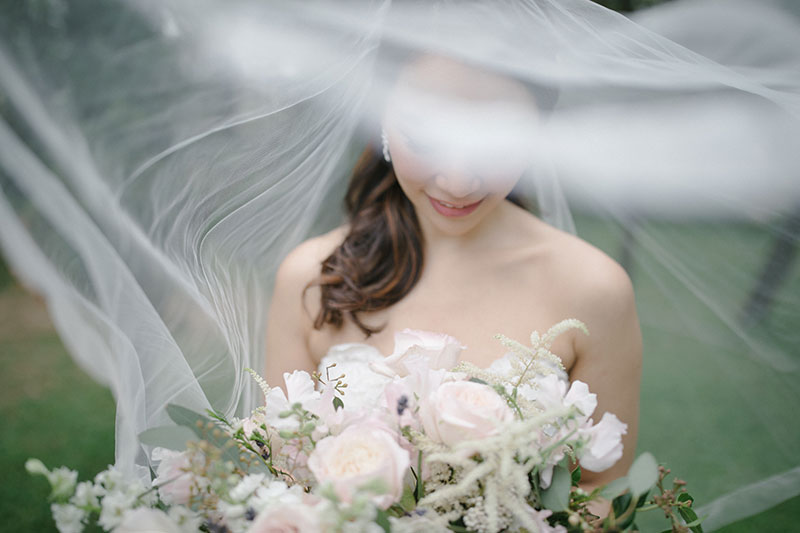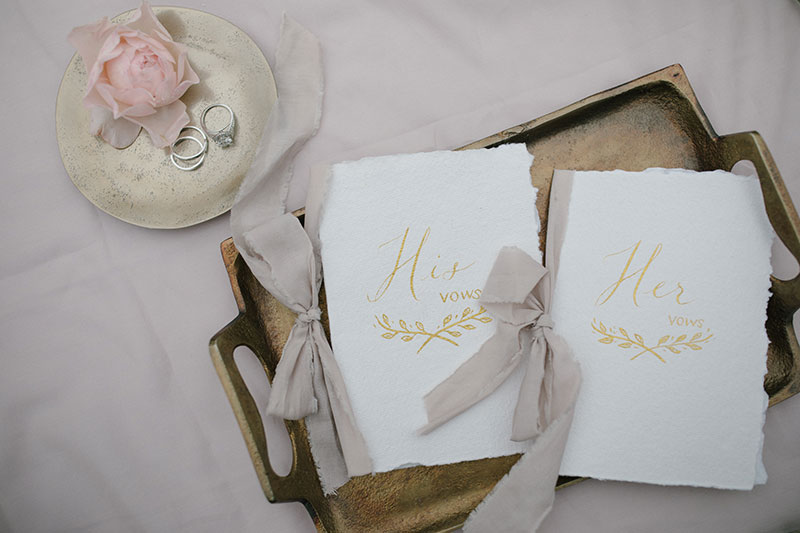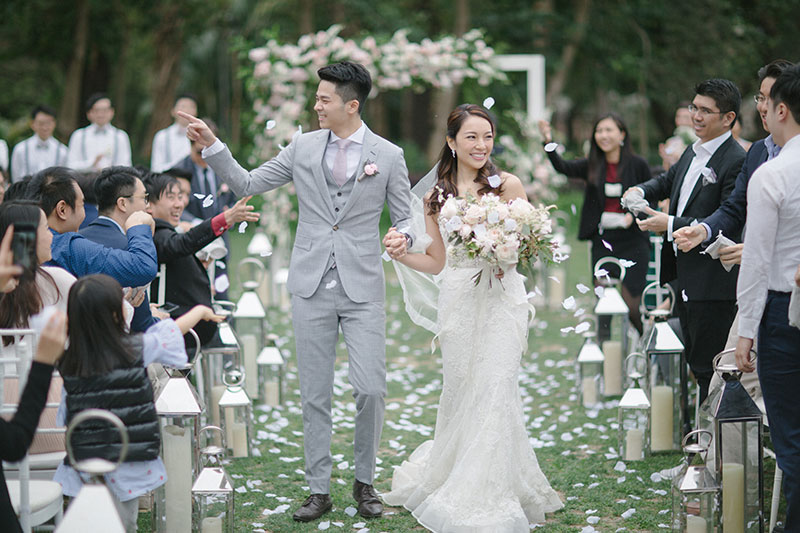 Photographer: Mary Ann Art & Photography / Videography: Mattography / Venue: Bauhinia Garden / Bride's Gown: Designer Bridal Room (wedding dress), Koon Nam Wah (Chinese Qua) / Makeup Artist and Hair Stylist: Nicole Lau Makeup / Flowers: JF Floral Couture / Stationary and Live Calligraphy: Featherly Script / Wedding Planner and Even Stylist: Timeless Event Design / Cake: Sparks & Cake / Band: Marcus Ho Music