Different venues call for different things to consider or look out for when it comes to planning a wedding. Naturally, the different venue features will tell what you will need, what you can take advantage of, and how else you can make your wedding stand out. So if you're planning a Chinese wedding banquet at a hotel, the same rules follow. You will need to keep a close eye on certain things. Here are 5 tips to help you out!
(1) Venue Size Comes First
[From: Timeless Event Design]
When you first start planning your Chinese banquet, one could easily be swamped in the numbers provided by the hotels, such as minimum spend, menu price, beverage packages, etc. But what you should do is to decide on the size of your wedding and then compare between the venues that offer the right size. This might sound silly, but some couples would go for a venue larger than what they need just because the minimum spend is lower, or that the minimum spend is similar to others but it offers a bigger space so it "seems" more worth it, says Hong Kong wedding planner, Timeless Event Design. They end up spending more on decoration to fill the empty space that they don't need in the first place. On the other hand, some couples might be too optimistic about how many people a venue can hold. Just because the hotel has told you that it can hold 35 tables doesn't mean that it should. Think about the number of tables you need and leave some space for the guests to move comfortably around and for things like stage and backdrop.
(2) Ask For Seasonal Ingredients
[From: Timeless Event Design]
Most hotels offer a range of "fixed" Chinese menus, starting from standard ones to more premium ones, with the option to upgrade or replace some dishes according to your preference. If you are a foodie or you simply want your guests to have special dishes that they have not tasted numerous times at other Chinese weddings before, Timeless Event Design recommends that you should seek the opinion from your hotel's chef and ask for seasonal specials. Chinese weddings are very food-focused. Give your guests a pleasant surprise by the menu you pick!
(3) Ample But Not Packed Program – Let Your Guests Eat!
[From: Timeless Event Design]
Chinese weddings are sometimes known for its notoriously packed program, admits Timeless Event Design. To ensure a smooth and enjoyable experience for you and your guests, insert program only after serving two to three courses each time. Chinese menu should include eight courses, with a ninth course for dessert, which is overwhelming enough on its own and very labour-intensive for the hotel staff. Having a packed rundown for the night would cause disruption to food serving as well as shorten the attention span of your guests.
(4) Make a Realistic Estimate Of Your Guest Count
[Photo: Henry Fok Photography / Decorations: Wedding Garden Decoration]
Usually, once the couple has set the day, they will choose venue and book reception. And as mentioned earlier, you need to, first and foremost, pick the right ballroom size. Generally, Hong Kong couples will start to plan for the venue one year before, or even earlier ahead. Because it is still far away from the day, it is difficult to count the actual guest number. So, so to book the right venue size, make sure to determine a realistic estimation of how many guests you will be having–this is crucial, stresses renowned local wedding planner, The Theme Wedding Design.
(5) Crosscheck The Dishes with Your Parents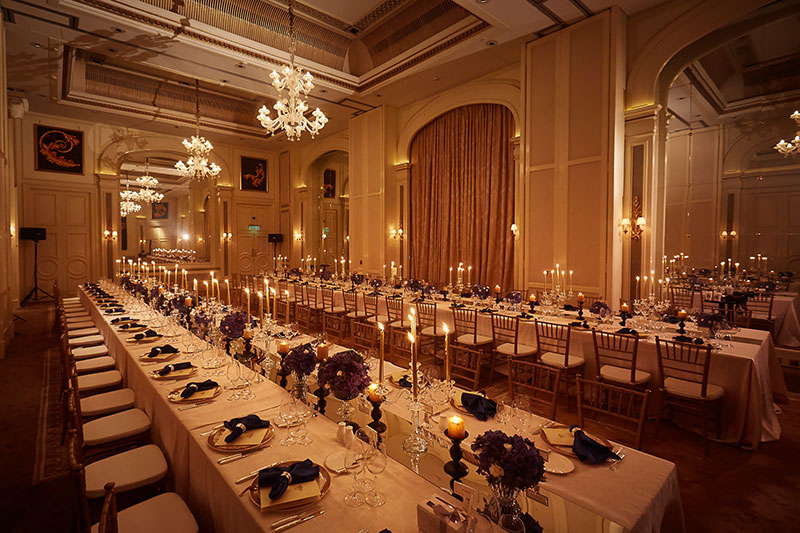 [Photo: Simon.The.Photo / Decorations: JF Floral Couture]
We understand the parents tend to be concerned a lot about each dish in reception, especially for a Chinese banquet because the banquet is a reflection of the host family. Most hotels offer six and eight dishes for the menu.  The Theme Wedding Design suggests for all couples to discuss the dishes with both sets of parents first. They might have special requests, or they might want a more selective and premium menu. For example, parents usually have concerns about  abalone and fish. The hotels have many options with different pricing for both. If you and your parents have concerns on this, it's better compare the menus at different venues before making a final decision.