Family and Tradition is an important part of our lives. We always want to make sure that we make our parents proud. And during the wedding, we pay our respects to them in the pre-wedding activities. As the bride-to-be, it is also an emotional journey for them to give you away and watch you start your life independently from them. Our moms, most especially, will be one of the happiest and sappiest people then! So, why not do something extra special for her? Here are different heartfelt ways you can honor your mom on your wedding day.
[From: A Classic Romantic Wedding in Hong Kong Gold Coast with a Blush Color Scheme / Photo: Belle & Olive]
1. Wear or carry something of hers on the big day.
Whether it's her repurposed dress, veil, jewelry, pin, or photo, having at least one thing on you that you associate with your mom will really fill up her heart no matter what it is. Even the little things will surely matter to her!
2. Have her walk down the aisle with you.
Under normal circumstances, your dad is the designated parent who will walk you down the aisle. We're not telling you to give him the backseat, but instead, why not give both of them a chance to walk you? That would make your mom feel special, having her go through the motions of giving you away along with your dad.
[From: A Classic Romantic Wedding in Hong Kong Gold Coast with a Blush Color Scheme / Photo: Belle & Olive]
3. Let her help while you out while you get dressed in your Qun Gua.
The dress you're about to wear is a special heirloom that really means a lot to the family. Letting your mom help you dress is a symbolic act of passing on years or family tradition and a gesture of a mother's love this is forever. Make this moment extra special and share it with your mom!
4. Have a fun moment with her during the wedding.
Whether it's getting ready together during the preps, having a mother-daughter dance during the reception, or a fun portrait session of just the two of you, your mom will definitely feel good when you acknowledge her presence on the day of your wedding.
[From: A Pretty Coral, Peach, and White Wedding / Photo: Hyvis Tong]
5. Say a short thanksgiving speech to during the Tea Ceremony.
Some words of gratitude will surely make her heart melt. Thank her for anything and everything! Surely, you will make the day even more meaningful for her.
6. Give her a personalized gift as a way of thanks.
A beautiful bouquet of her favorite flowers or a framed photo of the two of you. This is under your complete control–find something you know she'll love!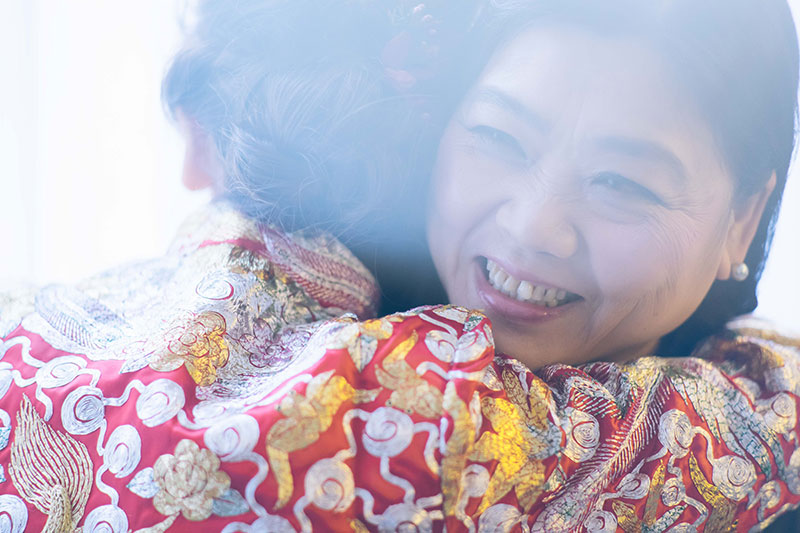 [From: A Classic Wedding with a Burgundy and Light Grey Color Theme / Photo: Storyteller Studio]
7. Lastly, give her a big hug!
Do you remember when was your last hug? A little gesture of affection will make your mom feel appreciated and loved. Giving her a big, tight hug is one way of telling her how much you love her and value all that she's done for you throughout the years.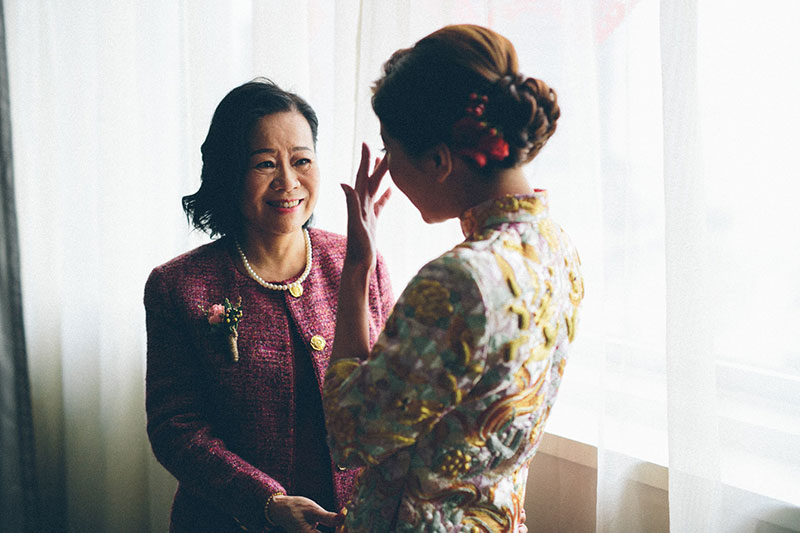 [From: A Grey and Red Themed Wedding at the Peninsula / Photo: Patrick Photography]
Never forget your dearest mother, darlings! She will always have your back and she's with you through thick or thin; married or not. Have fun thinking of ways to make sure she feels special on your big day!