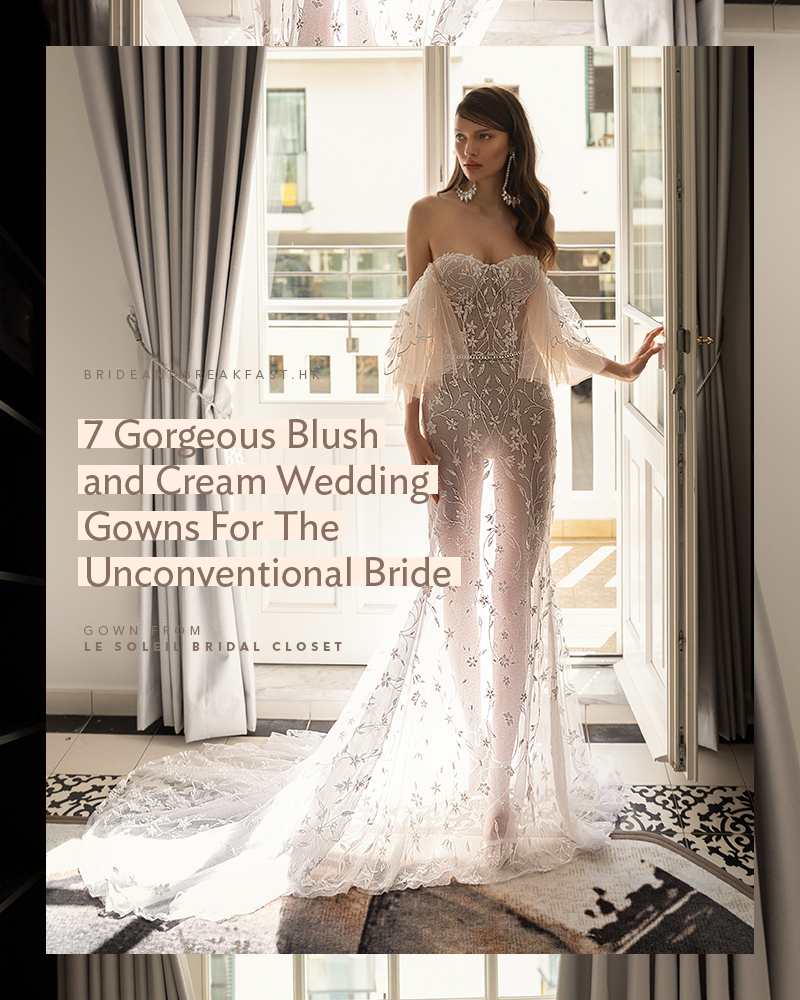 While tradition dictates for brides to wear white, who says non-white wedding dresses are prohibited? In this day and age, we're seeing more and more brides stepping out of their comfort zone and societal norm, and into embracing their individuality–we absolutely love it! Not only is this new trend exciting, it's also paving the way for more creative freedom, both for brides and designers alike. So, to get you all in on the hype, to inspire all the unconventional brides out there, and to welcome change, here's a roundup of gorgeous blush and cream wedding gowns that you can definitely rock at your wedding. Trust us, you will not regret appearing in something that looks different and new yet utterly beautiful–everyone will love it!
(1) Sophisticated Siren
For those who want to turn things up a little, but still not shock everyone too much, this Natalie dress from the Romanzo collection of Julie Vino wreaks of sophistication. Its nude blush tone is the first noticeable detail followed by the intricate beading sewn all over the gown. Le Soleil Bridal Closet encourages brides to seek out feminine tones–like the tone of this dress–for a hint of sophistication that isn't overpowering or too alarming for very traditional relatives.
(2) Blushing Beauty
Perhaps you're a little more adventurous, just a little, and you want a little detail that will give you a one-of-a-kind bridal look. The answer lies in this Riki Dalal gown claims Le Soleil Bridal Closet . The stark white bodice is complemented with a blush-cream A-line skirt, adorned with floral applique–just enough to accentuate that tiny waist! Topping it off with a cape-like veil and you know you'll get some looks of admiration.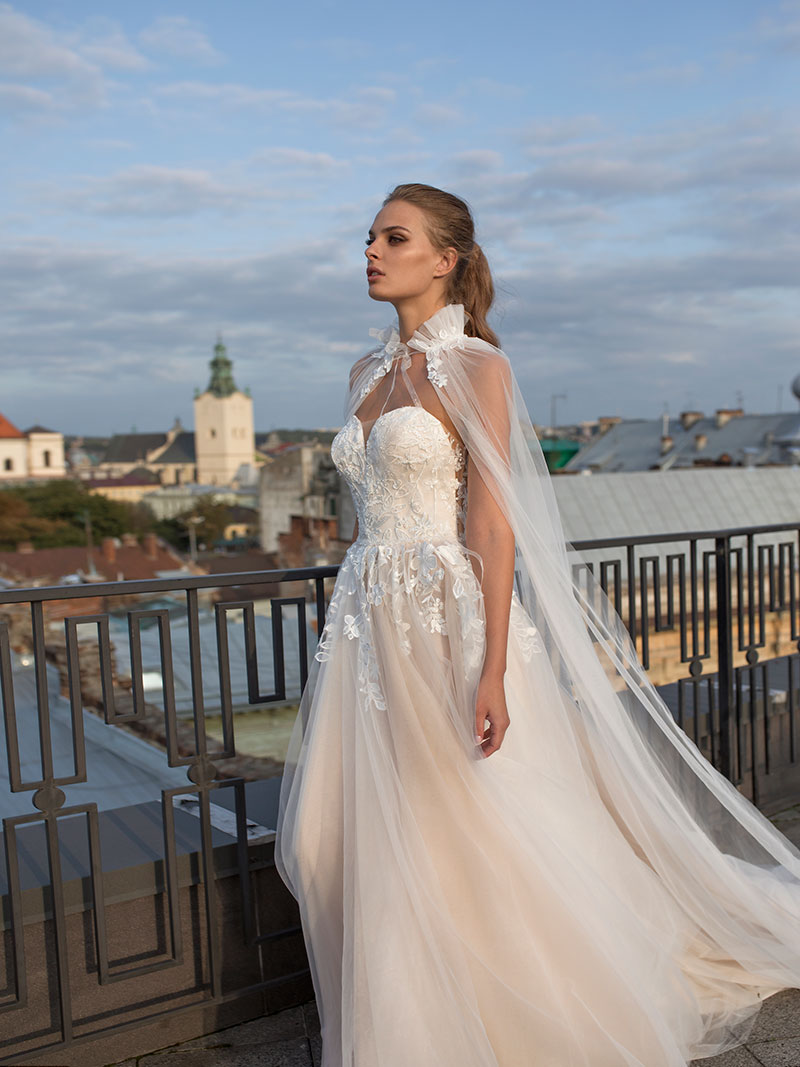 (3) Fairy Maiden

If you're a fan of all things magical, then a dress with just that will be the ultimate match for you. Le Soleil Bridal Closet's pick for such a bride is this stunner of a dress from Romanzo by Julie Vino. Take note of it's sheer off-white hue and intricate beading–doesn't that make this dress even more captivating? Let's also not forget the off-shoulder details that make this look one to remember.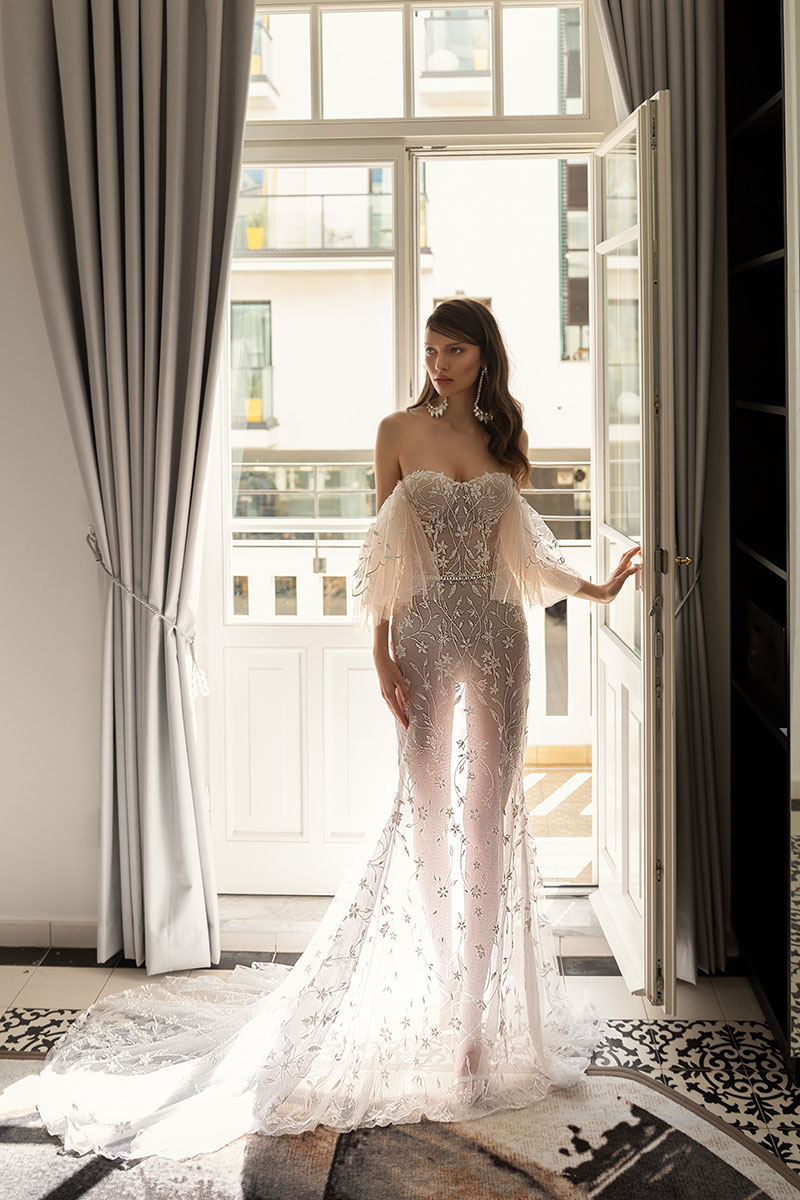 (4) Tantalizing Lass
Now, if you're looking to really do something different, here's a dress that will really call attention. This Leanne Marshall creation comes with an ivory lining and nude halter slip that are embellished with grey beading. Yes, you heard that right, grey beading. We can't take our eyes off this beyond gorgeous masterpiece from The Wed Genie. The a perfect play of cream and grey is absolutely tantalizing!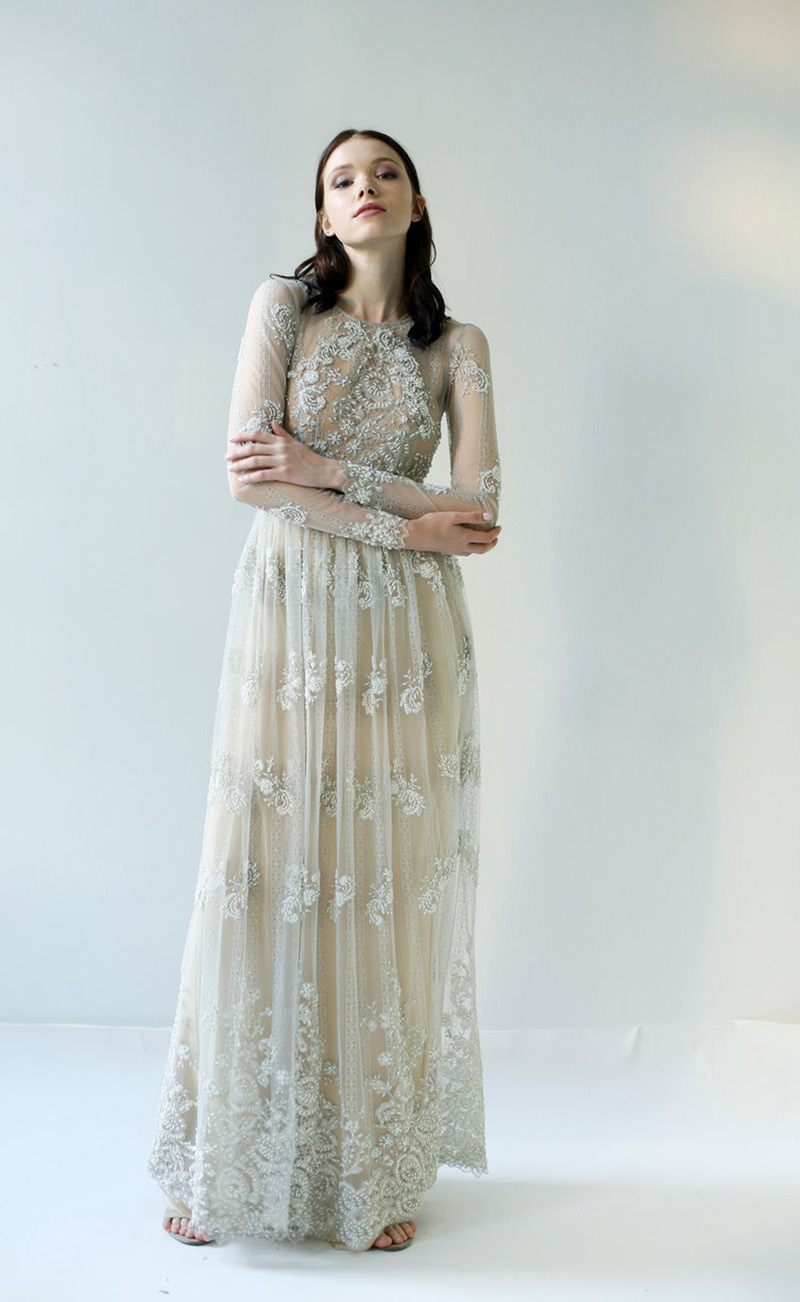 (5) Romantic Dame

This Alexandra Grecco gown is the perfect portrayal of romance. The A-line silhouette and intricate hand-embroidered floral appliqué truly make this dress a stunning work of art. Miss Bride Wedding Shop carries this gorgeous piece and claims that what makes this gown extra stunning is the plunging V-neckline and strappy back details that nearly disappear into champagne tone of the rest of the flowing fabric.
(6) Star of the Night
If there's a gown that is different and absolutely captivating, it's this Orion gown from Watters by Willow. The name itself already reveal a lot about the dress. And once you see it, you'll be caught by the spellbinding details says Miss Bride Wedding Shop–the shiny, cream-colored V-neck Estrella Tulle that's covered with an infinite number of gold and silver sequin stars are incredible! This dress will surely to steal the spotlight!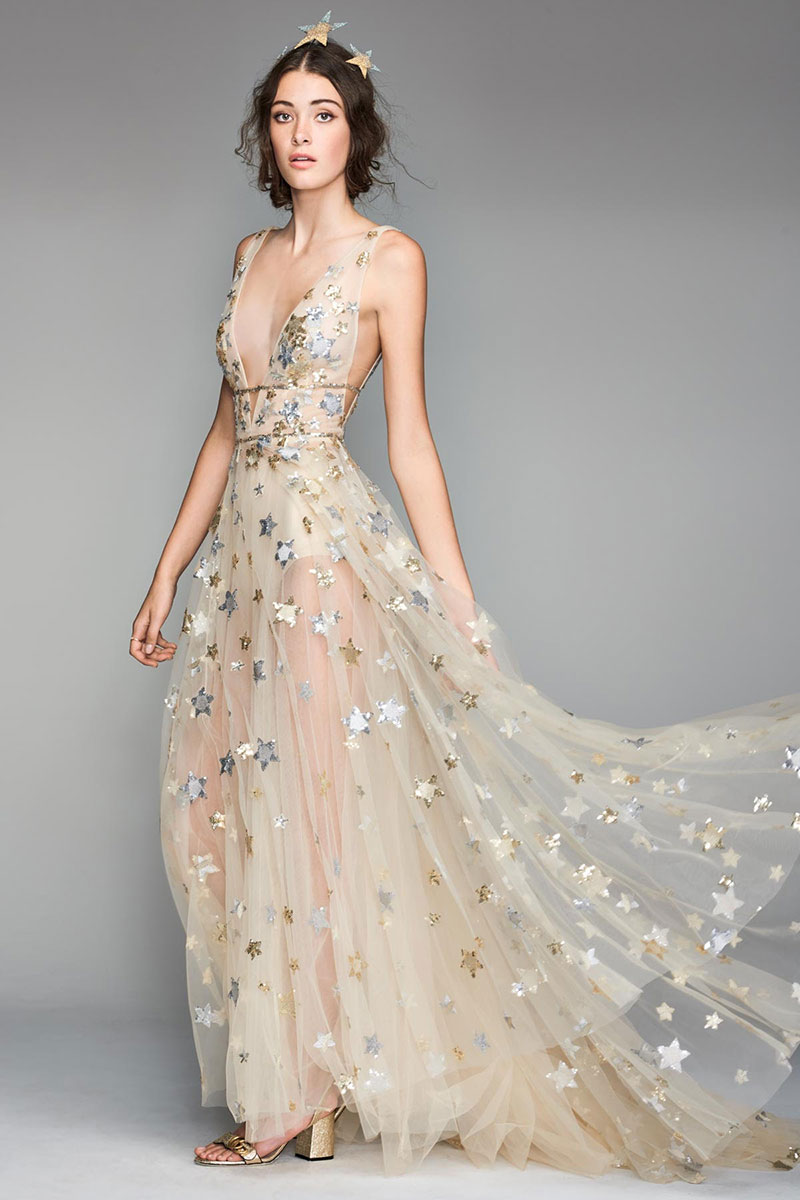 (7) Modern Mrs
Finally, here's a dress for the modern mrs. This champagne silk satin dress may not look like much, but once worn, the fabric tells all! It flows so gracefully around the body making its bearer look immaculate! And with every movement, you can assure a glimpse of shimmer here and there where the light touches. The Wed Genie was correct in saying that this dress is the ultimate charmer.