Though there isn't any actual written handbook on the do's and don'ts for wedding guests, there are some unspoken rules on behavior that every guest should follow as common courtesy to the couple. If you've been invited to a wedding and are unsure about how to properly go about accepting the invitation and attending the wedding in the proper manner, here's a quick guide for you!
[From: A Pretty, Coral, Peach, and White Wedding / Photo: Hyvis Tong]
DO
(1) Do RSVP.
[From: Classic Elegance / Photo: Jenny Tong Fine Art Photography]
And RSVP on time. If you're still not sure if you can make it by the due date, inform the couple or their planner that you need more time and give a date when they can expect your final answer. Don't wait until the couple or the wedding planner runs after you for your response. If you initially said you can go, but for some reason after you can't anymore, inform the couple right away.
(2) Do double check if children are invited.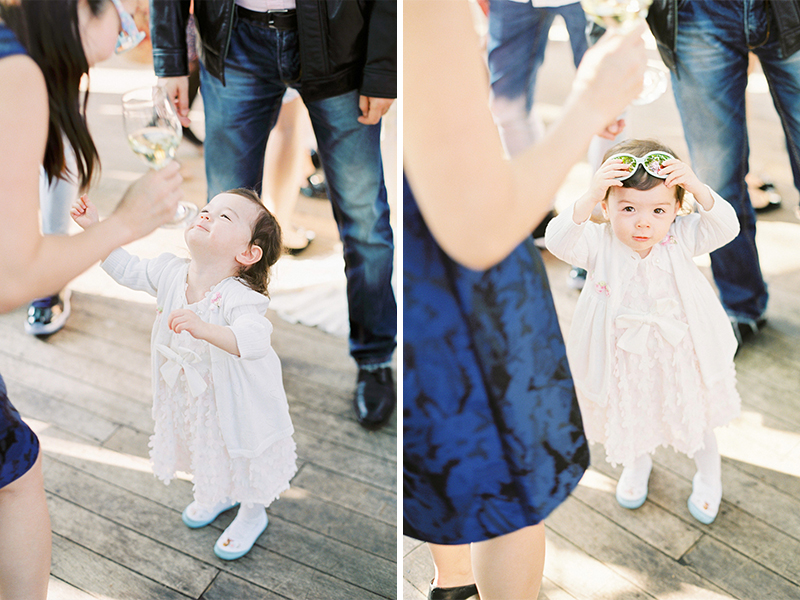 [From: An Intimate Wedding at Peak Lookout with Beautiful Florals / Jenny Tong Fine Art Photography]
Some invitations specify whether it's an adult only event, others don't, or are vague. You can check the allotted seats in the invitation and if it accounts for your children. Or, simply ask the couple to be sure.
(3) Do arrive at the wedding on time.
[From: A Pretty, Coral, Peach, and White Wedding / Photo: Hyvis Tong]
This one is self explanatory.
(4) Do follow the dress code specified in the wedding invitation.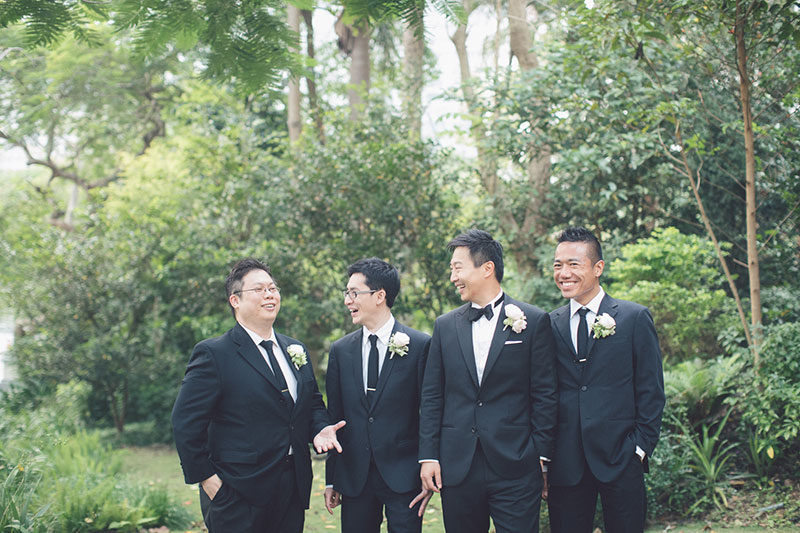 [From: A Pretty, Coral, Peach, and White Wedding / Photo: Hyvis Tong]
Make sure you're properly dressed for the occasion. If the invitation says Black Tie, then make sure you come in exactly that. Following the wedding dress code is one way to show your respect for the couple and their special day.
(5) Do set your phone in silent mode or turn it off.
[From: A Glamorous Nature-Inspired Wedding in Phuket / Photo: TheCablook Fotolab]
Imagine if your phone rang in the middle of the couple's vows? What a major distraction that that would be–it will totally ruin the moment! Veer away from potentially disastrous incidents like these by keeping your phone volume down.
(6) Do keep your speech short and sweet.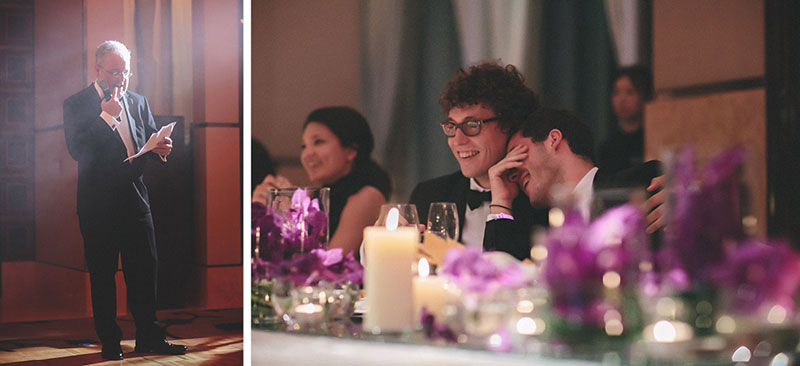 [From: Meet Me at the Cathedral / Photo: History Studio]
If you've been asked by the couple to say a few words during the reception, keep it quick yet meaningful. The point is to say something from the heart. It's also best to go straight to the point if you want to keep everyone's attention and make an impact. Click here for some tips on how to make the best wedding speech.
(7) Do drink responsibly.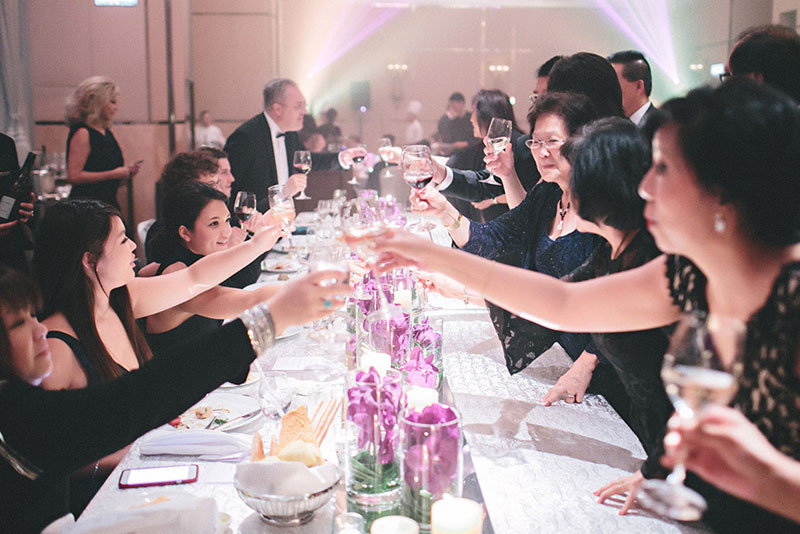 [From: Meet Me at the Cathedral / Photo: History Studio]
The last thing a couple wants is to have guest that's all over the place and out of hand. An open bar isn't an invitation to consume as much as possible. It's more of a gesture of gratitude and an offer to have a good time. Pace yourself, spend time with the couple, and offer a toast or two for them.
(8) Do support team bride.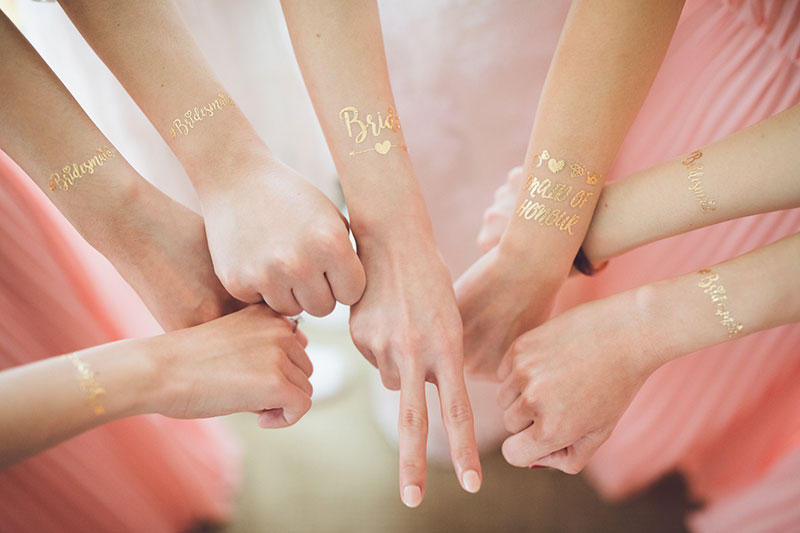 [From: A Peach Themed Wedding at the Grand Hyatt Hong Kong / Photo: Hyvis Tong]
Chances are that we have all had to wear something we did not want to as part of the bridal party or groomsmen. As much as the couple tries to please everyone, it is sometimes not quite possible. So as to not add on to the stress of wedding planning, be as supportive as you can. Remember that the couple's happiness is more important than our pride.
(9) Do remember to give your blessings with lai see.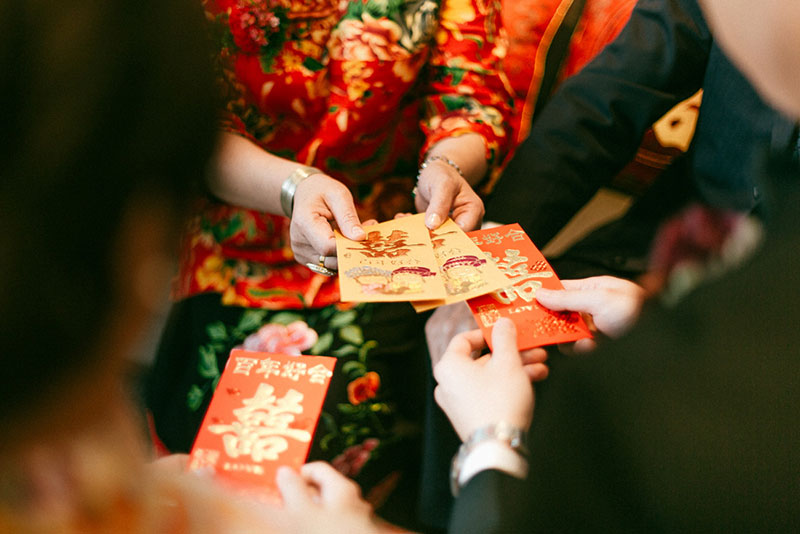 [From: A Grey-Themed Wedding with Vibrant Red Flowers / Photo: Heather Lai]
Even if you don't attend the wedding, it's Chinese custom to still give lai see as a form of blessing to the couple. If you're attending, bring your own laisee packet. Write some blessings and sign your name. If you forget, the venue usually prepare some extra ones. The amount of lai see you give can be sensitive and subjective. Some benchmarks would be, the venue, your relationship with the couple, or how much lai see you received from them at your own wedding. If you are embarrassed and don't know how much cash to gift, you can discuss with the same group of friends who will go to the wedding with you. The usual amount for lai see nowadays is around HK$800-1,500. No matter what the value, always remember to avoid a lai see amount with 4 at all costs.
(10) Do use wedding hashtags.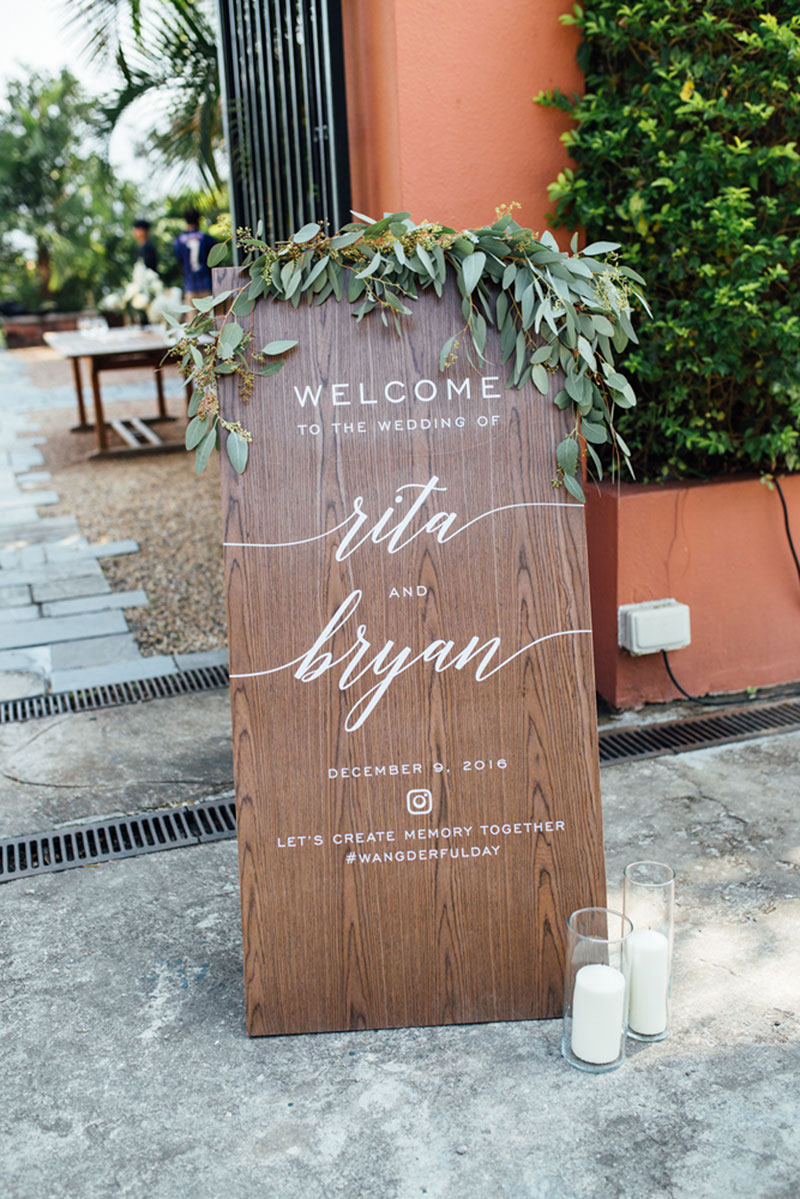 [From: A White Wedding by a Cove with Quirky Personalized Details / Photo: Capture Life by Chantal]
In this digital day and age, hashtags help us to keep stock of what happened on that very eventful day. With so many hashtags around, we're sure that the couple must have spent a long time trying to mash their names together to get a hashtag that belongs to them, and them only. Do join in the fun by using the hashtags provided by the couple!
DON'T
(1) Don't bring a plus one if you're not allotted one.
[From: A Lovely Pink and Blue Pastel Wedding in Phuket / Photos: Darin Images]
No need to take this to heart. The reason being the couple is managing the guest list and their wedding budget. Sometimes, they will really need to narrow down the number of people invited. If you really want to bring someone, you can ask permission from the couple. They might just have extra room.
(2) Don't bring a proxy without asking permission from the couple.
[From: A Lovely Pink and Blue Pastel Wedding in Phuket / Photos: Darin Images]
If your invitation specifies the name of your plus one and that person can't make it, don't bring a friend without notifying the couple. The only people invited to the wedding are those addressed on the formal wedding invitations. Otherwise, you'll need their go signal.
(3) Don't wear too casual or too sexy clothes.
[From: An Intimate and Elegant Wedding by the Beach / Photos: Darin Images]
Although most weddings don't have specific dress codes, to show respect at the wedding, you should not wear anything too casual, e.g. T-shirt and jeans. Also, please do not wear anything too sexy because people should not shift their focus to you instead of the bride! Don't wear anything similar as well. Remember, she's the star.
(4) Don't enter the bridal suite if you're not part of the preparations team.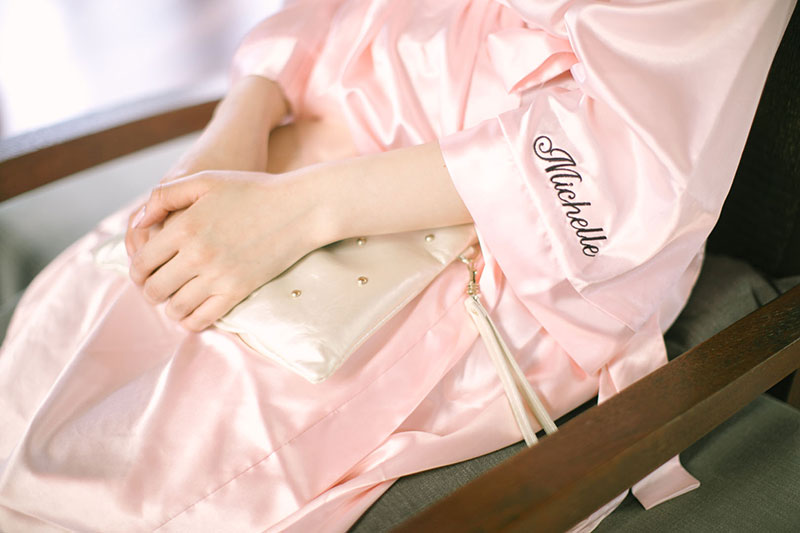 [From: A Pretty, Pink and Purple Outdoor Wedding / Photo: Belle & Olive]
Some friends and family want to see the bride before the ceremony and go to the bridal suite for a quick visit. While this is a sweet gesture, it's not advisable because the bride will be fully engaged in preparations and pre-wedding activities. Wait until after the ceremony to talk to her and send your well-wishes. By then, you will have her full attention.
(5) Don't play paparazzi.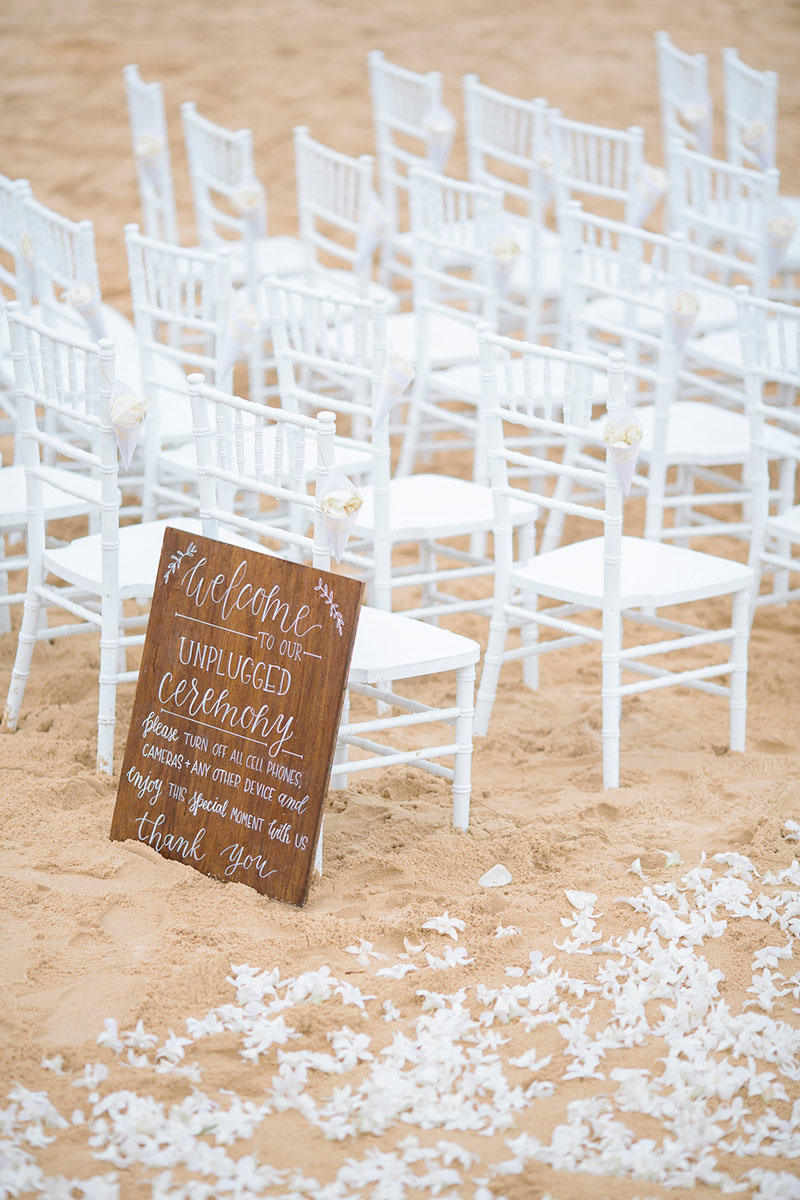 [From: An Intimate and Elegant Wedding by the Beach / Photo: Darin Images]
Yes, we know you want to snap away, but try not to distract the other guests or block the way of the couple's photo and video team. The bride and groom hired a professional team to capture their special day. So allow them to do their job and keep your phone out of the way.
(6) Don't pass many mobile phones to photographer during group photo session.
[From: A Burgundy and Mint Wedding at Repulse Bay / Photo: History Studio]
Similarly, it's rude and it causes delay when guests ask official wedding photographers to take photos in guests' mobile phones. We understand you want to have the group photo A.S.A.P., but this will delay the whole rundown. You can still pass one to the photographer or the emcee or any bridal party–one phone is enough–then everyone can grab that photo.
(6) Don't leave too early.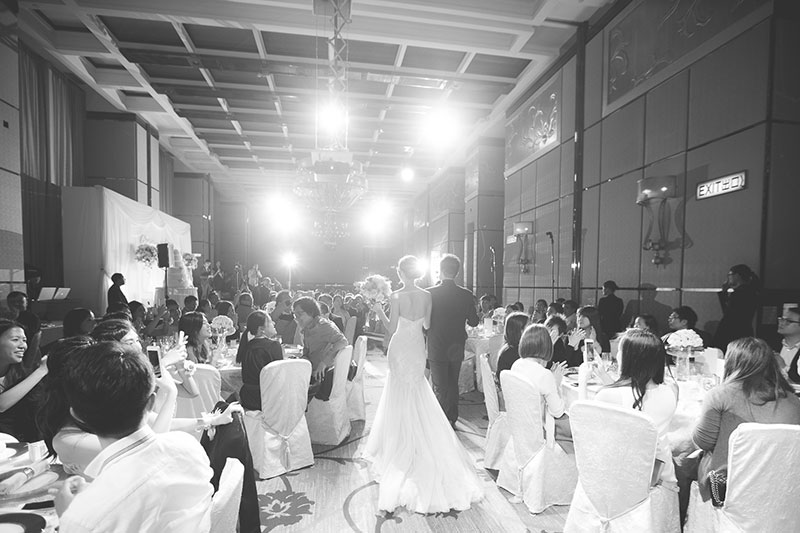 [A Blush, Coral, and Red Church Wedding / Photo: Ming Yung Photo]
You're not required to stay until the party is over, but do stay until the end of the program. The couple would love to have you there to enjoy and celebrate with them. If you can spare a few minutes for a drink with them after, that will be great, too!
(7) Don't go overboard with the door games.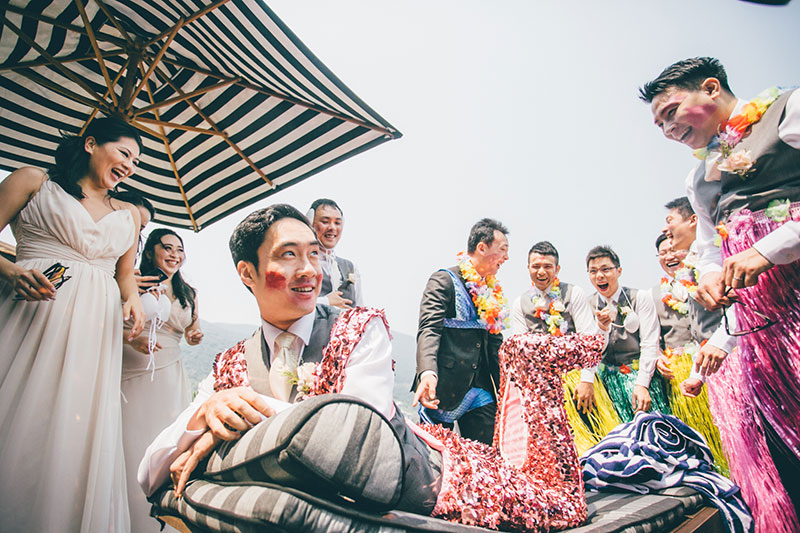 [From: Delicate Drama / Photo: Binc Photography]
As part of Chinese culture, door games were created for grooms to prove their worth for their bride. Sometimes, we may get too excited that the door games become distasteful or even cause a delay in the wedding schedule. It is nice to have some fun before getting your well deserved lai see, but please don't torture the groom too much before he even gets to say his vows.
If there's anything that's you're still unsure of, you can always ask the couple! Don't forget to enjoy the celebration and have a great time with the bride and groom.
Sources: Martha Stewart Weddings, Buzfeed Weddings