Merry Christmas! Last week, we released our Styled Shoot Giveaway which will award one (1) lucky couple a free styled shoot to be planned, coordinated, and styled by the Bride and Breakfast Hong Kong team. We actually never did this before for a real couple! Today, we're spilling more details about the shoot. We are excited to hear your creative ideas and so do keep reading to find out more.
First up, we're revealing the full vendor list for the shoot! Here they are.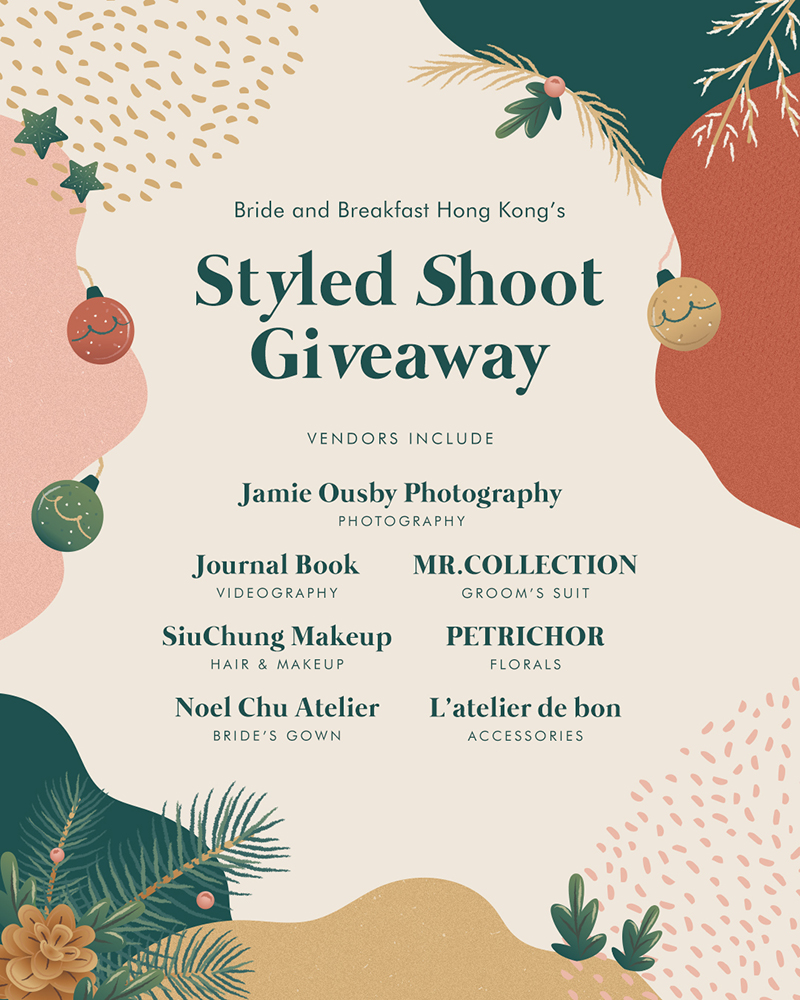 Born and raised in rural England, Jamie is a former UK television broadcast engineer. In 2008, he followed a girl to Hong Kong and the rest as they say is history. He loves love photographing weddings and feels it is a huge honor to be entrusted to document the biggest day in a couple's life. "I always strive so that my photos reflect the day as it happened through your eyes," he says. He brings a totally new approach to wedding photography to Hong Kong. With a single photographer (just him!) and no assistants, he is able to let events unfold naturally and capture them as they occur. "I'm more like a guest with a camera, blending into the background," he shares. "This way I am able to capture intimate and natural moments without you noticing."
Journal Book believes in capturing one's wedding with photography and videography the same way historians persist in keeping their journals: truthful yet aesthetical. They aim to celebrate human artistry and craft with the journal of weddings. They hope that their work will become a journal for brides and grooms to keep, a memory to be shared forever.
"Style to fit differential" is the core value of SiuChung's makeup philosophy. She creates very specialized services for each and every client, making sure to highlight their unique assets and beauty.
After obtaining her Bachelor's degree in Sociology in the U.S., Noel returned to Hong Kong to pursue her studies in law. However, instead of becoming a lawyer, she decided to take part in her family's wedding dress business. With her 10 years of hard work and dedication, Noel has become one of most renowned dress designers in Hong Kong and is well known to overseas clients.Noel's fresh approach to tailor-made couture for brides has been cultivated with years of exclusive custom-designing of bridal and evening wear. Noel bases her design of true individuality on her strong fashion sense, and hence creates quintessential dream bridal gowns.
MR.COLLECTION is a brand in British cosmopolitan gentlemen style. They focus on chic and elegant, but subtle details; products are crafted by local designers and experienced tailors. MR.COLLECTION offers business suits, evening suits, high-quality footwear, and accessories which are sourced from Korea and other countries. For the tailor-measuring services, they give importance to excellent meticulous tailoring and simplicity slim-fit design. MR.COLLECTION insists on local design spirit while taking inspiration from the British gentlemen style.
Petrichor E. N. Floral specializes in fresh flowers design, including hand-tied bouquets, as well as  decorations for events and weddings. PETRICHOR is the scenario when earthy scent is released from the air when rain falls on the soil and flowers are moistened and start to bloom. It is encouraging and gives people the power to move on. PETRICHOR believes everyone has a story. There are joys and sorrows. We hope that we can follow everyone's heart and construct your story with flowers.
L'atelier de bon is a design workshop focused on creating exquisite accessories inspired by big or small moments in life. They admire women who are independent, appreciate themselves, and have a vision. L'atelier de bon represents Dream, Passion, Love, and Courage. They hope their creations will walk with brides from their daily lives to their special moments, together with all the joy and tears that make those instances extra special.
You must be wondering too about the shoot. Well, we want to create something special for the winner. Of course, we will work closely with the couple to arrive at the perfect theme that will also suit them and their personality. But in addition to that, we want to surprise them with a unique theme and experience that will make their pre-wedding photo session even more memorable. We can't wait and we look forward to it! So if you haven't joined, join now!
To join, simply answer this questionnaire now.