Planning your wedding doesn't end with the ceremony and reception preparations. You also need to choose your entourage members–special individuals you want close to you during your special day! These men and women will also be helping you out throughout the wedding planning process. Therefore, you want to honor them and show your gratitude by giving them some tokens or gifts of appreciation. To make the gesture even more meaningful, why not give cute and personal items! Here are 16 personalized gift ideas you can give to your entourage–we're 100% sure they will love the gesture and the extra effort.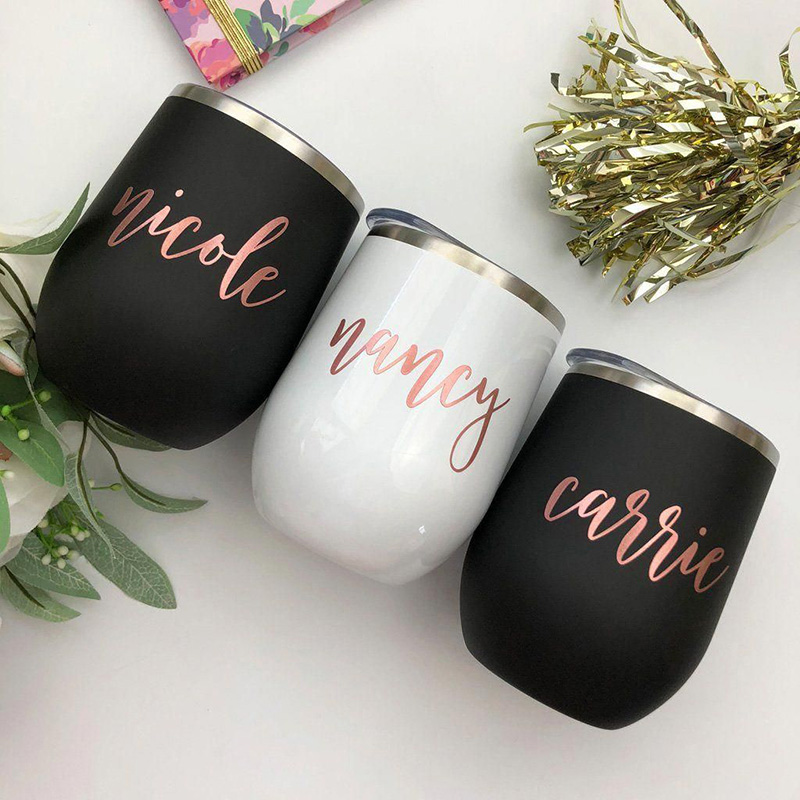 [Photo: Bridesmaid Gifts Boutique]
How about giving your bride tribe these customized stemless wine cups made with vacuum insulated technology? These cups will definitely keep drinks cold (or hot) for long hours. It's also a great way to start toasting and celebrating with your girl friends!
Laser Engraved Pocket Flask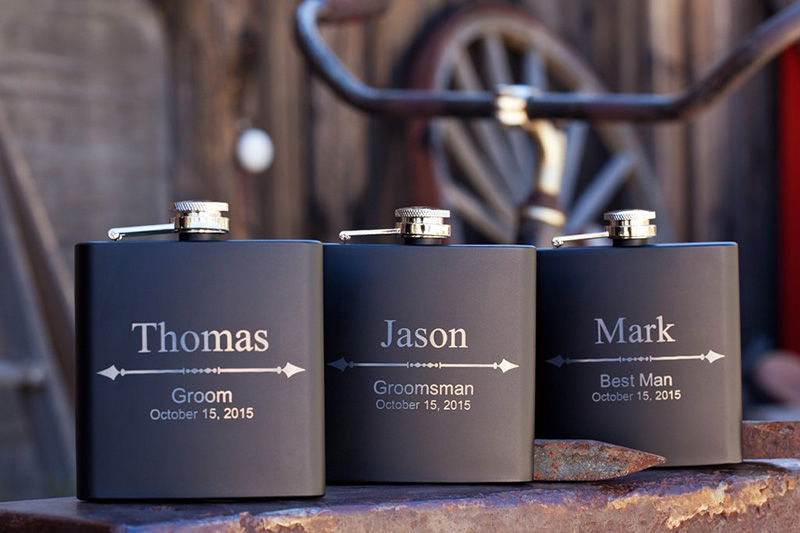 [Photo: Sin City Engraving]
Of course, the groom's best buddies should also have a little something equally cute. And in the same spirit of celebrating, here are personalized stainless steel flasks that are just perfect. What's good about these flasks is that each one perfectly fits in a pocket! Now, isn't that a go-to party must have for your partner's groomsmen?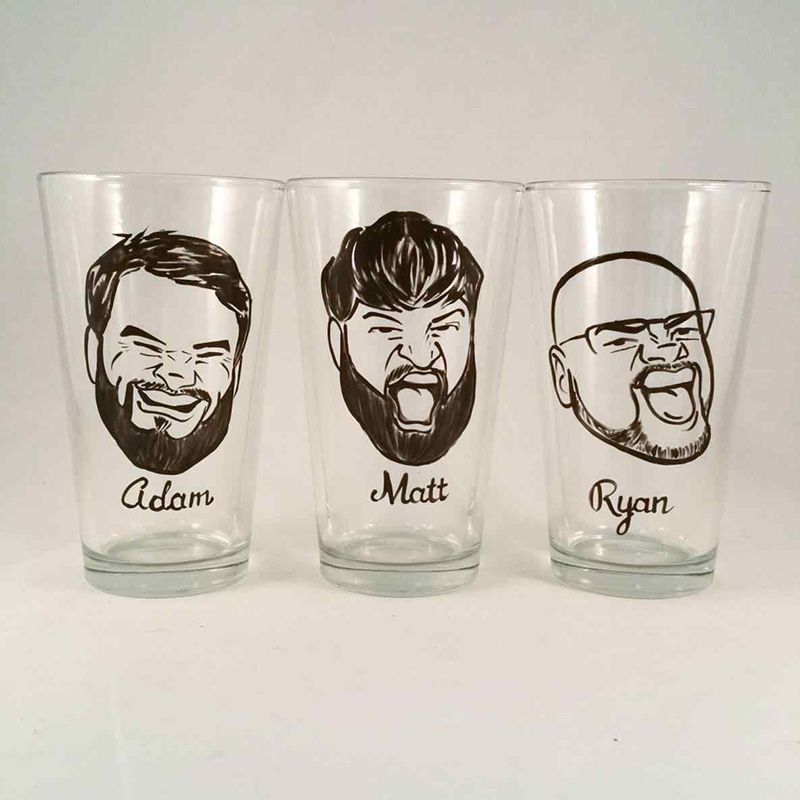 [Photo: Crystal Peace Studio]
You can never go wrong with shot glasses, and these ones with caricature hand-painted drawings of your friends' faces are too adorable to let go of! Get these vintage-style caricature shot glasses for your groomsmen–they'll surely be amused when they see their faces.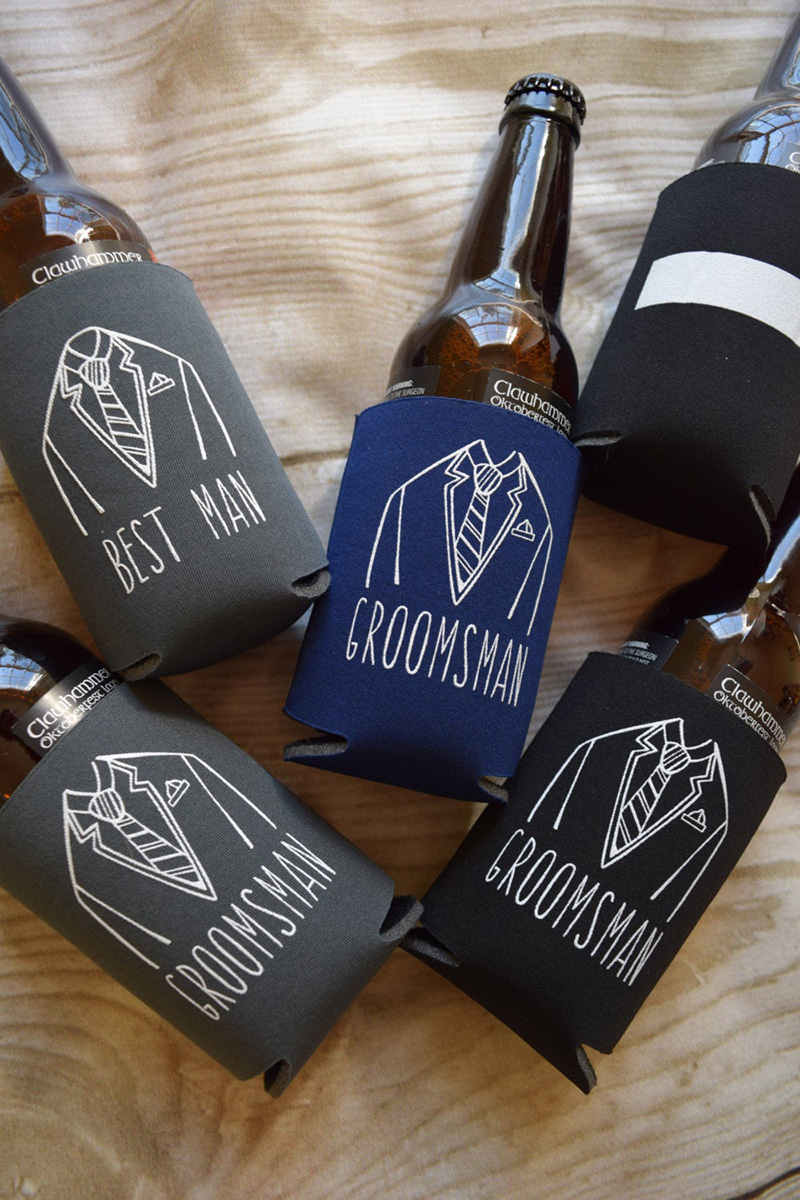 [Photo: You're That Girl Designs]
Here's an amazing find: can coolers. These handmade collapsible foam coolies are perfect drink accessories that are useful, even after your wedding. Your groomsmen will surely love these. You can write their names at the back and further customize them too!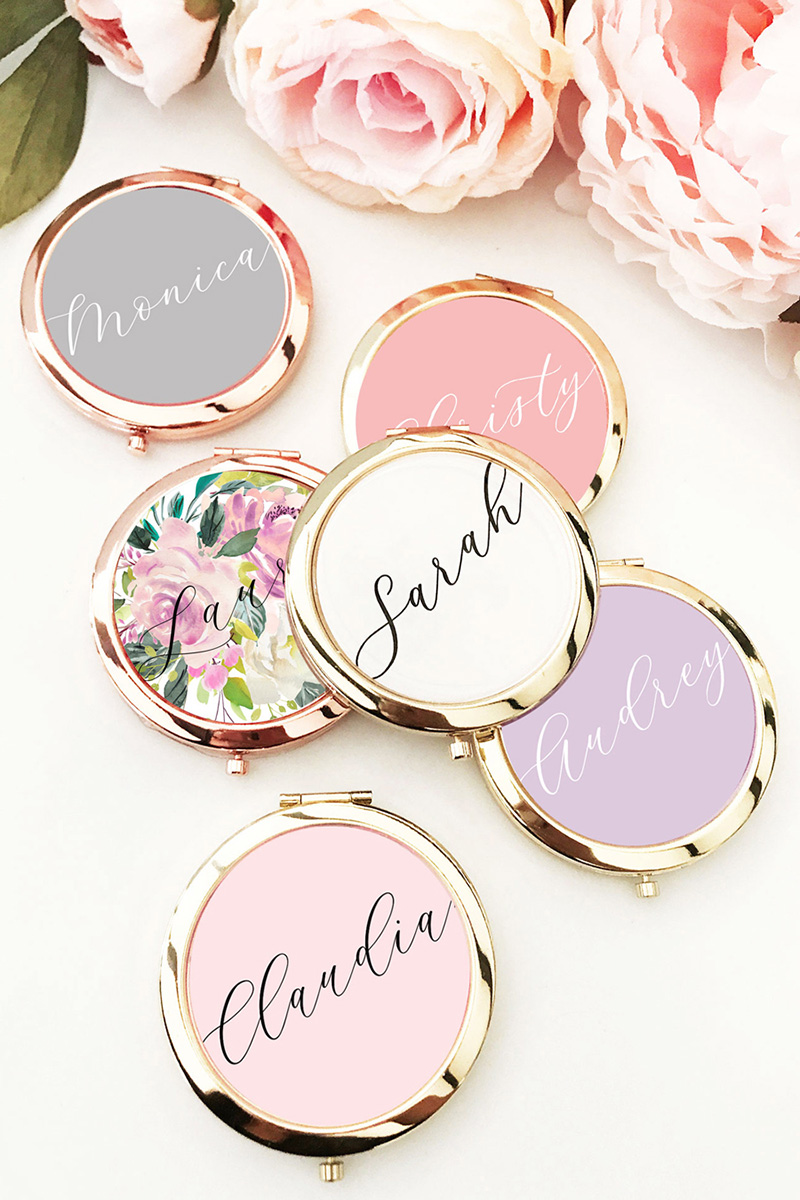 [Photo: Chicfetti]
This beauty must-have will surely be a hit for your bridesmaids. You can choose gold, silver, or rose gold for the mirror base and then add your desired background design. Finally, finish it up with their names in elegant calligraphy font!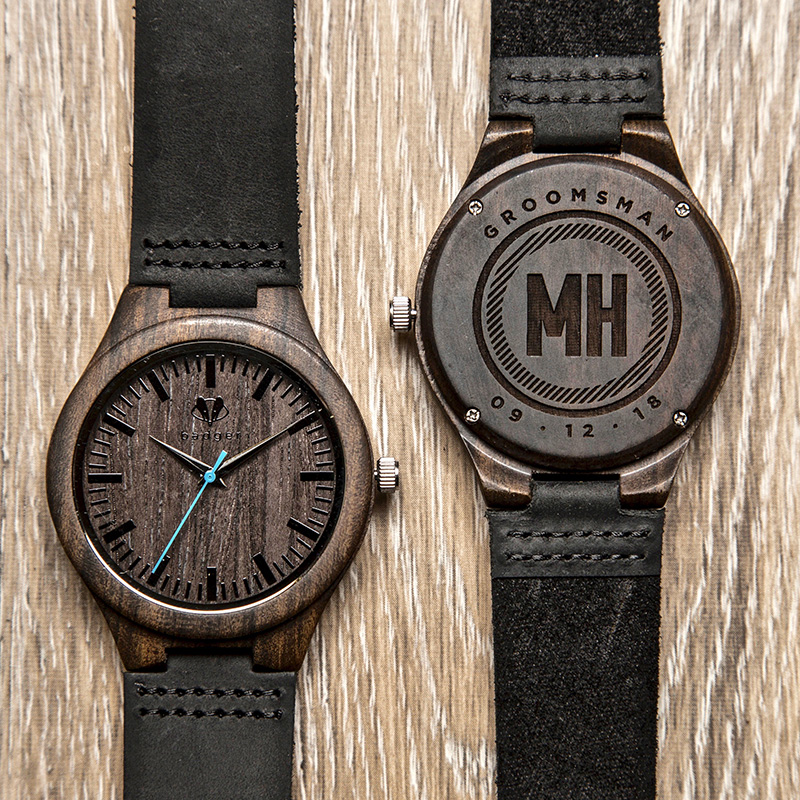 [Photo: Swanky Badger]
You can give your groomsmen a stylish accessory to wear on your wedding day. Take these wooden wristwatches, for example. Make it even more personal by including their initials at the back. Such a gift will be truly cherished!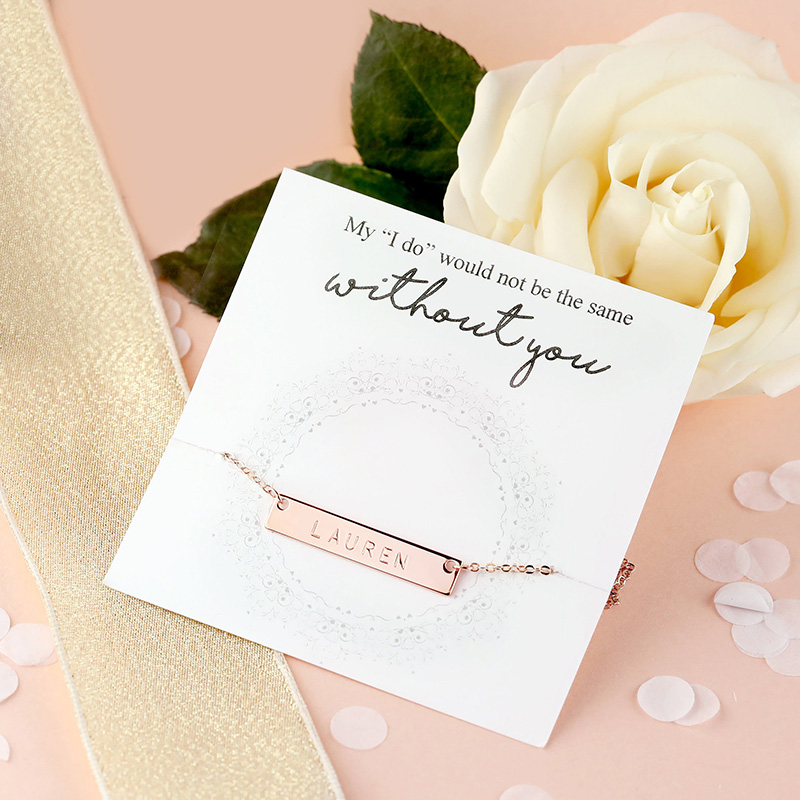 [Photo: Mignon and Mignon]
Gold plated? Silver plated? Rose gold plated? What ever kind you choose, we bet your bridesmaids will fall in love with this dainty and chic bracelet with that has their names engraved on it! This goes well with every outfit and can be layered alongside other bracelets. A cute wearable like this will be a hit!
Personalized Jewelry Dish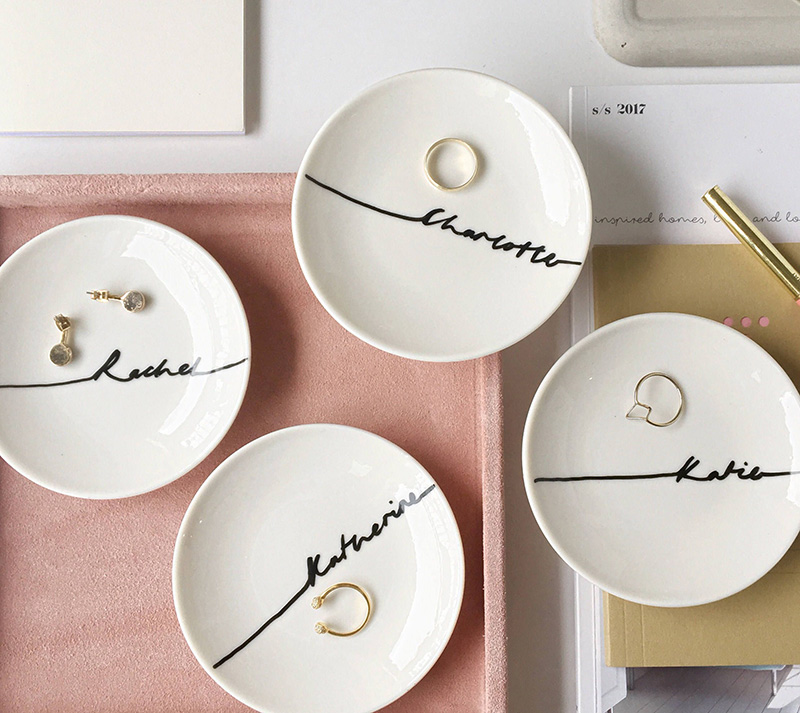 [Photo: Peony London]
While you're all getting prepped together, surprise your bride tribe with these personalized jewelry dishes! It's cute to have these alongside one other in the bridal room! We're sure they will also use these at home for their accessories, just the way you all did during the wedding.
Initial Engraved Cuff link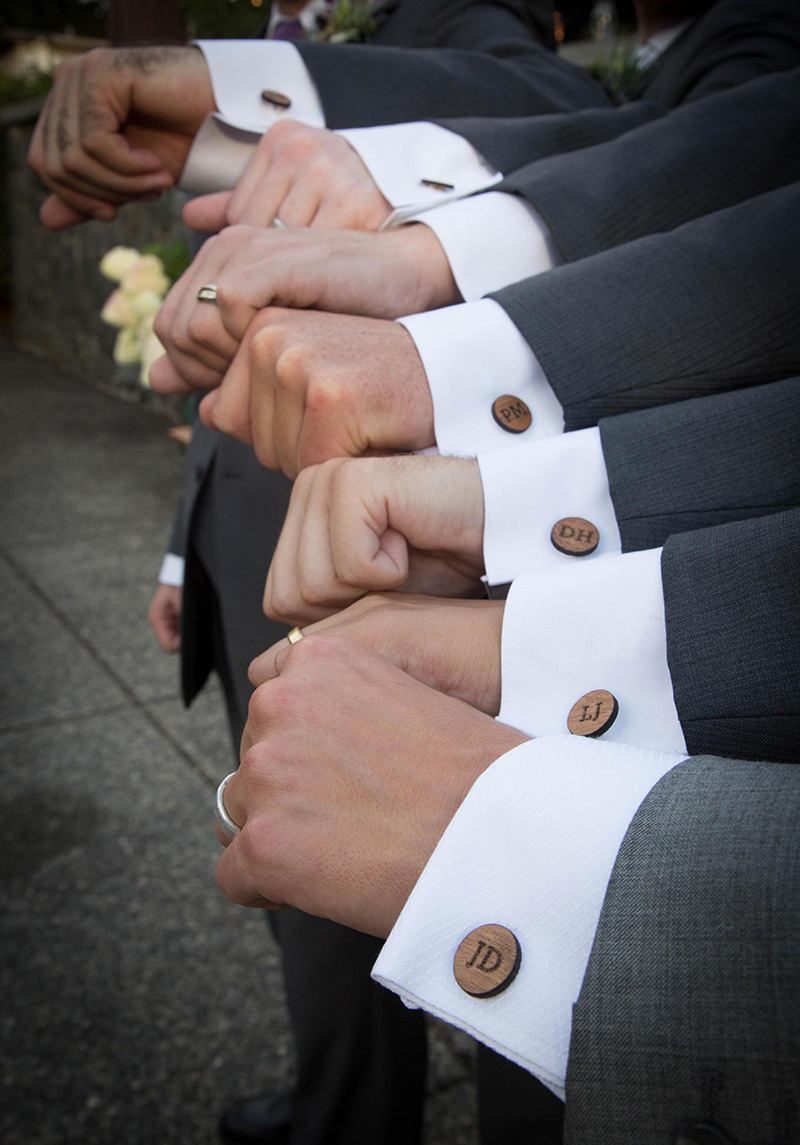 [Photo: HartGiftCo]
Maximize your rustic-themed wedding by having your groomsmen wear these round wooden laser-engraved cuff links! The guys will surely love these not only because they look cool, but also because they can definitely use them for other occasions as well.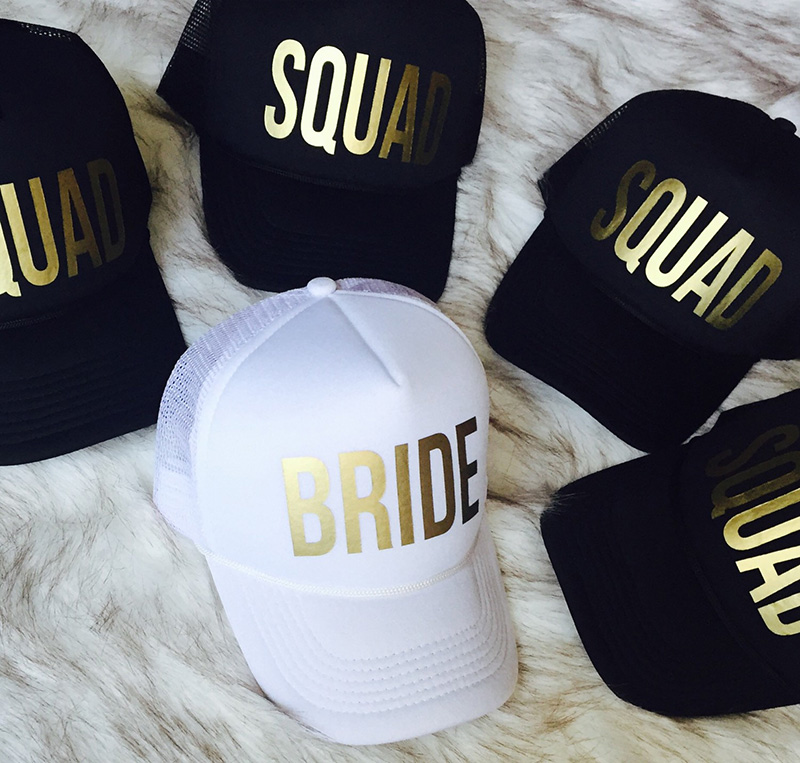 [Photo: Prepare Wear]
Wear these matching handmade bride squad hats with your girls during your bachelorette party! The metallic gold text makes these hats extra chic–these will be cool to wear even after the party. Giving this to all your gal pals and wearing them together will make your entourage #squadgoals!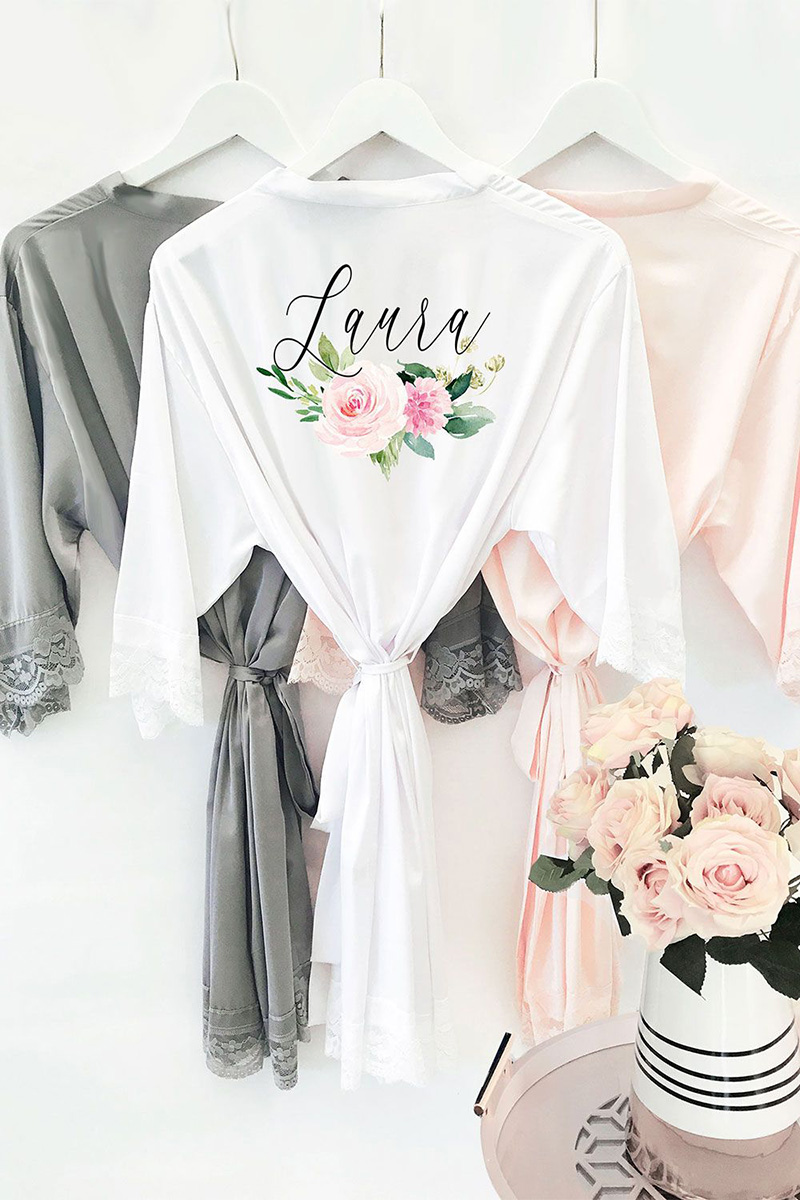 [Photo: Wedding Favorites]
Bridesmaids love robes, so gift your tribe with matching floral satin lace robes. The back of the robe can be personalized with names and you can add extra floral prints for that feminine touch. Also, how chic are the lace trim details? Don't forget to take cute photos with everyone in their robes on your wedding day!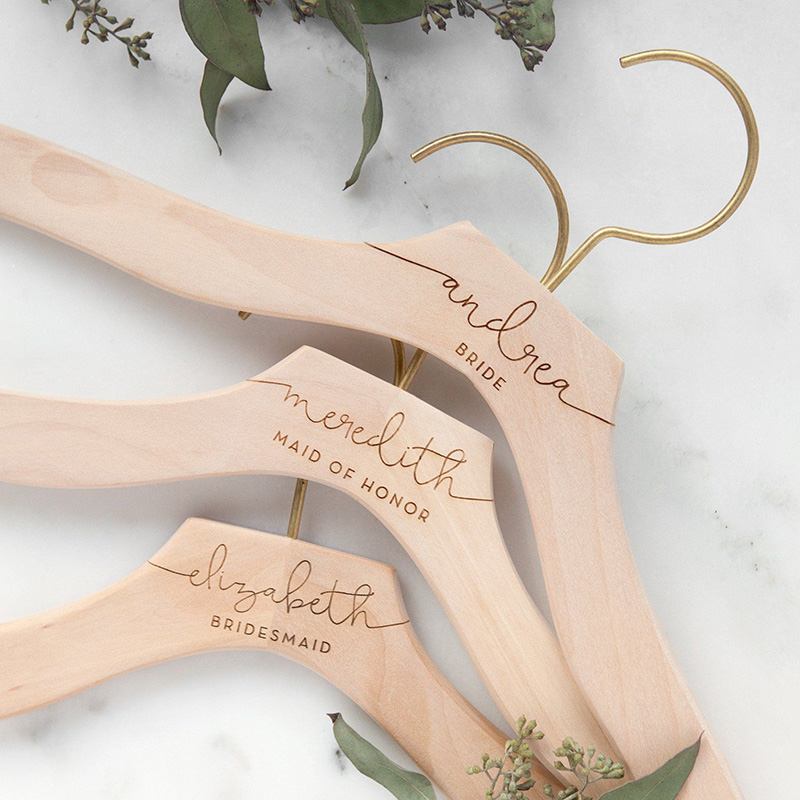 [Photo: Fox Blossom Co.]
You can also get something practical that for your your bridesmaids. These customized wooden laser-engraved cloth hangers will elegantly complement your bridesmaids' gowns. They will also find a home on their closets after the wedding. If you want something practical yet adorable, have these!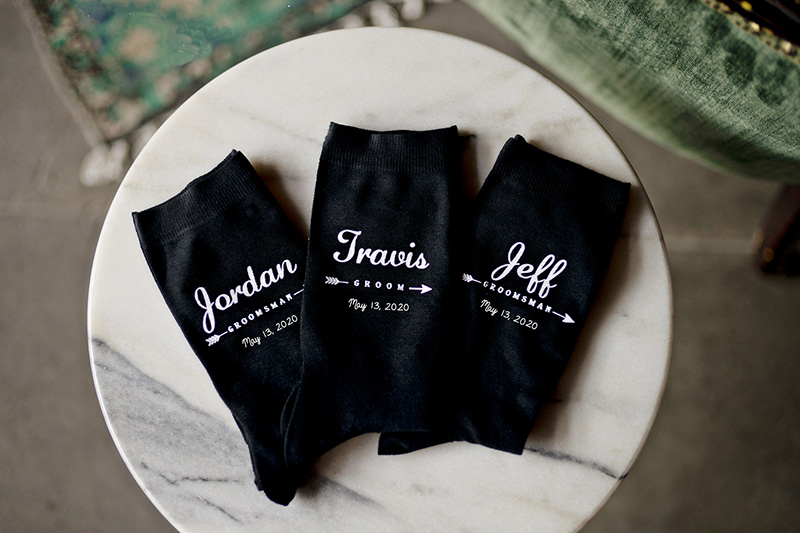 [Photo: Sock Prints]
Get your groomsmen matching wardrobe pieces too. These black personalized foot socks are too cute! Even if they don't admit it, guys love to have matching pieces with their bros as well.
Initial Engraved Leather Wallet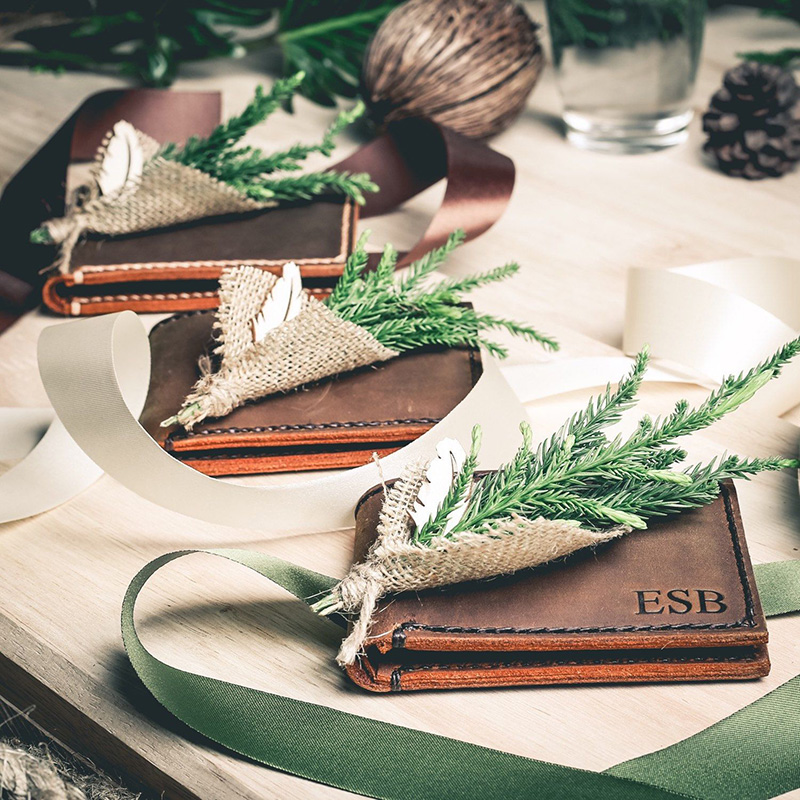 [Photo: JooJoobs]
Your entourage will surely be glad to receive a leather wallet with their initials engraved on it. Aside from the initials, you can also choose a monogram that you desire. If that's not enough, put an engraved short message inside as well! What a meaningful gift!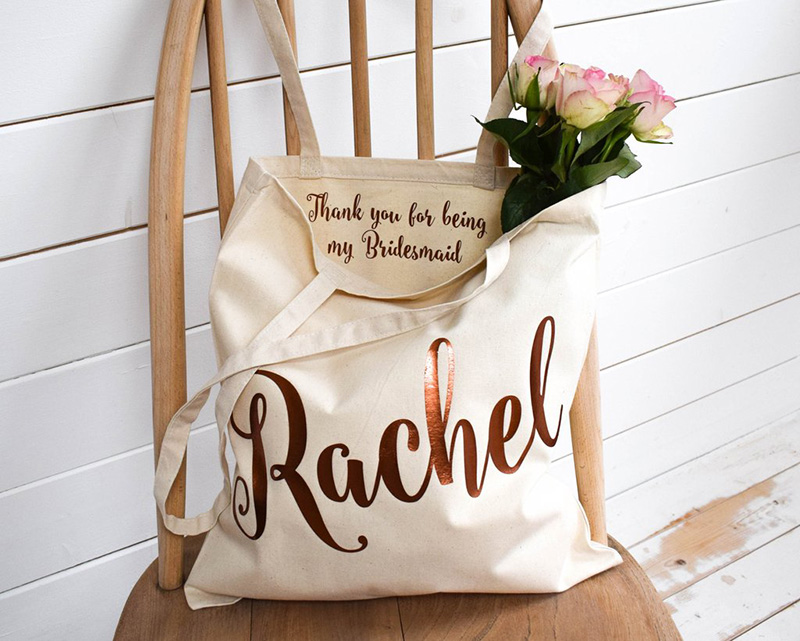 [Photo: The Personalised Wedding Company]
Who doesn't like tote bags? Aside from being useful, totes are good go-to bags. Spoil your bridesmaids with these tote bags with their names printed on it. Then, add a special touch to this gift by leaving a thank you message inside for them to read. Your bride tribe will surely carry their totes with pride.
Personalized Cookie Gift Box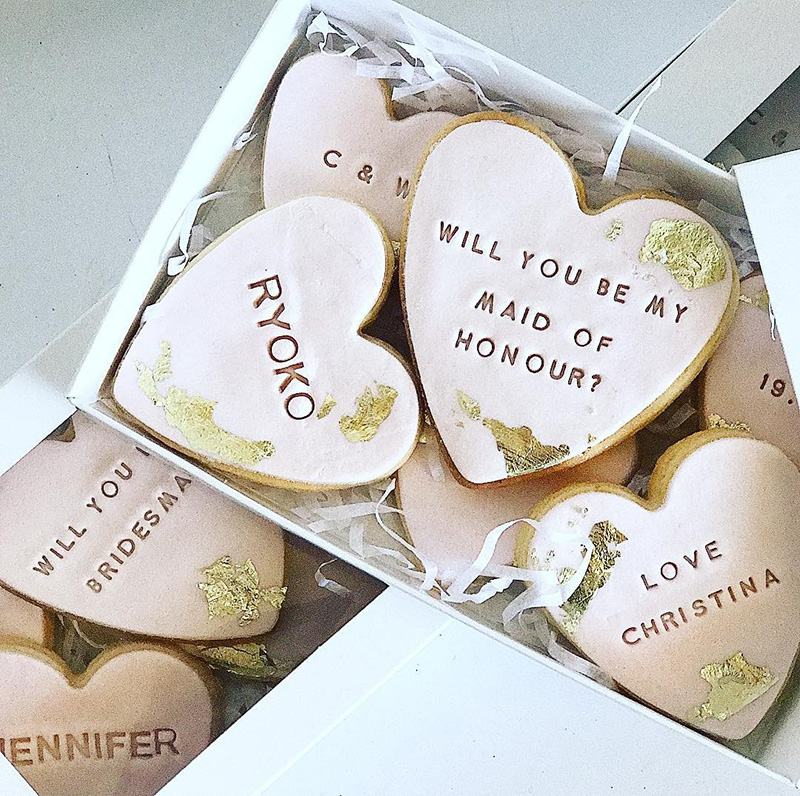 [Photo: Sweetly Baked Perth]
And if you're running out of options, why not go for something edible? Who will say no to food?! Every heart-shaped cookie from this cookie box can be personalized and can actually serve as a really cute entourage proposal gift. Surely no girl will turn down such a sweet surprise!
Now that you have ideas, which personalized gift will go you go for?