Here at Bride and Breakfast, we get excited over all things pretty especially when they're done with much love. In today's edition of our Vendor Spotlight series, we sit down with Rainbow Chow, founder of MicroForests — a social enterprise that empowers single moms from low-income households by training them to create the loveliest terrariums. These terrariums would make the perfect wedding favors or table centerpieces, and they're especially great because of the positive social impact that you can make by supporting them. The MicroForests team also offers workshops which could be a great bridal shower activity. Speaking of workshops, be sure you swing by our Facebook page for details about a sweet giveaway!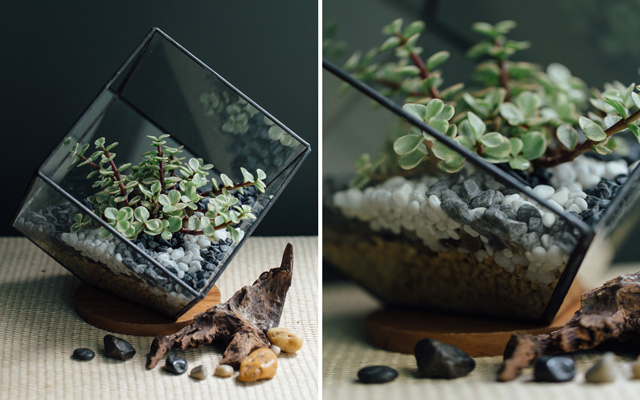 1. Tell us a bit about yourself and your company. 
Entrepreneurship and having a social mission has always been a passion of mine! When I was 18, I started my first start-up business – a chain of dessert shops in Tai Po, which serves the local community by donating free desserts to the elderly people in the area – and the business is still operational to this day! After that, I've always been involved in the philanthropic world professionally and voluntarily. I started MicroForests in 2015 as a social enterprise that provides meaningful training and dignified job opportunities for women who are new arrivals, single parents, or from low-income families. We sell MicroForests artwork and workshops, that our trained Mother Designers create and facilitate. We aim to empower women to help them regain confidence, dignity and enhance their well-being. Ultimately, we aim to alleviate poverty; by providing additional sources of income for the Mothers, we aim for their self- sustainability to help bridge the gap between the rich and the poor in Hong Kong. I'm currently expecting my first baby so I hope our model also serves as an inspiration for women that want a career-driven life and be a good mother!
2. How did you start MicroForests? 
I took my passion for social equality to education and became a social worker after obtaining my master's degree. As a social worker, I frequently saw cases of women that had very limited job choices. Most marginalized women are only seen suitable to work minimum-wage jobs such as dishwashers, or cleaners, that do not allow for them to have time to take care of their children as well. So I wanted to help create dignified training and job opportunities to help empower these strong-willed mothers. The idea of MicroForests came to me as a way to combine my love for art and nature with this meaningful social mission. MicroForests are really made to capture a miniature forest and bring some greenery to the congested and busy lives of Hong Kong residents.
3. What makes your product unique?
So many things! Each MicroForest artwork is handmade and one-of-a-kind. They are artistically inspired by the Sogetsu School of Japanese Floral Art, and include high quality imported plants and materials.
For the busy bees of Hong Kong people, this is the plant for you since it is extremely low-maintenance. Our closed-system artworks don't even need to be watered! In each artwork, the plants and materials inside actually come together to become its own unique eco-system. Since they are self-sustaining, the artwork becomes long-lasting, unlike a bouquet of flowers.
Whenever you need to breathe some fresh air, you won't need to go out on a hike to Sai Kung anymore… just open the lid to your MicroForests and inhale! It smells exactly like standing in a fresh meadow. It really is the perfect addition to any office desk or apartment.
4. What is your favorite part of the job?
Seeing the impact we have on the Mother Designers is definitely the best part of the job. From watching them learn new skills like floral art, or during the vocational training we provide like English classes, I know that our mission of helping them is actually helping enhance their lives.
The additional income they earn almost always goes directly to buying things for their children. For example, there is one Mother Designer that used to only walk by toy stores with her daughter, only being able to window-shop. With her MicroForests income, she is able to go inside and make purchases for her daughter and the team and I just love to see their happy faces when they tell us about it!
We get to know the children and the families of the Mother Designers as well, because of our flexible job arrangement. The Mothers are able to bring the materials home to build MicroForests, or bring their children to work. This way, they are saving on babysitting fees, and are able to bond with their young children as well. The Mothers are also able to earn respect from their children who now see their Mothers as designers! It's a win-win situation for everyone.
5. Can you tell us about your favorite collection in your catalog?
That's like asking a Mother which child she prefers! It's too difficult of a question… especially since each artwork is unique in it's own way and designed with heart. I guess what's great about MicroForests is that you can really use it for any occasion – from birthdays, to wedding centerpieces, to Mid-Autumn Festival gifts!
6. Where do you find inspiration?
I find inspiration in every day art and gardens. As a painter and artist myself, I really try to appreciate the beauty in different flora whenever I visit gardens. When I do get to travel, I visit gardens to find inspiration from other cultures and landscapes, and reflect about how I can bring that kind of greenery to a concrete city like Hong Kong.
7. What trends do you absolutely love or would love to see brides leave behind?
The wedding industry can sometimes be harmful to the environment, and I would love to see brides making more environmentally-friendly choices. Whether that could be in their sourcing of materials, or minimizing food wastage, there are many choices we can make on a daily basis to help preserve our earth.
Personally, for my own wedding this year, my husband and I gave each guest a mini MicroForest as a wedding favour. We were definitely able to exhibit beauty in an eco-friendly way! Since all our loved ones gathered around to celebrate our special day, why not also share a social value to make the wedding a positively impactful one?
8. Do you have any advice for couples who are in the midst of planning their wedding?
Don't be so stressed! There will always be an endless list of things to do, but don't forget to enjoy being engaged and try to have fun with the planning process. If you ever feel overwhelmed, try to find a good outlet to relax, like exercising or doing a craft for fun. Come join one of our MicroForests workshops to unwind for 90 minutes and create your own MicroForests artwork to bring that little bit of fresh air and greenery home with you!