Your fairytale come true at JW Marriott Hotel Hong Kong, one of the city's most elegant venues with an exceptional location. Coupled with a myriad of wedding venues and a professional team of wedding specialists, your dream wedding is nothing short of perfection.
Venue Features: Adorned with the opulent chandeliers and a high-definition LED wall (12m x 3m), the versatile JW Marriott Ballroom is equipped with top-notch audio-visual technology and cutting-edge lighting for your perfect wedding, while the Pool Lounge offers a romantic flair amidst a backdrop of lush greenery for an alfresco wedding ceremony at the poolside. On the other hand, you can also host intimate ceremony in Private Suites that will lend expansive harbour views: Executive Wedding Suite and Presidential Suite. All these come with ample space where you and your guests will feel comfortable and cozy.
Venue Capacity: Elegantly furnished with 15-foot-high ceiling, the 8,142-square-foot JW Marriott Ballroom can accommodate below 25 tables or up to 56 tables for banquets, whereas the outdoor Pool Lounge can cater up to 80 guests, and Private Suites can host an intimate ceremony with about 20 persons.
Full Review: From An Intimate Al-Fresco Union To A Carefully Curated Ballroom Banquet, Make Your Dream Wedding A Reality At JW Marriott Hotel Hong Kong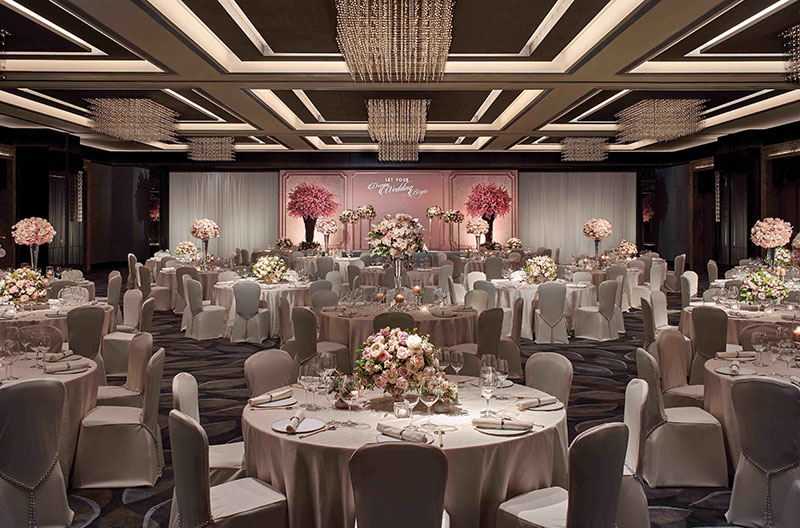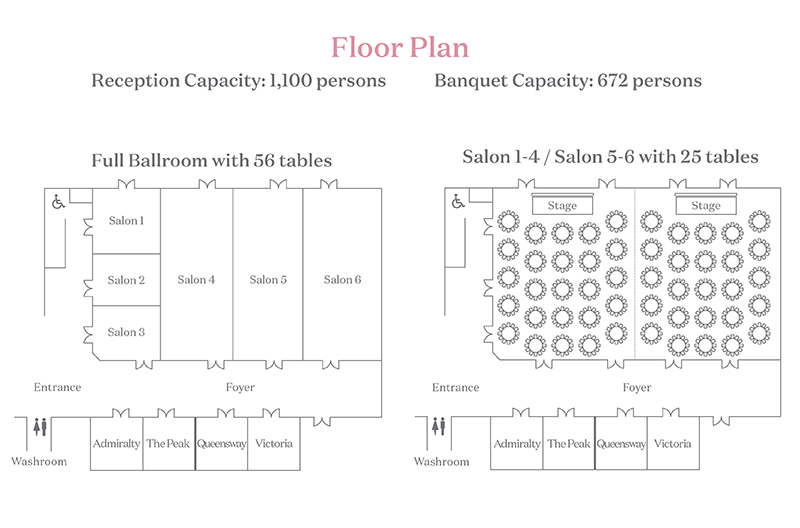 Wedding Packages
| | Alfresco-style | Chinese Lunch | Chinese Dinner | Western Lunch | Western Dinner |
| --- | --- | --- | --- | --- | --- |
| Elegant display wedding cake for cake-cutting ceremony | 5-tier | 5-tier | 5-tier | 5-tier | 5-tier |
| Exquisitely designed invitation cards and menus | | | | | |
| Floral decoration for cocktail tables | | | | | |
| One (1) bottle house Champagne for toasting | | | | | |
| Wedding cake | 5-lbs | | 8-lb | | 8-lb |
| Complimentary valet parking | 2 vehicles | 2 vehicles | 4 vehicles | 2 vehicles | 4 vehicles |
| Complimentary use of one (1) set of in-house projector and screen | | | | | |
| Preferential room rates for guests who wish to stay at the hotel | | | | | |
| Club Marriott Membership Card to enjoy special F&B discounts for one (1) year at the hotel | | One (1) card | Two (2) cards | One (1) card | Two (2) cards |
| Overnight stay in an elegantly appointed bridal suite with in-room late night supper on the wedding night and breakfast for two (2) the next morning | | | | | |
| Extensive selection of table linen and chair covers | | | | | |
| Guest signature book | | | | | |
| Complimentary Chinese tea to be served during the pre-function cocktails | | | | | |
| Private mahjong room | | | | | |
| Complimentary menu tasting for six (6) persons at Man Ho Chinese Restaurant (a minimum of 35 tables) | | | | | |
| Deluxe centerpiece arrangements for dining tables | | | | | |
| Special rates for LED wall backdrop packages | | | | | |
| Mercedes-Benz S-Class chauffeur-driven bridal limousine service for 3 consecutive hours | | | | | |
| Upgrade to a spectacular duplex Presidential Suite at an exclusive rate of HK$28,888* | | | | | |
| An elegant souvenir of a pair of JW Wedding chocolates for each guest | | | | | |
| Marriott Bonvoy Points to redeem up to 2 complimentary nights for your honeymoon at selected Marriott brand hotels worldwide | | Up to 60,000 points | Up to 60,000 points | Up to 60,000 points | Up to 60,000 points |
*With a 10% service charge

Wedding Venues
Accommodations 
For further inquiries or to make an appointment, please complete the following form:
Contact Details:
http://jwmarriotthongkong.com/wedding


 JW Marriott Hotel Hong Kong

 @jwmarriotthk


 jwmarriott.hk@marriotthotels.com


 +852 2841 3838