Let's face it, not all brides have the luxury of going for designer gowns or high-end, custom-made creations. The common apprehension is that a less expensive dress may end up looking cheap. Not necessarily! There are several ways to make an inexpensive wedding dress look like it's worth a million bucks. Today, we're letting you in on the juicy details. So listen carefully, brides! Here goes.
(1) Beading and embellishments don't reflect a dress' price tag.
Whether you go for a lot of beading and embellishments, or you keep it at the bare minimum, the key to making your gown look premium is to ensure that the overall result is a polished look. When there's too much going on, or when the design lacks cohesion, a gown can end up looking poorly-made. And while we love beading and embellishments, a non-embellished gown can look amazing too. Instead of having an adorned gown, you can have a simple dress with alternative details such as a bow or lace sleeves, or you can go for a sleek satin dress with a couture cut.
[From: Sun-kissed Charm / Photo: Heather Photography]
(2) A dress that fits you well does wonders.
An ill-fitting gown will make you look undone and will give the impression that the dress was not carefully handcrafted to suit you. If you go for a more affordable gown, spend on proper alterations to ensure that it fits like a glove. A gown that's tailored to perfection will have you looking and feeling like gold.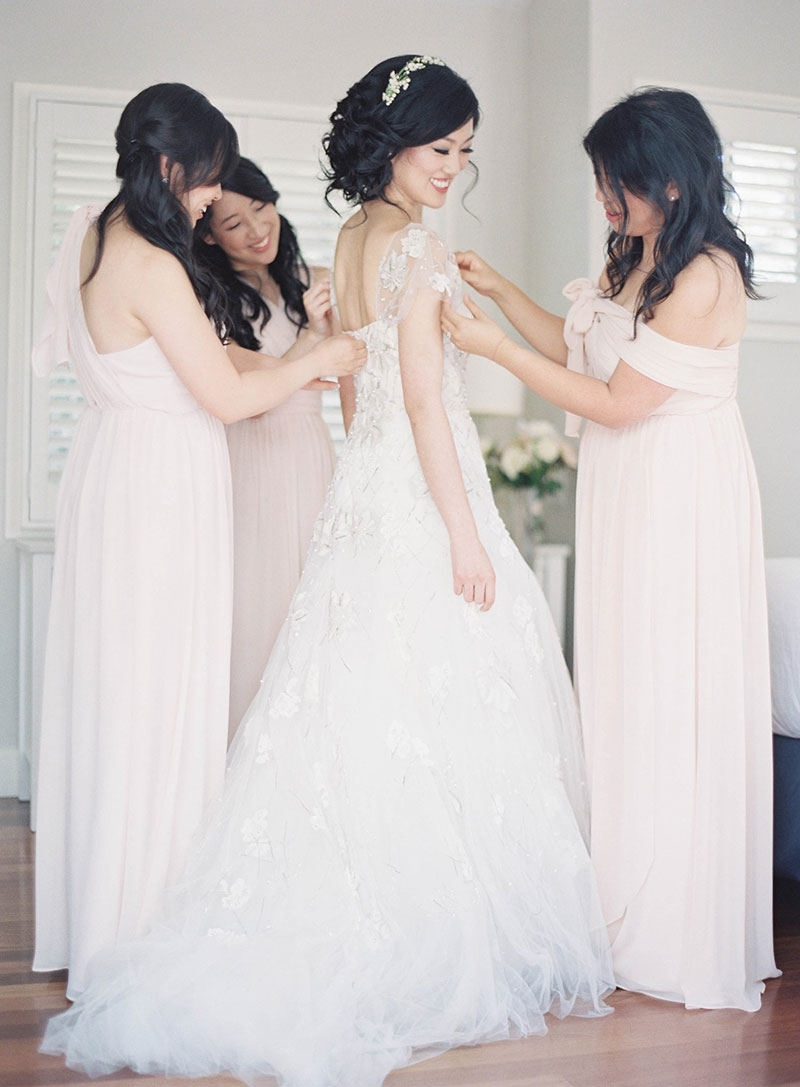 [From: Radiant Field of Dreams / Photo: Jen Huang]
(3) Pick the right shade of white.
Soft white, ivory, or cream are hues that make a wedding gown look romantic and delicate. These shades have yellow or pink undertones that result in a more subdued kind of white that is best for fair skinned women. Bright, stark white dresses are nice and crisp, especially when they catch the light. However, this shade of white can wash out the natural skin color of fair and some medium skin toned women. Bright white is best for those with darker skin. Choosing the right shade of white is crucial to the outcome of your gown when you wear it.
[From: Endearing Romance / Photo: Jada Poon Photography]
(4) Details matter.
Cover the zipper with satin buttons for a clean finish, add a dainty belt to accentuate your waist, or wear a cover-up if you're having your wedding in chilly weather. As in all things, details matter. Adding these seemingly small and negligible details will make you dress stand out–and for all the right reasons, fyi! An inexpensive, simple dress with the right details will surely look like it's worth way more.
[From: Breezy Paradise / Photo: Darin Images]
(5) Accessorize appropriately.
There's a fine line between looking elegant and looking over the top when it comes to wedding accessories. You want to fall under the former. You can opt for one statement piece or several smaller pieces to accentuate your gown without dominating the scene. Be guided by the definition of an accessory: a supplementary item that adds to the performance of the main piece. You main piece is your gown. Keep it the star of your bridal ensemble and use your accessories further highlight it.
[ From: Delicate Drama / Photo: Binc Photography]
[ From: Unique Accessories to Finish Off the Perfect Bridal Hair]
(6) Yes, it's okay to show some skin.
If you want to show off some skin, keep it classy. There's nothing wrong with showing your smooth, silky skin. However, it's best to make sure that the overall look still resides within the realm of what is appropriate and tasteful. This way, you'll still look refined.
[From: A Winter Dreamland Tale / Photo: Hilary Chan]
(7) Wear the right undergarments.
The last thing you want on your Big Day is a wardrobe malfunction or a part of your underwear bulging out somewhere. Make sure you're wearing the right underwear for your body type and for the style of your dress. You want to make sure you look good and you feel comfortable at the same time throughout the day. Aside from having the perfect-fitting dress, secure the look with the right underwear.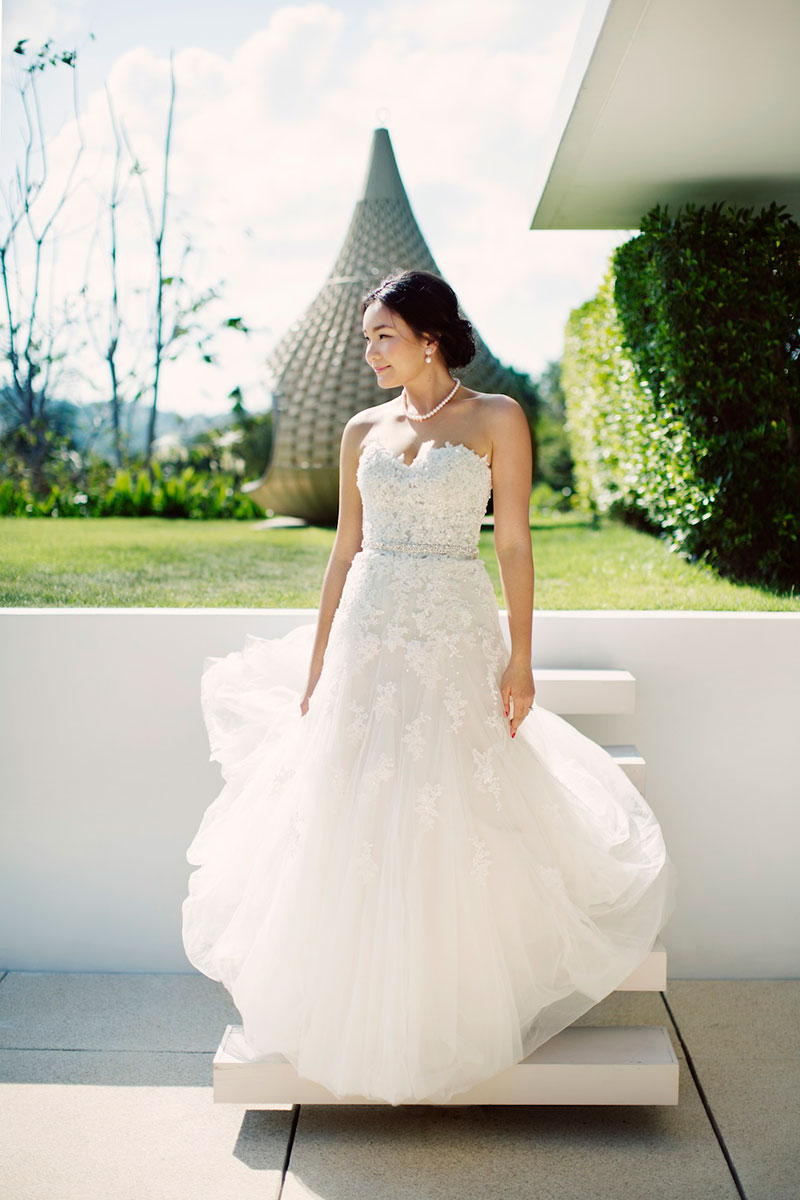 [From: Island Intimacy / Photo: Erika Gerdemark]
Did we just hear a sigh of relief? Now that you know these hacks, you can still achieve your dream wedding gown without splurging too much. You're welcome!