Today we are going to show you 7 ways to blend the color blush into your wedding. It remains to be one of the most popular colors to get hitched in and around for obvious reasons — it combines femininity, grace, and beauty all in one go! Brides have used blush in different details of their ceremonies and a huge thanks to them for that. We've compiled the many ways you too can make your ceremony nothing short of fabulous!
1. Ceremony arch – Aside from being photo-op worthy, having this mild pink hue into a floral arch adds a dash of dreaminess and a fleck of romance into the exchanging of vows!
[Wedding: Luxurious Love / Photo: One and Only Paris Photography]
[Wedding: Delicate Drama / Photo: Binc Photography]
2. Bridesmaid dresses – Why not have your stunning besties don this universally flattering color? In classy styles, these can be worn even after the wedding date. They'll definitely thank you for it!
[Wedding: Pristine Shores of Promises / Photo: Jada Poon Photography]
[Wedding: Some Kind of Wonderful / Photo: MC Photography]
3. Bridesmaid accessories – A way to give back to the girls who have been with you through the planning and preparation for the Big Day can come in matching blush toned accessories.
[Wedding: Pristine Shores of Promises / Photo: Jada Poon Photography]
4. Flower crown – Weave this delightful color as a flower crown into your luscious mane. And it will be a sure-fire way to elevate your hairdo. From a zero to a hundred real quick!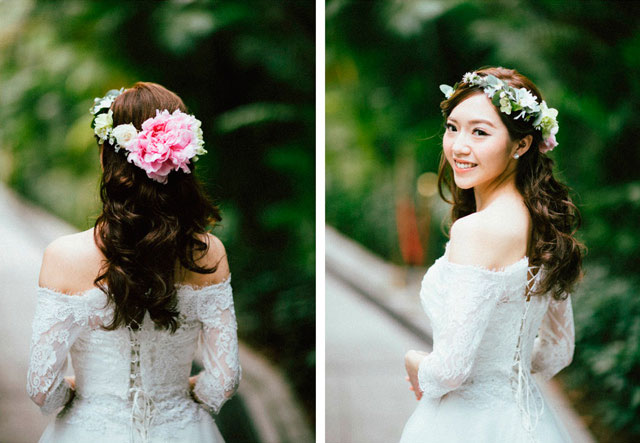 [Wedding: Fresh Forevers / Photo: Mary Ann Art & Photography]
5. Reception details – Adding hints of the color into table settings, signages, and center pieces can also make the reception look a whole lot classier!
[Wedding: Romantic Grecian Escape / Photo: Roberta Facchini Photography]
6. Your bouquet – It serves as a great bouquet since many blooms are in this rosy hue. You will surely find your favorite set of roses, hydrangeas, carnations, and more in this pleasant color.
[Wedding: Fanciful Delight / Photo: Hilary Chan Photography]
7. Your dress! – If you want to be a full-on blush bride, you know the drill. It will be quite memorable to get married in a non-traditional white dress. But hey — I'm sure you can pull it off!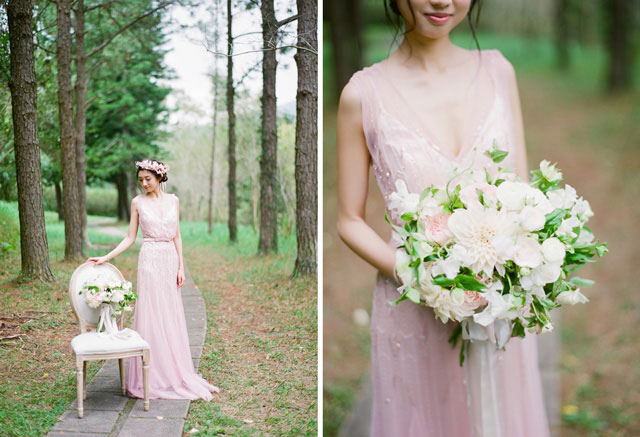 [Editorial: Charming Garden Editorial / Photo: Jenny Tong Photography]
Did this post convince you of the endless possibilities that using blush can bring? I wouldn't be surprised seeing as I was certainly captivated myself! Go on then girlies, plan out your sweet and charming wedding with the use of this amazing color!