I know what you may be thinking… What in the world is geode? But if you quickly scroll through, I'm sure you have seen elements of geode decor circulating various Pinterest inspo boards! And for good reason — these gems are oh so stylish and give an understated elegance to one's nuptials. Now let's see 12 different ways to incorporate them into your wedding for some serious sparkle!
(1) Accessories and Jewelry – Wearing them either as an accent around your neck or ears will put an interesting twist to your gown as these are not typical matrimonial adornments.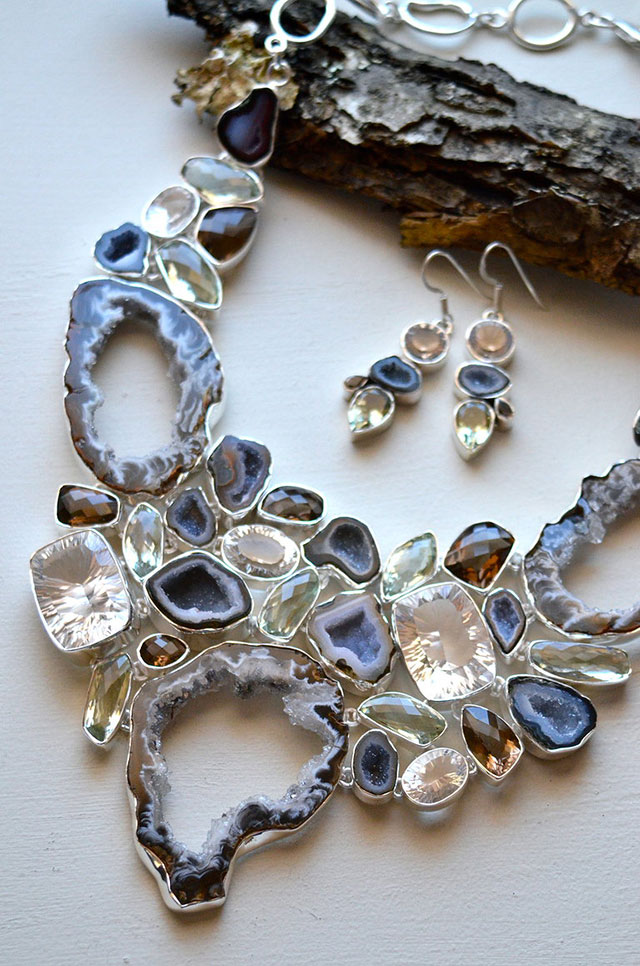 Feather Love Photography | Happy Wedd | Sinus Finnicus via Etsy
(2) Cakes – Why not add a little twist to the main dessert and share a special slice with your newly wed spouse with these gorgeous samplings of perfection?
Happy Wedd |Intricate Icings | Laura Kelly Photography
(3) Dessert – Up your culinary game with some literal feasts for the eyes whether they be for macarons, cupcakes, and sweet samplers encrusted in precious stone!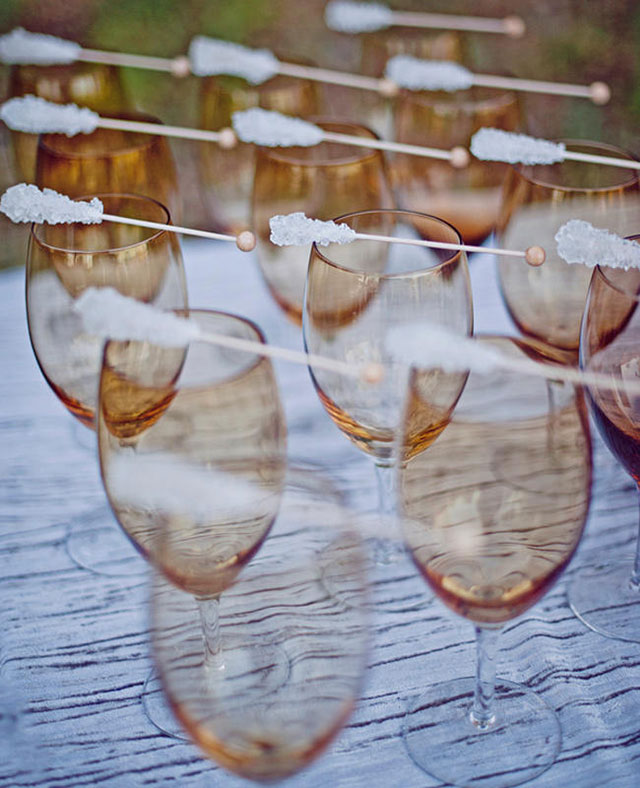 Let's Frolic Together | Sarah Maren Photography | T&S Hughes Photography | Teale Photography
(4) Coasters – These golden rimmed and multi-hued coasters look divine! Using them to carry the weight of a wine glass or a fizzy drink will really add that extra oomph to a table setting.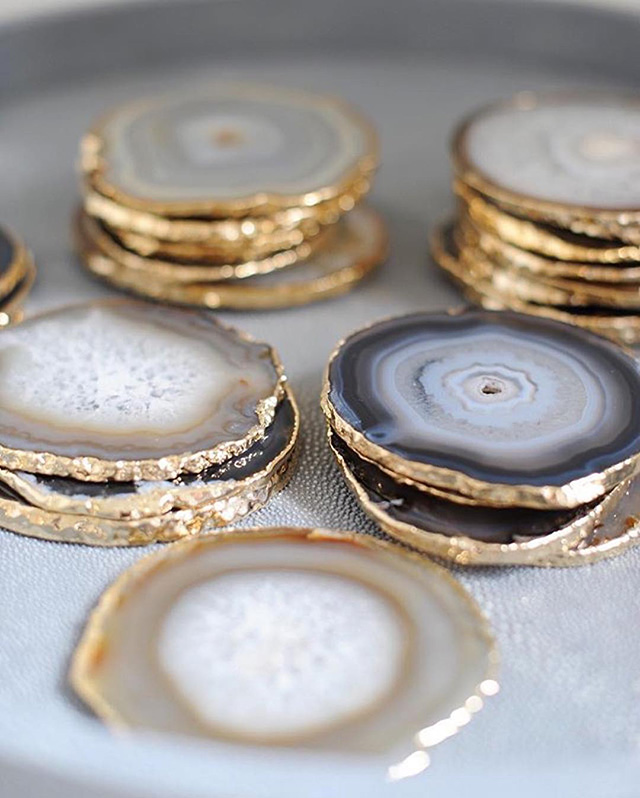 (5) Hanging Decor – For anyone who wants to have a beach wedding, this is the ultimate decor you need! It instantly transports one to visuals of the shore lapping against glass to make these beautiful crystalline pieces.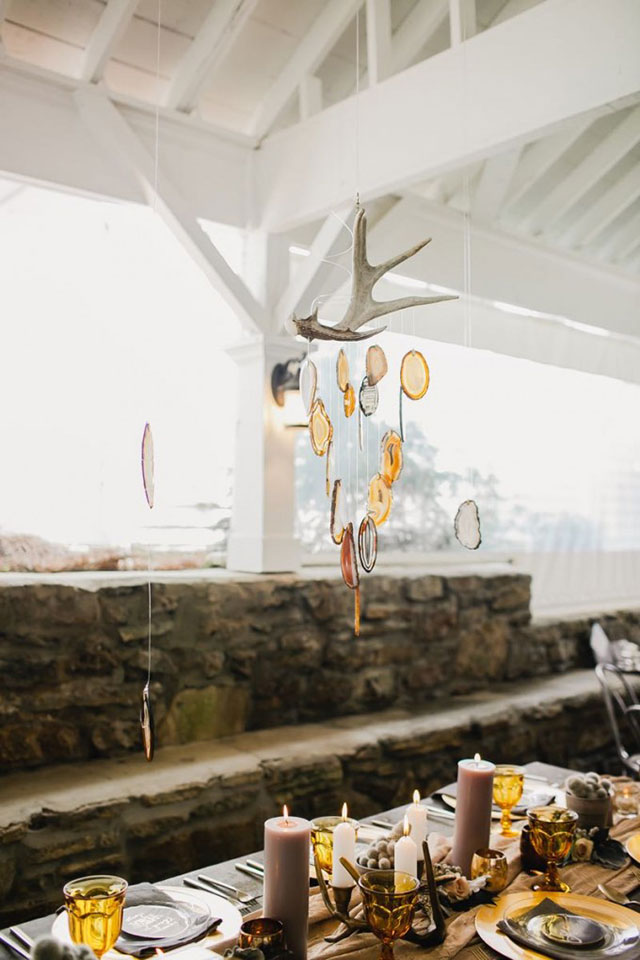 Cassie Lorie Photography | Teale Photography
(6) Invitations – Of course, you could even infuse geode accents into your wedding stationery that guests would love to keep! The great thing about it is that it's easily customizable to your palette and preference.
Green Envelope | Laura Kelly Photography | Shanon Moffit Photography | Pinterest
(7) Table Seating Signs – Having a difficult time thinking of a wedding keepsake for guests? Why not hit two birds with one stone and create these personalized table seating signs that are so fabulous!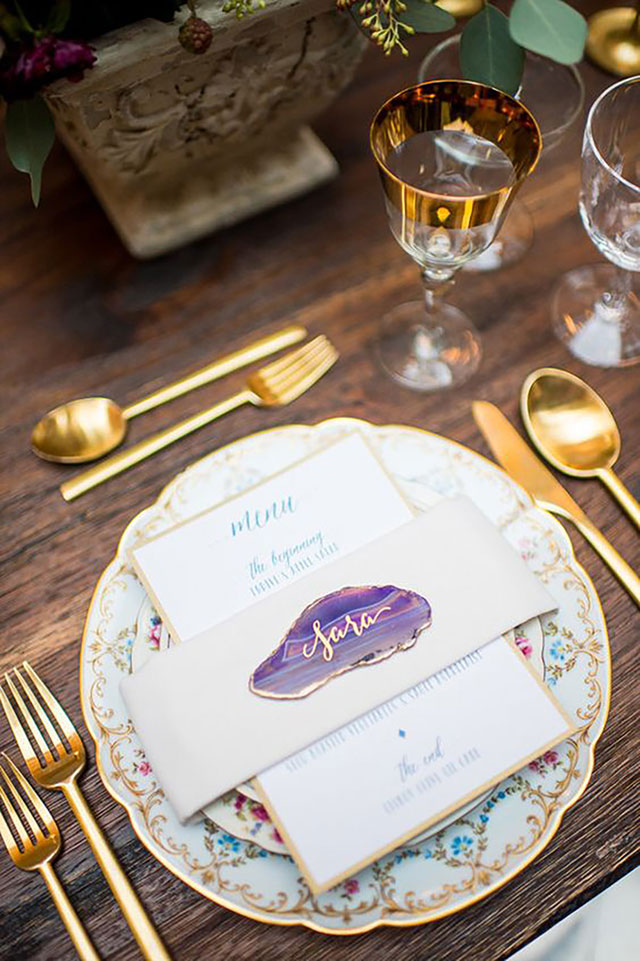 Katie McGihon Photography | Weddbook | Wedding Venues UK
(8) Table Name Card Holders – Keeping true to the essence of what a geode is, have these precious rocks serve as a classy paper weight to the name cards on the table settings.
BHLDN | Cameron & Kelly Studio
(9) Table Napkin Decor – Why not pepper in some chic crystals as napkin toppers to spruce up the tableware? This gives fine dining a whole new meaning with these stylish ornaments.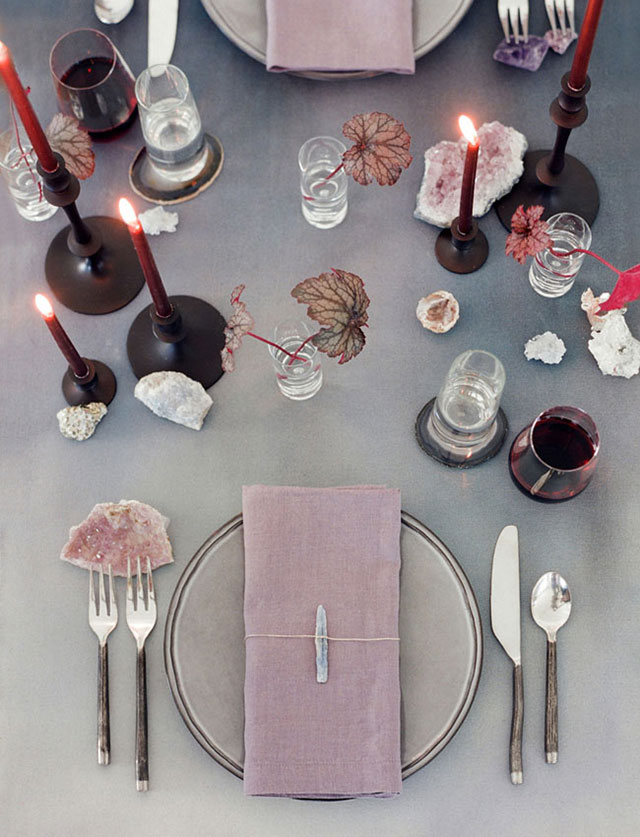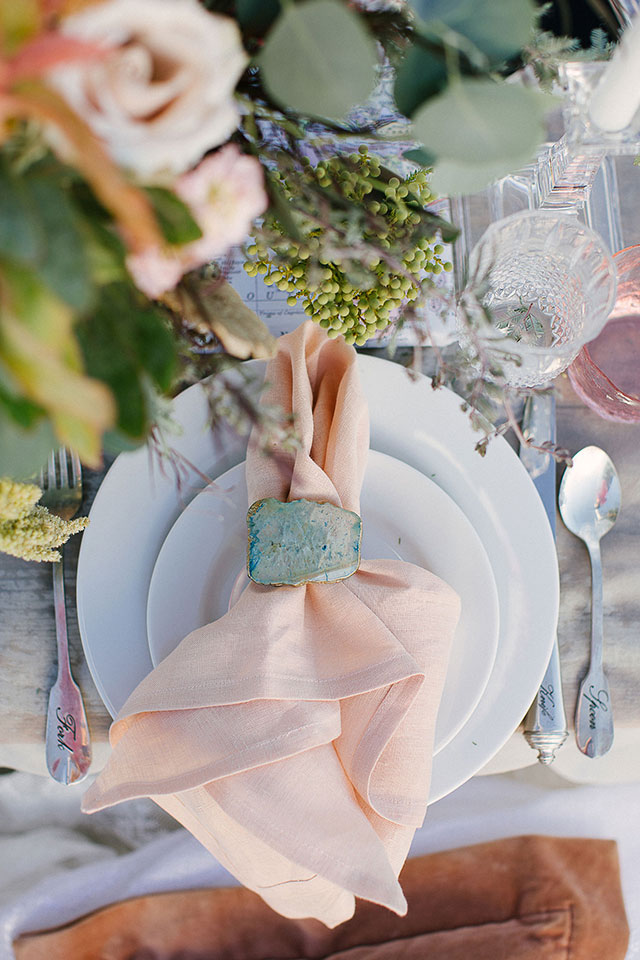 Corbin Gurkin | Athalia's Photography | Laura Kelly Photography
(10) Plate Chargers – For the quintessential beach and rustic wedding hybrid, geode plate chargers will steal the show. They are smashingly pretty and each guest will have a different shape guaranteed!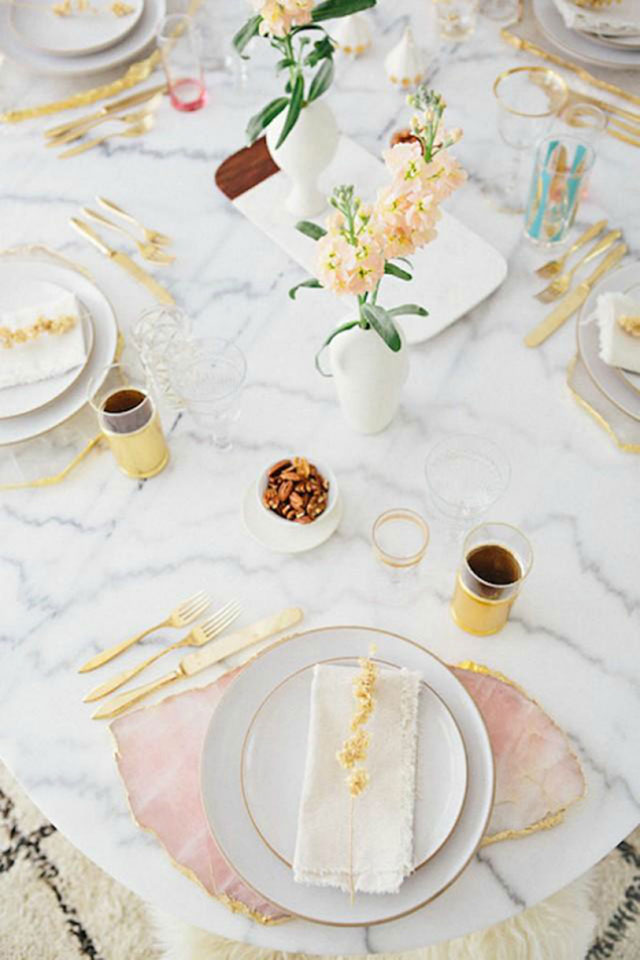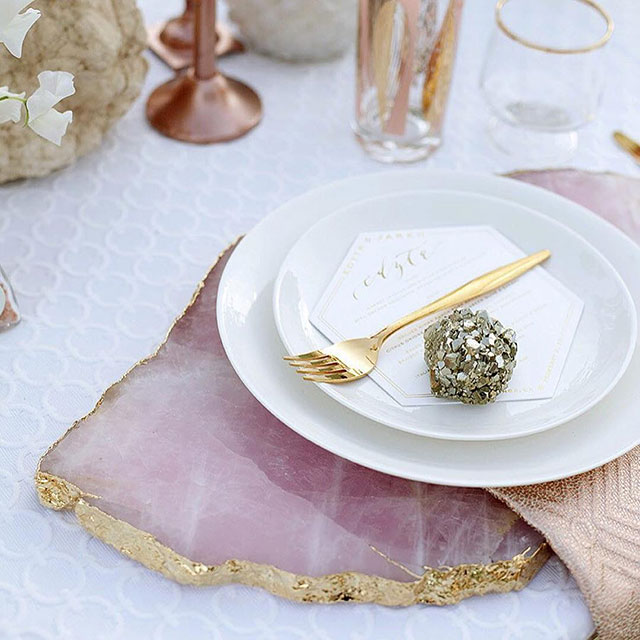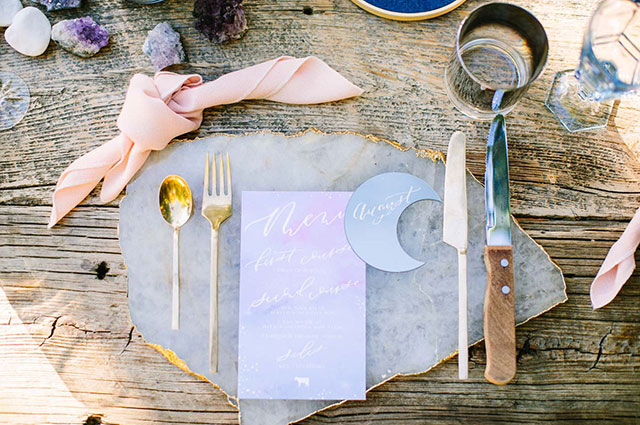 A House in the Hills | Latavola Linen | Trisha of Birds of a Feather
(11) Table Numbers – It's not enough to have a great centerpiece as guests also rely on their table numbers to find their place within the reception. These are awesome options to not only decorate but demarcate where your guests should go!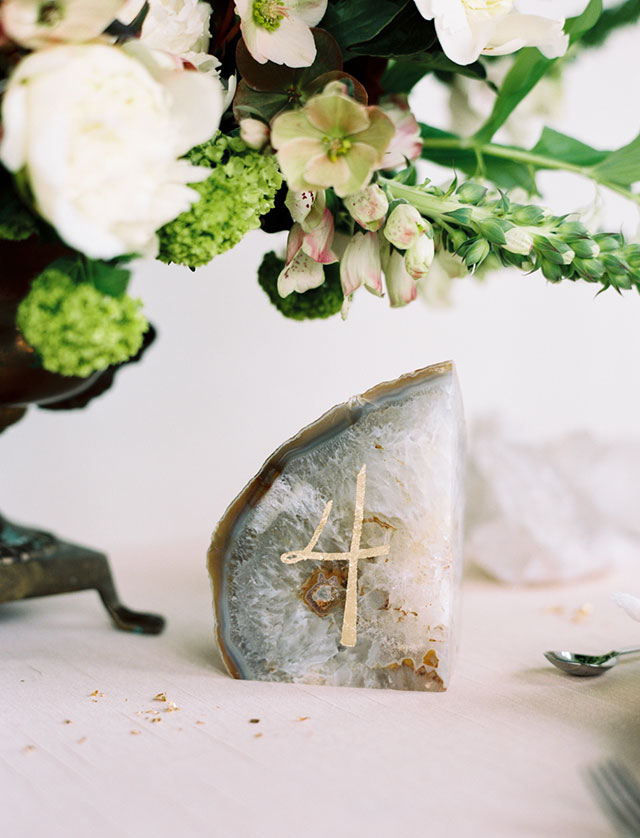 Weddbook | Lights for all Occasions | Lori Blythe Photography | Style Me Pretty
(12) Table Runners – Now this is something you don't see everyday — or quite frankly on special occasions! It's sure to make your guests take a snapshot to remember the creative use of a table runner in this geode inspired fashion.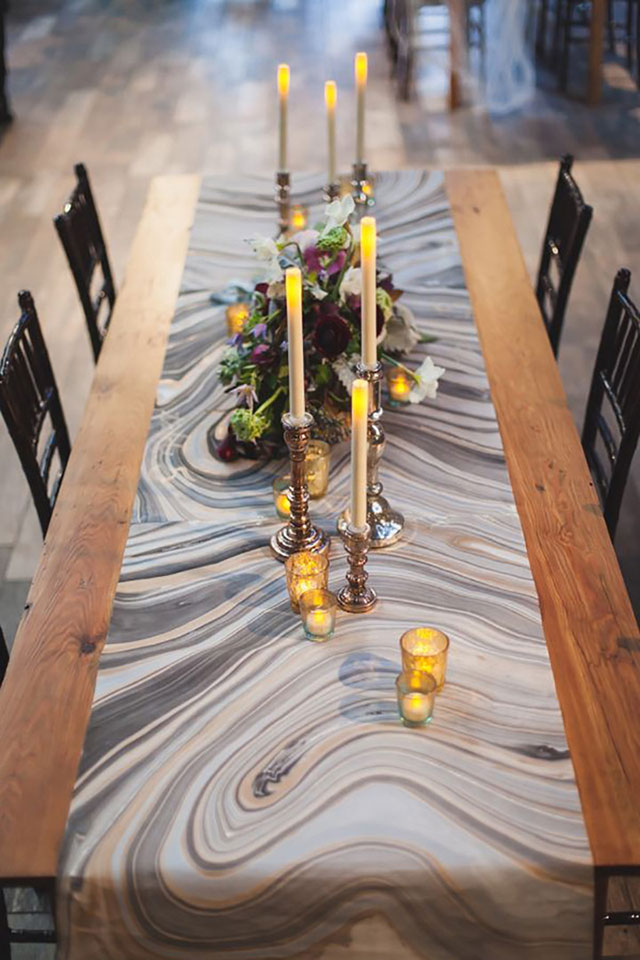 Elvira Kavliste | Pen Carlson Photo
And there you have it! I for one am blown away by the versatility of this trend and its' adaptability to practically every little detail in a wedding. The classic swivel and crystalized design can come in a range of colors that is just mesmerizing. The contemporary stylings make this one wedding fixture I would not be surprised to see last well past 2017!