When attending a wedding, the couple's formal invitation will include the dress code. One of the most important wedding guest etiquette rules is to strictly follow the dress code. But on top of this, there are some unspoken rules about guest outfits that you also need to know about, including what you should NOT wear. Are you aware of these unspoken rules? If you are not, we have them all listed out for you below. If you want to be a good wedding guest, make sure to keep these in mind too when planning what to wear. Read up now.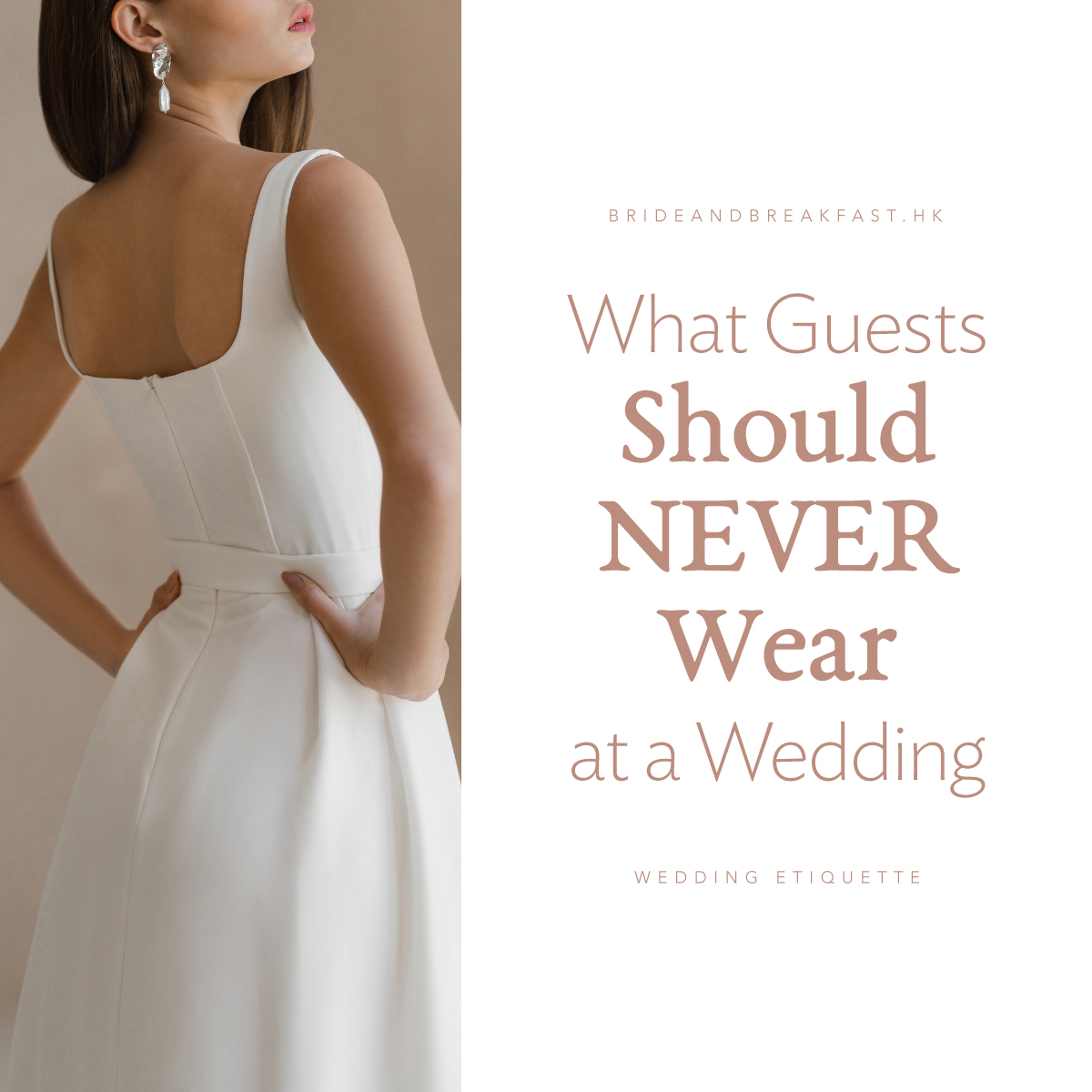 (1) Do not wear white.
Unless the couple indicate in their invitation that you can wear white, don't ever come in this color or any color close to white–cream, off-white, ivory, egg shell, ecru, and the like. Reserve this color for the bride.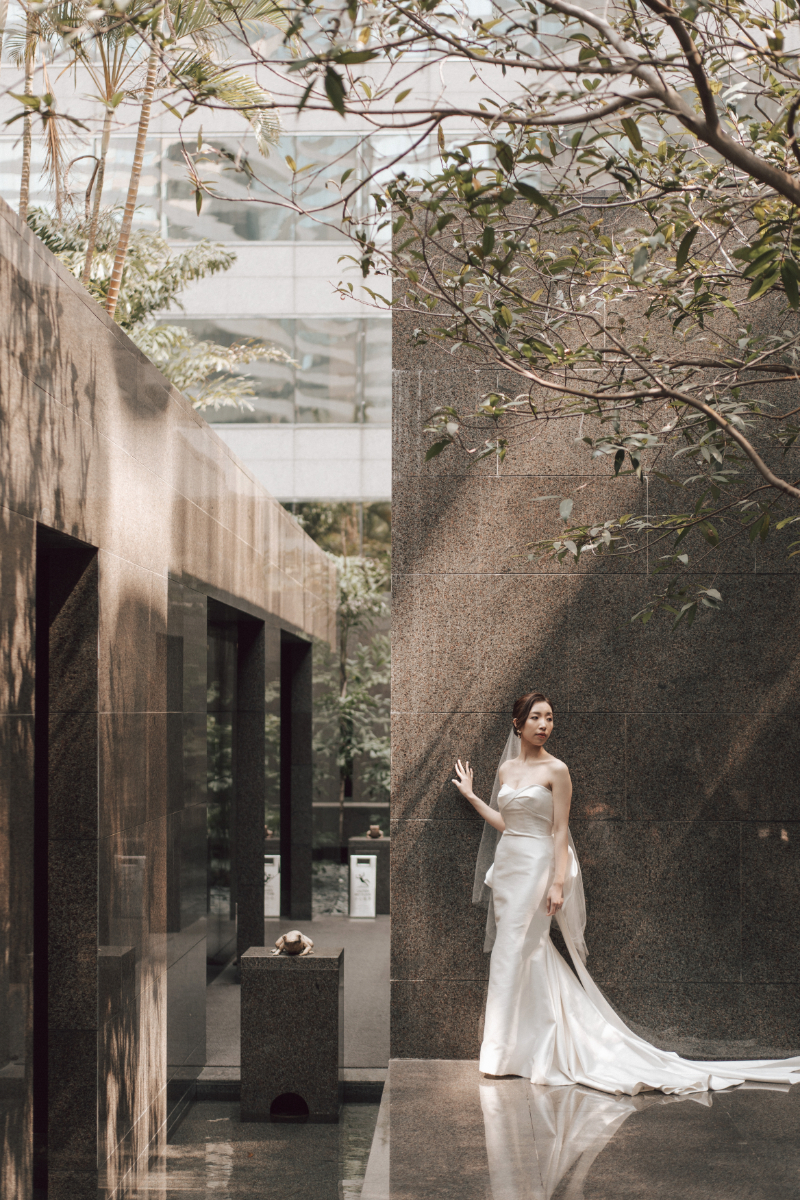 [From: An Elegant Hotel Wedding With Modern and Minimalist Details / Photo: While Label Wedding Photo]
(2) Do not wear black.
Black is color that is associated with negativity in Chinese culture–sadness, bad luck, destruction, and so on–so it is not a welcome hue at weddings. Once again, unless the bride says it's okay to wear black, avoid this color also. The only exception is for the men and black suits or tuxedoes. These outfits do not follow this rule.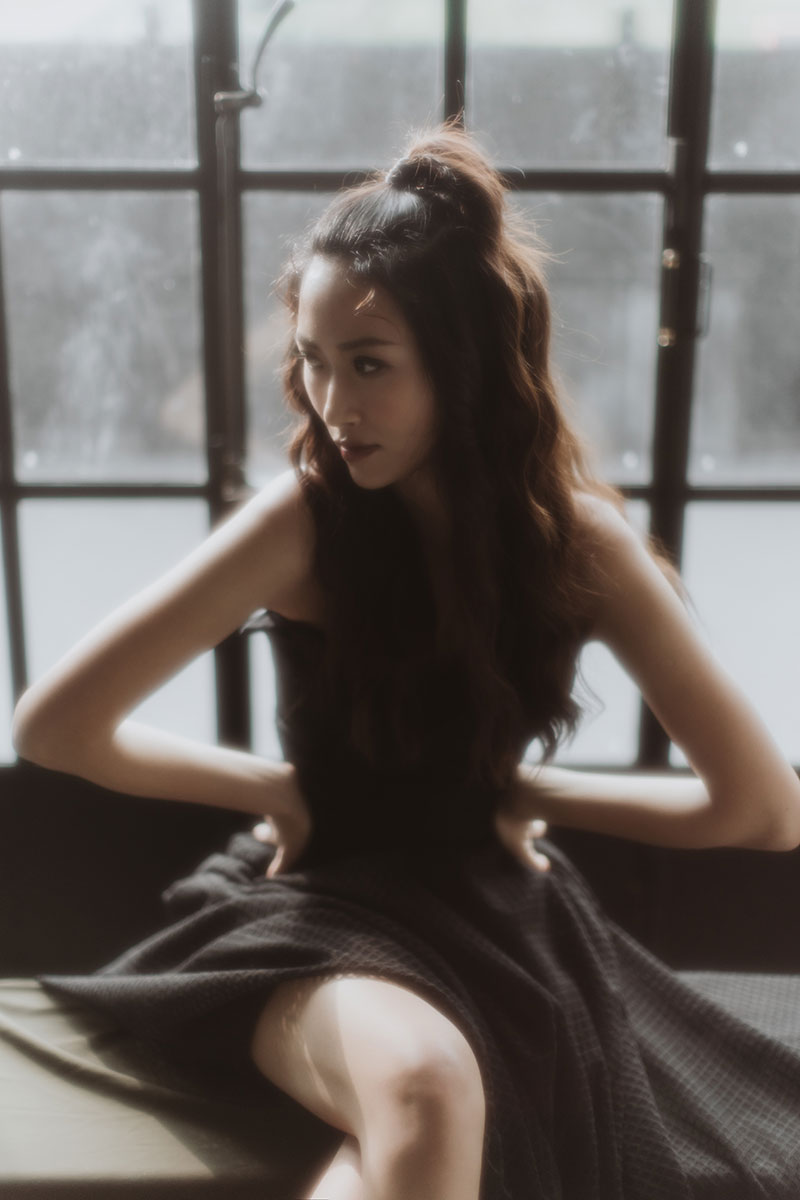 [From: This Portrait Session Is a Captivating Mix of Dreamy and Dramatic Looks / Photo: Tikit Production]
(3) Do not wear all red.
Red is a happy and lucky color, so it's a common hue for weddings. However, reserve this color once again for the bride and groom. Sometimes, you may wear something with hints of red with the couple's permission, but avoid an all red outfit altogether.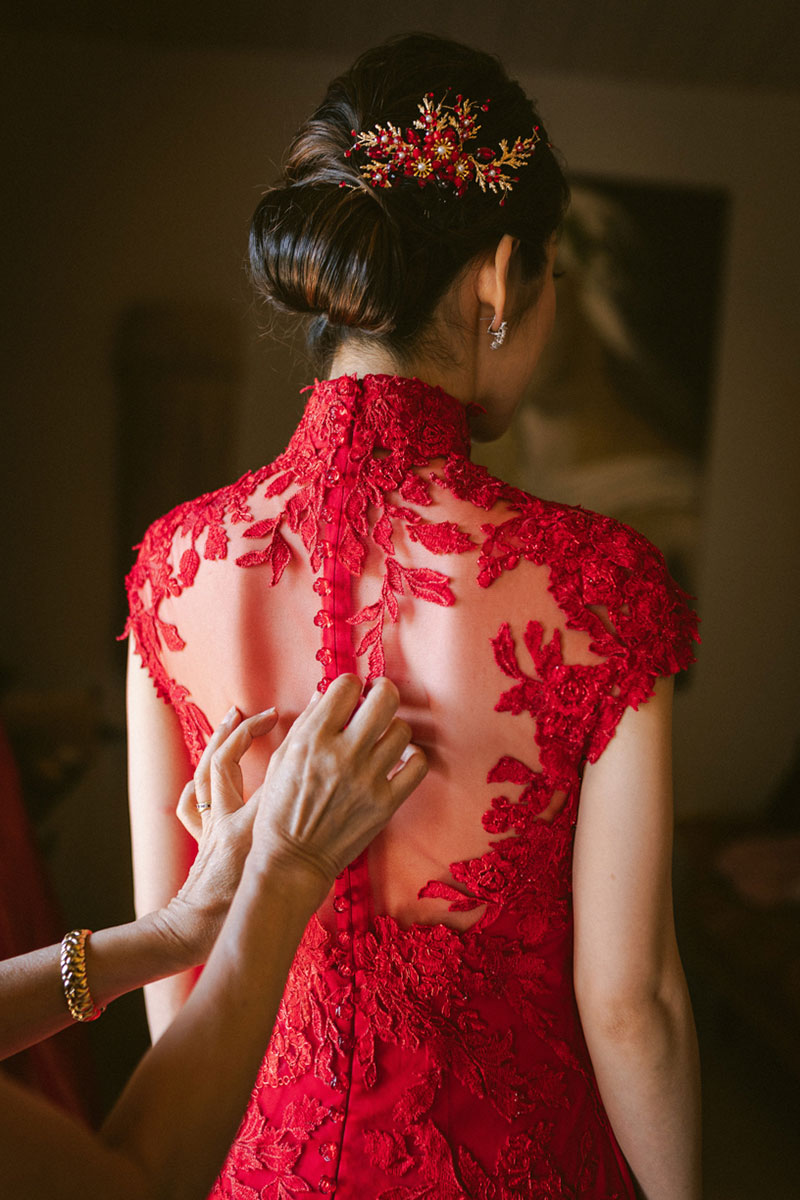 [From: A Picturesque Wedding in a 14th Century Castle in Catalonia, Spain / Photo: Volvoreta]
(4) Do not wear dresses that are too revealing.
It's important to dress appropriately for a wedding. Your attire should reflect that you respect and honor the bride and groom. Hence, avoid wearing outfits that are too revealing. Aside from grabbing extra unnecessary attention, revealing clothes may be seen as disrespectful. Steer away from plunging necklines, very high slits, and provocative silhouettes, and instead go for classy and modest dresses. Wear decent clothing to keep the focus on the bride.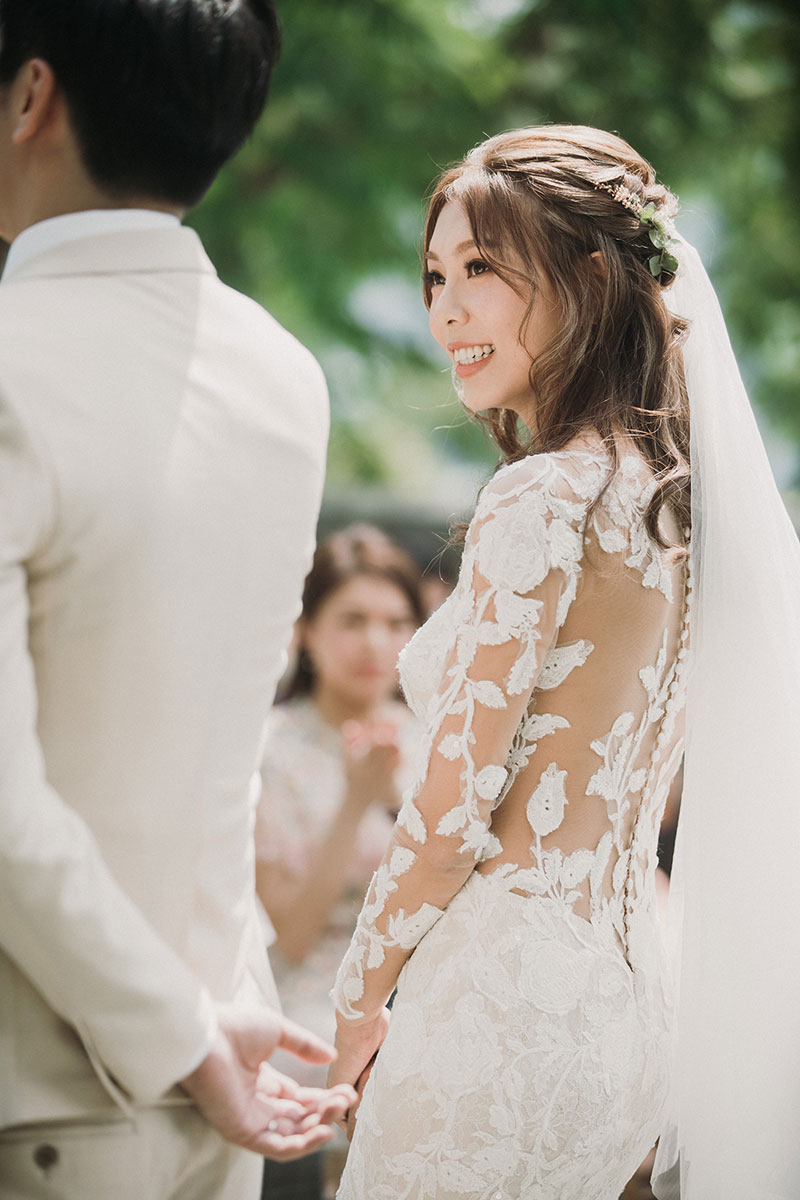 [From: A Refreshing Peach and Cream Garden Wedding / Photo: Vision Philosophy]
(5) Do not wear anything too casual.
Even if the wedding is at the beach or outdoors and you want to be comfortable, try to keep your look more on the dressy side instead of the casual side. For example, you need not wear stilettos at a beach wedding or a garden wedding, but do not go for flip flops either. Go for decent sandals or dressy flats.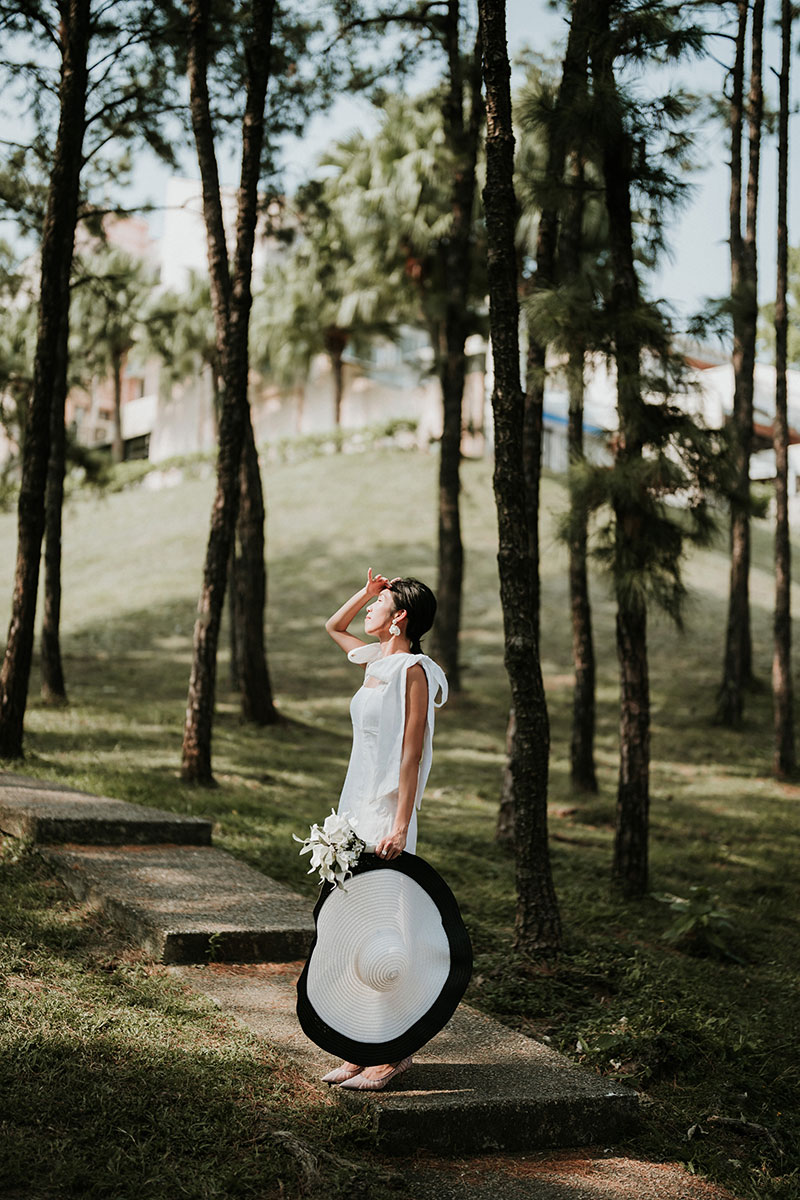 [From: This Couple Rocked Sporty and Modern Looks During Their Pre-wedding Photoshoot / Photo: Jeff Lee]
(6) Do not wear extra bright colors.
Some brides will not be particular about this, especially if their wedding theme is colorful in nature. However, other brides might not want guests to come in bright colors because such colors clash with the wedding theme and call too much attention. If you are unsure about this, it's best to ask the couple whether or not you can wear bright colors at the wedding.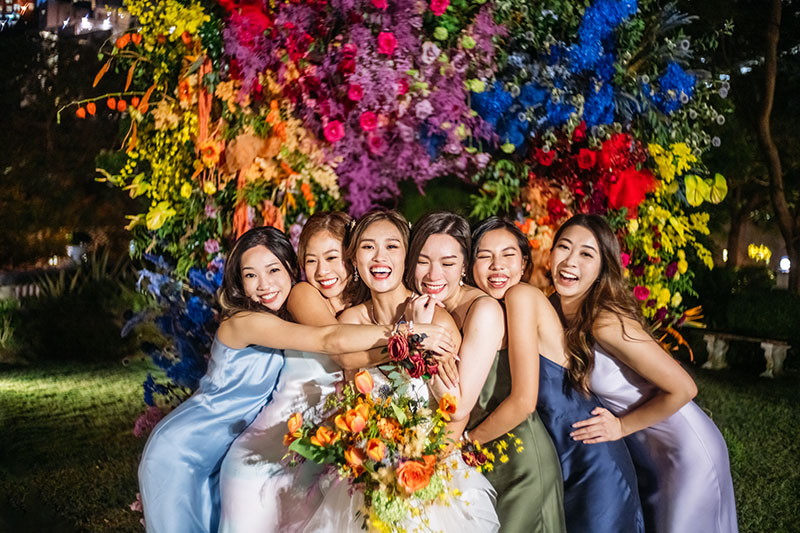 [From: A Colorful Garden Wedding at The Repulse Bay / Photo: Wax Leung]
(7) Do not wear excessive makeup and extravagant accessories.
Keep your makeup and accessories minimal. No need for flamboyant accessories or very heavy makeup at a wedding. Remember that the main characters of the day are the bride and groom. Just like extra bright colors, accessories and makeup that are over the top will call too much attention.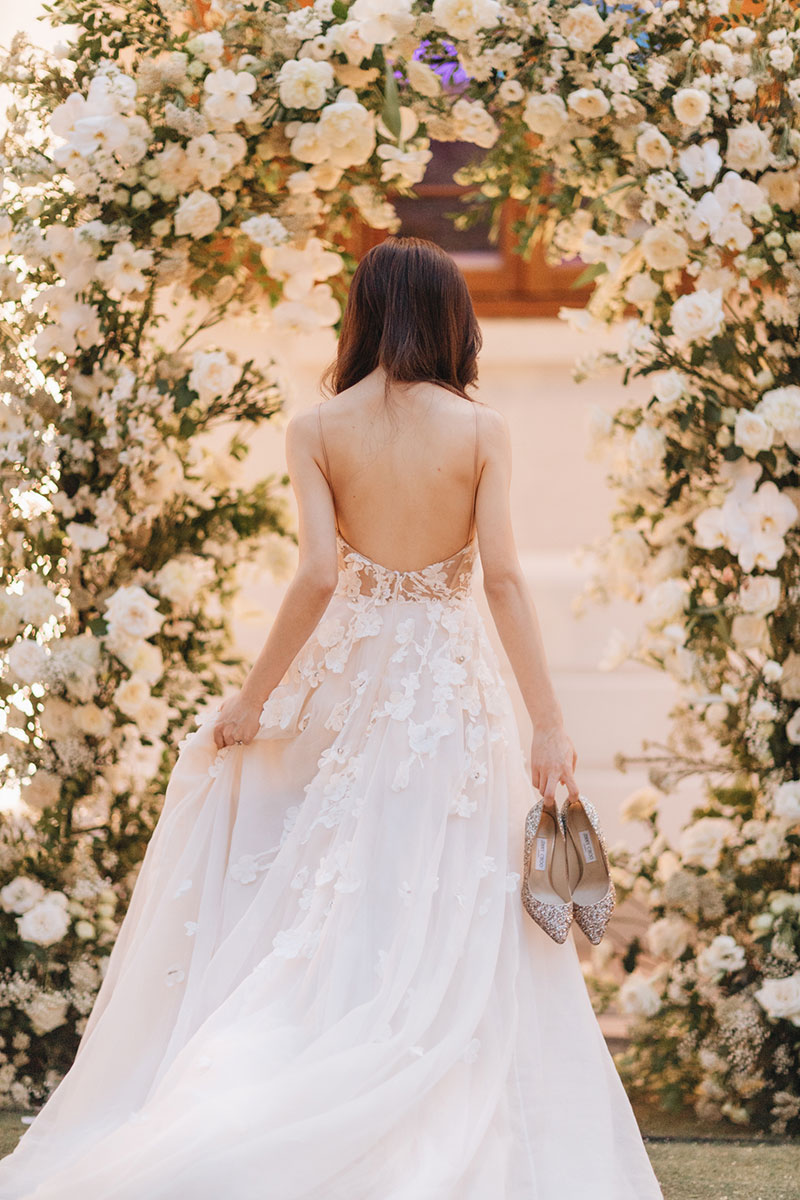 [From: Elegant White Flowers Filled This Wedding at House 1881 with Romance / Photo: Hyvis Tong]
As a general rule to help you remember what you should never wear at a wedding, drop any attire that you think will be too distracting or attention grabbing at the event. The main focus should always be the bride and groom since it's their special day.