When planning a wedding, there are just so many details to oversee. And alongside the main tasks to complete, you must not forget the proper wedding etiquette, too. We've put together 12 do's and don'ts that couples should keep in mind while going about wedding planning. Just follow these tips and you will be on the right track.
DO
Embrace Traditions and Auspicious Dates
We understand that modern brides may wish to do away with traditional customs and practices because of its lengthy checklist. Embracing our culture and traditions are a sign of respect to ancestors. So in the event that you do have Chinese pre-wedding ceremonies such as the Betrothral Ceremony, Hair Combing, and Tea Ceremony. Do follow auspicious dates in the Lunar Calendar for these customs as to ensure a smooth and successful marriage.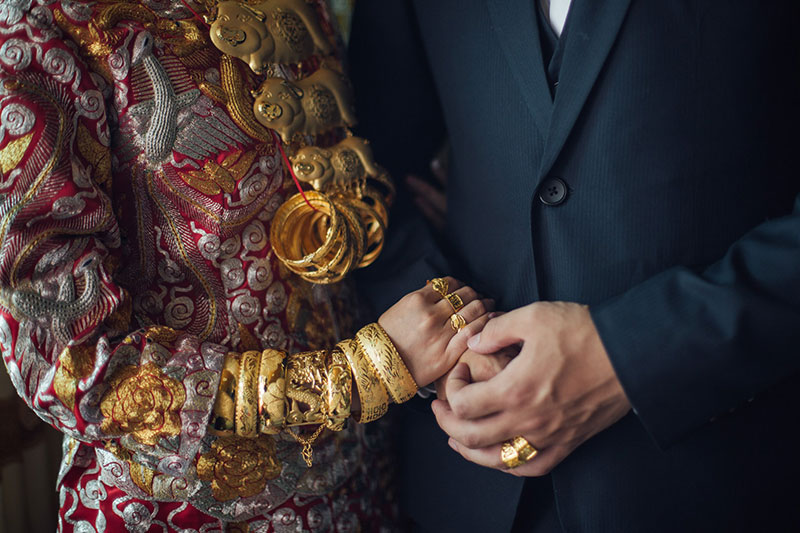 [From: A Gray Toned Wedding with Yellow Gold Accents in Macau / Photo: Nikkiloveu]
Send Invites the Traditional Way
In this day and age where technology is at our finger tips, it will be most convenient to send e-invites. Before we go down that route, imagine if these e-invites were to end up in spam mail, or get lost in the thousands of unread mail. Do send formal invitations the traditional way. It's the proper and polite way to invite guests to your wedding. Plus, paper invites are beautiful to photograph (think instagram worthy points). With plenty of options for invitations these days, templates from Etsy, or engaging a stationer to paint or calligraph your invites by hand, guests will appreciate not only the effort of sending the invites out. They will also appreciate the design effort and creativity behind your invitations. Typically, give your guests ample time to check their schedules and respond by sending your invites out 6 to 8 weeks in advance, and 12 weeks for destination weddings. 'Save the Dates' can also be sent at least 6 months in advance. Remember to set an RSVP deadline of 2 to 3 weeks before the big day and don't forget to include return postage if you require your guests to RSVP via snail mail.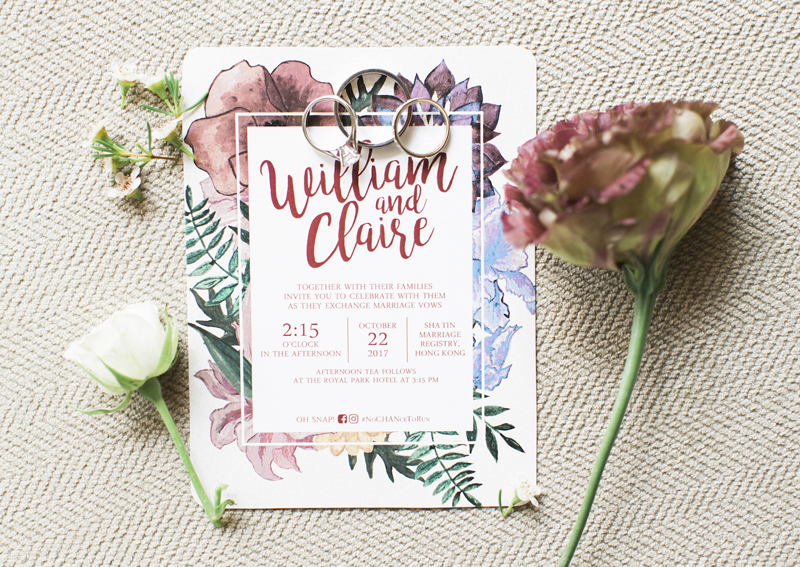 [From: This Simple Indoor Bohemian Wedding in Hong Kong is Full of Vibrant Colors / Photo: Savour Productions]
Inform Guests of the Dress Code
We are always in the dilemma of how to tell our guests to dress appropriately without being bossy. No one likes turning up at the beach in a tuxedo or brand new stilettos. Do your guests a favour by including the dress code in invitations if the venue is not obvious enough.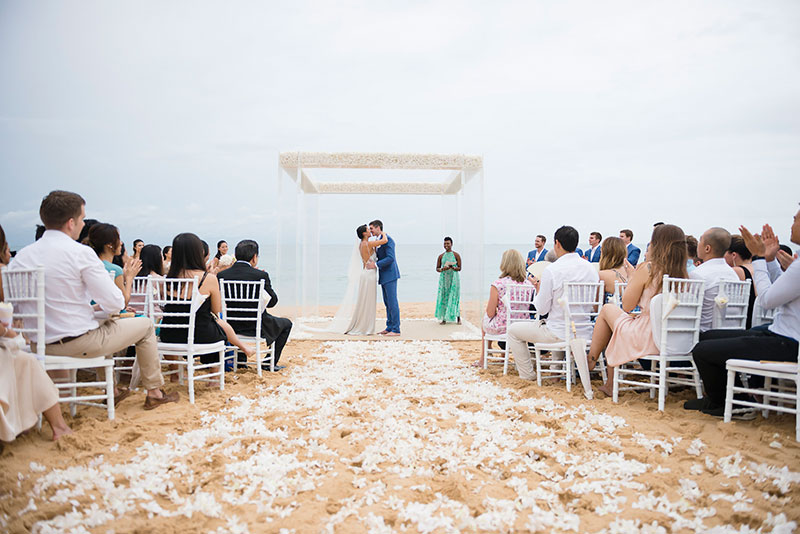 [From: An Intimate and Elegant Wedding by the Beach / Photo: Darin Images]
Pamper your Bridal Party, Mother and Sisters
After all, this will be be your go-to team to help you throughout the day. We don't want to end up quarrelling from the stress of wedding planning. So show your appreciation by treating them to their bridesmaids attire, a manicure session or gift them something meaningful.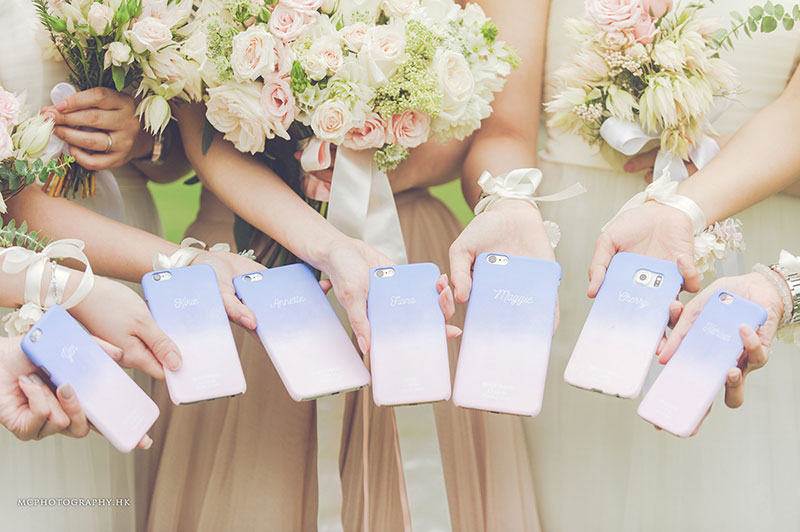 [From: A Heartwarming Cream Colored Wedding at Hyatt Regency Shatin / Photo: MC Photography]
Thank Your Guests
Guests have set aside time and some have even flown halfway across the globe to attend your big day. A simple gesture to thank their presence will make them feel much loved. This can be done through your speeches, simple notes or a toast. Set some time aside to mix and mingle at the wedding. It may seem like a time consuming task but trust us, they would be so happy you stopped by.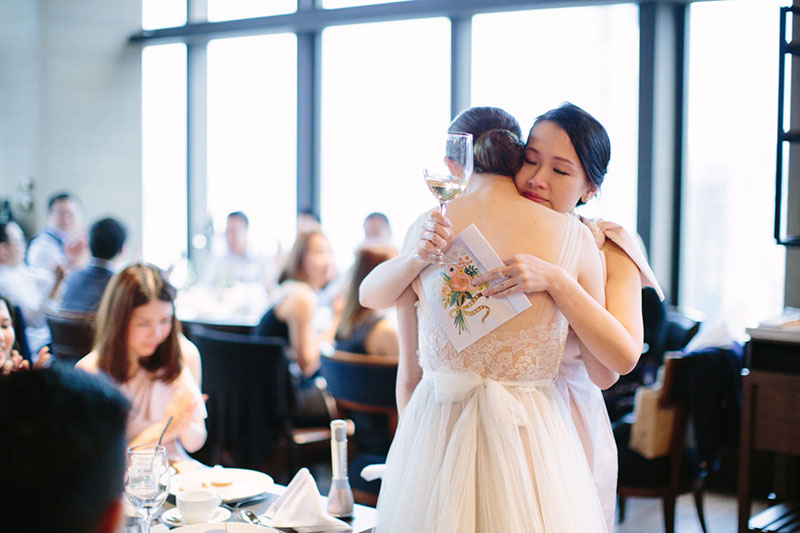 [From: An Intimate Rooftop Wedding at Wooloomooloo / Photo: Feel in the Blank]
Communicate with Your Vendors and Thank Them
Vendors play an important role on our big day. They usually include the photographers, videographers, makeup artists, planners, deco stylists, florists, hotel or catering crew, and the list goes on. Maintain a positive relationship by being honest with what you think but most importantly, trust the pros – that's why you hired them to begin with. Don't forget to give them Laisee as a token of appreciation to thank them for a job well done.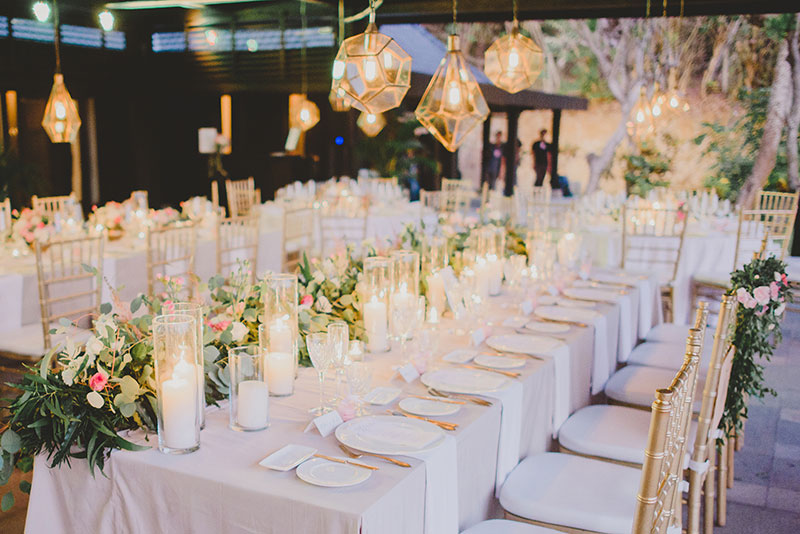 [From: A Breathtaking Blush Wedding at the Bvlgari Resort in Bali / Photo: Terralogical]
DON'T
Inform Your Close Friends and Family On Your Engagement Through Social Media
After he's put that ring on your finger, don't be too quick to post that #ringselfie on social media. It is the best and most respectable thing you can do by informing your parents first and if possible, face-to-face. Wouldn't be fun to see how they would react? You can then inform close family and friends by phone. They would be delighted to share hear the good news from you. Once you have completed these steps, you're ready to share to the digital world and celebrate with everyone else.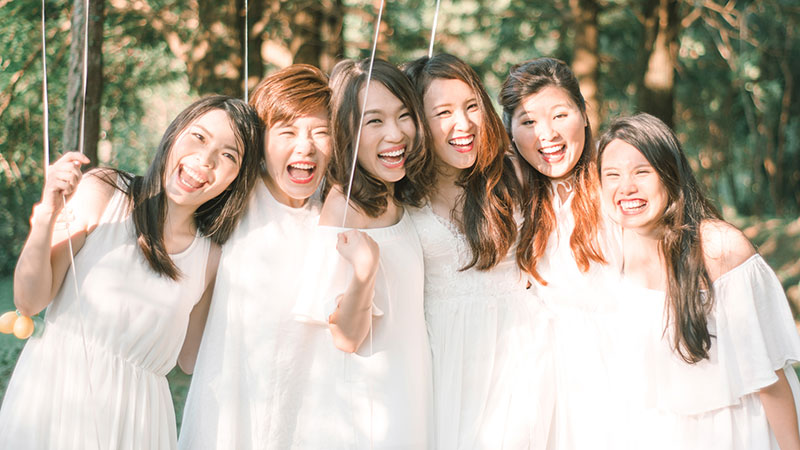 [From: Fun Forest Bridal Party Photoshoot / Photo: Angel Cheung]
Retract Your Wedding Invitations After Sending Them Out
Before getting those beautiful invites printed and mailed, double check and triple check the date, time, venue, RSVP contacts, and wordings. Don't make the mistake of recalling the invitations back after sending them out. Also, if you have already sent the invite to a guest, it is a big no no to retract the invitation and tell the guest that they are somehow unable to be fit in.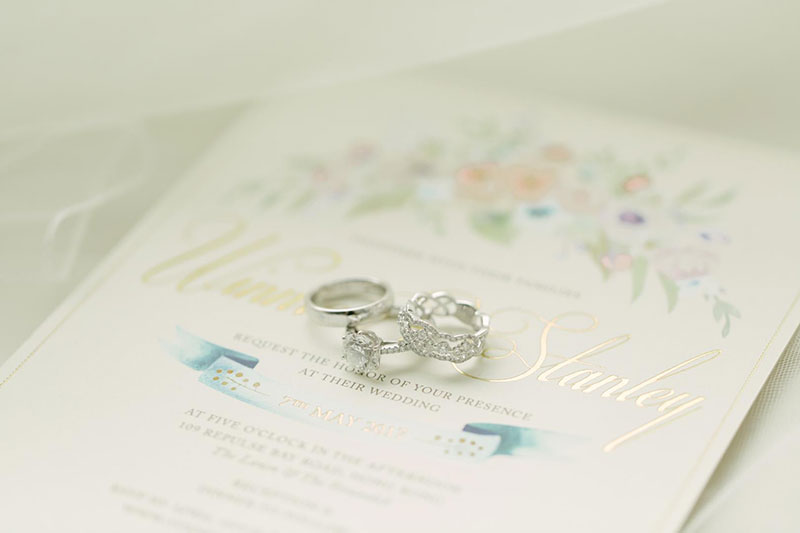 [From: A Pretty Pastel Color Palette Made This Garden Wedding Come to Life / Photo: Belle & Olive]
Wait Too Long To Start Your Ceremony
It is one thing to start 5 minutes late, and another to make your guests wait for you for over an hour. Make sure that you have a schedule with buffer time so that you'll be ready to walk down the aisle on time. If there is a gap time between your ceremony and lunch or dinner, entertain your guests with some fun activities, cocktail food, and entertainment. Remember, hungry guests easily turn into 'hangry' guests.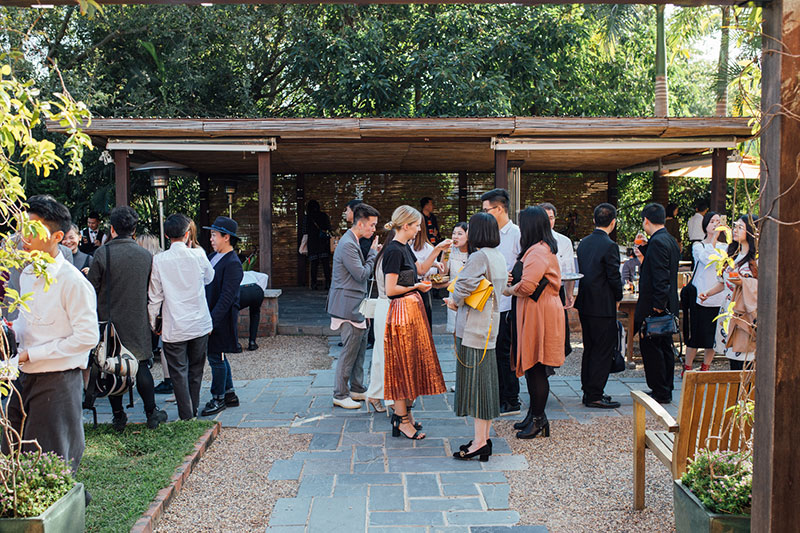 [From: A White Wedding by a Cove with Quirky Personalized Details / Photo: Capture Life by Chantal]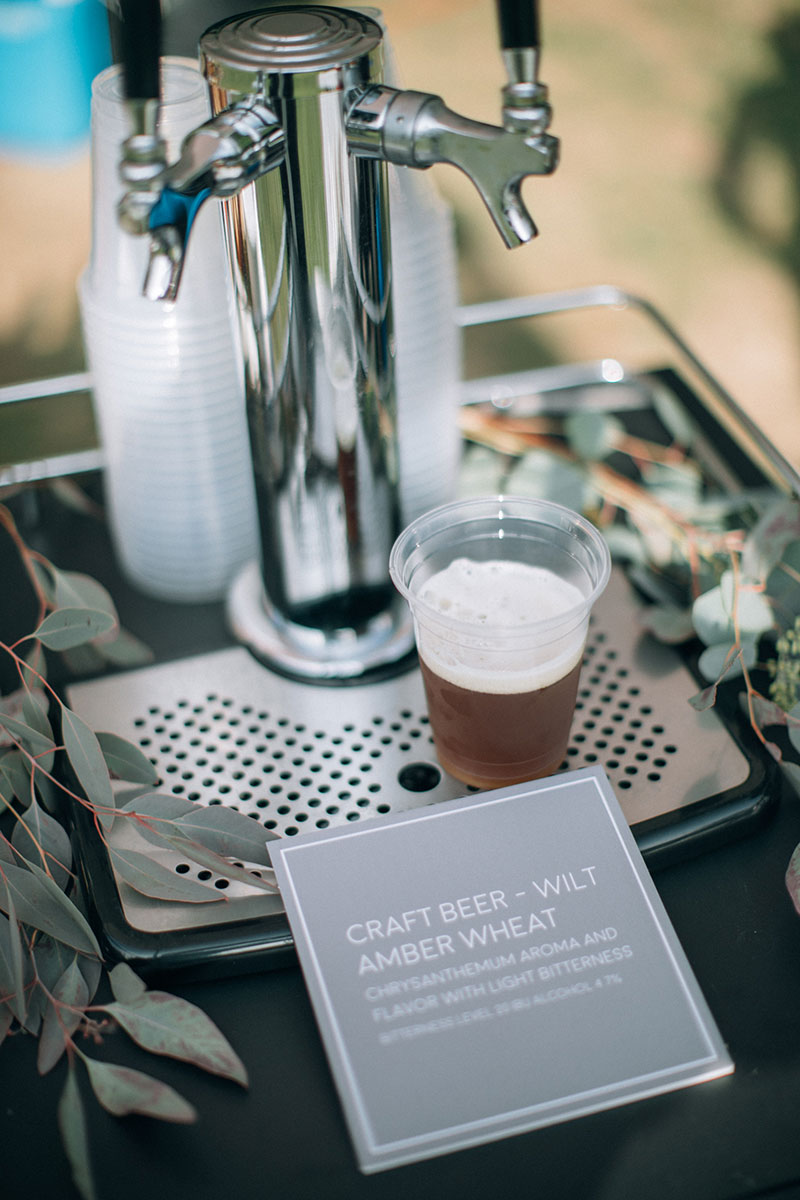 [From: Modern Garden Elegance / Photo: Mary Ann Art & Photography]
Forget to Add Extra Seats
There will always be last minute RSVPs or guests who show up without RSVP-ing. It is better to be safe than sorry and expect the unexpected. Venues usually have extra tables and chairs so arrange with this with your wedding planner or venue to avoid having to squeeze guests into overcrowded tables.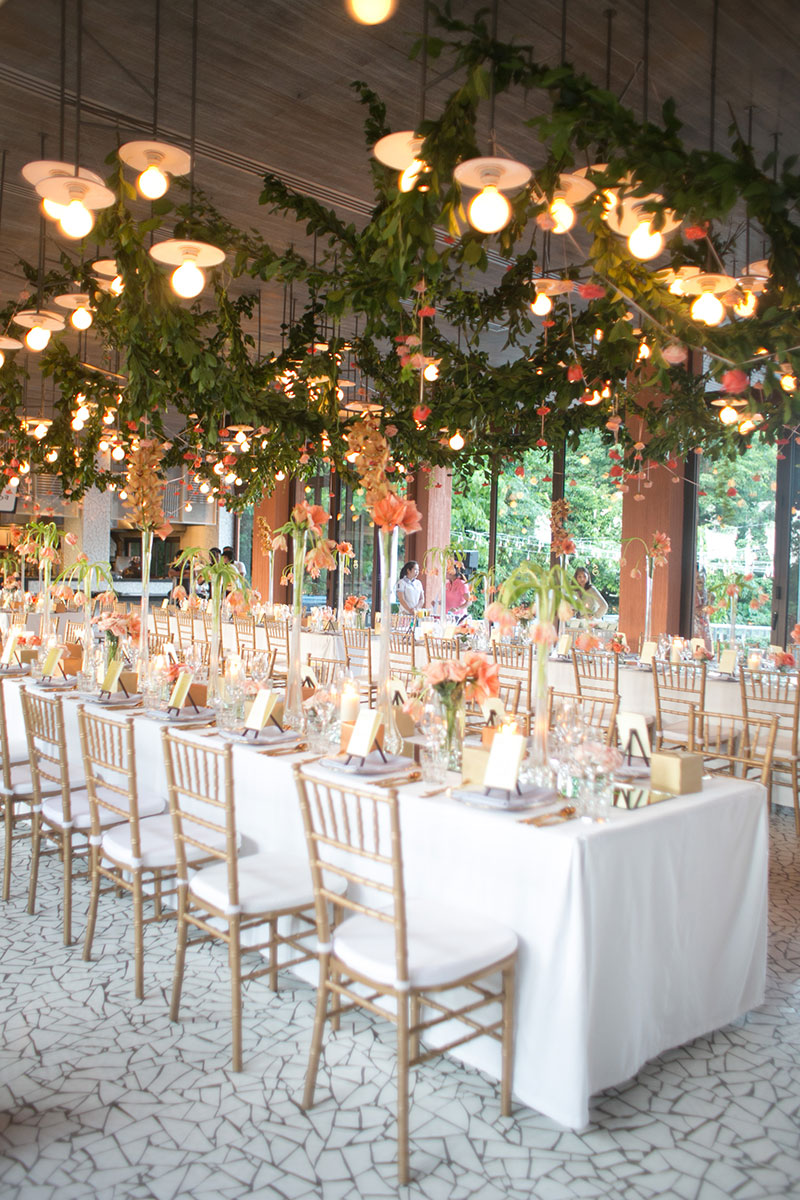 [From: A Breathtaking Destination Wedding that Overlooks the Sea / Photo: Hilary Chan Photography]
Forget to Feed Your Vendors
The last thing you would want is your live band running on low energy, or your photographer fainting. While establishing the contracts, clarify how many meals you need to prepare for the vendors and their team. Once that is settled, speak to your caterer and ask if they can prepare extra meals for your vendors. Make sure they are kept hydrated and fed at intervals throughout the day.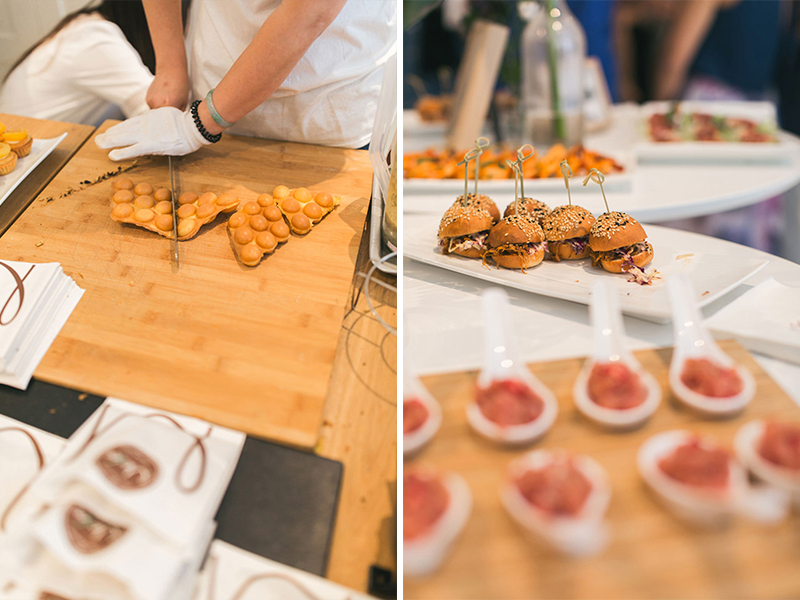 [From: Modern Fun White Wedding at Pomegranate Kitchen / Photo: Tracy Wong]
Stress Over Your Wedding on Social Media
If there is a day to do a social media detox, your wedding day should be it. Instead of fretting over what has been uploaded to your wedding hashtag, whether or not that photo is flattering, or if your guest has uploaded a drunk photo at your wedding, breathe and let live! Instead, enjoy this day and every moment of it by being present with your loved ones.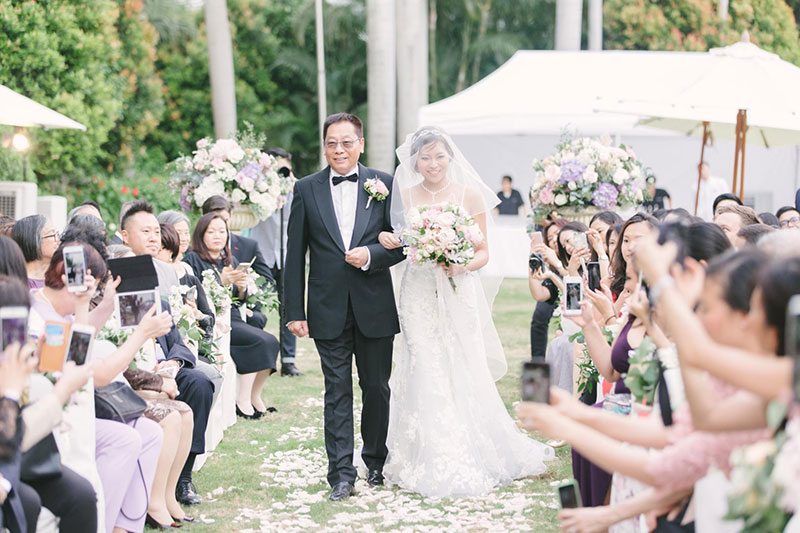 [From: A Pretty Pastel Color Palette Made This Garden Wedding Come to Life / Photo: Belle & Olive]