Villa Aye's stunning grounds, breathtaking views, luxurious fittings & outstanding service facilities are perfect for weddings of up to 150 people, making Villa Aye one of the top and most sought-after wedding venues in Phuket.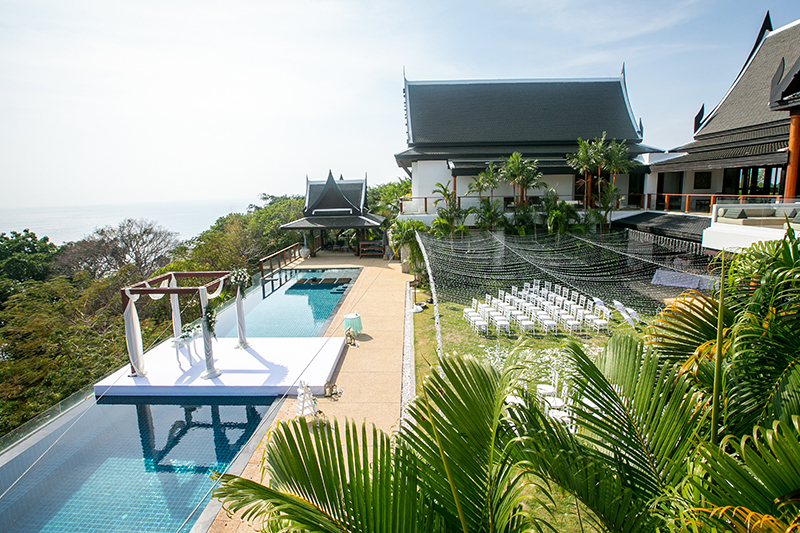 [Photo Credit: Multcould Photos & Unique Phuket Wedding Planners]
Situated on Phuket's Millionaire's Mile, wedding planners can install a platform over the stunning fresh mountain water infinity pool, so your ceremony can be set against the panoramic and dramatic backdrop of the Andaman sea and radiant sunset.
For the evening ceremony, fireworks may be shot off from a barge in the ocean, to top off the ultimate wedding experience (not included in wedding package).
In collaboration with Villa Aye, top villa wedding planners will be able to assist you with wedding extras (catering, décor, pool platform, fireworks etc.) to suit your requirements, offering a world-class wedding experience.
For more information on venue hire & accommodation costs at our Luxury 8-bedroom Villa, please contact Villa Aye Wedding & Function Venue [email protected] or visit their website https://villaaye.com/. There are no taxes to be added to the Villa Rates.
Wedding Packages
VILLA AYE, 8 Luxury Bedroom Wedding & Function Venue Package (July 2020)
Gallery