With the beginning of the lunar new year comes a much awaited celebration with family and friends–a time to be grateful for the year that passed, a time to cherish one another, and a time to make way for what is to come. Opening the Year of the Pig in style is definitely how we'd like to kick-start 2019, so we're sharing with you this beautiful Chinese New Year feast styled by renowned destination wedding planner and stylist, Joy Proctor. Here's a bonus for all of you: we included the recipes for the delicious dishes featured in this post! Read on to see Joy created this beautiful table spread for a cozy home dinner celebration for the new year.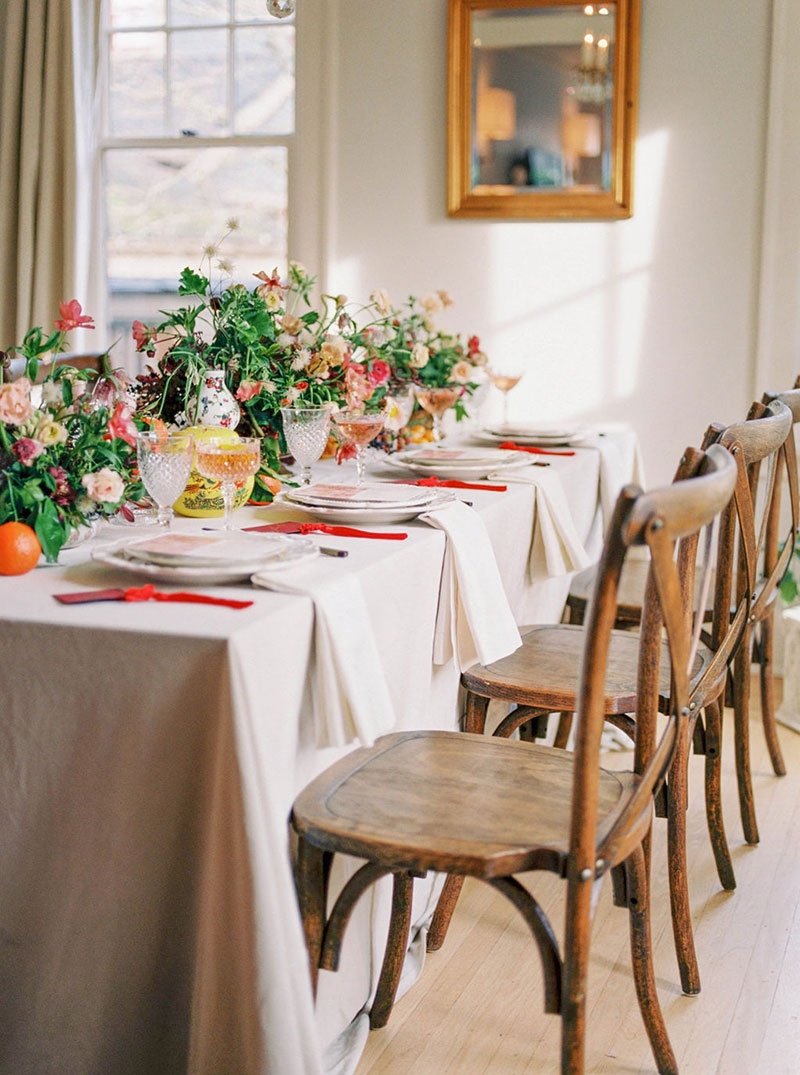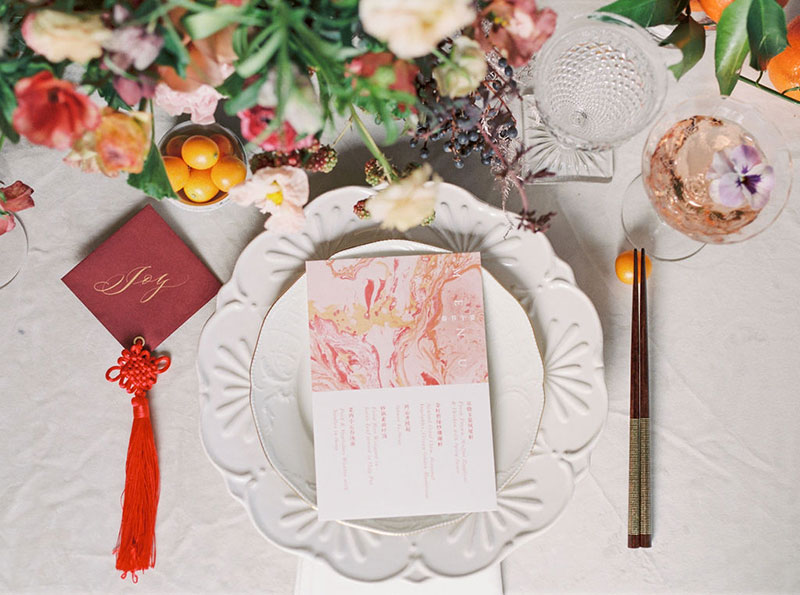 China and crystal from Joy's cabinet, fruit and citrus, and beautifully arranged flowers by Heather of Myrtle et Olive in colors corresponding to luck and happiness were used for an elegantly festive table setting. She used a delictae palette in shades of red, pink, purple and orange, which are known to be lucky colors. Likewise, the overflowing bowls of citrus symbolize luck and add a pop of color to the whole scene!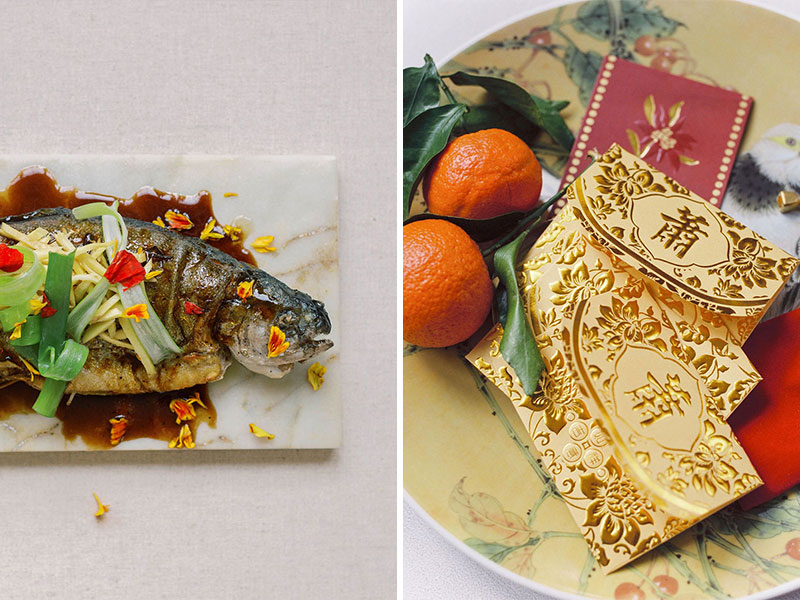 Don't forget envelopes of money for good luck! The envelopes are often red or gold and traditionally list the families name on the outside.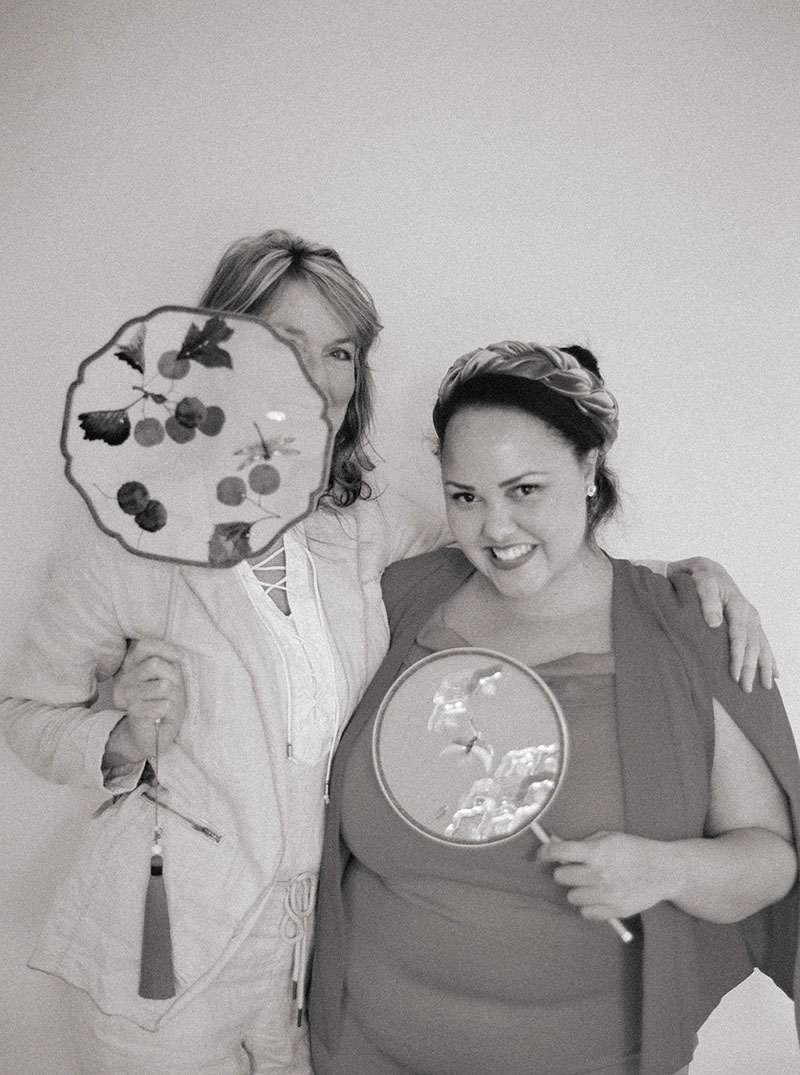 One way to invite guests to get into the spirit is by offering them hand embroidered fans to accessorize. Joy sourced fans by Luneville, which were exquisitely designed. This added detail sparked conversation on the history of embroidery, which began in China and made its way to Europe much later. A celebration is also not complete without delicate sweets that guests can take home. For Joy's dinner celebration, she gave guests gorgeous year of the pig and florals cookies by Cake by Nicole.
To sweep the year away of the difficulties of the past and make way for luck, happiness, and longevity, Joy's sister and sister, Elise, assisted her boyfriend Andy, an incredible chef, in preparation of a lucky menu with each dish symbolizing a wish for the new year: dumplings for wealth, noodles for long life, fish for a surplus of food, and sweet sticky rice balls to symbolize the togetherness of family.
Joy also made sure to choose to use China and other details that had patterns with meaning. A bird crane present in fans and vases symbolizes longevity. The pattern on gourd bottle represents blessings and longevity. And  finally, the floral and bird plate symbolizes a full harvest.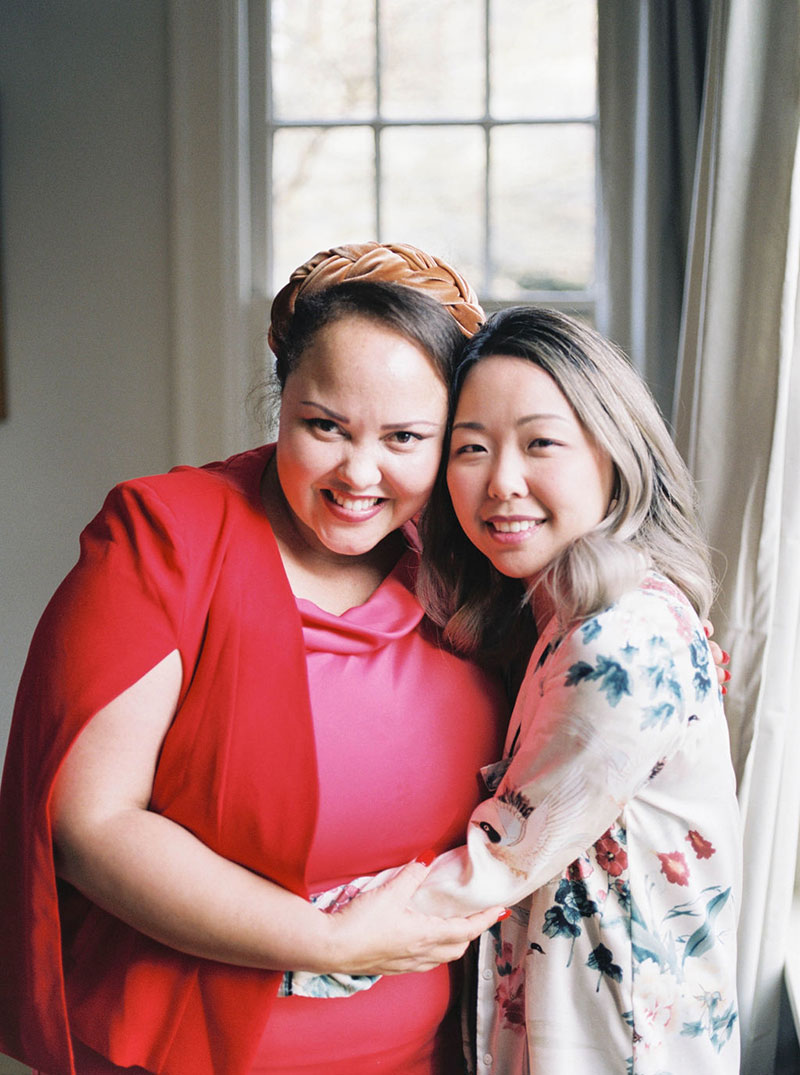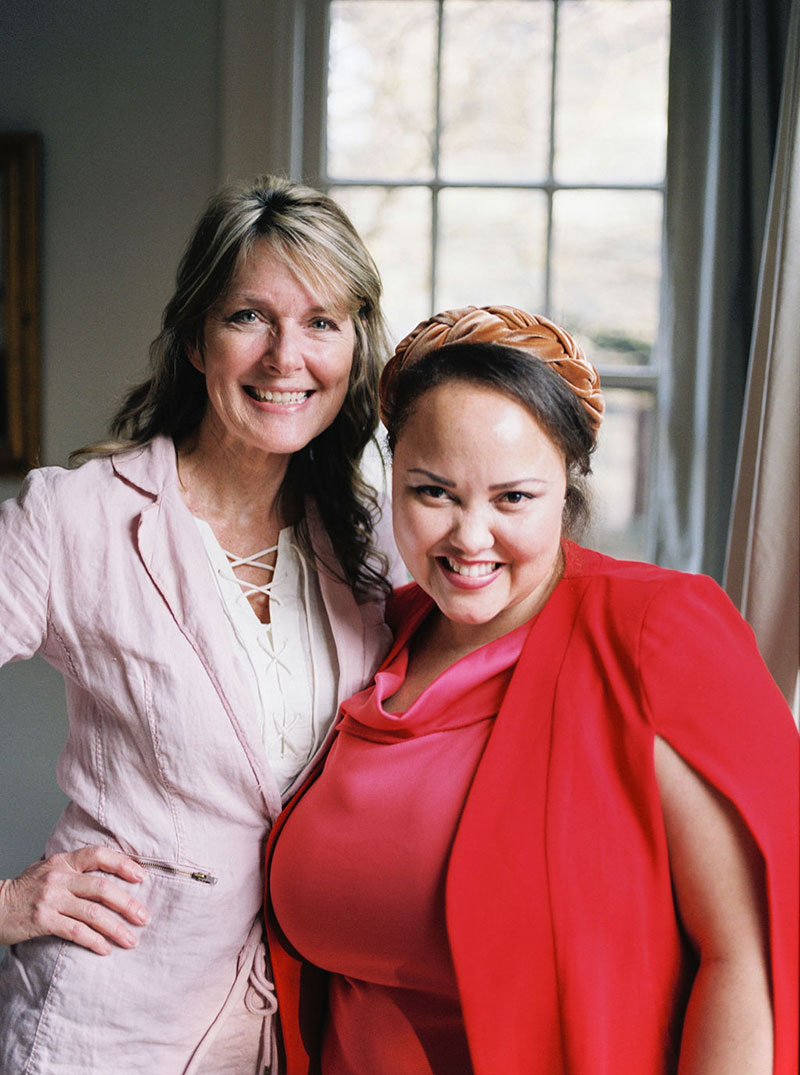 Dumplings (Jiaozi)
Filling:
1 mid/large Napa cabbage
1/2 T salt + 1 1/2 t salt, seperate
1 lb ground pork
1 lb raw shrimp, chopped (optional)
1 T sesame oil
1 1/2 T light soy sauce
2 packs of store-bought or homemade dumpling wraps (recipe below)
peanut or sesame oil, for searing
water, for steaming
Dough:
5 c all-purpose flour
2 1/2 c lukewarm water
For Filling:
Finely chop cabbage
Toss with the 1/2 T salt, put in a colander and let sit over a sink or bowl for 10 minutes  *this will draw the moisture out
Squeeze out any excess liquid, mix with the remaining ingredients and set aside
For Dough:
In a large bowl, mix flour and water with chopsticks or a spatula until a shaggy dough forms. Dump out onto a floured surface and knead until smooth. Let rest 10 min.
Take a quarter of the doough (keeping the rest covered in plastic, to keep from drying out), and roll it into a 1″ snake. Cut into 3/4″ thick peices
Dust each one in flour, and flatten into a disc with your hands, finish with a rolling pin (ideally making the outside thinner and the inside thicker to support the filling
To Assemble:
Take a wrap, add a dollop of filling to the middle. Pinch the opposite sides together, and form a pleat towards the center from each side.
**make sure all edges are tight and sealed. If using store-bought wraps the edges will need to be brushed with a small amount of water in order for them to seal. Fresh dough will seal on its own.
Dumplings are ready to cook; if making ahead of time, they can be put on a floured surface and frozen.
They can then either be boiled or pan-fried
To Pan-fry:
Heat a large flat pan (that has a good fitting lid), add just enough oil to coat the bottom of the pan
Add dumplings and fry for 1-2 minutes
Add water to go 1/3 of the way up the dumplings (careful of oil popping up!), cover with lid and let steam on high heat
Keep an eye on it to make sure the pan doesnt dry out, ( it may need more water, especially if cooking frozen)
Once the top of the dough is cooked, and the bottoms are nice and brown, take the lid off and let the water evaporate ( this will crisp up the bottoms, be careful not to burn them!) As soon as theyre crispy, take them off the heat
Serve them bottom-up so that they stay crispy. Serve with your favorite dipping sauce or the traditional chinese soy vinegar and garlic chili sauce
Baked Trout
1 whole trout, cleaned and deboned
3/4 cup fresh ginger, peeled and cut into matchsticks
2 scallion greens, sliced in half lengthwise, soaking in ice water
salt and pepper
2 T sesame seed, black/white (optional)
For the Sauce:
1/4 c sesame oil
2 T garlic, finely chopped
2 T ginger, finely chopped
1 c shaoxing cooking wine
1 1/2 c soy sauce
To Cook:
Preheat oven to 425 degrees
Open the trout, making sure there are no stray bones, season the inside with salt and pepper.
Heat up a pan (big enough to fit the whole trout) on mid-high heat, add sesame oil.
When oil is hot, add the trout. Cook until nice and brown on that side, flip fish and put in the oven for 15-20 min
While the fish cooks, the sauce can be prepared.
Sauce:
Put oil, garlic and ginger into a medium saute pan. Put on medium heat and sweat until the slightly transluscent.
Add wine, turn up the heat to high and reduce by 1/2, being sure to stir and scrape the bottom so nothing sticks and burns
Add soy sauce and cook for another 5-10 min, depending on the desired consistency. Keep in mind the more you reduce the soy sauce, the saltier it will get. ( so if youre planning on making a thicker sauce, use very light salt when initially seasoning the fish)
Taste for seasoning adjustments
To Plate:
When the trout is cooked, let it rest on a rack for 5 min.
After resting, place the trout on your desired serving dish, spoon the sauce over the fish.
Bundle up the matchstick ginger across the fish. After soaking in ice water, the scallions should be curled up nicely. Garnish with those and perhaps some black and white sesame seed.
Longevity Noodles
12 oz fresh thin, long noodles (chow mein or low mein. Tagliarini works really well too, but way less traditional)
3-4 T sesame oil (to coat cooked noodles)
1/4 c sesame oil (for cooking)
6 oz dried mushrooms (shitake, maitake, or whatever sounds good)
4 c water
1/2 c cornstarch
1/2 c fresh ginger, small dice
1/4 c garlic, chopped fine
1 bunch  scallions, thinly sliced on a bias, keep the whites and greens seperate
1 1/2 t white pepper, ground fine
1 T mushroom powder
3/4 c shaoxing cooking wine
1 c carrots, peeled and cut matchstick style
2 c snap peas, cleaned and de-stringed
4 c chicken and/or seafood stock
3 T soy sauce
Black+White sesame seeds and Togarashi to garnish
To Cook The Noodles
Bring a large pot of lightly salted water to a boil.
Add fresh noodles and cook for 3-4 minutes (5-6 minutes if dried)
Strain the noodles and rinse them with cold water. Put them in a bowl, toss them with the 3-4 T sesame oil. Set aside
Mushrooms:
Put dried mushrooms in a small pot with the water. Bring them to a boil, then turn off the heat and let them steep until they're tender.
Strain the mushrooms. Save the water! Put aside 2 c of that mushroom water in a small bowl. Slowly whisk in the cornstarch to make a loose paste. Set aside.
Slice the mushrooms. Set aside.
To Finish:
In a large saute pan or wok, heat up the 1/4 c sesame oil on high heat.
Cook the shrimp for 2-3 min. Remove them and set aside.
Add the carrots and ginger to the shrimp oil and cook for 4-5 min, constantly stirring.
Add the whites of the scallion and cook for another 2 min. Then add the garlic and cook for 2 more minutes.
Add the snap peas and sliced mushrooms, cook for 3 minutes.
Season with white pepper and mushroom powder.
Add cooking wine and cook just until the smell of alcohol is gone from the pan
Add stock and soy sauce, and bring to a simmer.
Once its at a simmer, stir in a small amount of the mushroom broth/cornstarch mixture ****If it sits, the cornstarch settles at the bottom, so it needs to be mixed up again before adding it.**
Adding that mixture will thicken up the sauce more, so depending on the consistency you're going for, you may want to use more or less.
Add your noodles, make sure they're hot, toss them with everything else and ready to serve.
Garnish with sesame seed, togarashi and the green tops of the scallions
Rice Balls (Tang Yuan)
1/4 c + 2T black sesame seeds, toasted
2 1/2 T sugar
2 T butter, softened
1 c glutinous rice flour
3 T boiling water
1/4 c room temp water (or beet juice)
4 c water
1 c honey
Filling:
Toast the sesame seeds in a pan over a low flame for 2 min.Let cool.
Once cool, put sesame seeds in a food processor with the sugar and softened butter, until a it turns into a paste
Refrigerate. Once it's firm enough to handle, portion it into 20 balls and refrigerate again.
Dough:
In a bowl, pour the boiling water into the rice flour and mix with a spatula. When that gets soaked up, add the rest of the water, or beet juice, a little bit at a time. ( A few drops of red food coloring works too)
Once its a doughy consistency, roll it out onto a floured surface and knead for 10 minutes until a smooth, soft dough forms.
Assembling:
Flatten a peice of dough with your hands into a disc.
Put one of the chilled filling balls in the middle.
Fold up all the sides to meet each other, then roll in your hands to make a smooth ball
Repeat.
Cooking:
Bring the water and honey to a boil.
Gently drop the rice balls in. Make sure to gently nudge them after they go in, as they will want to stick to the bottom.
When they start to float, let them cook 1 more minute.
Pull them out and let them rest for 5 minutes
Serve preferably in a pool of their cooking liquid.
Happy Chinese New Year to all of you, from all of us at Bride and Breakfast Hong Kong! We hope this feature got you inspired for today's festivities. Here's to a fruitful 2019 for us all!
Photographer: Carlos Hernández / Video: Craig Flood / Styling and Design: Joy Proctor / Flowers: Myrtle et Olive / Stationery Design and Calligraphy: Steady Hands Creative / Food: Andrew McCarthy / Cookies: Cake by Nicole / Chairs: Classic Vintage Rentals / Backdrop Painting: Heather Sui / Fans: Luneville Embroideries /
Linens: La Tavola Linen
For more wedding vendors, visit our Directory!