Every bride fears rain on her wedding day. The cold, damp, and wet weather is associated with a gloomy mood and leads to apprehension that the photos will not turn out as expected. We talked to some photographers and got some expert advice on how to have beautiful wedding photos even if it rains. They had really positive input which can really turn the situation around! Here's what they had to say about rainy weather and what you can do to make the most of it.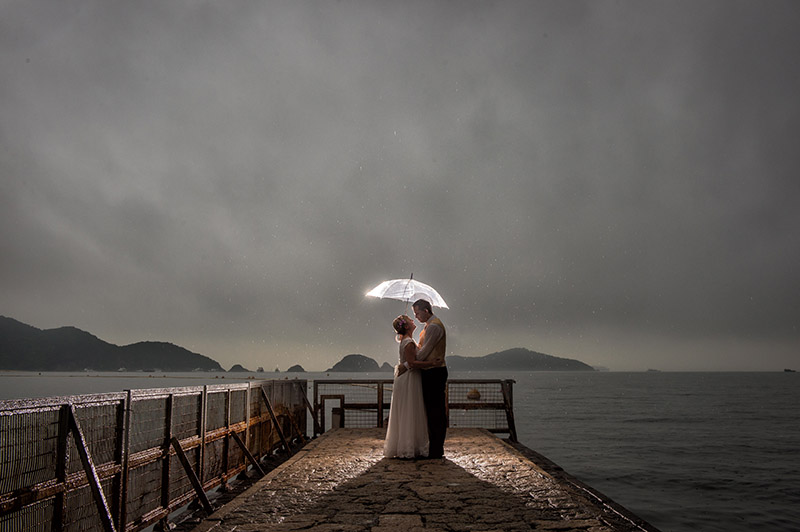 [Photo: Derek Photography]
(1) Be prepared.
Check that the locations that you are shooting at and take note of undercover areas you can duck for cover in case it rains. Check the local whether forecast beforehand and bring an umbrella, or better yet, an assistant to help you. – Jamie Ousby
Bring transparent umbrellas. I think transparent umbrellas are the best-looking umbrellas under the rain. They wont cover up the couples' faces and the rain drops on the surface somehow create a romantic feeling. – Martin Aesthetics
(2) Embrace the spontaneity.
Enjoy the rain because sometimes with the unexpected, photographers can create very unique images. The rain can offer different unique effects to an image, i.e. reflections on the floor, shinny little rain drops, and the added drama. – Derek Photography
[Photo: Jamie Ousby Photography]
(3) See things in a different light.
Most couples are concerned with the light during rainy weather. I always assure them that though different, the light is good on rainy days because is it soft and is even better for portraits. Wet floors also result in nice reflections. – Vincent Truong of La French Touch Photography
(4) Your Big Day is what you make it.
Be thankful for the weather. Embracing the nature is the happiest thing. Be grateful for the romantic weather during your wedding. No matter how fancy or beautiful the decorations, dresses, and bouquets are, these are all useless if we do not enjoy and just end up blaming the weather. Rain is just another way the weather smiles at you. So, be thankful and let it be the best memory in life. – Martin Aesthetics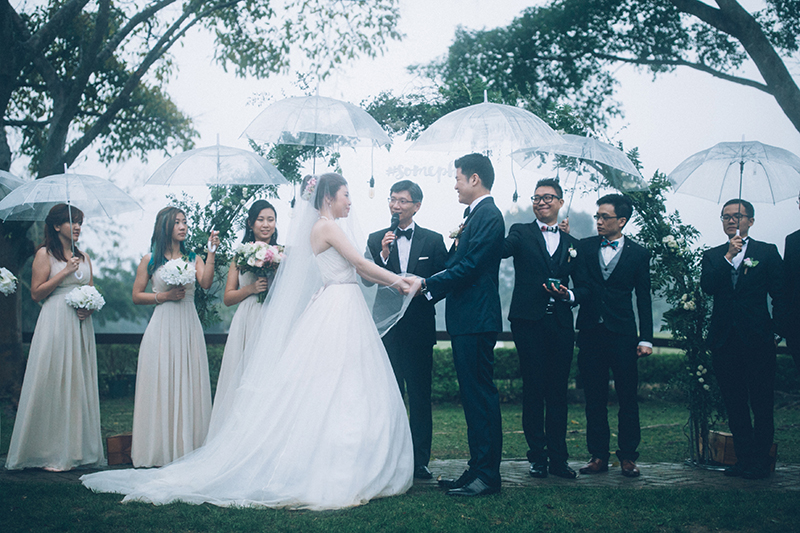 [Photo: Martin Aesthetics]
(5) We are here to help you!
If it rains and the planned couple session is in a Park or Garden with trees, we can take cover under the trees that are like big umbrellas. If the cocktail party will need to be moved indoors, the guests will still interact with one another, drink, and laugh together. There will always be a way to remedy the situation and we, photographers, can help ensure the couples that atmosphere will not change if we (couple and vendors) don't let it! We must keep smiling, stay happy, and enjoy the day no matter what the situation. – Vincent Truong of La French Touch Photography
Stay calm and stay relaxed, because all the people around will help you–they will hold umbrellas for you, and give you venue options on the day if needed! All you need to do is accept the weather and enjoy it. If it's a beach wedding, the sky will look nicer after rain, and you will have a better background for portrait session. – Rico of An Ant Capture
(6) Focus on what truly makes as wedding shine.
Regardless of the weather, there are always emotions and feelings, and smiles and tears to catch during wedding day. These moments are what will make the wedding day sunny and shiny. – Vincent Truong of La French Touch Photography
[Photo: An Ant Capture]
(7) Find comfort in each other.
Don't worry about the rain and wind, let your husband protect you from the elements–it's his job. Plus, it makes for deeply intimate moments. – Jon Lau of Lauhaus.co
(8) Enjoy and make the most of the day!
Embrace the rain! This is your wedding day and you need to remember every part of it. So don't let the rain dampen your day. Get out there and enjoy your big day no matter what the weather! – Jamie Ousby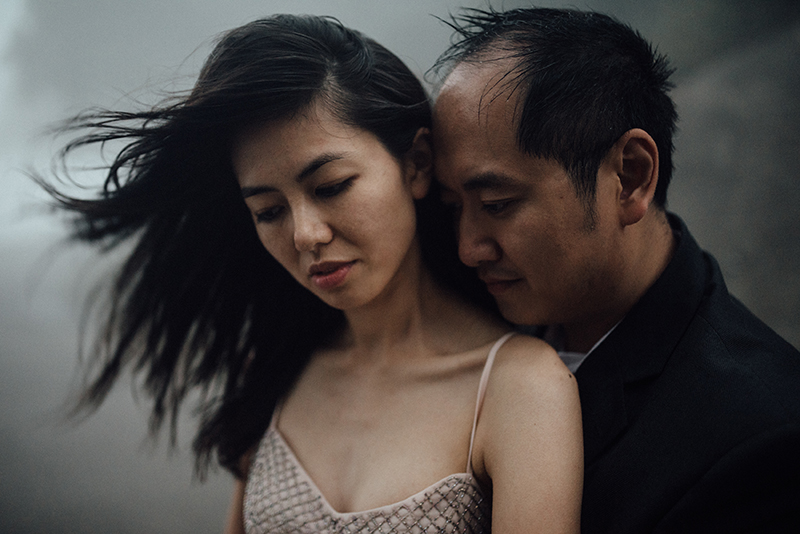 [Photo: Lauhaus.co]
 It all boils down to having a positive outlook not matter what, and trusting your photographer. So, stay cool, keep calm, and let the weather and your photographer transform the damp skies into unique and memorable photos!