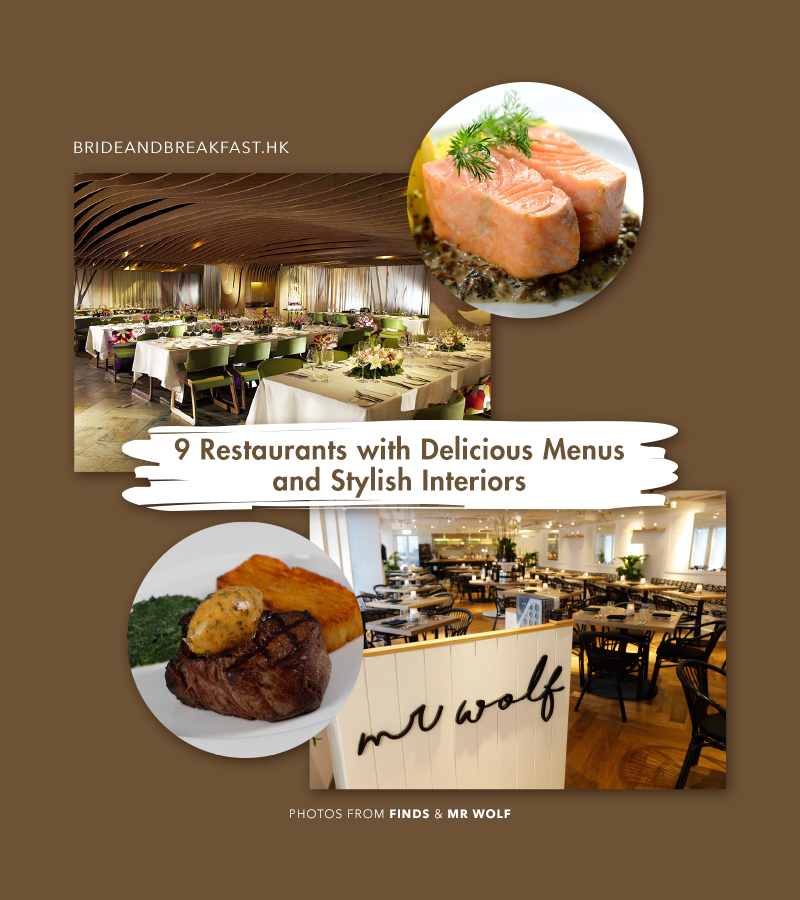 Intimate weddings require cozy settings where you can just enjoy great food and great company. In our recent article, we shared some unique restaurants that you can book for your wedding or for a small reception afterwards. Today, we've decided to add to that list so you have more choices at hand. The beauty of having these restaurants as a wedding venue (if you haven't figured it out yet) is that you get to savour delicious food amidst curated interiors that enhance the experience and heighten the occasion even more! Here are more local restaurants to visit and consider if you're eyeing an intimate gathering for your wedding, pre-wedding dinner or post-wedding celebration.
(1) ALTO
ALTO is perched on the 31st floor of the stunning V Point Tower in Causeway Bay, featuring breathtaking views of Hong Kong and a classic grill menu with a modern twist. Internationally acclaimed designer Tom Dixon's Design Research Studio crafted a venue of infinite beauty, one that reveals stunning views across Victoria Harbour and features influences of the elements of stone, wood, fire, and water. Alongside these views comes the finest grill items of exclusively sourced beef, an eclectic array of starters and salads, and creative side dishes and decadent desserts created by head Chef, Mike Boyle. Supported by a superb range of wines from some of the world's most respected vineyards and a creative assembly of cocktails, ALTO delivers an uninterrupted view across Hong Kong and exceptionally pleasurable dining experience.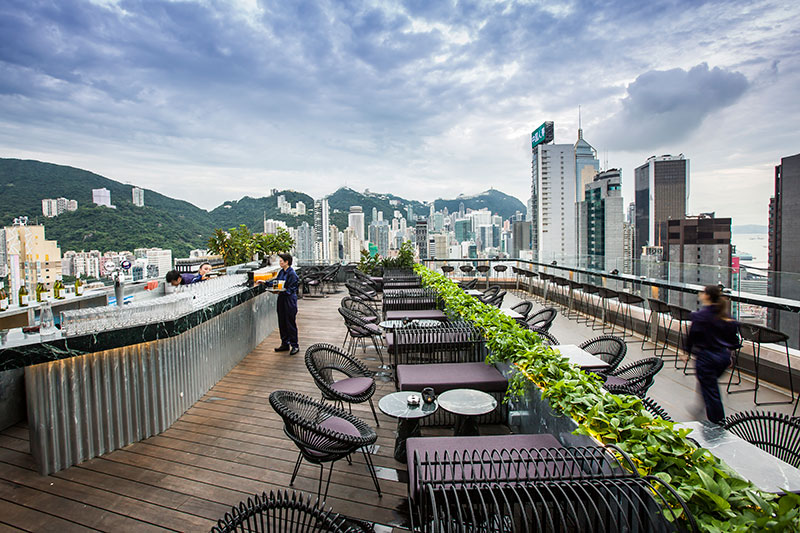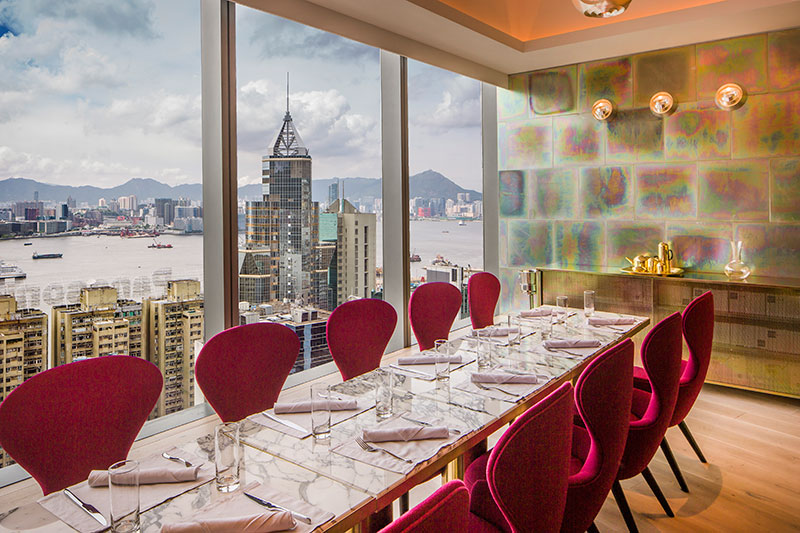 Venue Size and Capacity:
Indoors: 100 pax seated, 200 pax standing cocktail
Outdoors: 100 pax seated, 230 pax standing cocktail
Minimum Charge:
Lunch: Indoors HK$90,000, outdoors HK$60,000
Dinner: Indoors HK$120,000, outdoors HK$90,000
These are reference prices only as final price will depend on date and time.
Starting Price Per Pax:  HK$650
Menu Choices: Cocktail, buffet, and seated dinner menus.
Other special offers: Custom cakes and performances are available.
Website: http://www.diningconcepts.com/restaurants/ALTO
(2) The Chop House
The Chop House, located at Mira Place 1 in the heart of Tsim Sha Tsui, offers a fabulous and rare feature in the form of a massive al-fresco dining atrium as well as a cozy interior seating for those who prefer an indoor, homespun dining ambiance. Fresh ingredients and delicious comfort food are at the forefront of The Chop House experience. What makes this place an even more memorable one for visitors is the relaxed yet vibrant atmosphere. The menu was also created with a sharing experience in mind, perfect for couples who want a comforting wedding feast. The hearty items on the menu are accompanied by an extensive selection of wines, crafted cocktails, beers, and a collection of inventive milkshakes. Eating will surely be a fun and delicious experience at The Chop House. Your guests will love every bit of this place.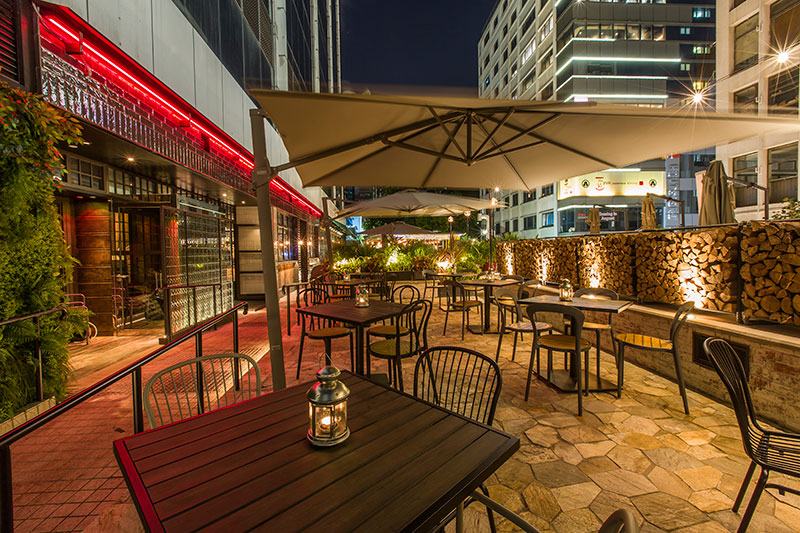 Venue Size and Capacity:
Indoor Dining Area: 1,238 sq. ft., maximum of 80 pax for sit-down dining
Outdoor Garden: 2,402 sq. ft., maximum of 170 pax for sit-down dining OR maximum of 350 pax for standing cocktail
Minimum Charge: Minimum spending is subject to event size, time, season, and venue availability.
Starting Price Per Pax:
Lunch: $158, plus 10% service charge per person
Dinner: $398, plus 10% service charge per person
Free Flow Beverage Package

2-hour non-alcoholic drinks: $190, plus 10% service charge per person
2-hour alcoholic: $250, plus 10% service charge per person
Website: https://the-chop-house.com/
(3) The Ocean
As the name states, The Ocean by Oliver Bellin will give you a expansive sea view and interiors full of beautiful blues. But besides all the ocean-inspired details of this venue, the only Michelin-starred restaurant in Hong Kong's Southside will deliver an exquisite Breton dining experience that combines the best of earth and sea. The Ocean's 10,000 square foot space at The Pulse in scenic Repulse Bay, The Ocean is an ode to decadent, artfully designed décor that complements the Southside's natural beauty with striking interior themes. From the floor-to-ceiling panoramic windows, the exquisite details in the choices of the art of table, the tailor-made ceramics, to its booths and tables, The Ocean is designed to convey the beauty of coral reefs and every feature unites to evoke a sense of oceanic tranquility.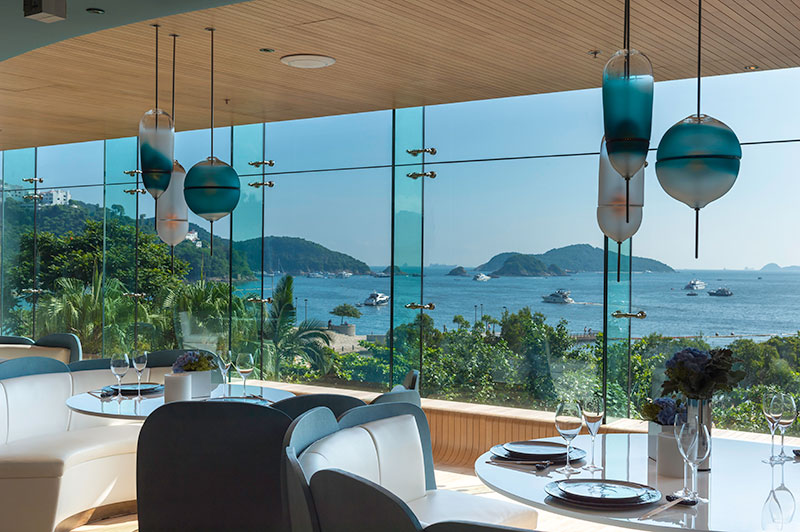 Venue Size and Capacity: 500 sq. meters, 60 guests
Minimum Charge: HK$60,000 for weekdays and HK$90,000 for weekends
Starting Price Per Pax: HK$ 988, plus 10% service charge for a 4-course menu
Menu Options: Kindly contact restaurant directly for full menu details.
Other Special Offers: Hosting the ceremony at the Cabana for additional HK$30,000 on weekdays and HK$60,000 on weekends.
Website: http://www.theocean.hk/
Continue reading "Have Your Wedding at One of These 9 Restaurants with Delicious Menus and Stylish Interiors"