One thing couples should remember is that weddings are extra special because of your guests–the people closest to you, family and friends who have supported your relationship, and all those who love you dearly. So wouldn't it be even more meaningful if you kept your guests in mind when you plan your wedding? Think about it. If you've been a guest at a wedding in the past, what made the celebration extra special as an attendee? The answer is usually in the little wedding details: the invitations, the favors, and other personalized touches you make.
To make your guests feel more like a part of your wedding rather than mere spectators, how about leveling up on wedding details? Today we're sharing some unique #BnBFinds from local Hong Kong vendors. Level up your wedding with details that guests will love and appreciate. 
And don't miss the giveaway details at the end of the article!
(1) Ginkgo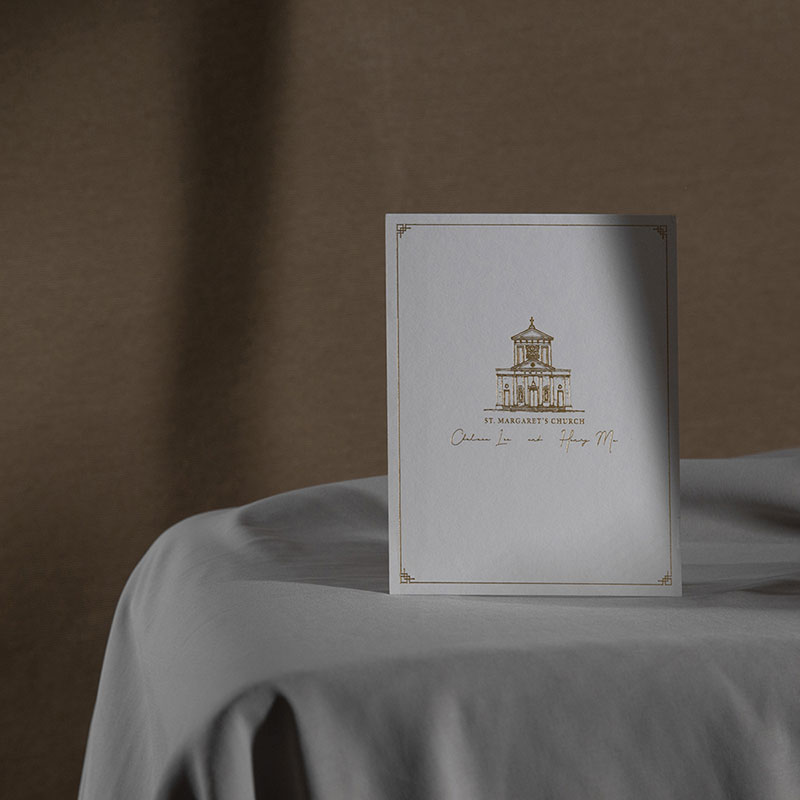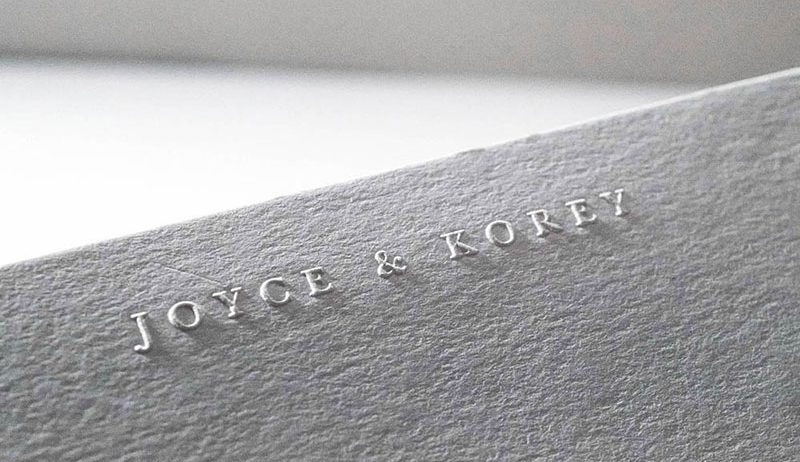 How you announce your wedding matters–when done well, it will leave a lasting first impression on all your guests. This is precisely why we think choosing your wedding stationery is an important part of planning your wedding. If you're looking to elevate your wedding suites, Ginkgo can deliver exquisite designs that will stand out from the crowd.
"Creating wedding invitations is an art," says Ginkgo. To add to that, this art shall not be limited to Chinese or Western traditions. Instead, Ginkgo hopes to combine all elements and influences to create unique invitations for Hong Kong couples. Furthermore, Ginkgo strives to create invitations that guests will appreciate from bottom the of their hearts and will make them look forward to the wedding day. Or even better, Ginkgo hopes their creation even become collectables!
Ginkgo makes invitations from quality materials. The most common color for foil stamping is gold. Apart of gold, the other colors available are silver, red, black and white. In addition, shiny gold, matte gold, rose gold, champagne gold, and copper are popular designs. Meanwhile, if you want your designs to stand out, foil stamping on hard cotton paper will help highlight the details. You can also opt for letterpress, with or without color, which also a great way to make certain elements pop out.
(2) Coffee Go Around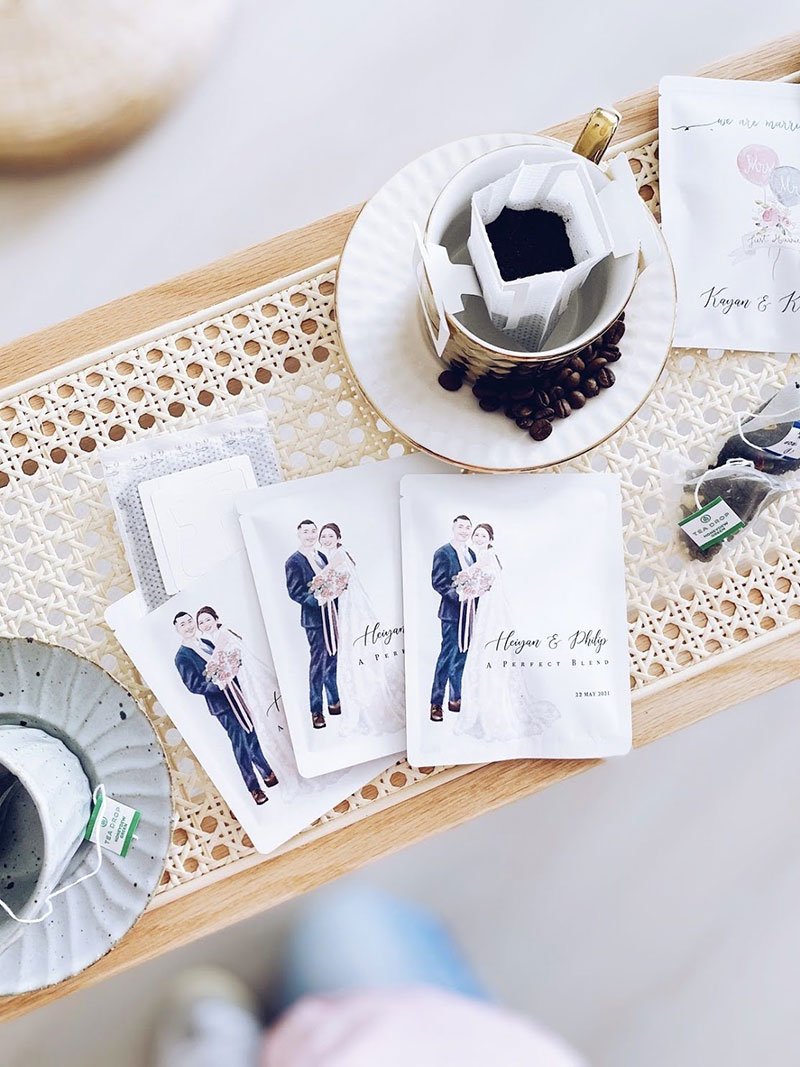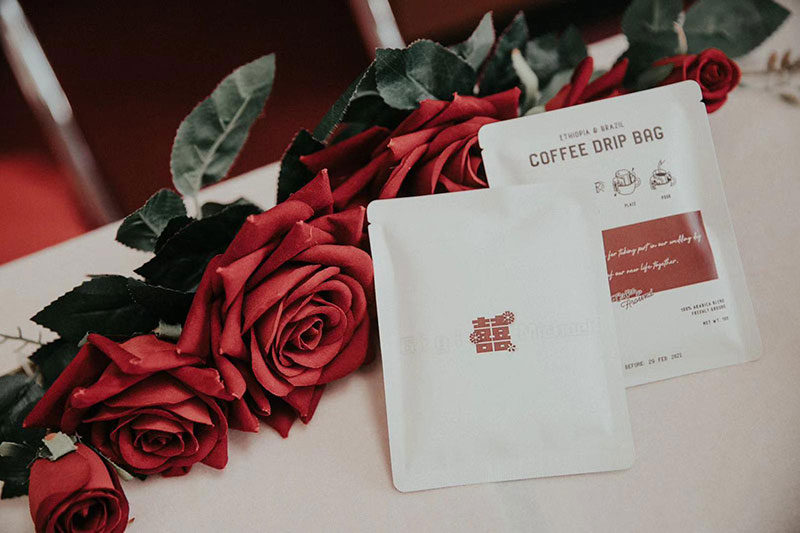 If you know your guests are coffee lovers, Coffee Go Around can provide beautiful personalized coffee packages for everyone. Choose from a wide array of coffee drip bags and tea bags made with premium ingredients from Australia. They can also create looks that perfectly go with your wedding theme.
(3) Hearafter Design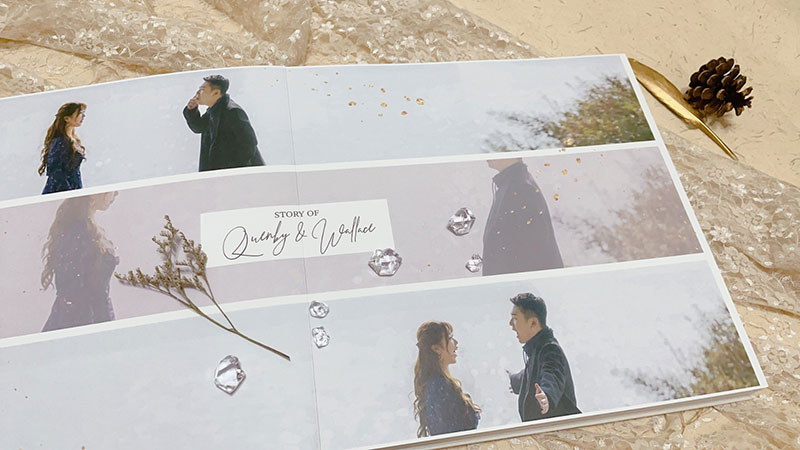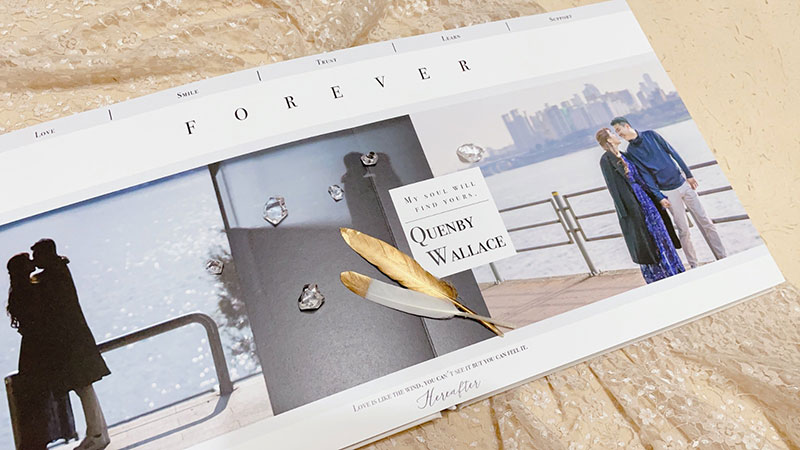 Guests love to hear about how you and your other half met, interesting anecdotes from your relationship and other inspiring details about your love. How about giving them a glimpse of your journey? You can do this by displaying your story through Hereafter Design's printed photo books. You can use this as decorations–something guests can flip through at the tables. Then after the wedding, you can take these photo books home as keepsakes. Photo books are fully customizable so the layout, theme, colors, and fonts can match your wedding.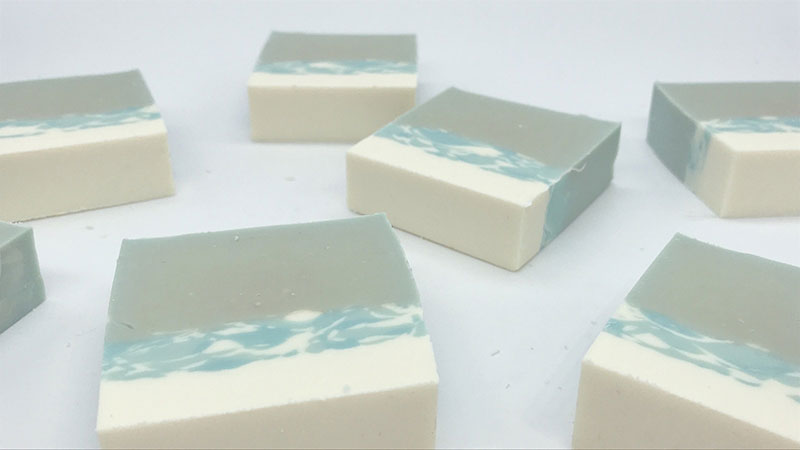 Hereafter Design also holds D.I.Y. workshops that you can take advantage of, especially for personalized wedding favors. For example, they offer soap-making classes and other couple art workshops. What you make from these classes can be used once again as decorations, wedding favors, and items you can keep at home.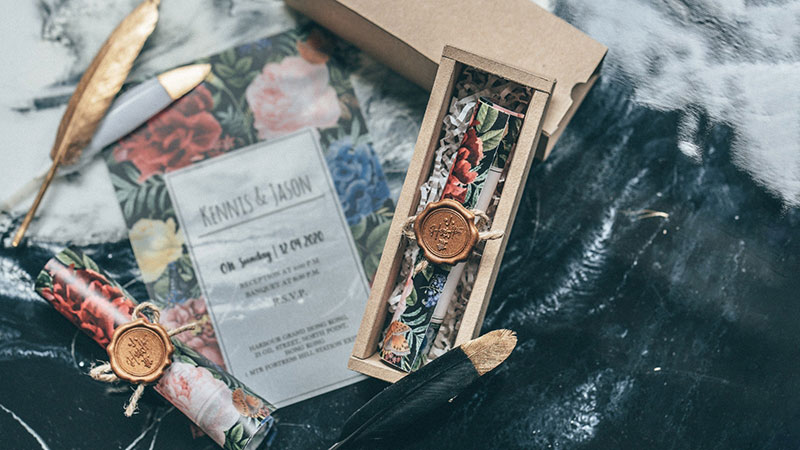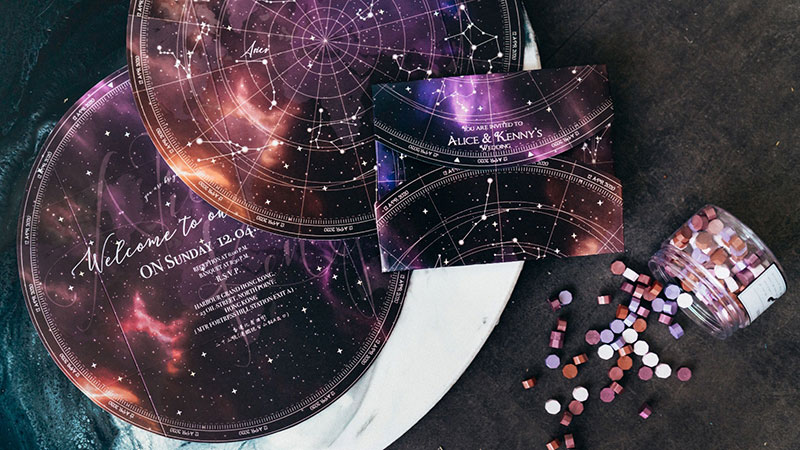 But that's not all. Lastly, Hereafter Design also make unique invitations. They have circular designs, rolled packaging, and other unconventional styles that will surely delight your wedding guests.
(4) Little Days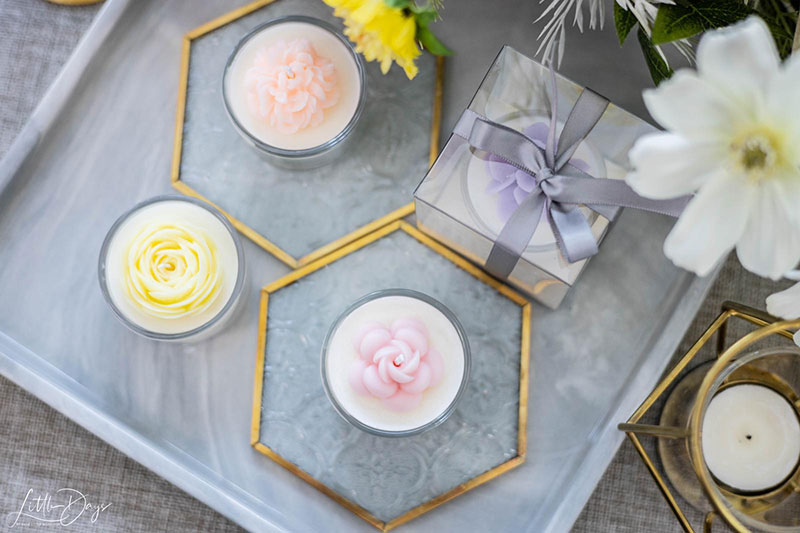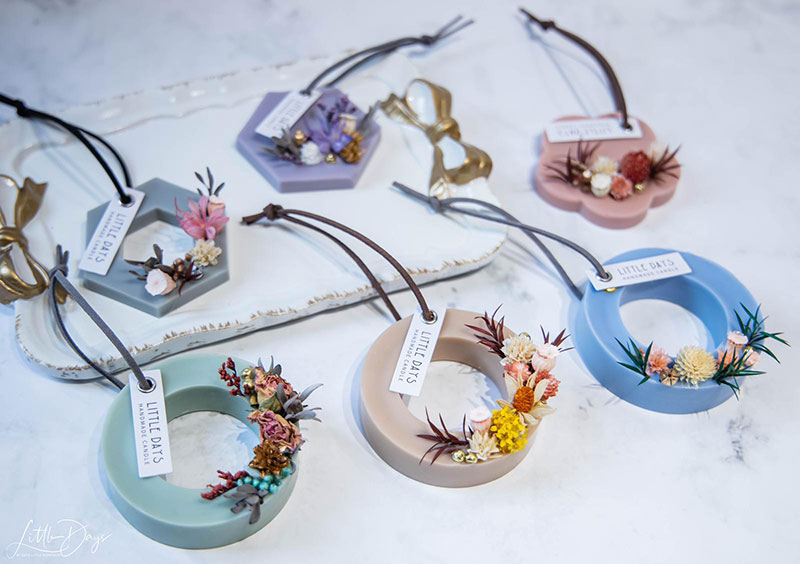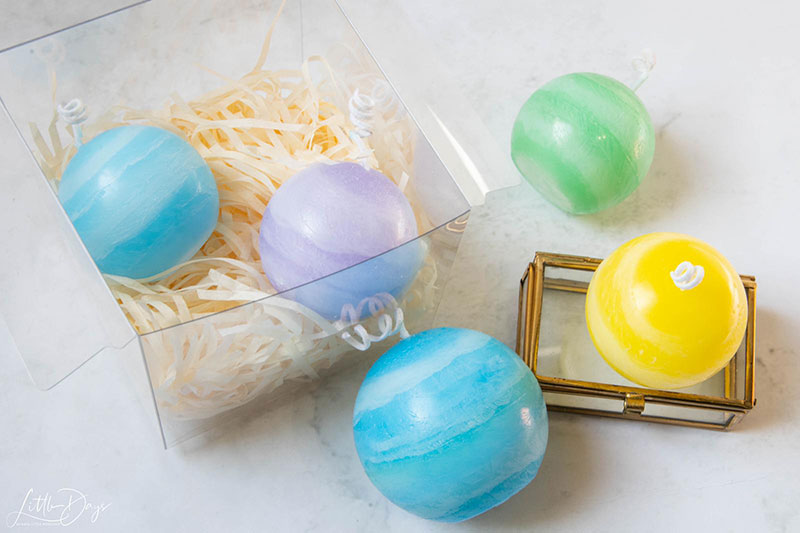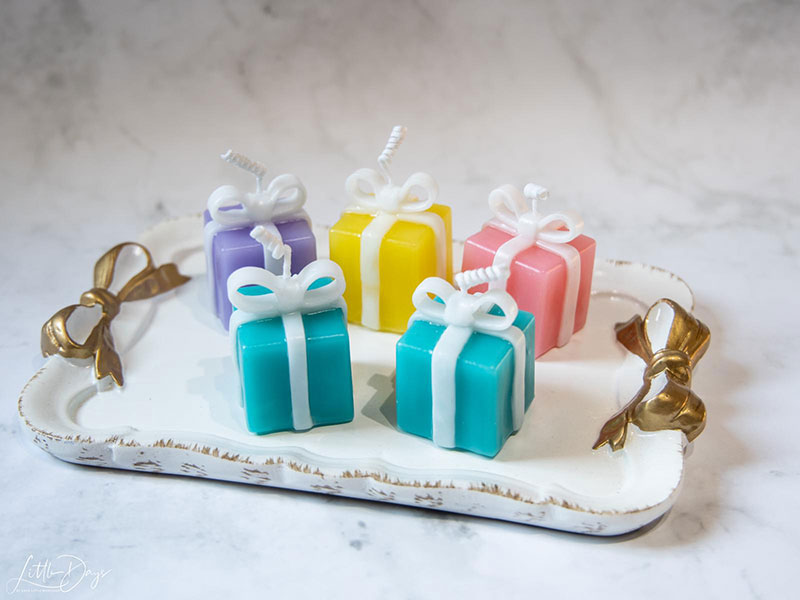 Do you believe in the power of soothing scents? We do! If you do, too, you can share your love for scents with all those who attend your wedding with the help of Little Days, a local brand that specializes in Japanese handmade candles. To ensure all their candles are top-notch quality products, they take extra care when it comes to the ingredients that go into every item. They also take pride in the craftsmanship they put into each candle.
Let guests experience the relaxing benefits of candle scents! You can give candles as wedding favors and you can light up some candles during your wedding, too. While they have set designs to choose from, they also make custom styles to match your wedding theme.
(5) Miss Fruit Tea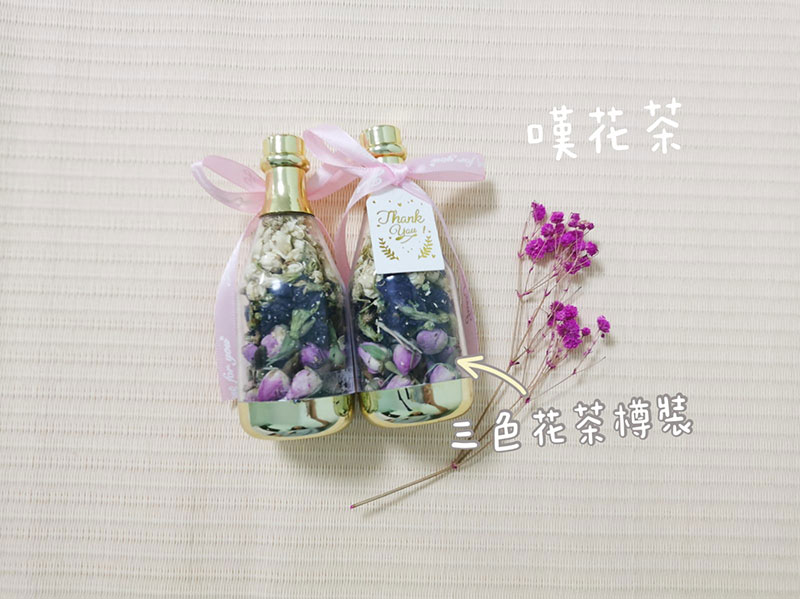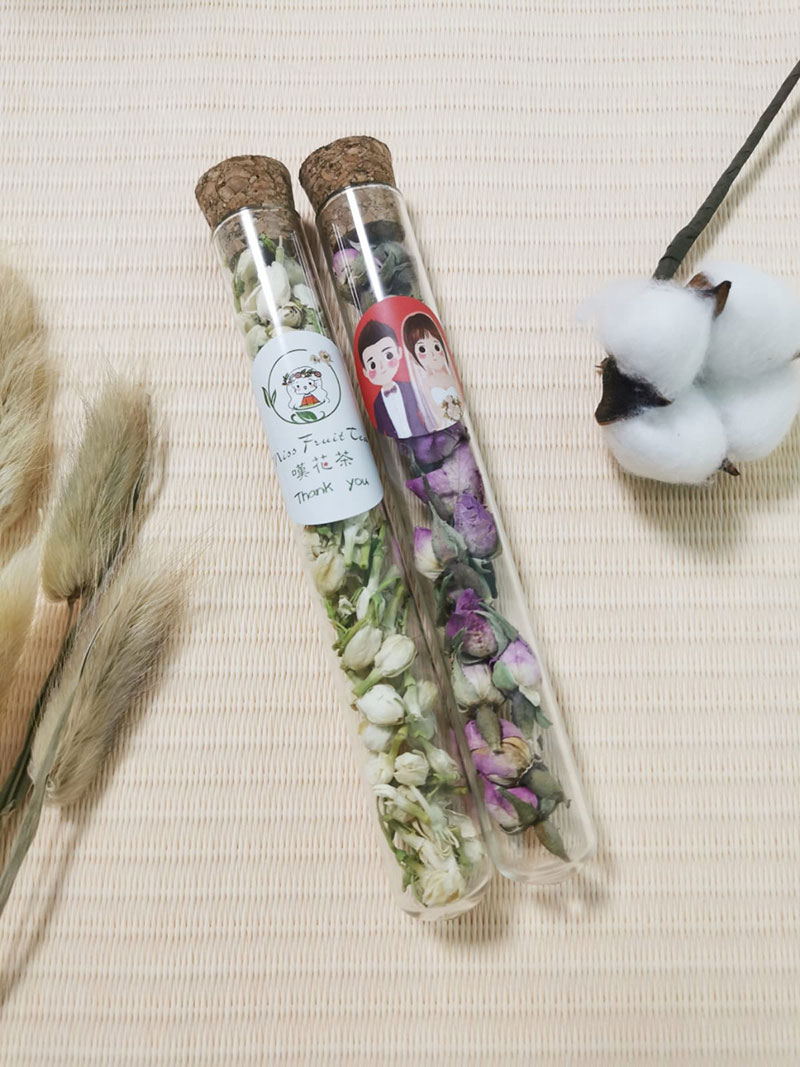 If not coffee, another option for your guests is tea! Miss Fruit Tea creates natural aromatic floral tea, all free them free of preservatives, additives and artificial coloring. You get fresh, full flavors in every tea bag. These homemade products come in individual packaging, which keeps the flavor intact. Choose from different designs or customize the packaging as you wish!
Last but not least, to let you try and see how good are these wedding details, the featured vendors are happy to offer a handpicked gift set to our readers!
To win this gift set, simply follow the steps below:
Follow these great vendors – Ginkgo, Coffee Go Around, Hearafter Design, Little Days and Miss Fruit Tea
Go to B&B Instagram
Answer the following question in comment:
Which wedding details in the article do you like most? And Why?
If you can repost it in your public story, we will count you one more entry!
Details:
Giveaway Duration: 3-8 Aug 21 (23:59pm HKT)
Bride and Breakfast HK will choose the Best Answer and pick one winner
Winner will be announced on 9 Aug 21 on Instagram story
Winner will be noticed by Instagram DM
Winner has to respond within 24 hours or another winner will be selected
Prize will be sent by SF Express and winner has to pay for delivery