Let's be real. There might have be a time when you will have to rethink your wedding expenses and cut back on costs. It happens. And the reasons why vary per couple. Sometimes the original budget you set at the very beginning of your wedding planning journey doesn't turn out to be enough–you may have simply underestimated costs. Or, you may have overspent in some areas without realizing it. After reviewing the budget once again, it's time to cut back on costs.
Here's where it gets tricky. How do you cut costs? What items can you sacrifice and what items should you still hold on to? Today's blog post aims to guide you and all other couples out there on the matter. While it's not the case for everyone, it's good to know these do's and don'ts so if ever you find yourself in a situation where you need to hold back on wedding expenses, you can refer to these tips as your guide.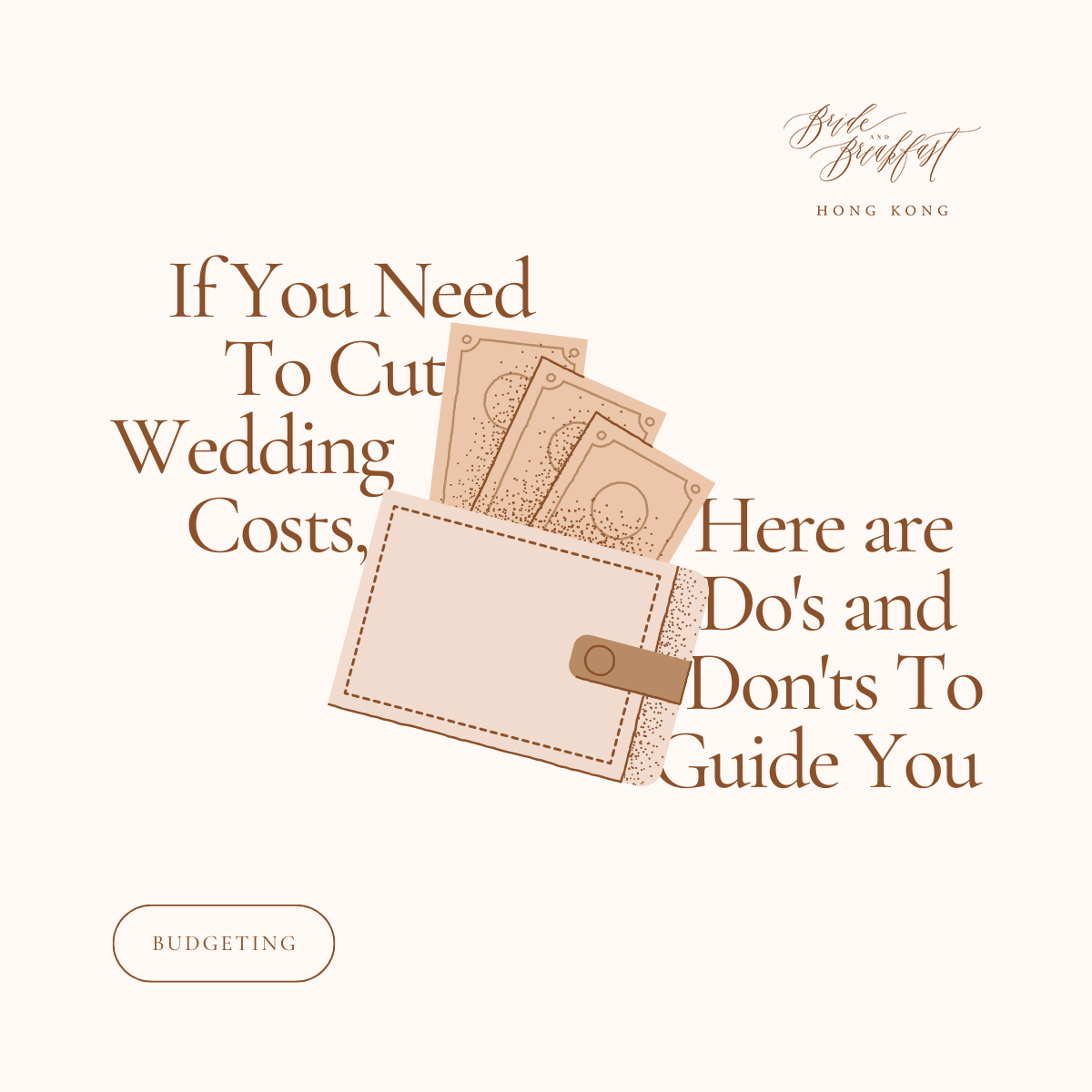 Do review your main priorities.
Usually, you will have set this already at the beginning of your wedding planning journey along with your budget. But now that you need to cut back, review your priorities and see what you can still let go of and what you still really want to keep.
Do review your guest list.
If you have a huge guest list, this can be a main driver of cost. So if you still haven't sent out your invitations, you can review your guest list once again and see if you can shorten the list.
Do consider rentals wherever possible.
One way to save on costs is by switching to rentals. Renting a wedding gown is always an option. You can still wear a stunning designer gown at a lower price.
Do choose flowers that are in season.
If you're thinking of cutting on decoration expenses, switch to flowers that are in season. If you pick flowers in season, your stylist will have an easier time sourcing it and this will drive down the cost.
Do try to arrange alcohol that can be paid based on consumption.
Venues and caterers charge beverages in different ways. Some charge per head count while others charge based on consumption, i.e. how many bottle of wine were consumed. The latter option will give you more mileage since not everyone drinks.
Do remove anything you can do without.
Just like decluttering your home or closet, let go of things that are "nice to have" but not really necessary.
Don't make any additional unplanned purchases.
This might seem self-explanatory, but when you're in the middle of wedding planning, it's easy to get tempted to still add this and that when you see beautiful things! Even what you might consider a minor item can greatly affect your budget.
Don't overlook venue fees.
When you're trying to reduce expenses, there's merit it double and triple checking venue contracts. There may be hidden charges or extra charges that you did not consider. For example, if you overlook the venue overtime fee and extend your wedding, you'll find yourself paying for more than what you had planned.
Don't cut back on things that will affect your guests' experience.
You want your guests to have a good time. You also want to show them how much you love and appreciate them. Hence, don't remove things that will affect their overall experience at your wedding.
Don't cut back on meals.
In relation to your guests' experience, meals are important. Guests always remember the food, so you want to make sure you feed them with a delicious menu.
All in all, just remember to stick to your priorities, to let go of what you don't need, and to keep your guests' best interest in mind.