In recent season collections, designers have been coming up with gorgeous wedding gowns that reveal a little more skin, and hug and emphasize women's curves a little more than what your parents, more so your grandparents, may be used to. Plunging necklines, sheer fabric, high hemlines, and even bare backs are hot trends today. So, the question many brides face nowadays is, "How do you wear such a gown without causing a ruckus among the parents, grandparents, and aunties and uncles?" Well ladies, here are a few tips to help you pull off that sexy wedding dress you have your eyes on without scandalizing the conservative members in the family.
Sheer Fabric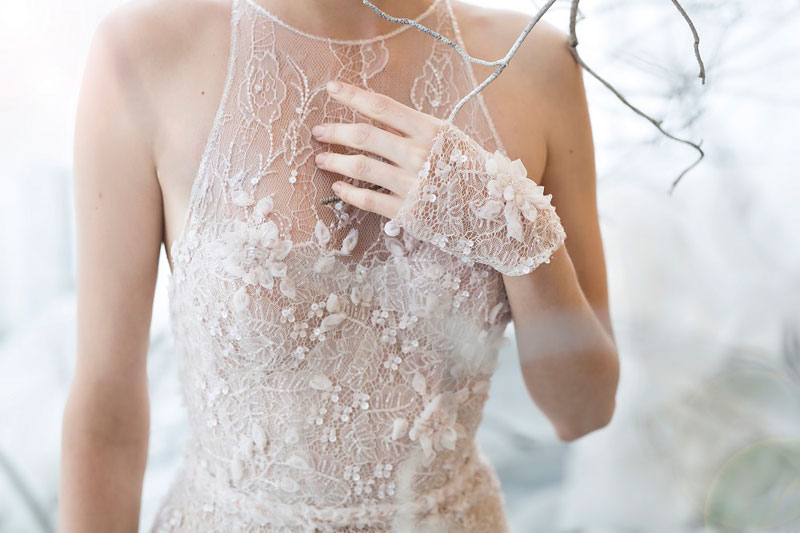 [Photos: Mira Zwillinger, Carolina Herrera, Lihi Hod, Mira Zwillinger, Limor Rosen]
A subtle, sexy style that goes with any body type and is, therefore, a very popular choice among brides, is sheer or nude fabric with sparse embellishments such as lace or appliqué. This style gives the illusion of revealing a lot of skin. To keep it tasteful, opt for designs with larger cut-outs or panels so that you have a little more coverage.
Low Necklines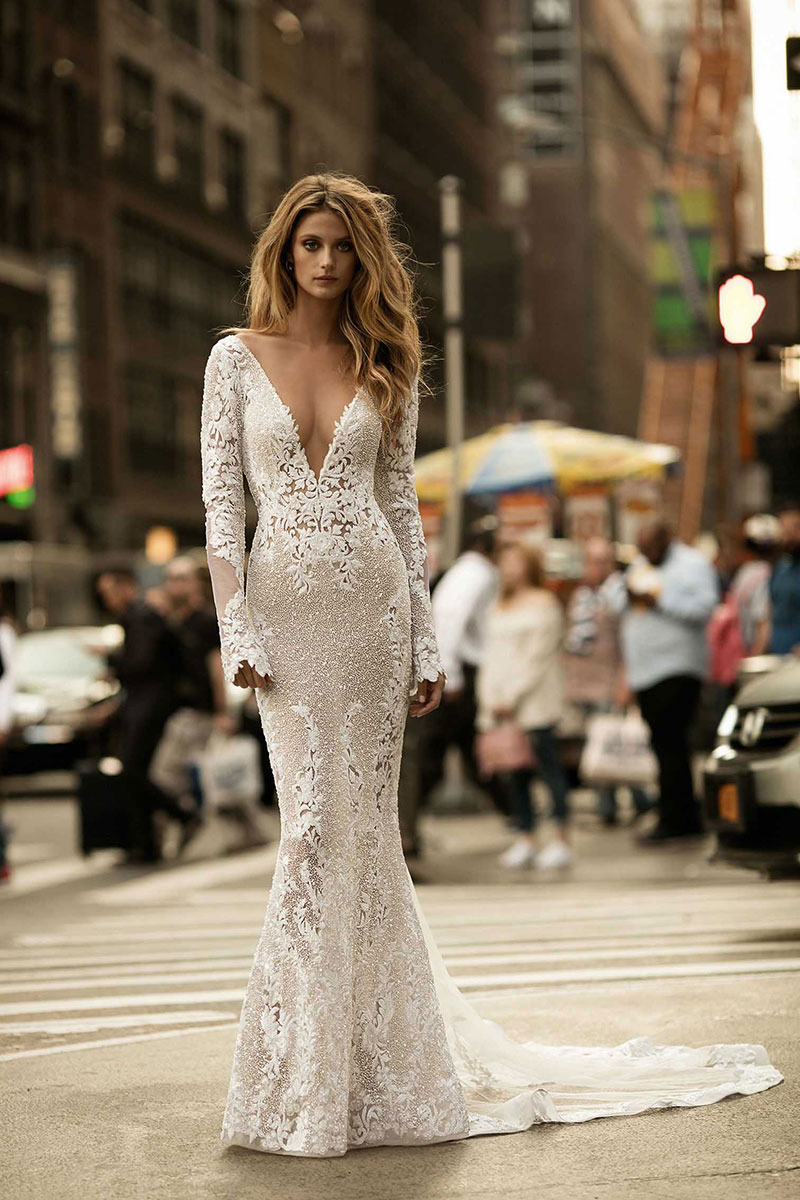 [Photos: Berta Bridal, Rime Arodaky, Limor Rosen, A&J Designs]
Dresses with deep necklines can cause heads to turn. So when working with this style, take extra care, if needed. Ladies with smaller busts can try lower styles, while women with larger busts may opt for a halter neckline for better support and sheer or nude fabric over for a more conservative look.
Strategic Appliqué Designs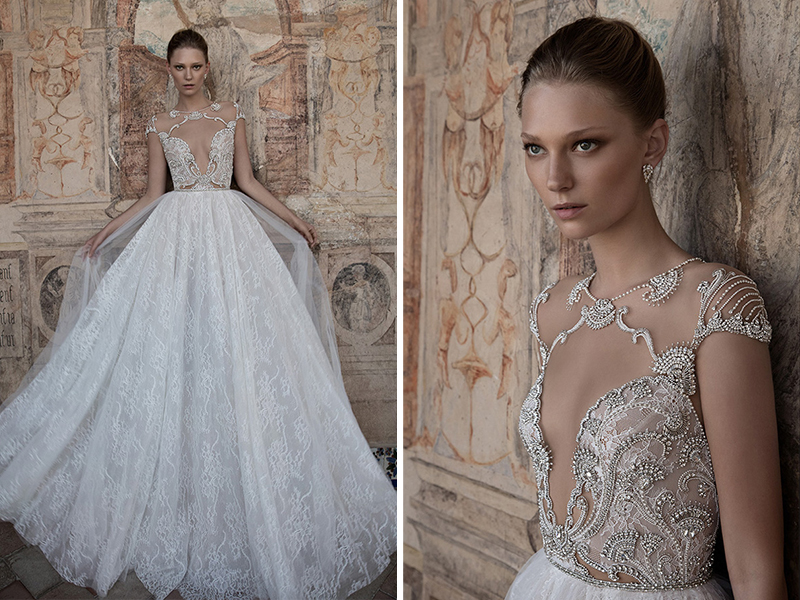 [Photos:  Berta Bridal, Alon Livne White, Liz Martinez]
This is one great way to show off your body elegantly! Strategic appliqué placements allow you to show skin and and the same time, cover yourself in the right places with beautiful design patterns. If you want to achieve the look but reveal less, go for dresses with appliqué that weaves around your body so you're covered where you need to be, but with skin peeking here and there.
High Hemlines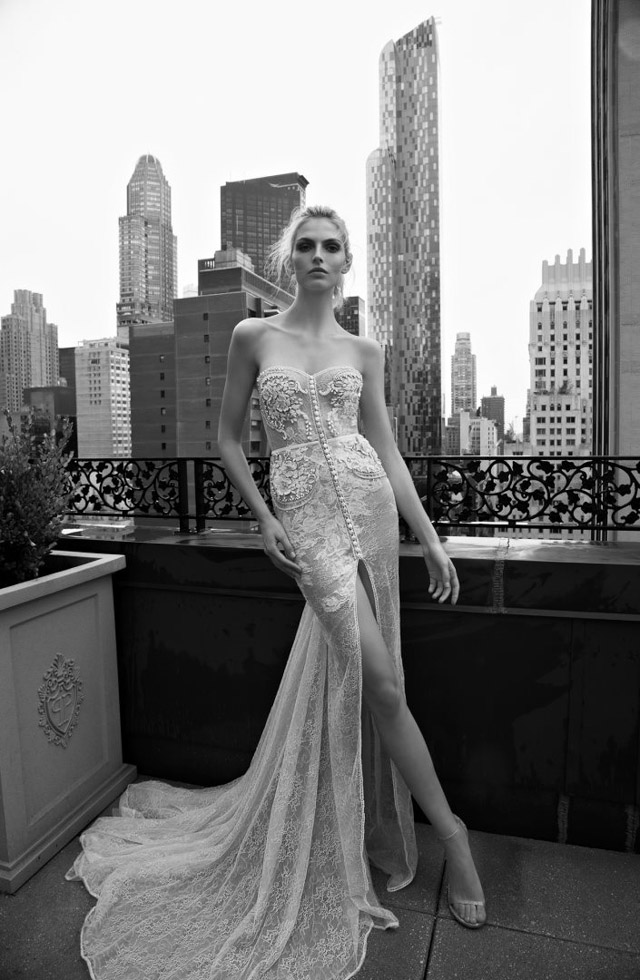 [Photos: Liz Martinez, Inbal Dror, Limor Rosen]
For ladies with legs for days, you can flaunt your asset with gowns with high hemlines. There are many options to choose from when it comes to this style. Go for a dress that with a slit up to the mid thigh, or even knee, to play a little safer. Or, opt for a mini short dress with a sheer, full-length skirt.
Crop Tops and Midriffs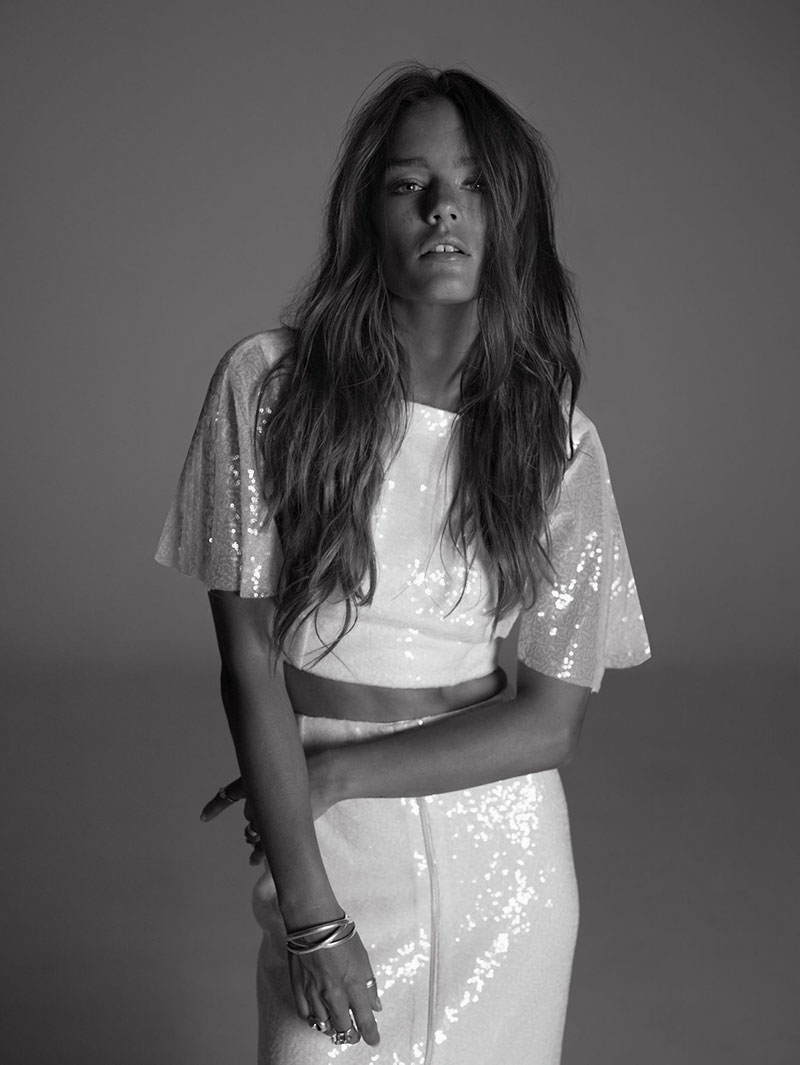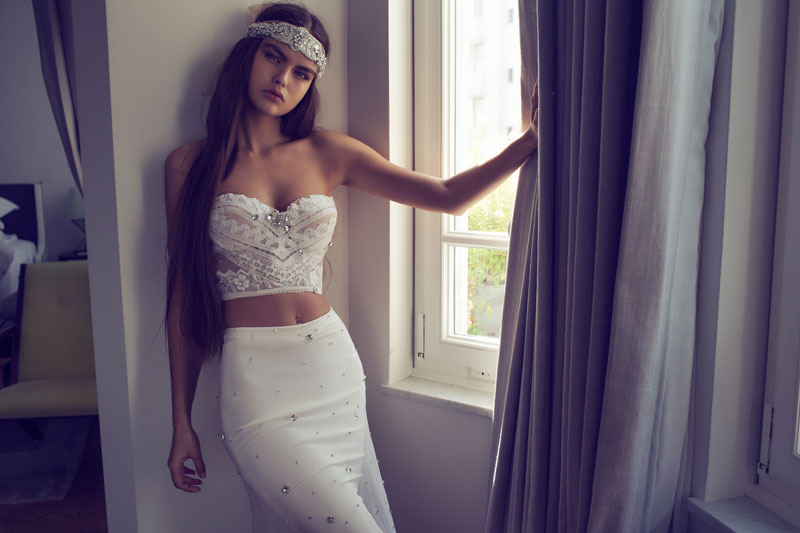 [Photos: Zahavit Tshuba, Rime Arodaky]
Ladies with abs, you need not hide that gorgeous mid section. You CAN show it off in a classy way, special thanks to crop tops and midriff wedding gowns that are now available everywhere. Crop tops paired with high-waist skirts work. You can still show less skin by going for a top that sits just an inch or half an inch over the skirt–just enough skin for your stomach lines to peek through.
Bare Backs
[Photos: Rime Arodaky, Carolina Herrera, Lihi Hod, Divine Atelier]
One way to keep eyes on you even when you turn around is by wearing a wedding gown that bares the sexy slopes of your back. There are many ways to rock this look while looking elegant. Designers have many design tricks for this one such as floating buttons and intricate designs that also provide coverage. This way, you can show off more without making a scene.