You probably already thought about briefing the bridal party and entourage about the wedding, but did you also brief your parents? Just like the rest of your entourage, you also need to prepare your parents for the wedding day. It's going to be a busy day, and you will want them to be well-informed and comfortable. Here are some things you should do to ensure they're ready for the big day.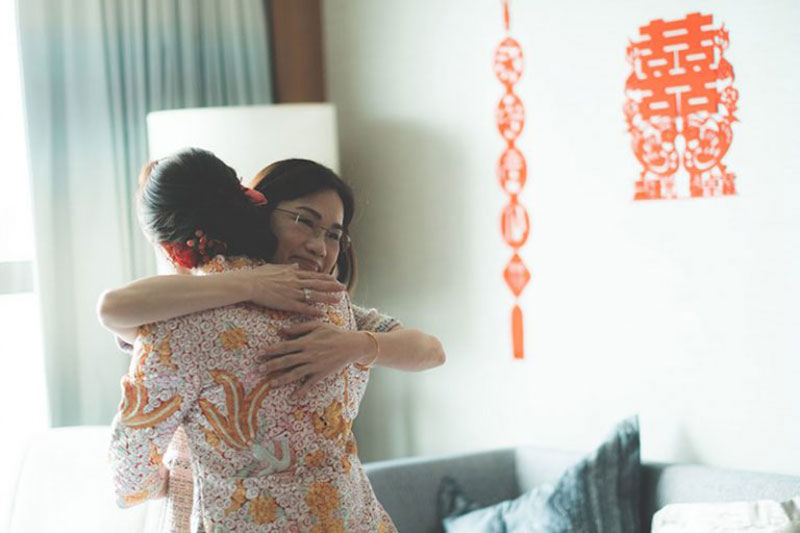 [From: This Traditional Wedding is Extra Heartwarming and Touching / Photo: Ming Yung Photo]
Check Their Attire
Make sure to check your parents' attires a few months before the wedding day. If you can, guide them as early on so that they will be able wear a suitable color and style–nothing too bold or too subtle. If you guide them early, you can also ensure that their garments will match your theme, or you can prepare for a second outfit if they wish to change.
Share The Wedding Day Timeline Details With Them
Show your parents the wedding day timeline once you have finalized it so you can let them know what they can expect on the actual day or what they will need to do, if any.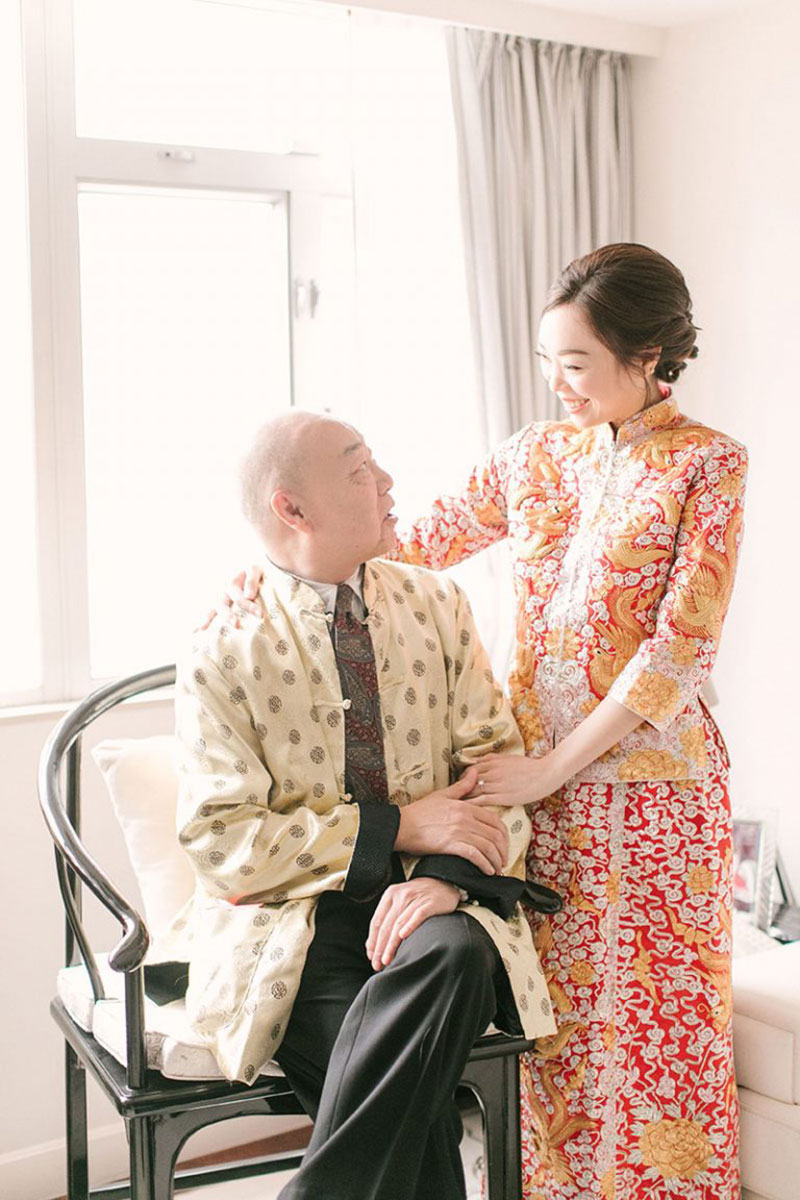 [From: There's Something Extra Special About This Blush-themed Wedding at The Murray / Photo: Belle & Olive]
Remind Them About Tradition-related Details and Things to Avoid
Remind your parents about tradition-related details that can easily be overlooked. Also remind them of things they need to avoid. Some examples include, when the couple arrives at the groom's home. During this ritual, the groom's parents should wait inside their room first. Or, if for religious reasons, they're not supposed to kneel down during the tea ceremony, and if the first lunch needs to be eaten at home, make sure to remind them of these small details as well.
Align on Tea Ceremony Arrangements
For the tea ceremony, make sure to ask them about all the details so you can prepare accordingly. Ask when the relatives arrive and how many of them will be present. Also remind them to prepare a few words when you serve tea to them so that they can prepare beforehand. You can also remind the bride's father to prepare a few more words when he pass his daughter to the groom. You may also talk to them about any other details you need for the tea ceremony.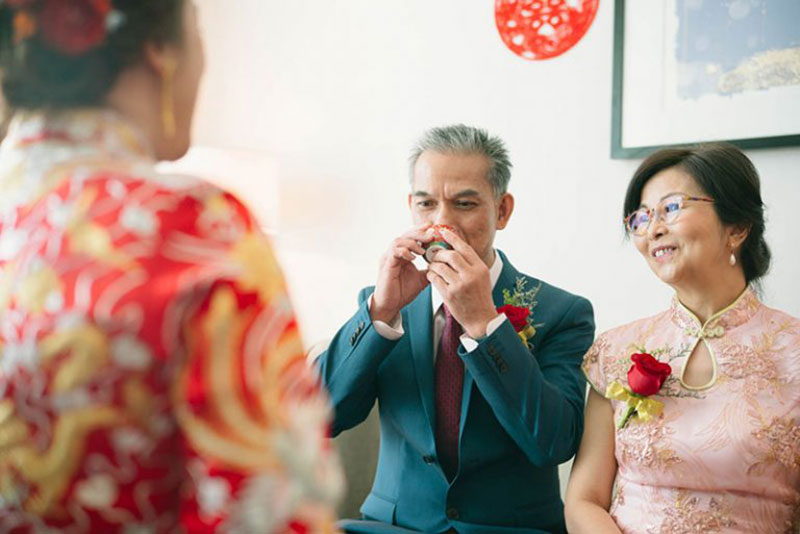 [From: See How This Couple Celebrated Their Wedding Day at Brick Lane at Admiralty / Photo: Steven C Photography]
Ask About The Laisees To Be Given

Of course all the 4 parents would love to give laisees on the day. You can prepare the laisees for them, but usually, they will prepare these themselves. You can also check with them if you will be giving the laisees to the vendors on your own, or if they want to give too–some families will not want to give double laisees to vendors.
Introduce Them to The Entourage

Although they may not remember all the names of the bridesmaids and groomsmen, do introduce the entourage to both pairs of parents. Let them know who the MOH and best man are, and who will be assigned to assist them on the wedding day.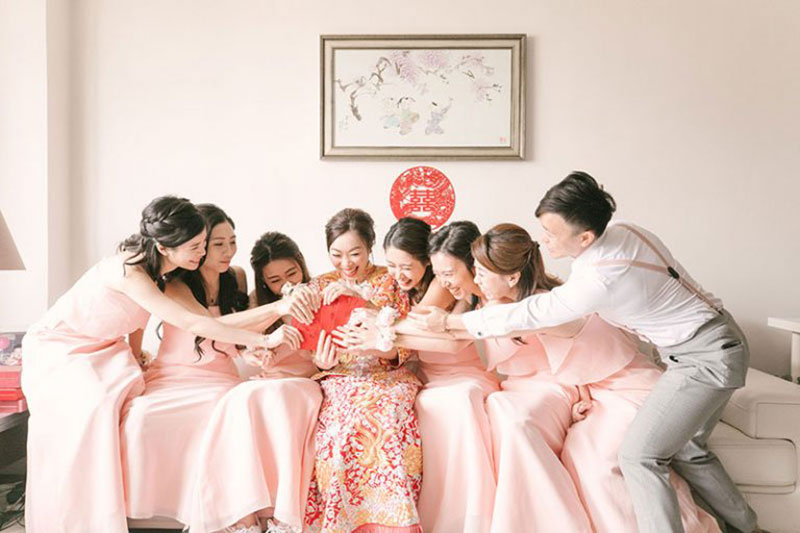 [From: There's Something Extra Special About This Blush-themed Wedding at The Murray / Photo: Belle & Olive]
Remind Them to Get The Boutonnieres and Flowers
Remind your parents to check if they have the boutonnieres and flowers, and other accessories if any, before the ceremony starts. Then on the wedding day, assign someone from the bridal party to take care of this so that they can make one last check as well.
Make Sure They Know The Meeting Time
Of course parents will not stay with the couple all day long. Other than the morning preparations, you should also remind them about the time that they're expected to be back at the venue later in the day.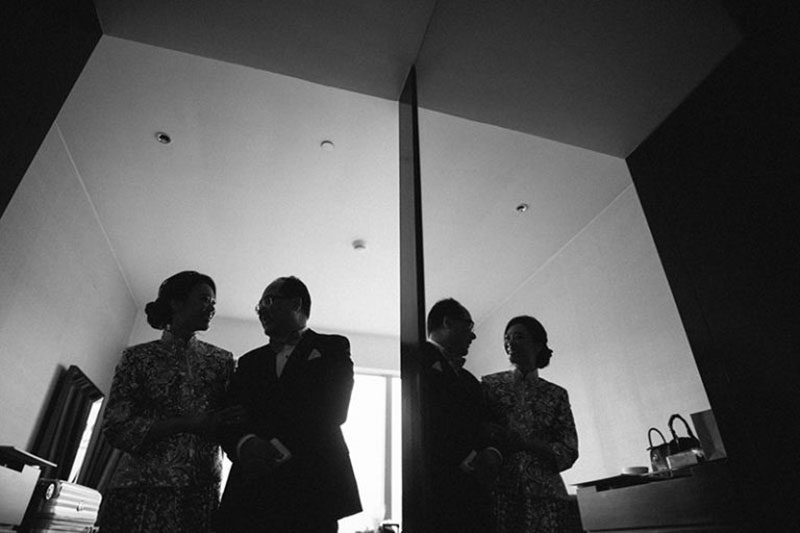 [From: A Heartwarming Wedding Full of Smiles, Tears, and Overflowing Love / Photo: Feel in the Blank]
Let Them Know About Transportation Arrangements
It's important to let you parents know about the transportation arrangement, especially how they will be going from the preparation venue to the ceremony venue, and from the ceremony venue to the reception venue.
Tell Them About Any Other Special Arrangements
Make sure to also talk to your parents about any other special arrangements, For example, will the bride's father take the bride for the march at the ceremony? Will there be a father and daughter dance? If yes, will there be any rehearsal?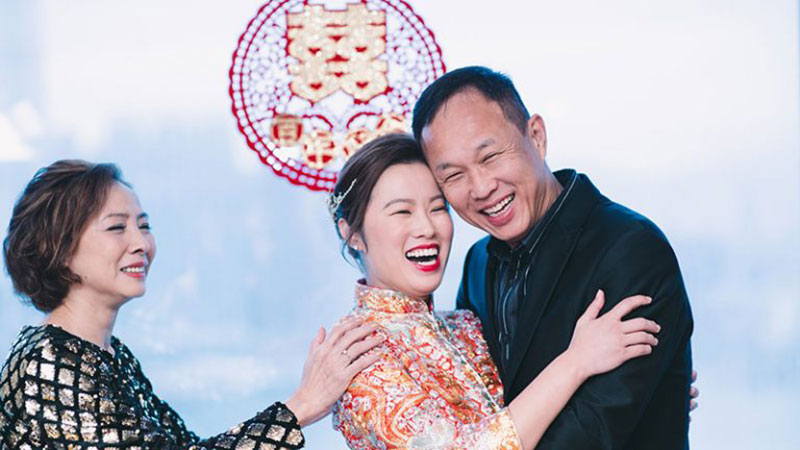 [From: See All The Fun Moments From This Wedding at Four Seasons Hotel / Photo: Blink Photography]
Ask About The Laisee and Gold Accessories Arrangements at The Reception
Some parents will want to keep the laisee and gold accessories on their own first. Please discuss this in advance what arrangement you will have with them for this. And even if your parents let you keep all the laisee, they might want to check how much laisee you collect at the end of the wedding, and which gift came from whom so they can prepare "thank you" gifts in return. If you will be keeping all the laisee, you can also offer keep record then let your parents check later.
Teach The Mothers How to Remove Makeup and Wash Hair
Most moms may not be used to a full makeup look. So, you better prepare some makeup remover for them and teach them how to use it. Also, remind them to wash their hair the night before, but skip conditioner after shampoo. This is so the stylist can easily fix their hair on the wedding day.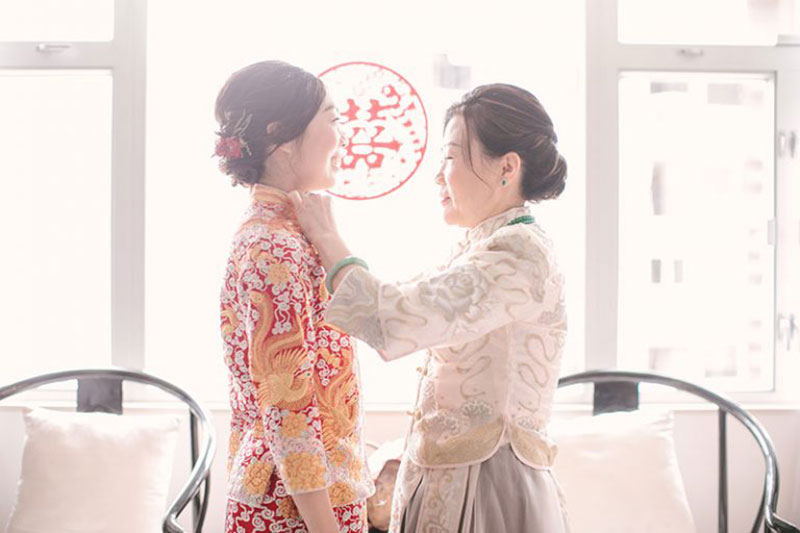 [From: There's Something Extra Special About This Blush-themed Wedding at The Murray / Photo: Belle & Olive]
Last but not least, remind your bridesmaids and groomsmen to encourage the parents more so they will be pleased and enthusiastic about the wedding day. Also make sure to assign someone to check on their needs from time to time. And with that, your parents will be all set for your wedding day!