Being engaged is fun and exciting! Aside from diving into wedding planning, you will also need to prepare for your much-awaited pre-wedding shoot. Many couples look forward to their pre-wedding shoot because it's a way to showcase their love and document their love story. Engagement photos also serve as beautiful details at your wedding. For example, include framed photos to your banquet tables, around the venue, or at the table where guests log into the guest book. That's not all–you can also fill your new home with your pre-wedding photos!
But what are the things you need to do for your engagement shoot? To help you out, we listed all the steps you need to do. Read on now.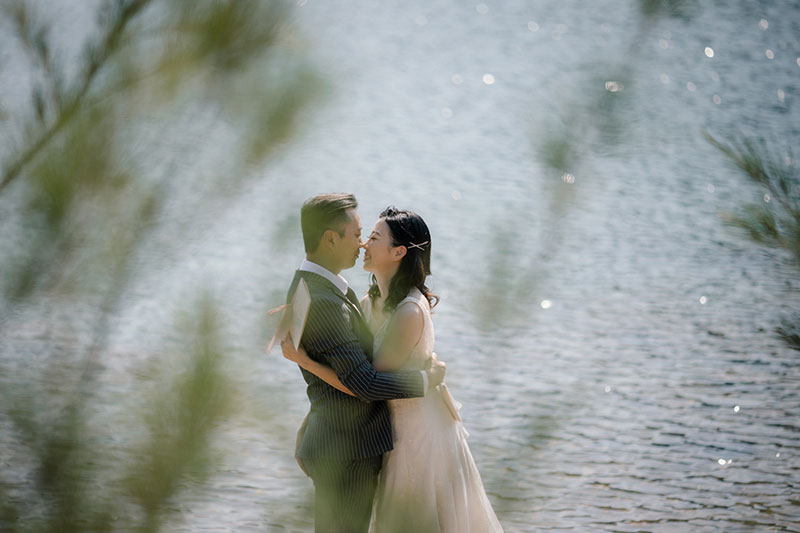 [From: Make Way for Today's Beautiful Mountainside Engagement Session / Photo: Momo de Film]
(1) Get inspiration from your love story.
As me mentioned, may couples really look back on their love story and use this as inspiration for their pre-wedding shoot. It's really such a great way to capture your relationship and then share it with others through beautiful photos. Is there a unique story behind how you met? Is there anything you want to highlight from the years you spent dating one another?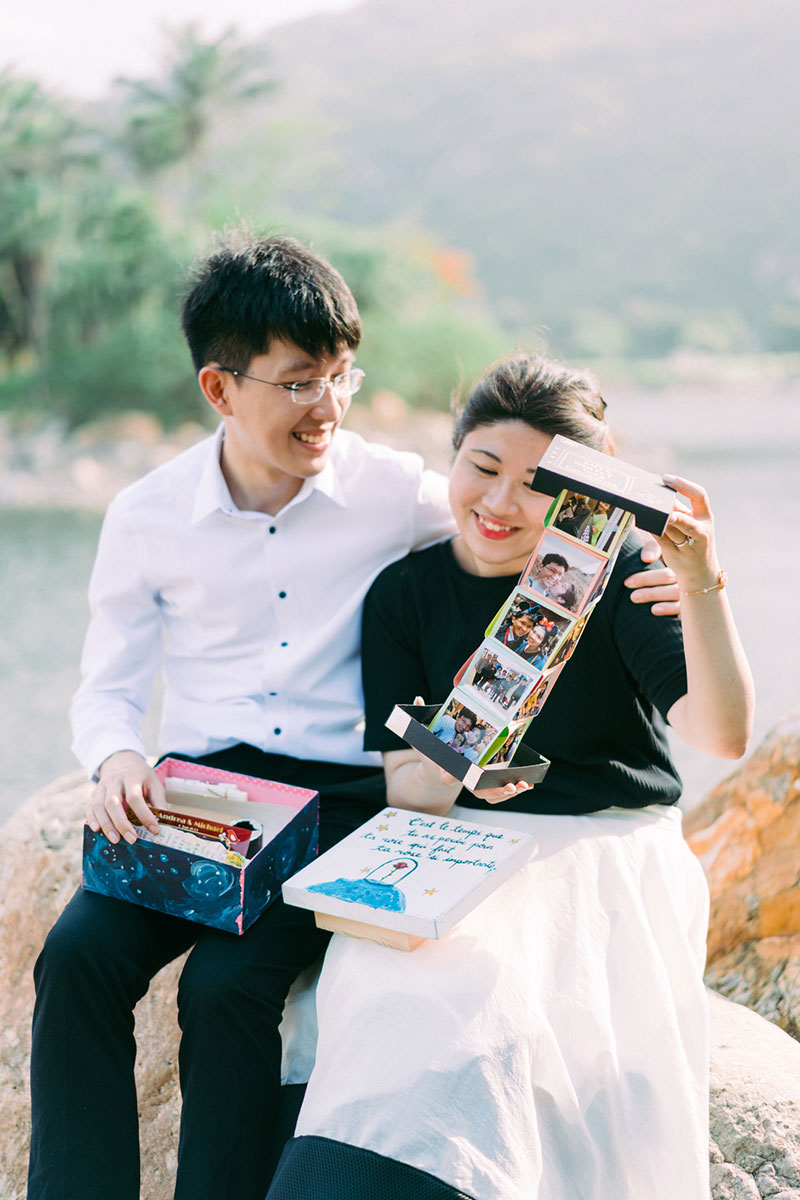 [From: For Their Pre-wedding Shoot, This Couple Opened a Box Full of Keepsakes / Photo: Michelle Kwok]
(2) Reveal your shared interests.
What are the things you like to do together? If you're both into a sport or hobby–or anything else, for that matter–you can include this as part of your engagement shoot so people see what you love as a couple.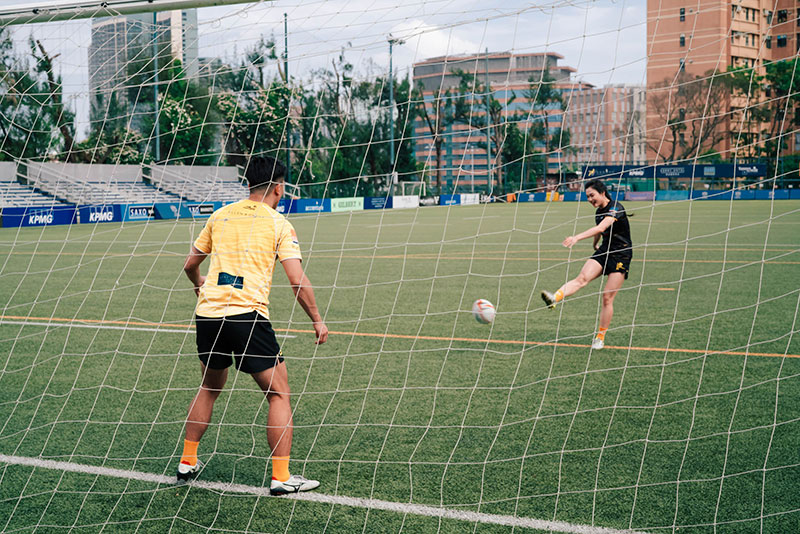 [From: This Couple Had a Fun Pre-wedding Shoot Doing What They Love, Rugby / Photo: Bliss Meeting Film]
(3) Agree on a style or theme.
After you're decided on what story to tell for your pre-wedding shoot, choose a theme or style for your photo session. The theme or style will dictate all the remaining elements that you will be needing for your shoot–photography, makeup and hair, attire, etc. You can pick something extra grand and luxurious or you can go with something more relaxed. What matters is that your final look is a fitting reflection of who you are as a couple.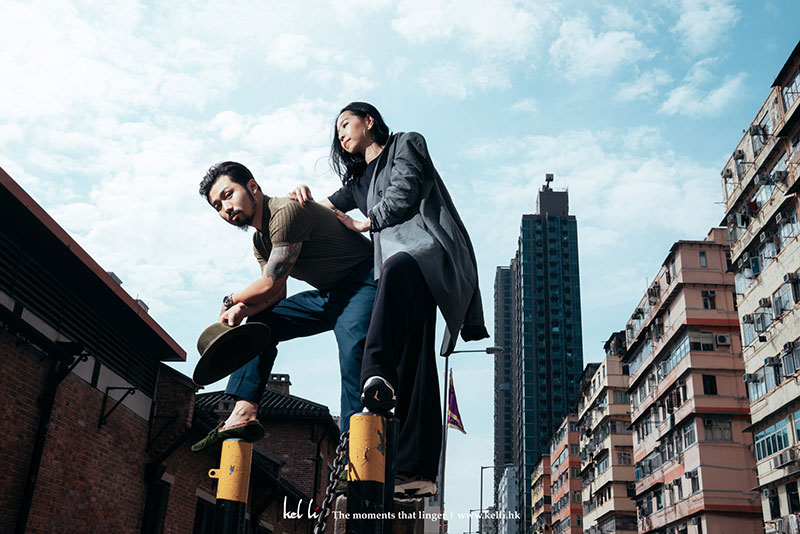 [From: This Couple Chose a Casual Pre-wedding Shoot Inspired by Their Homeland / Photo: Kel Li Art Gallery]
(4) Find a meaningful location for your shoot.
Since you already decided on your story and your style or theme, the next step is to find the perfect location that will put your story into perspective. This couple chose the place where they first met, while this couple wanted to highlight their Chinese heritage and chose Lingnan Garden. Or, you can shoot in a place that you've always wanted to visit together but haven't had the chance to, like this couple.
If you need help looking for a location, check these out: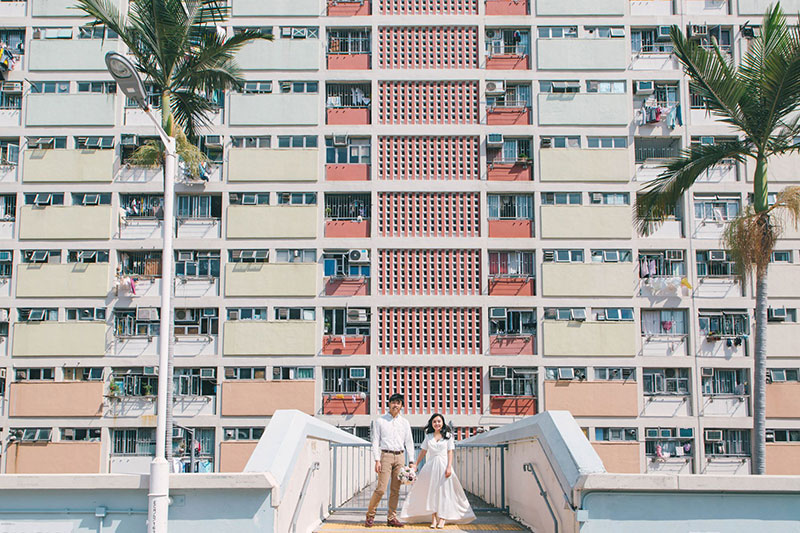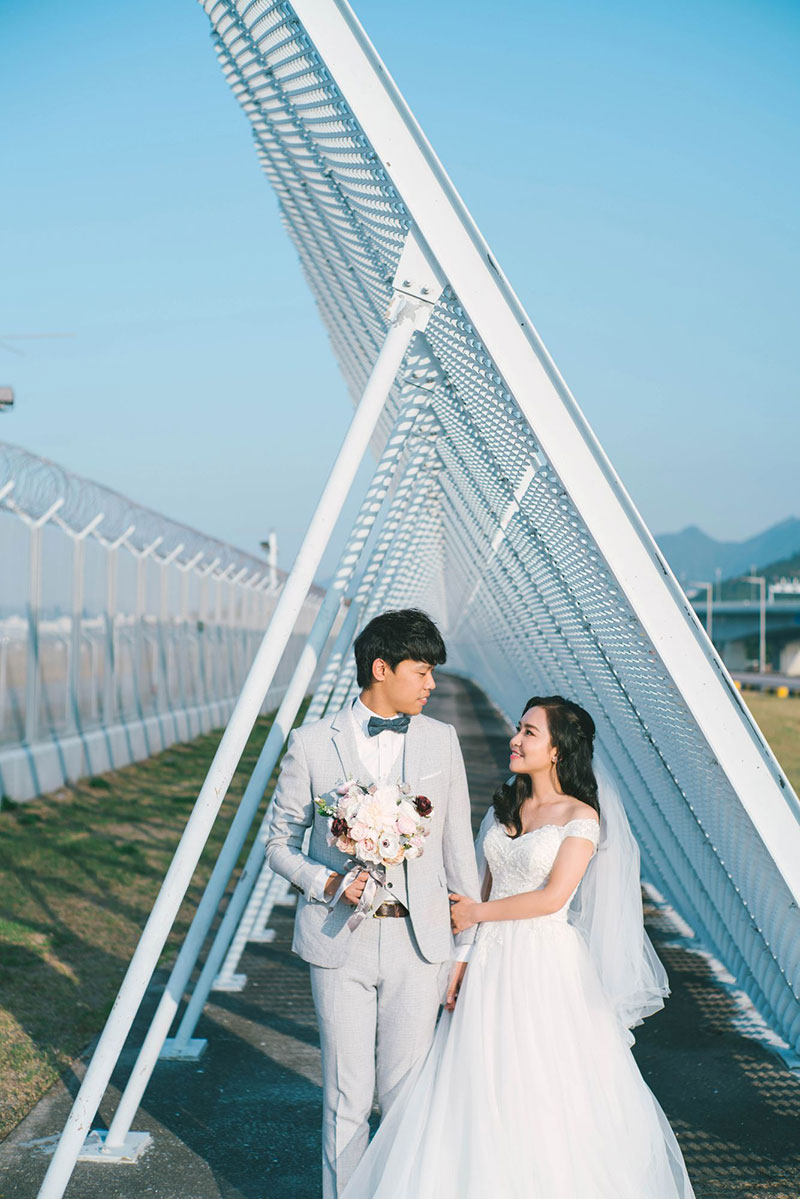 [From: This Couple Chose Their Two Favorite Spots as Their Pre-wedding Shooting Locations / Photo: Storyteller Studio]
(5) Find the right photographer.
Photographers have different styles and expertise levels, so it's important to find someone who meets your needs. Take time to canvass different photographers, asking relevant questions. Don't forget to note the qualities you're looking for, too. You'll want to find a team that you can trust and work well with.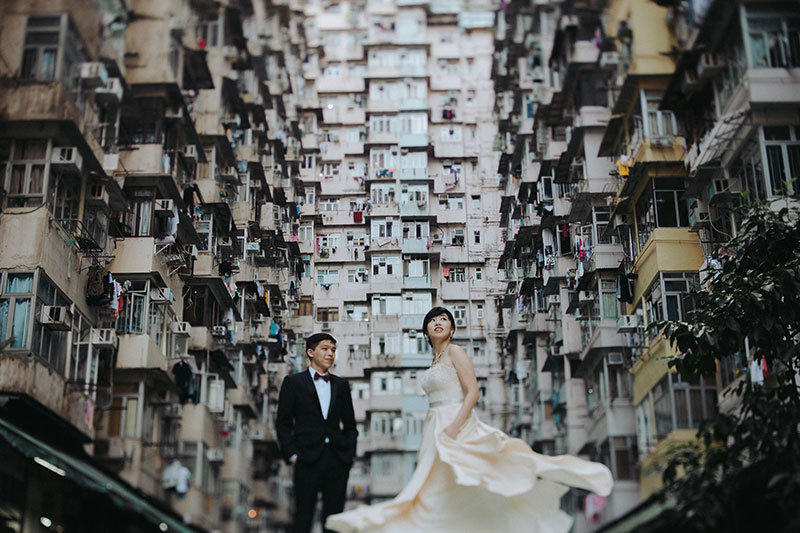 [From: This Couple Made Hong Kong Their Playground for Their Engagement Shoot / Photo: Terralogical]
(6) Put together your glam team.
Next up: finding the people who will bring your theme to life. After securing your photographer, look for a makeup artist and select your outfits. If you will be needing help with your outfits, you can hire a stylist, too. A stylist can help fine tune your outfits, especially if you're going for a more grand theme or very particular style.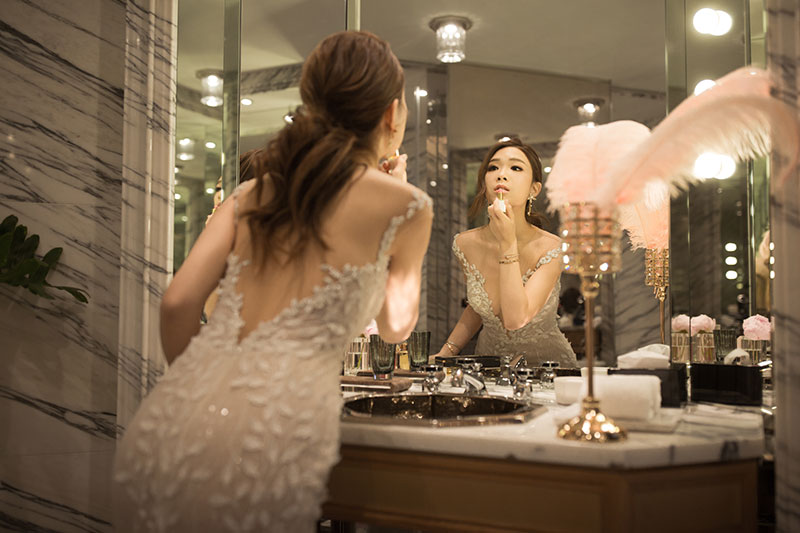 [From: A Romantic Pre-wedding Indoor Portrait Session at Rosewood Hong Kong / Photo: Hilary Chan Photography]
(7) Make a checklist of all the things you will need for the shoot.
The week before your shoot date, start making a checklist of all the items you will need to bring on the day of the shoot. This way, you will have an easier time packing the day before and the chances that you'll miss out on something are slim. You want to be prepared and you'll want your shoot day to go smoothly, so do make sure you have everything you need.
Here's a basic checklist that you can use. Add on to this list as needed.
[ ] Outfits: yours and your groom's
Dresses, tops, bottoms, etc.
Shoes
Accessories
Spare shoes (if you are not used to heels)
Props
[ ] Beauty Items
Sunblock (if you will be shooting outdoors)
Lip balm
Tissues
Wet tissues
Oil blotting sheets
Insect repellent (if you will be shooting in grassy areas)
Lotion
[ ] Emergency Items
Alcohol
Band aid
Cotton balls
Basic medicine, i.e. paracetamol, anti-allergies, etc.
Spare masks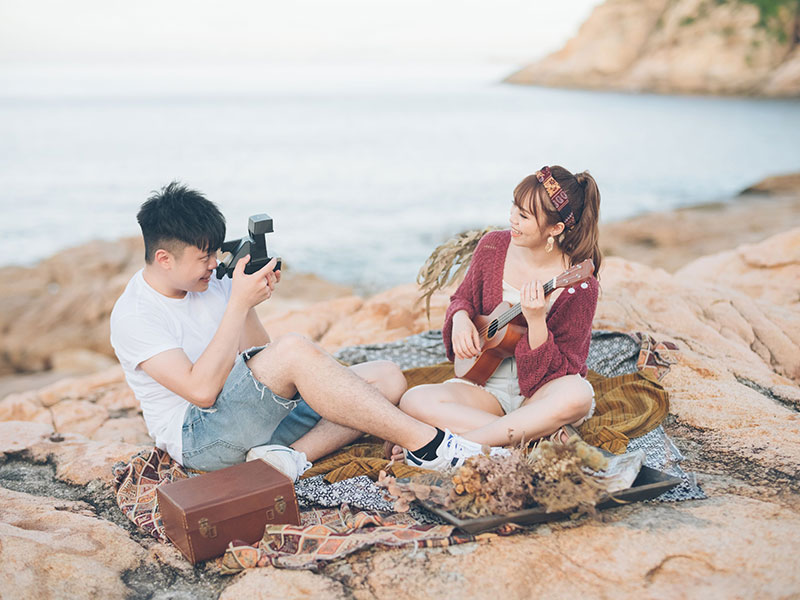 [From: A Sunny Outdoor Engagement Shoot in Shek O / Photo: Paul Wong]
(8) Create a schedule for the day.
Lastly, create a basic itinerary for the shoot. This will make sure that you have enough time to get all the shots you need and even catch the sunlight you want–your photographer will know what time of the day has the best sunlight. And of course, come shoot day, make sure you follow your schedule!