Are you stressing about how to take great photos for your wedding? Don't worry, you're not the only bride who is a little camera shy! We know that some brides are not comfortable with a lens in front of them but don't want to end up with awkward-looking wedding photos. To help you and other brides-to-be in the same predicament, we put together this quick guide on how to pose for and look good in wedding photos.
Before The Wedding
(1) Start with good posture.
Good posture makes a huge difference, not only in photos but also in daily life. Having good posture not only prevents aches and pains, it can also make a person look and feel more confident. If you notice that your posture needs work, this is the best time to start.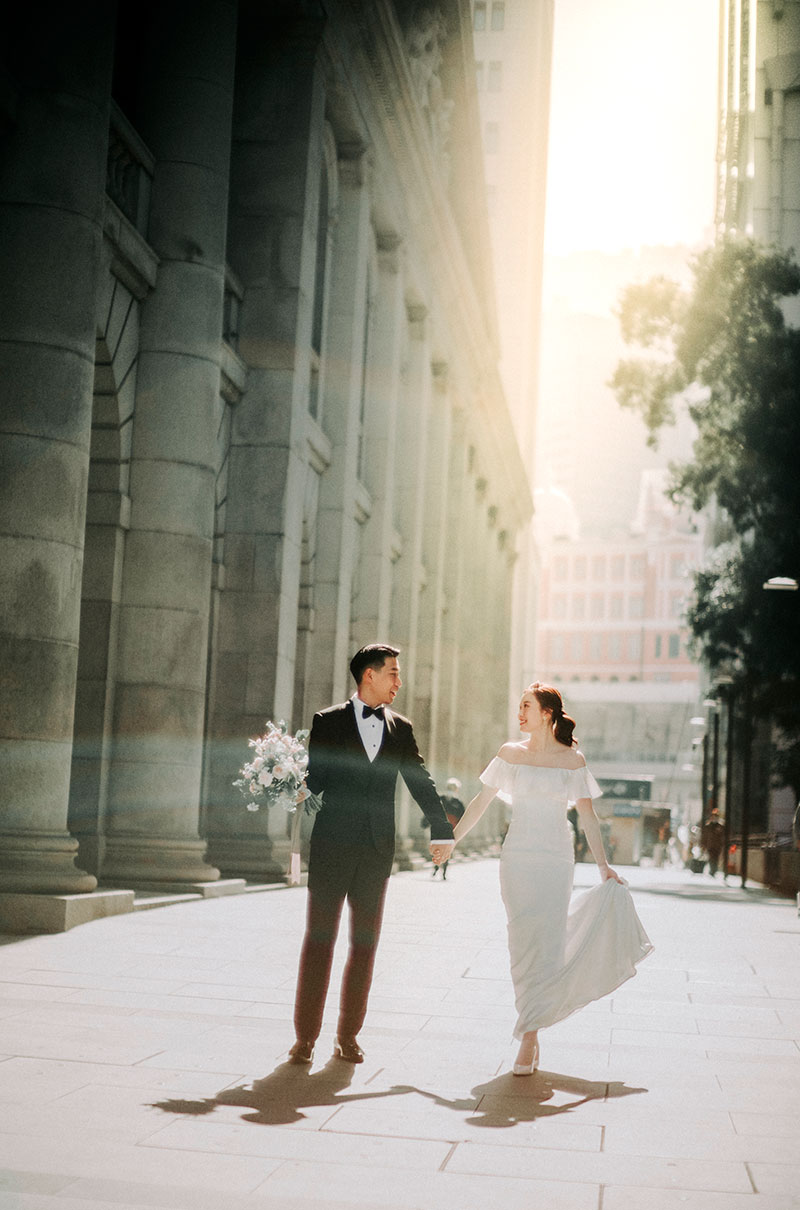 [From: Meaningful Moments Fill This Classic Wedding at The Murray / Photo: Blancs Production]
(2) Know your body.
Knowing your body will be important for your wedding photos. If you know your body, you also know what kind of movements and poses will highlight your assets. Some angles can make you look worse while others can make you look better. Get to know the latter.
(3) Find your best side.
Many people have a "best side" or best angle. Do you know yours? If not, find out by checking in the mirror. This will help you with your poses.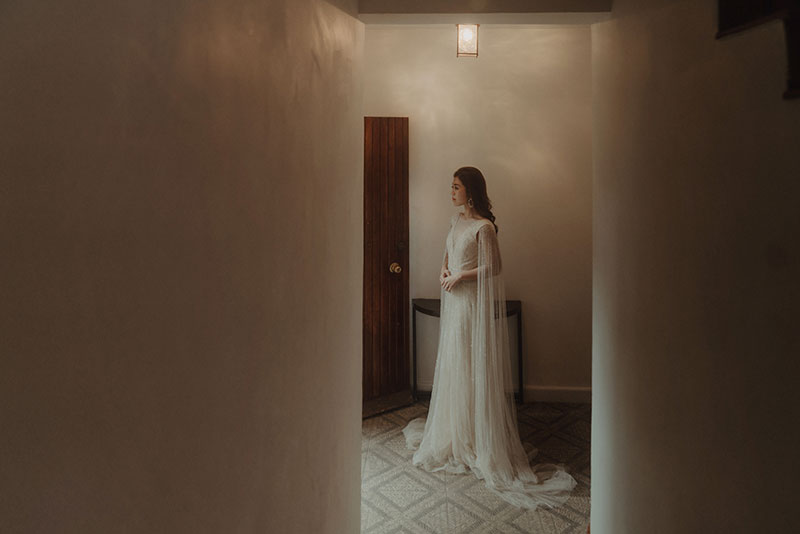 [From: A Romantic Garden Wedding at The Pavillion with Warm Hues / Photo: Hatsumori Photo by Gavin.Y]
(4) Use your eyes.
You know how they say that the eyes are the windows of the soul? It's your wedding day and we're sure your eyes will reveal just how happy, excited an in love you are. Try out different ways to look away and directly at the camera so your eyes can speak for themselves.
(5) Practice.
Practice creates confidence. The more you practice different body angles that highlight your assets, experiment with your best side, and use your eyes, the more you'll feel more comfortable, and therefore, more confident to get in front of the camera.
[From: This Wedding Features a Classic Church Ceremony and An Intimate Yet Sophisticated Banquet / Photo: Film Komolebi]
(6) Don't over do it.
While you practice your poses, keep in mind that you shouldn't overdo it. You don't want all your wedding photos to look templated so while you practice your poses, also keep an open mind other options. Your photographer will have some ideas for you. In addition, sometimes you get carried by the mood of the day, and that's okay, too.
(7) Try what you've learned during your pre-wedding shoot.
If you're having a pre-wedding photo session, how about trying out some of the things you've been practicing? You'll get to see the results and adjust if needed.
[From: This Couple Registered Their Marriage Then Hit The Streets for a Photo Session / Photo: Sham2 Photography]
During The Wedding
(8) Trust your photographer.
On the day of your wedding, your photographer will help direct you and your groom. As mentioned, keep and open mind and trust your photographer. Your photographer is trying his or her best to help you look your best in your wedding photos.
(9) Get cozy.
If you feel cozy, you will also move more naturally. So do try to let go of all the wedding planning stress and sink into what's happening on your wedding day. You'll realize that you can pose naturally if you let yourself relax more.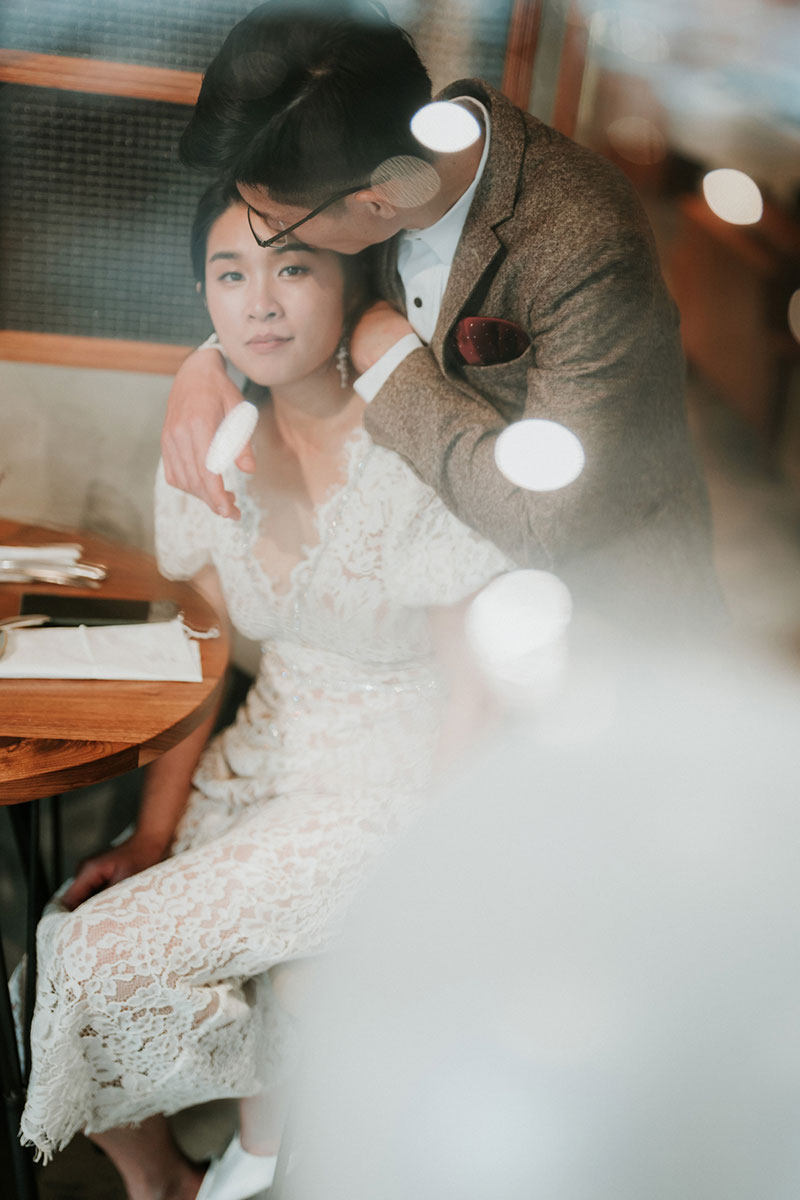 [From: This Bride Prepared a Delicious Pistachio Cake During Her Intimate Wedding Luncheon / Photo: Jeff Lee]
(10) Get inspired by the ambience.
Lastly, get your inspiration from each moment that unfolds. Your wedding day will feel like a dream–this is exactly the ambience that can help you nail every pose and movement.  Get carried away by love so your photos will be filled with love, too.
As we end this quick guide, we'll let you in on a little secret: Knowing how to pose is just one half of the recipe behind looking good in wedding photos. The other half is letting your love lead and guide you.