How do you find the perfect wedding reception venue? Every little detail matters, true. But this one detail holds a lot of weight because it plays a huge role in setting the tone of the whole celebration and bringing your dream wedding to life! And as difficult as it sounds, it isn't, for as long as you know what important details to consider when scouting for a venue. It's really all about knowing what you want and need, and if the venue can fulfil both. To help you start off, we listed down the top details you should consider when choosing your wedding reception. Of course, there are other matters that you will need to consider apart from these as details vary from wedding to wedding. But essentially, these are enough to give you a good head start. After going through this with a potential venue, you'll find that you already have an idea if it's a near fit, or not at all. Read more now!
[From: A Grand Garden Wedding in Italy / Photo: Jada Poon Photography]
(1) Does the price range of the venue fit your budget?
First things firsts, check if your venue is within you budget. If it's not, move on to other options. Or check if you can save in other ways to accommodate a little excess for the venue.
(2) Is the venue aligned with your vision?
Visit your potential venues. Check the layout and the surroundings of the venue to have a better idea if the venue is aligned with the kind wedding you have in mind. Does it go with your theme? Can you further style it to create the look you want? Try to visualize how your wedding will look like in the venue.
(3) Will all your guests fit in the venue?
When choosing your reception venue, you must already have an idea of how many guests you are inviting. Be as realistic as possible so that the venue won't end up too crowded or to empty, either.
[From: A Grand Garden Wedding in Italy / Photo: Jada Poon Photography]
(4) Will your guests be comfortable in the venue?
Consider guests' experience. You want your guests to relax and have a good time, so don't forget them when choosing a venue. Is the venue easy to get to? Is there sufficient parking? These are some concerns that guests have when attending a wedding, so taking note of these matter. Also check the service of the venue. You can check reviews or consult other past couples who've held their wedding at the venue.
(5) What are the styling options?
You have a dream wedding in mind. How can the venue achieve your dream wedding. Some venues offer styling options, for example, backdrop, table linen, chair covers etc. If they are not providing what you want, you might need to hire a stylist or deco vendor. If so please check if the venue has any limitations on styling. Get all the details for this and see if you can work with it.
(6) Does your venue already offer catering, too?
If the venue also offers catering services, that simplifies planning for the food logistically. Check the menu options of the in-house caterer first, of course. If you still find that you need to bring in a different caterer, again, check all the fees and other details necessary when bringing in a different caterer to your venue.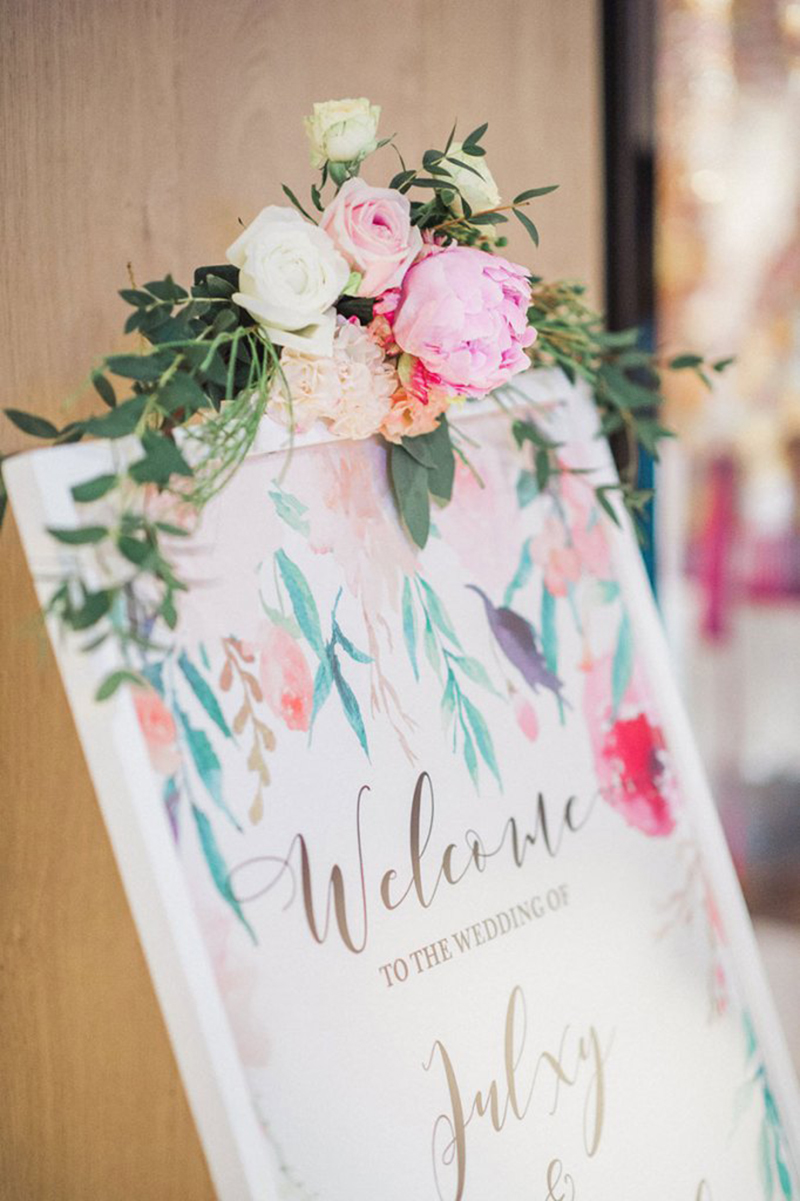 [From: A Delicately Elegant Indoor Wedding with Hints of Peach / Photo: La French Touch Photography]
(7) For outdoor weddings, what is the backup option in case of rain?
Outdoor garden wedding venues are extremely popular. If you're planning your wedding outdoors, don't forget to ask if the venue has a backup option in case of rain. You never know and you want to make sure you have a Plan B.
(8)What are the available accommodation options for guests?
This detail is especially relevant for destination weddings. Make sure to check where your guests can stay and if the venue can give a discount for your guests. You can also check if there are other nearby, affordable accommodations.
(9) Are there promos and offers you can avail of?
Check if the venue has special promos or offers that are you can take advantage of. These can be crucial deciding factors, especially if the discount will mean that the venue cost will very much concincide with your budget.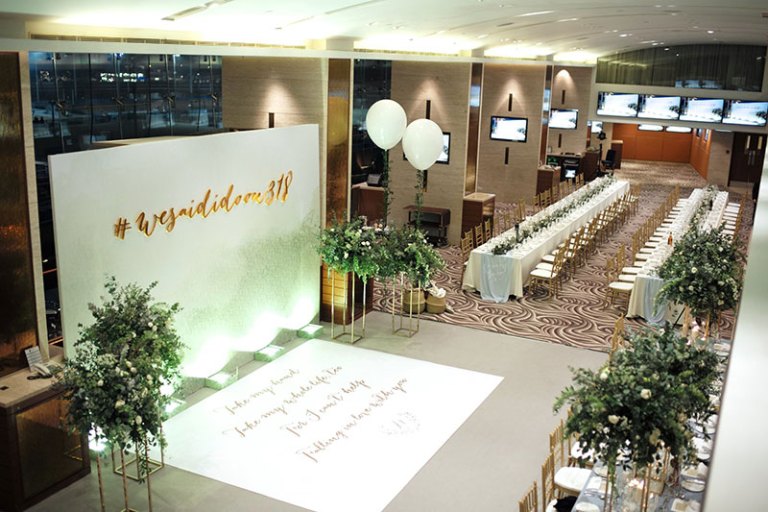 [From: An Elegant Wedding with Touches of Blue and Blush / Photo: KC Professional Photography]
(10) What are the inclusions, exclusions, and other details?
Here's where it can get tricky. Don't forget to ask about all the small details and fine print–from inclusions and exclusions, to contingency clauses and more, make sure you read it all. You want to make an informed decision, with ALL details accounted for.
(11) Finally, does your wedding planner or other vendors recommend this venue?
You can also always seek advice from your planner, or other vendors. Get his or her opinion on the venue based on past experiences. Your planner will be able to give you second advice on whether a venue fits your wants and needs. The final decision will always be yours, buy keep an open mind an listen to the advice of your planner objectively.