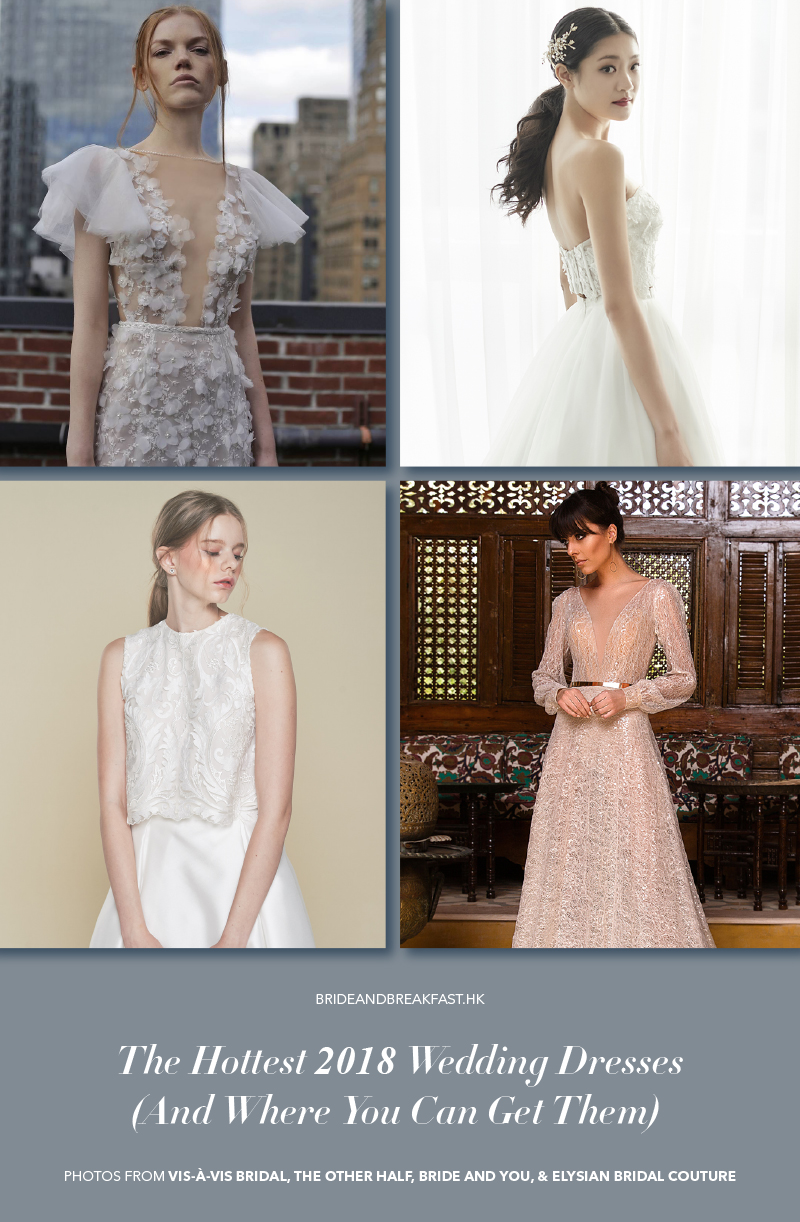 Looking for the perfect wedding dress? You've come to the right place because we gathered some of the hottest wedding dresses of the year for you to ogle at! From feminine and fun, to sophisticated and sultry, this list has all the wedding gowns that fill your dreams. Fall madly in love with these gorgeous masterpieces and find out where you can get them in Hong Kong. Enough talk, time to scroll away now.
Floral Appliqué Details
"Flowers have always been a popular trend for brides, but this year, we see gowns covered with 3D floral appliqué basically everywhere," explains The Other Half. From an off-shoulder dress, to a strapless design, the floral motif is in full bloom–we're more than thrilled that it is! Here are three gowns designed by Adam Zohar, a promising Israel haute couture designer, that boast of beautiful floral 3D floral appliqué details.
[Dresses: Adam Zohar / Available at: The Other Half]
Another exemplary gown is this masterpiece from Julie Vino's Havana Collection. "This dress is surely going to catch the attention of all Hong Kong brides," says The Other Half. The intricately laid out floral appliqué design is an artwork on its own! Stunning as ever, this dress is a 2018 favorite and for all the good reasons! It's beautiful beyond words and it's everything a bride dreams her dress to be: dreamy, whimsical, yet unconventional.
[Dress: Julie Vino, Havana Collection / Available at: The Other Half]
Minimalist Silhouettes
"This sleek and simple Madrid off-shoulder dress is popular style in our shop," opens
Bride and You
when we asked about the hottest dresses of 2018. More and more brides today are attracted to elegant, minimalist styles. And in case you haven't noticed, this hot pick already made its debut on the website in this
elegant photo session
in the The Upper House.
Bridal Separates
Bridal separates are definitely in because they're so versatile and unique. They make great quick fixes for an
instant second look for the reception
. This lovely lace set, a long sleeved blouse and trumpet skirt, is
Bride and You
's signature set. It makes an excellent piece for a vintage-inspired wedding, by the way.
A simple skirt goes a long way.
Bride and You
also shares that this New York flared skirt is a trendy piece that also makes its way to many weddings. The popularity of this skirt is undeniable as it can be mixed and matched with different tops (even after the wedding). If there's one hot 2018 wedding dress trend that gives you options, it's this!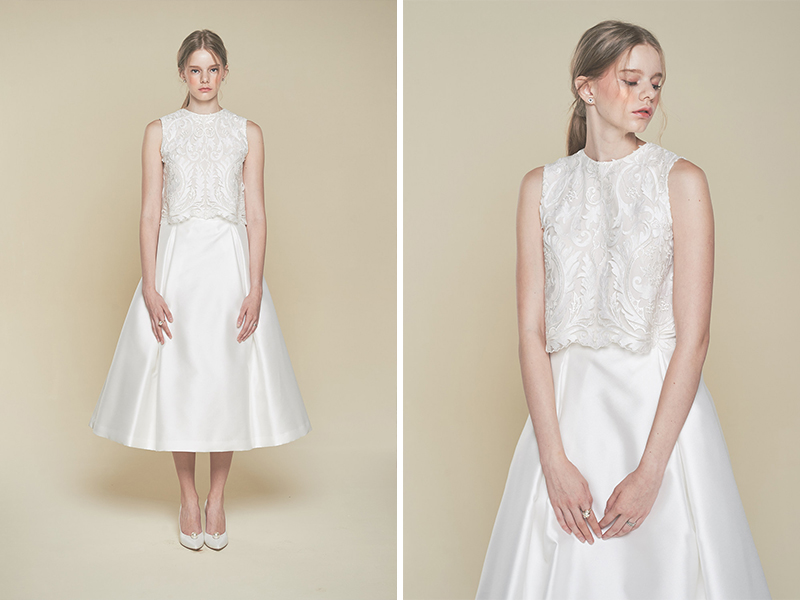 [Dress by: Bride and You / Available at: Bride and You]
Bridal separates are also a hit at Vis-à-vis Bridal. This corset top is a prime piece at their shop. "Mixing this chic cropped top with an airy tulle skirt makes a bride look effortlessly fashionable," Vis-à-vis Bridal adds. You can easily get this look and even experiment with more with the pieces at their shop. Really, creating different looks with bridal separates is all brides ever need this 2018!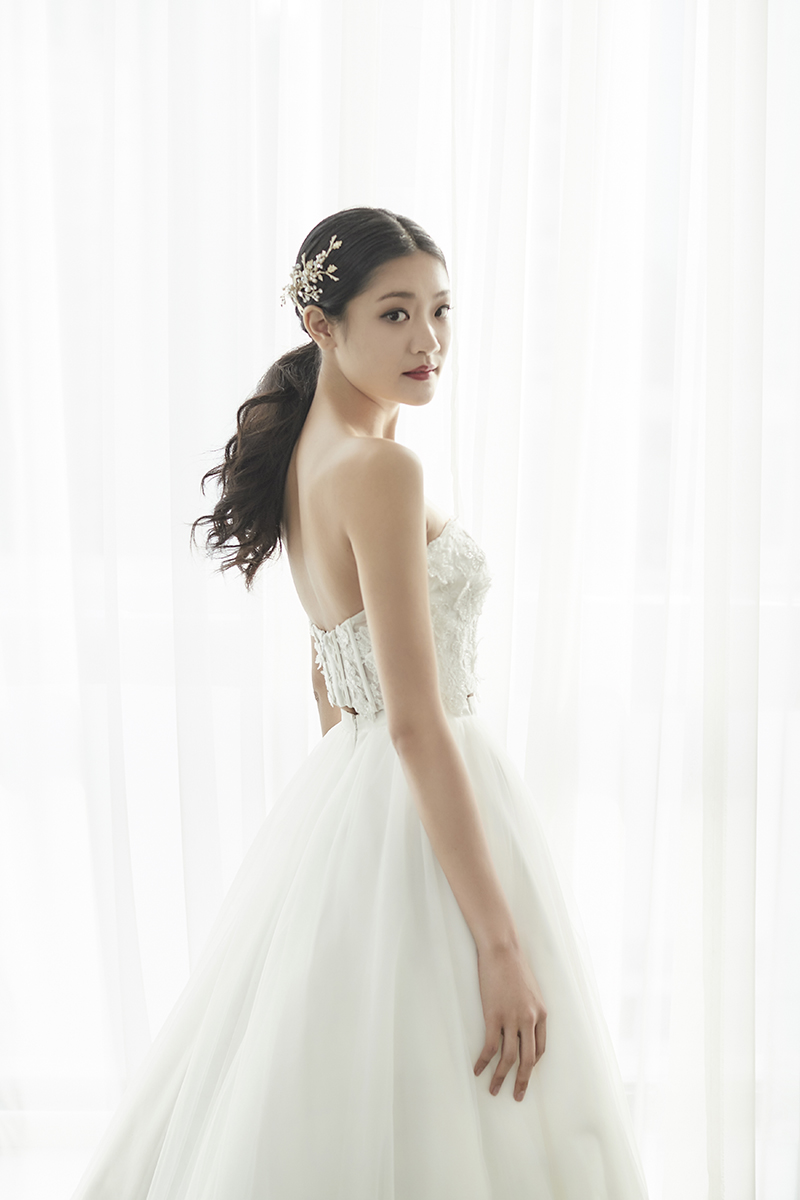 [Dress Available at: Vis-à-vis Bridal]
Deep Necklines
Brides today are more attuned to their femininity and their body. Hence, we see many brides taking the plunge and going for deeper necklines. This style is definitely one to look out for this 2018 as it elongates the neck and accentuates the right curves of a woman's bosom. Here are two feminine wedding gowns from Elysian Bridal Couture that exemplify how low necklines work wonders. And don't worry about showing some skin because you can always find elegant ways to full off a sexy wedding dress.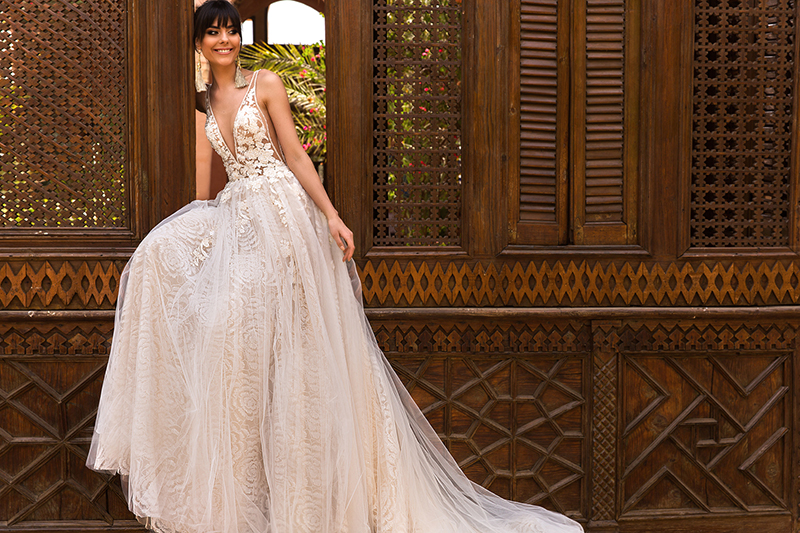 [Dresses Available at: Elysian Bridal Couture]
Intricate Lacework 
Lace work will always be scene stealers. This 2018, wedding dresses take lace details to a whole new level! This Vera Wang gown is an example of intricate lace work that is classic and elegant at the same time. Vis-à-vis Bridal tells us that the era of colored wedding dresses has also arrived, making lace wedding gowns even more captivating! This gown has hints of gold and the rest of the collection favors nude, beige, and cream colors. Hong Kong brides will be thrilled that these gowns are taking over.
[ Available at: Vis-à-vis Bridal]
Without a doubt, this gown by Crystal Design is a feast for the eyes. Elysian Bridal Couture shares that this wedding gown style–fitted and delicately adorned with lace–is a sought-after look among brides. Again, lace proves that it's here to stay and challenges trends by being a staple favorite and trendsetter. We don't think we will ever tire of lace, so lace dresses are more than welcome to flood our Pinterest boards this year.
[Dresses: Crystal Design / Available at: Elysian Bridal Couture]
This concludes our list, ladies. Now that you know the hottest dresses and trends, find time to visit one of the featured bridal shops to get your hands on these hot styles now! Click on the links below to get their location and the details to set an appointment.
For more wedding vendors, visit our Directory!