Wedding gowns continue to fill our days with wonder. Every new collection excites us and we always think of how gorgeous you, our #BnBHKBrides, will look in the exquisite designer pieces. Today's blog post is all about the best-selling wedding gowns of the year. From the runway to the aisle, these looks have been rocking the wedding world and guess what? You can score these looks because these wedding dresses are available at local Hong Kong bridal shops. We also included some best-selling accessories and Chinese attires to complete your whole wedding day ensemble! Find out what's hot and get your hands on them soonest. Read on to get started now.
Clean Silhouette with Soft, Feminine Features
Minimalism has been making its way down the runway these past few seasons, but what took centerstage for Fall 2022 were clean silhouettes paired with feminine features, be it sleeves or straps made by soft tulle mesh, pearls, dangling crepe back, and floral appliqués.
Get this look at Tickled Pink Bridal Closet
Unique Silhouettes with Embellishments
The Jolene gown from Anna Kara features spectacular sleeves cuffed at the wrist. This is beautifully combined with a simple crepe skirt with a side slit. The bodice is adorned with little embroidered appliqués which makes the whole look irresistible.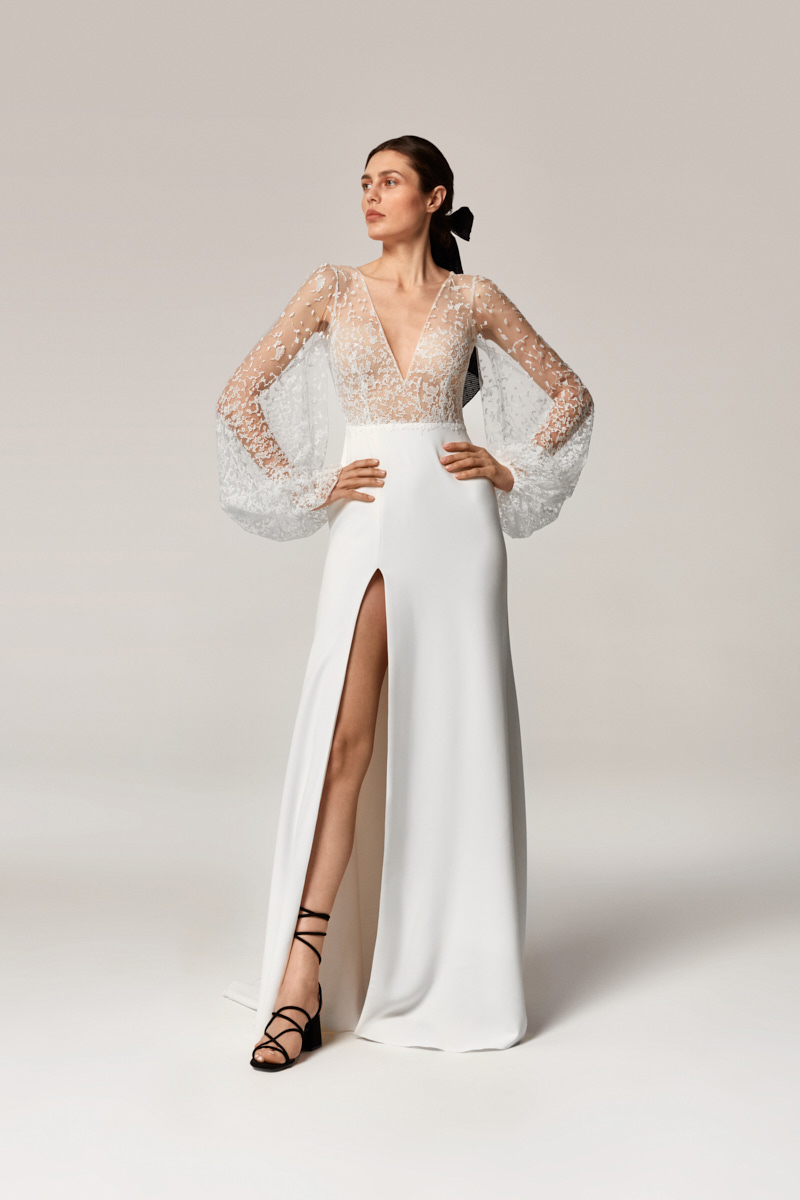 Get this look form To Be Wed
With femininity and grace at the forefront of 2022 wedding gown collections, elegant sleeves made with elaborate details are also a staple on the aisle. The Sennet Frères Les Roses de Sennet Frères Collection includes ultra luxe pieces that exude femininity and elegance. That includes gowns with beautiful sleeves; brides are loving this look this year!
Get this look at Sennet Frères
A major trend last season, the Regency-era "puff" sleeves continues to reign supreme within bridal fashion. For those still looking to indulge in Bridgeton-inspired dresses, look into the collections by Anne Mariee, Riki Dalal and Mistrelli for a modern-day twist on this throwback style.
Get this look at  Tickled Pink Bridal Closet
A splendid and luxurious choice, this special edition of the King of Gua is styled with a silk jacket, along with exquisite craftsmanship, it can certainly convey a sense of extravagance. This piece is not only a top choice among brides, but is also the perfect choice for creating an unforgettable memory that can last for a lifetime.
Get this look at Queens Embroidery
Rose-Colored Wedding Dresses
In Spring 2022, inspired by the rose blossom and graced with the French creative spirit of Sennet Frères, Les Roses de Sennet Frères was born. This collection visualizes unique elegance and timeless beauty with all gown pieces designed with shimmering floral motifs and stylized with elegant yet youthful silhouette. In addition, rose-colored dresses highlight the beauty of femininity, creating the perfect exemplar of the romance. More and more brides are choosing this pastel trend for their big day.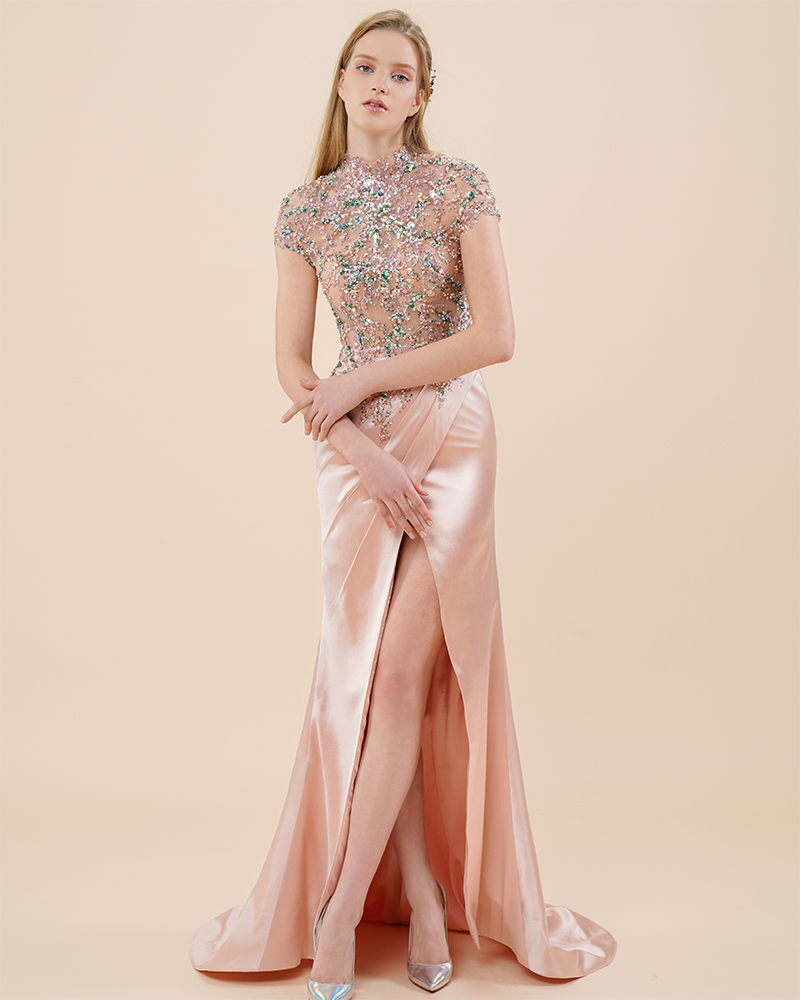 Get this look at Sennet Frères
Israeli-styled wedding dresses that feature A-line silhouettes continue to be a popular style this year. It is lighter and sexier, and therefore can reveal the beauty of sophisticated women.
Get this look at Mariee Bridal Couture
Gowns with Striking Forms
Just because you want a minimalist wedding look, it doesn't mean you can't have a gown that is oozing with character. This Le Spose Di Gio dress is minimal yet artfully elegant. It features a signature linear and clean style that is accentuated with a statement bow and undulating fabric draping down to the floor.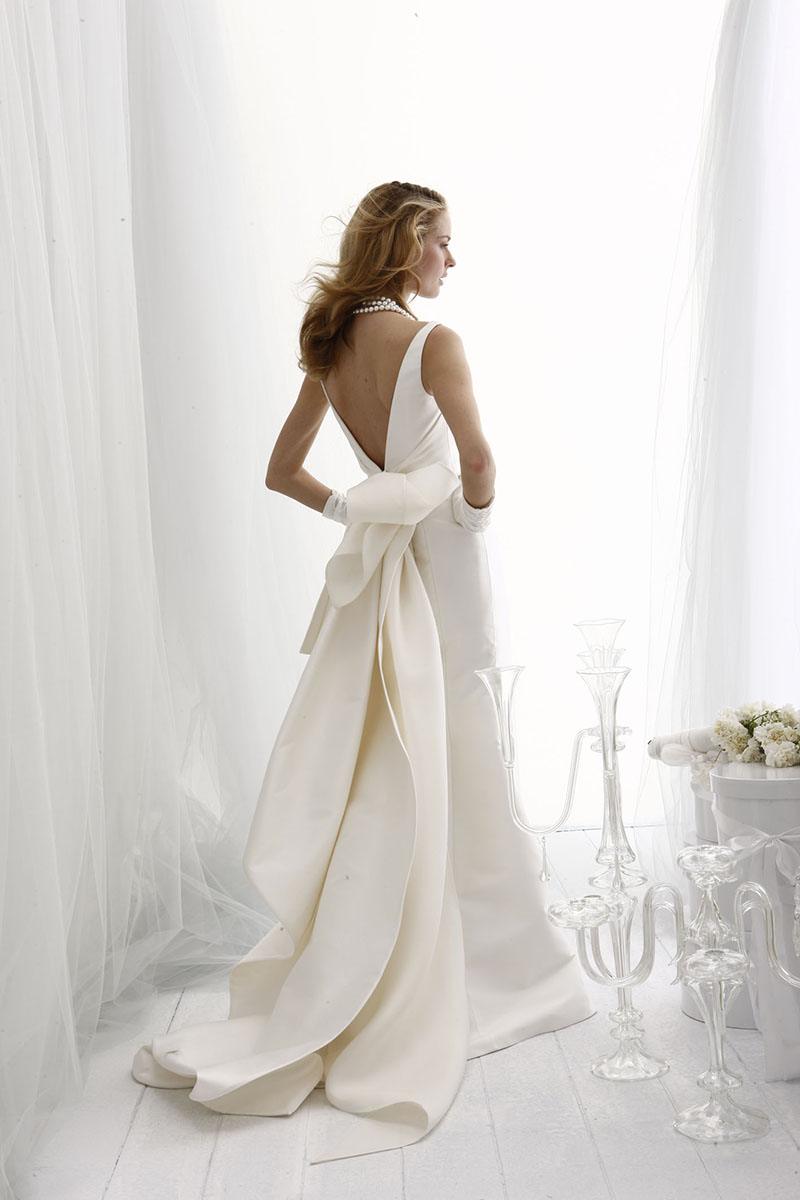 Get this look at La Cérémonie Atelier
Feminine Bridal Hairpieces
Whether in silver or gold, handmade hairpieces with lots of Swarovski crystals, Japanese beads, mother of pearl floral parts, different natural-shaped of fresh water pearls, and the like, are here to stay. Brides continue to adorn their hair with these feminine pieces, especially when they opt for updos.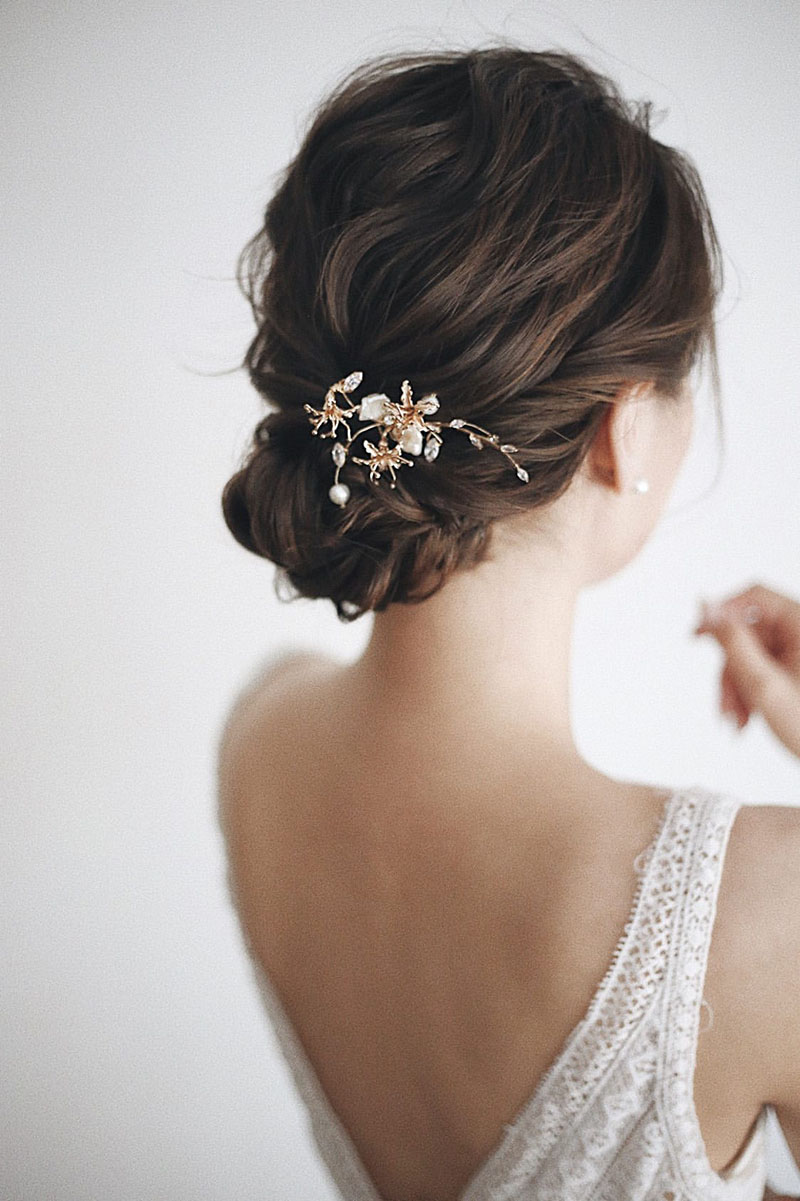 Get this look at Untitled Studio
The Santolina gown from Alena Leena is a dream with a draped bustier and multiple layers of feather soft tulle. Any bride wearing this will want to twirl all night long–no wonder this is a best seller. The expertly constructed corset is yet another jaw dropping detail and the wave-shaped wire stretching underneath the bust gives it the support it deserves while creating a truly feminine look.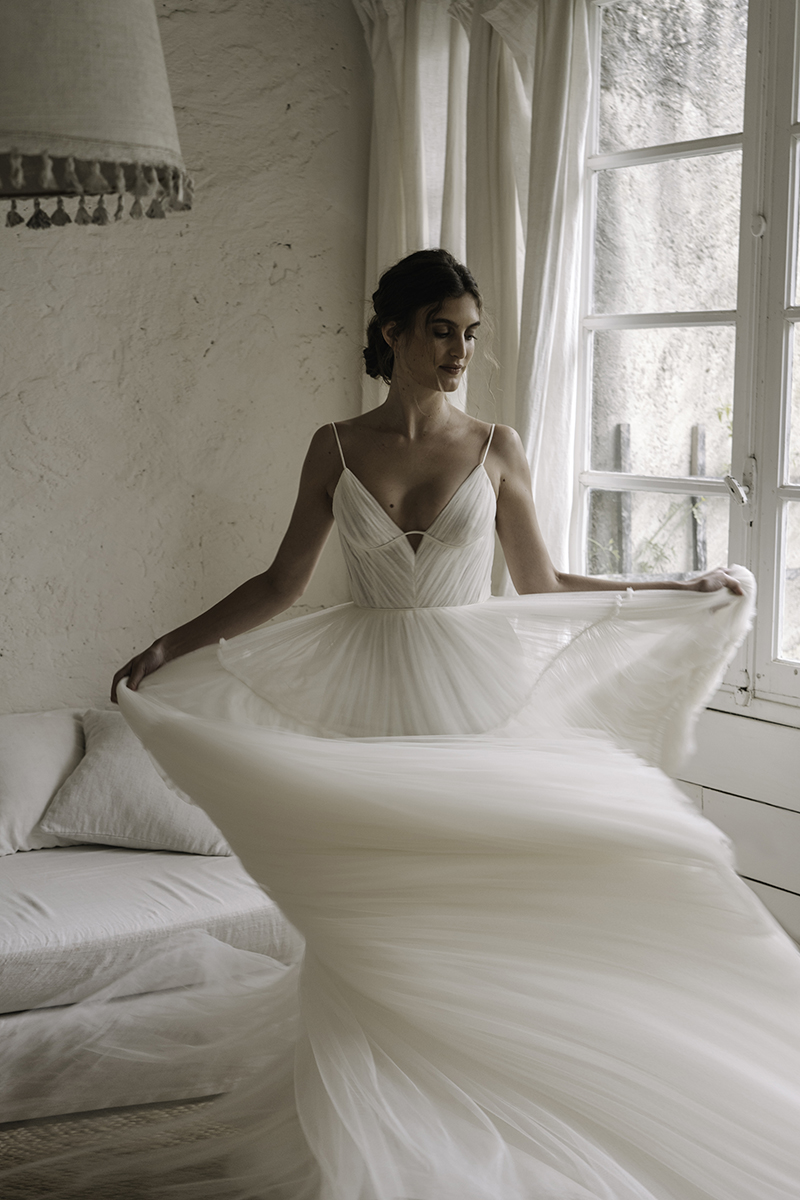 Get this look form To Be Wed
Brides looking for eye-catching wedding looks can't resist this Tiffany gown and veil set from Helena Kolan. The subtle and contemporary look of the dress is perfect for modern brides while the cathedral veil with ruffles around the edges gives an interesting twist to the attire.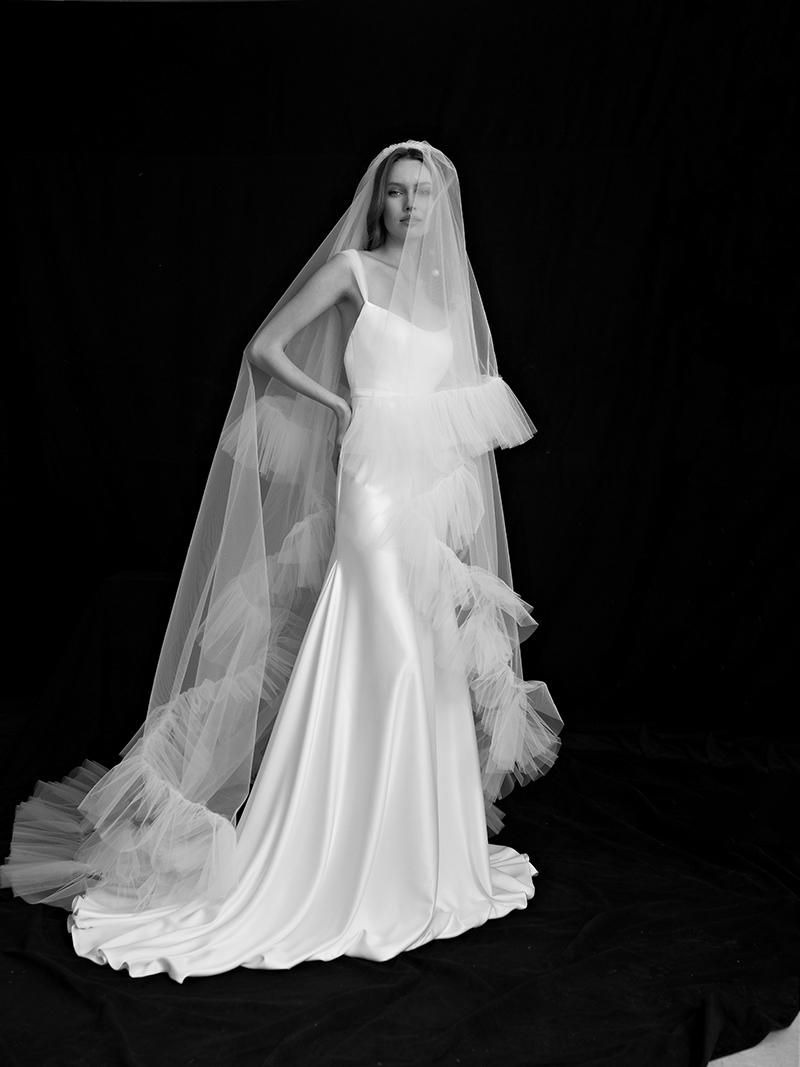 Get this look at La Cérémonie Atelier
Fishtail Dresses with Elegant Trains
Off-shoulder fishtail wedding dresses are especially popular among 2022 brides. This "Amira" see-through waist design is particularly a favorite, offering a slimming effect and a gorgeous tail with lace details.
Get this look at Mariee Bridal Couture
Minimalist Gowns with Clean Lines
An extremely romantic wedding dress made of glossy crepe-satin, this Delphi dress from Eva Lendel is a classic mermaid silhouette that highlights a bride's figure and accentuates the neckline and collarbones thanks to the off-shoulder detail. The strapless corset wraps around the shoulders and finishes with a marvelous bow at the back of the dress. This trendy dress is a top choice for modern brides-to-be.
Get this look form To Be Wed
Drop-Style Mother of Pearl Earrings
Because they're timeless and undeniably classy, Mother of Pearl earrings have been a go-to for brides since 2020. This year, the drop-style Mother of Pearl series continues to be a best seller no matter the form–lengthy or short, embellished or not.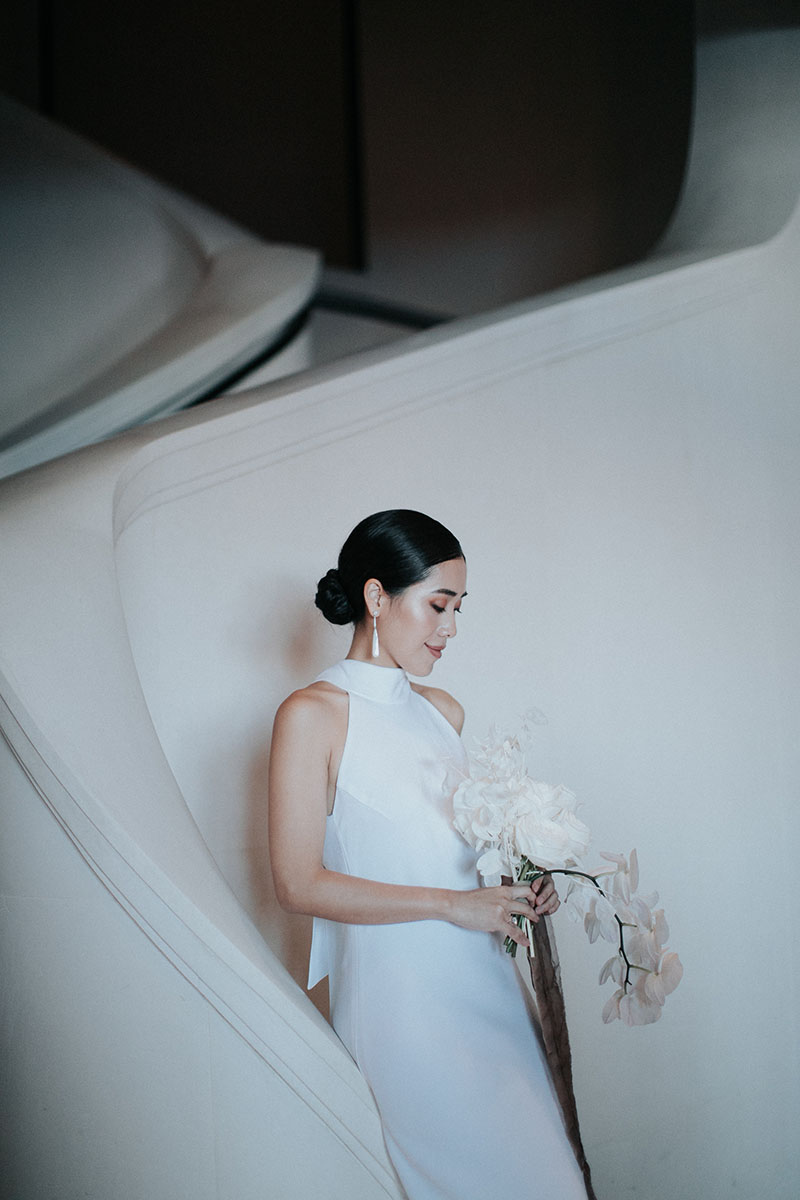 Get this look at Untitled Studio
Brides are embracing volume in their dresses with oversized ruffles and tiered tulle. Oversized ruffles and skirts made of tiered tulle are common in 2022, giving wedding dresses a more dramatic look. In 2021-2022, nothing says weddings quite like ruffles. From full voluminous skirts to ruffled hemlines and tiered tulle, this cascading style is quintessential for those who want to feel like the belle of their ball.We couldn't be more excited to see this trend in the majority of the Fall 2022 collections and so far, brides are choosing this look, too.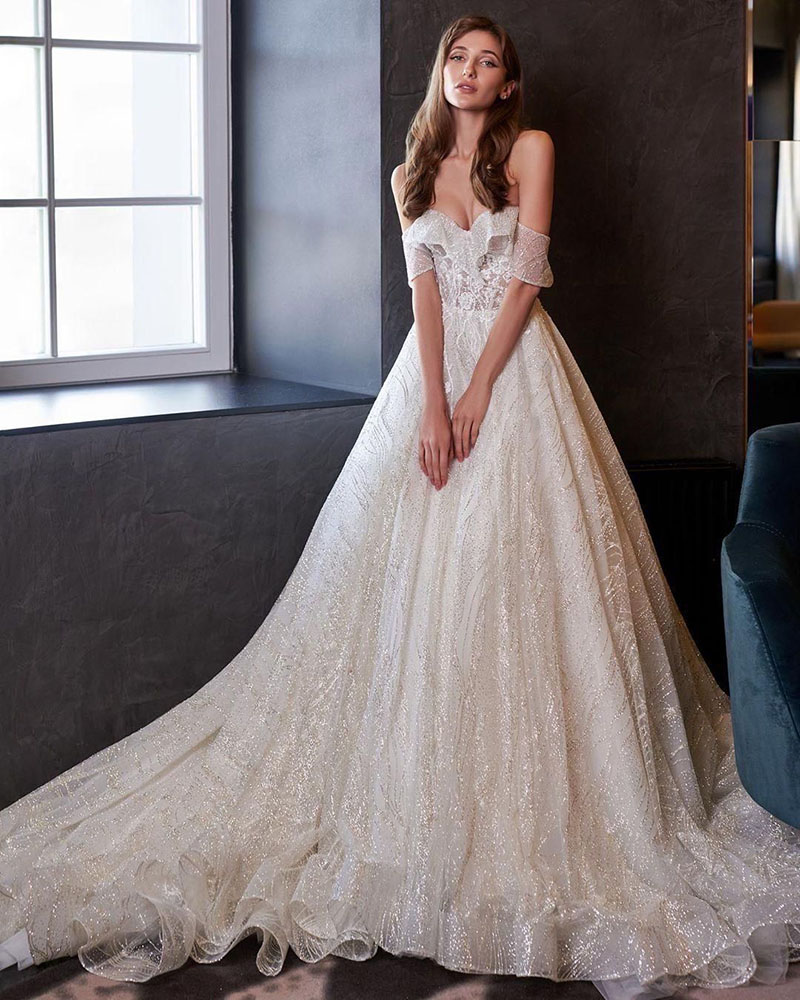 Get these looks at  Tickled Pink Bridal Closet
Modern looks with lightweight looks and fabrics are now a staple at many weddings. They look extra chic thanks to the fine structured silhouette and forms. The added light fabric only make these kinds of dresses even more elegant.
Get this look at La Cérémonie Atelier