Hello, brides and grooms! Today's feature is going to make you extra excited about planning your honeymoon. If you've been looking for the perfect beach getaway that isn't too exorbitantly priced, and you still have not found any that is affordable and honeymoon-worthy, then today's feature is all you need. Yes, you've guessed it right! We have a list of beautiful beaches in Indonesia that are perfect for your first escape as Mr. and Mrs. Not only that, we've found resorts that aren't too pricey–what a deal! What are you waiting for? Start reading now.
Alila Manggis is a secluded, stylish seaside resort in Manggis, East Bali. This resort is a haven of serenity and peace as it is set amidst a coconut grove and nestled between the sea and Mount Agung, Bali's most sacred mountain. The tropical vibe and the island feel will surely set the perfect relaxing tone for a sweet honeymoon!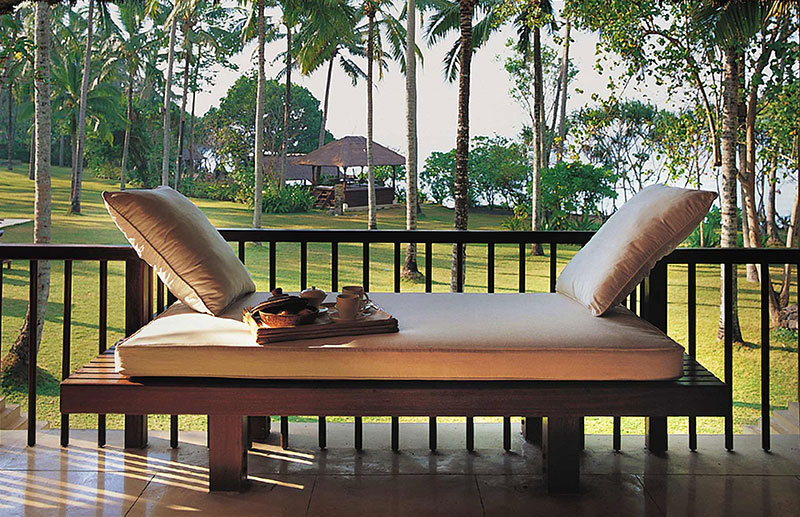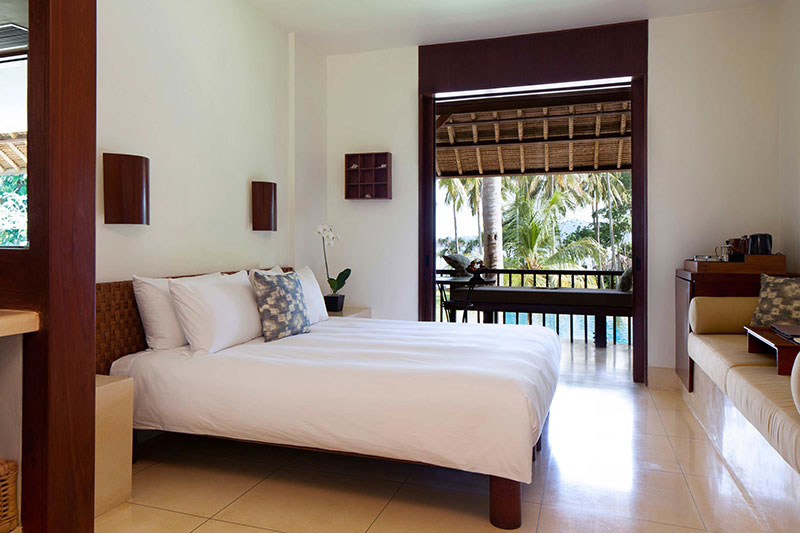 The award-winning AYANA Resort and Spa BALI is a world–class destination resort located on atop a cliff perched above Jimbaran Bay. At AYANA, you have access to majestic sunsets aback an ocean view with a white sand beach lining the horizon. You also have full access to all dining and recreation facilities at both AYANA and RIMBA Jimbaran BALI, an adjacent resort. AYANA is also just 10 kilometres from Bali airport allowing easy access for its guests.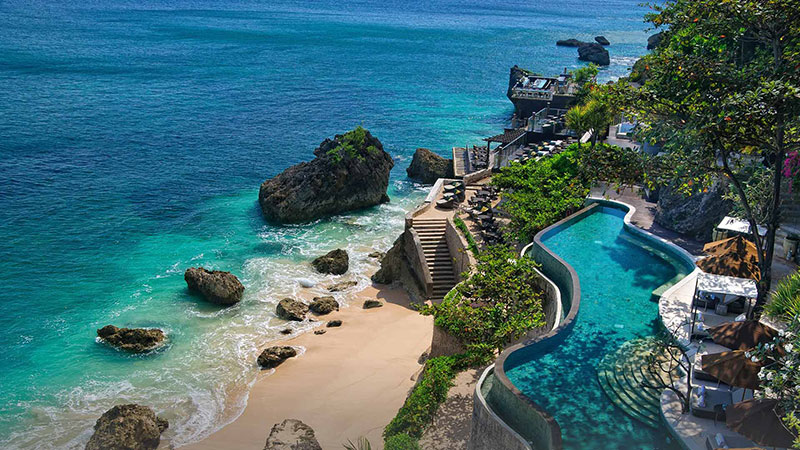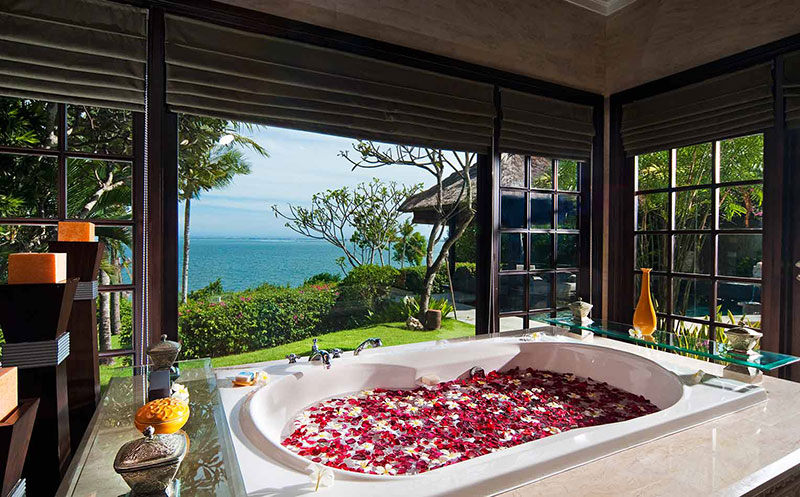 Bali Dynasty Resort Hotel is a premier beachside resort in South Kuta. Aside from its breathtaking scenes, Bali Dynasty Resort Hotel is also renowned for its warm Balinese hospitality. The unique layout of the resort allows for a subtle but effective division between the couple and family market. Honeymooners may still enjoy a relaxing, private experience away from other family visitors. Bali Dynasty Resort Hotel is located within walking distance of many small restaurants, shops, art markets, as well as Waterbom Park, Discovery Shopping Mall, and Lippo Mall in South Kuta Bali. You can explore all these after you've soaked up the sun!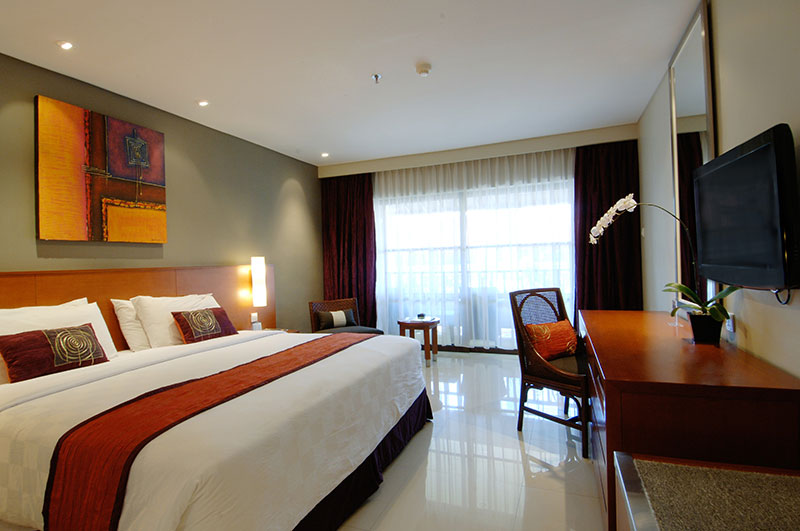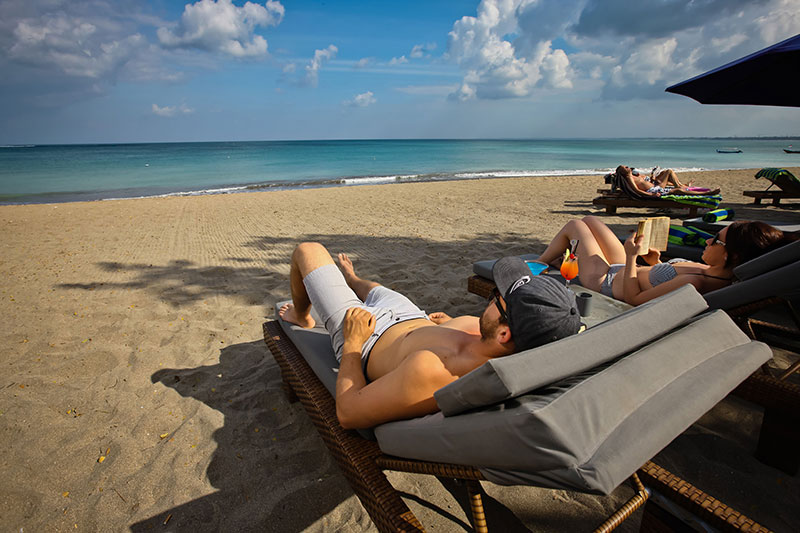 (4) Conrad Bali
Conrad Bali promises a luxurious experience and VIP amenities for all its visitors. For honeymooners, they have suites and villas for an even more romantic and secluded escape. Every room and suite at Conrad Bali is designed to make your stay memorable, relaxing, and personal. The award-winning spa, Rejuvenate at Jiwa Spa and Baris Studio, is also a good choice for ultimate relaxation.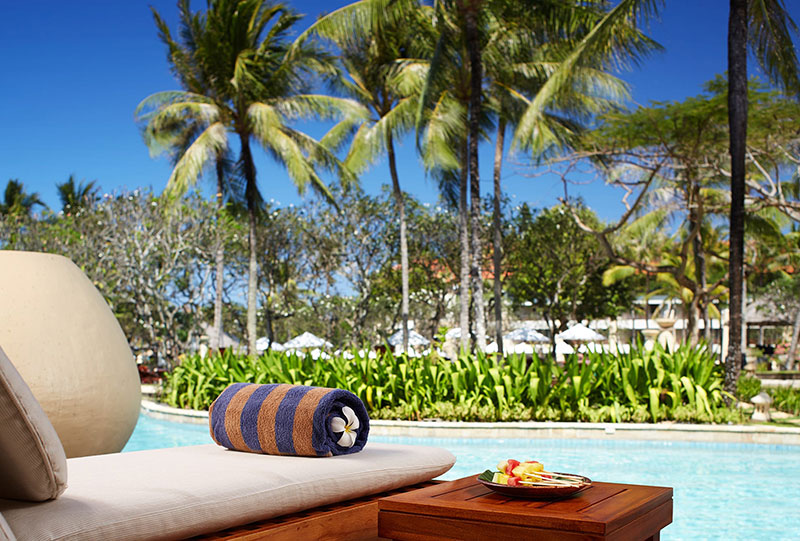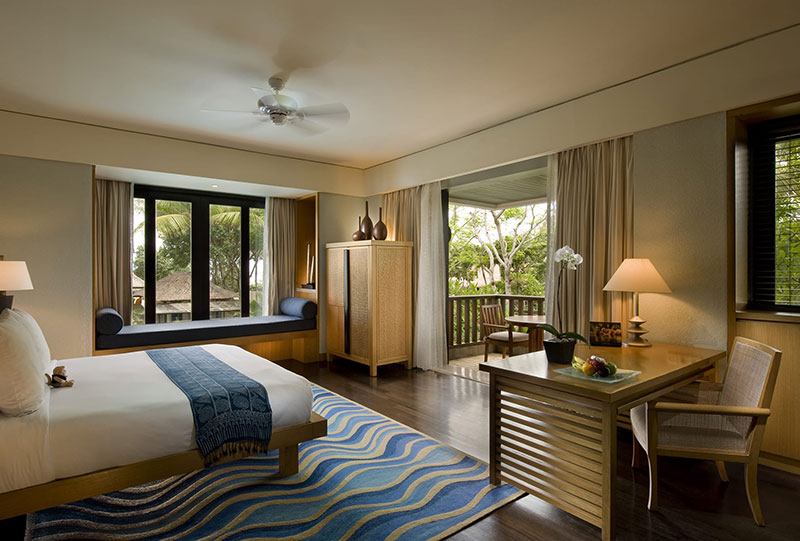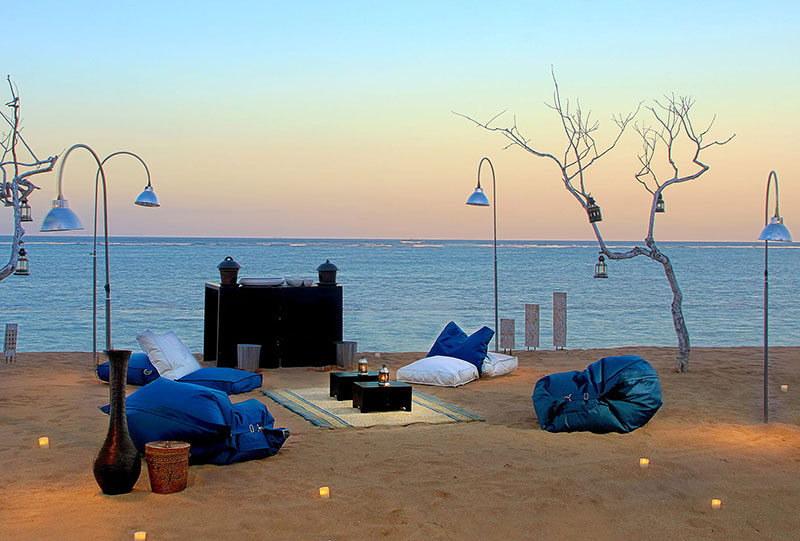 (5) Grand Aston Bali Beach Resort
Grand Aston Bali Beach Resort sits along the beautiful Tanjung Benoa golden sand beach and has seven types of rooms to cater to the different needs of its valued guests. The unique structure of the hotel allows each room to have the view of the blue ocean of Tanjung Benoa. If you're into water sports, the hotel offers a lot of water sport activities. It's also very near an attractive tourism spot for sailing, Pulau Penyu (Turtle Island).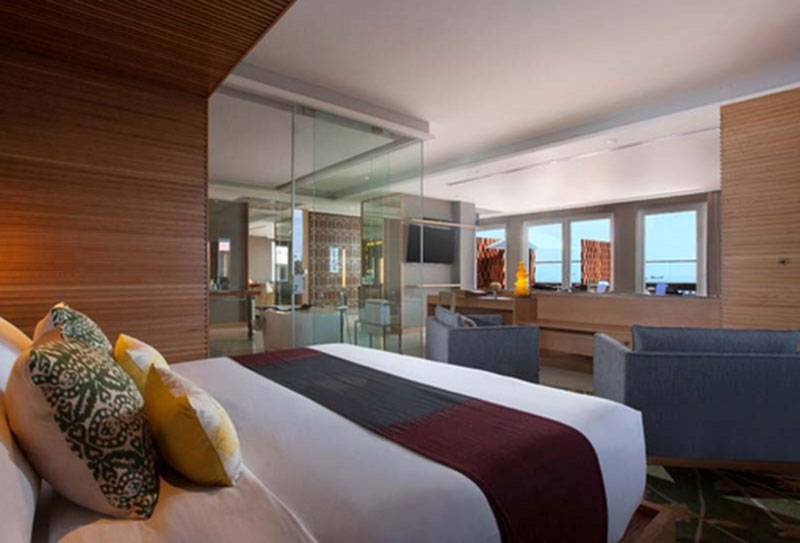 The Hilton Bali Resort is an esteemed resort that is perched atop a 40-meter cliff overlooking the Indian Ocean. It is famous for its breathtaking views, extensive recreation facilities, magnificent indoor and outdoor event space, and unique ocean-facing wedding venues. For honeymooners, you're assured of the best scenes as each room, suite, and villa features a private balcony or terrace overlooking the ocean, or lush tropical gardens. You also have direct access to the resort's secluded beaches and can count on warm Balinese hospitality during throughout your stay.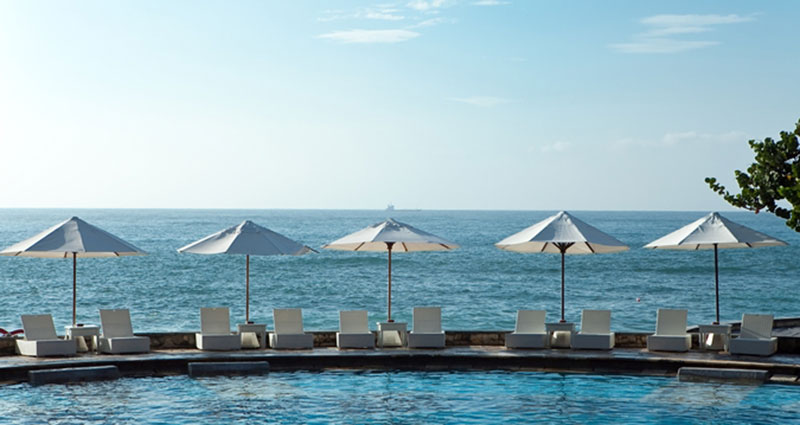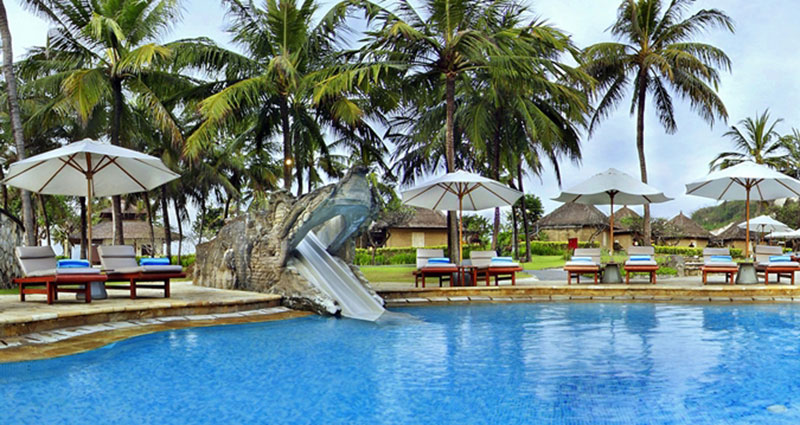 (7) Meliá Bali – The Garden Villas
If you want to be entranced by sprawling greens and the tropics, The Meliá Bali is the place for you. It's an idyllic sanctuary that will enchant you with its warmth and relaxing aura, and you will feel like a VIP with its exclusive service. This resort delivers a wholistic experience of the natural beauty of Nusa Dua combined with unparalleled service.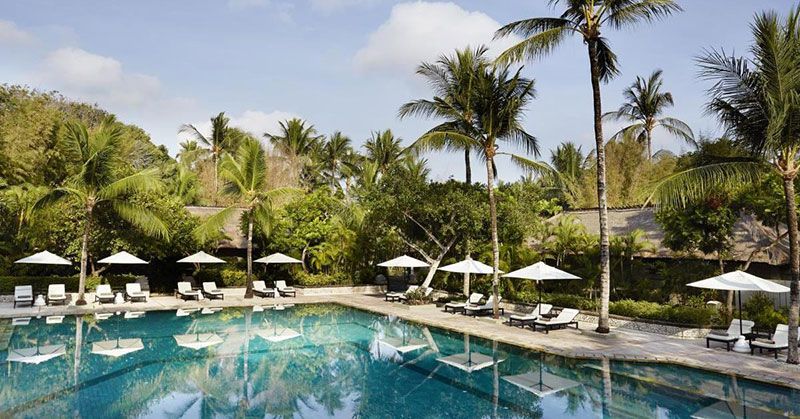 (8) Mulia Resort
Mulia Resort is one of three distinct luxury venues at The Mulia. It's known as one of the best luxury hotels in Nusa Dua and is located in the first designated purity reserve in the world. From the moment you arrive at the resort, you will be greeted by the grandeur of the 5-star setting that promises unrivalled extravagance. The rooms are not only stylish, they also have balconies that overlook the pristine beach. Mulia Resort is located at the center of the action, featuring a wide array of dining options–a plus for honeymooners who want the dining experience of a lifetime!  You also have a plethora of beach activities, state of the art spa, and fitness facilities to fill your days with relation and fun.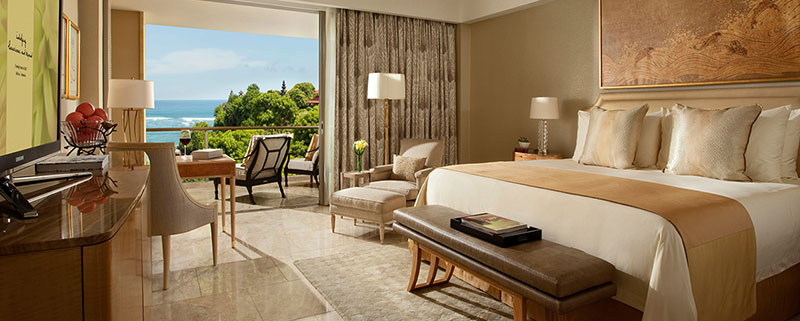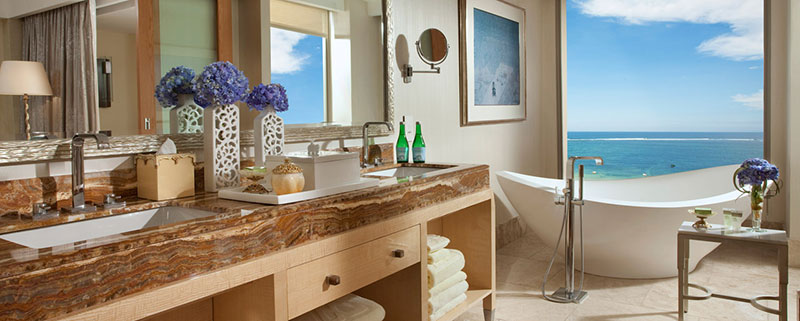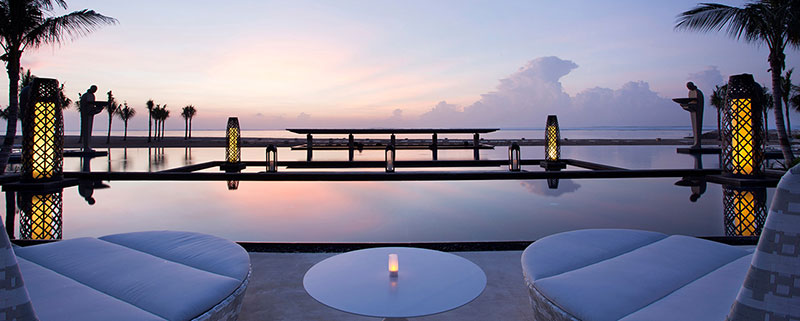 (9) Nusa Dua Beach Hotel and Spa
The 5-star Nusa Dua Beach Hotel and Spa is an authentic Balinese resort located on a beautiful expanse of white sand beachfront. Infused in the design, style, and experience are the famous culture and traditions of Bali and the graceful hospitality of its people. Nusa Dua Beach Hotel and Spa unfolds elegantly over nine hectares of spacious grounds, with beautifully manicured gardens, exclusive enclaves, and tropical grandeur. This resort is home to famed 5-star facilities such as the award-winning spa and five themed restaurants, including Raja's Balinese restaurant and the spectacular beachfront Tamarind Kitchen and Lounge, built entirely from bamboo. Expect nothing but a grand experience from this place!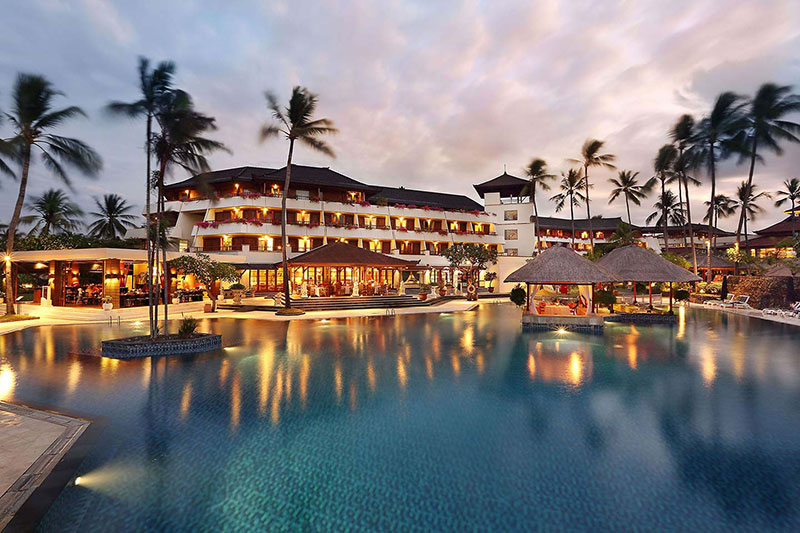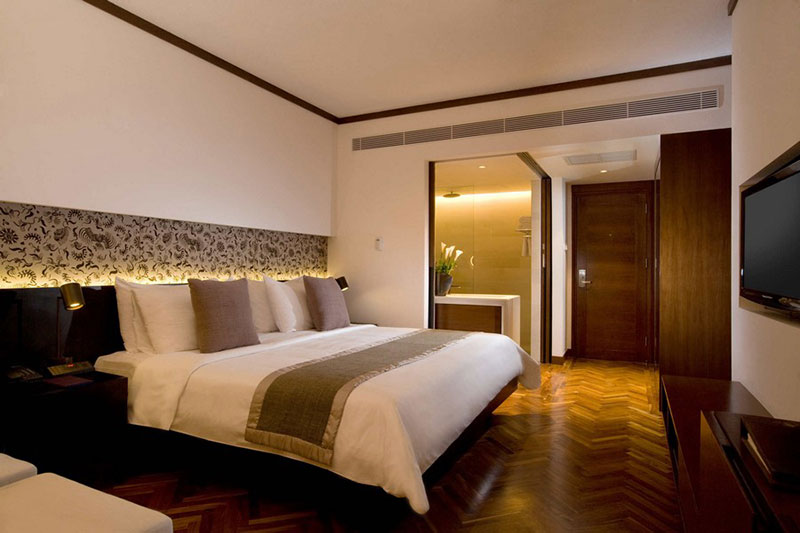 (10) NusaBay Menjangan
For a serene Balinese getaway, set your honeymoon trip in NusaBay Menjangan. It's located within the protected peninsula of the West Bali National Park and is a haven of deserted white sand beaches, crystal clear waters, and coral-laden ocean. This beautiful Balinese beach resort will give you and your hubby sun-filled days and enchanted evenings, surrounded by pristine natural beauty.

(11) Puri Bagus Lovina
Set on the quiet shores of Bali's northern coast, Puri Bagus Lovina is a mixture of traditional Balinese design with all the modern amenities, style, and service of a 4-star resort. The rooms are spacious and the villa suites come with a private pool, provide quality and comfort, and deliver the luxury ideal for honeymooners. You can enjoy the free form infinity pool and open-air restaurant with spectacular views of the sea and the tropical gardens. You can also relax in the Jaya Spa which is an oasis for those who seek rejuvenation. At Puri Bagus Lovina, you will discover the joys of retreating to North Bali's elegant surroundings.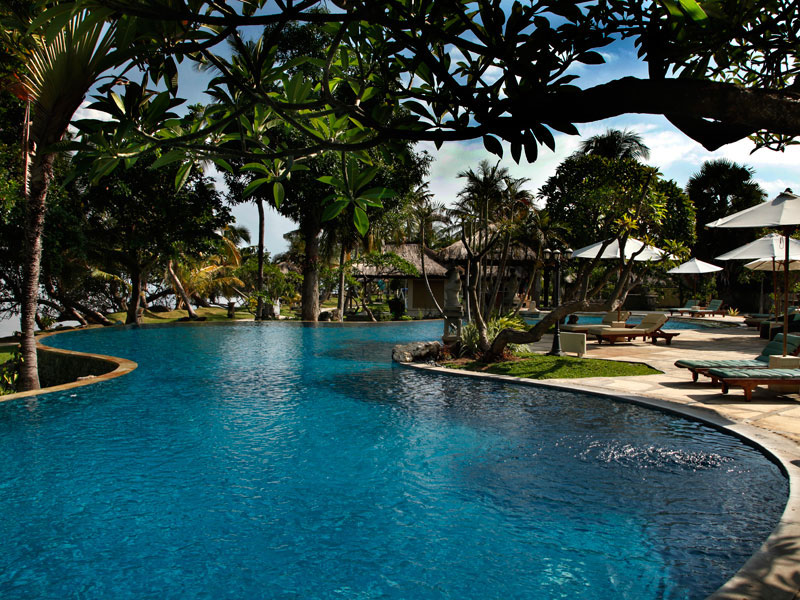 (12) Rama Beach Resort & Villas
Rama Beach Resorts & Villas is a romantic getaway in South Kuta, Bali. It's a tranquil sanctuary with superb facilities and spacious guest rooms in an expanse of two hectares of lush greenery. It's conveniently located within walking distance to the famous Lippo Shopping Mall, Waterbom Amusement Family Park, and various restaurants and entertainment venues. If you're looking for a lot of other activities aside from chilling at the beach, this one's for you! You get the best of both words–a relaxing beach and a fun local scene. And as a final bonus, this resort is only 10 minutes away from Ngurah Rai International Airport.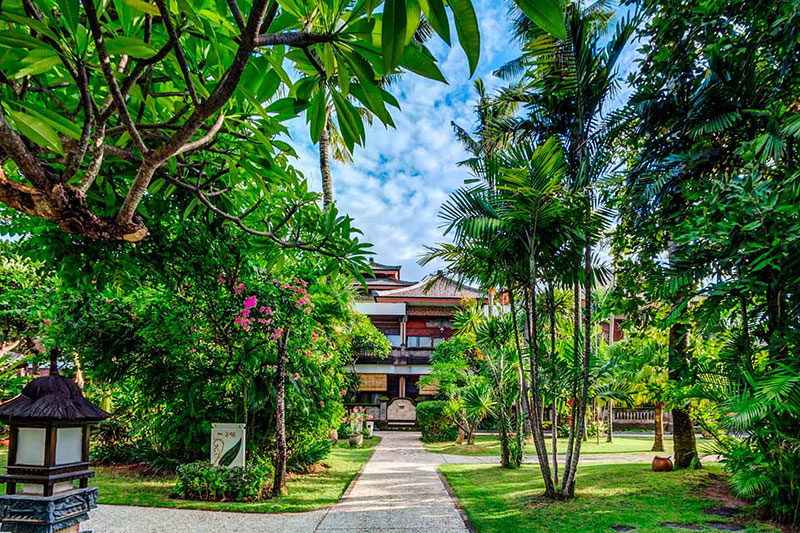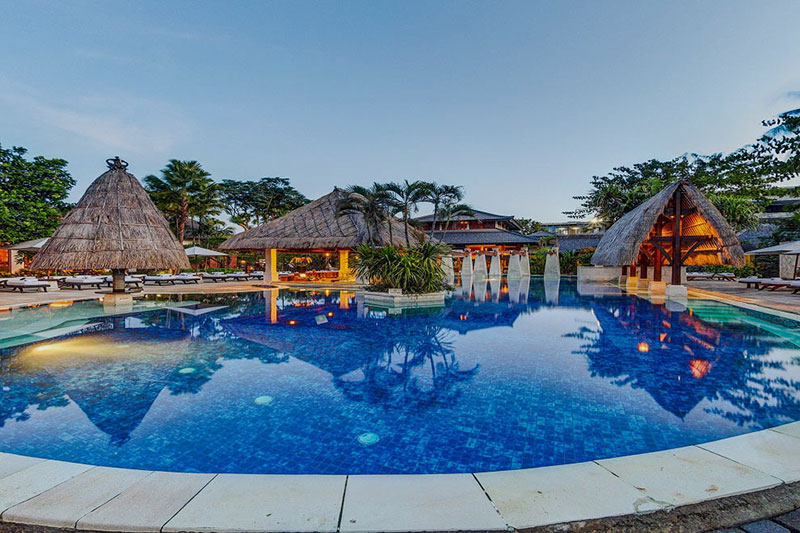 (13) Rama Candidasa Dive and Spa Resort
For couples who love to dive, this is the place for you! The Rama Candidasa Dive & Spa Resort is the best dive resort in Bali. It's located in the east of Bali, in the heart of the Candidasa district, and is the only place that offers a peaceful and relaxing vacation combined with the chance to explore the magnificent underwater paradise in Bali including Tulamben, Amed, PadangBai, Blue Lagoon, and many more. All the rooms are furnished with contemporary Balinese decor, enhanced with modern amenities, and designed with secluded balcony views of the ocean, pool, or tropical garden. There are also countless things to do–whether you want to go shopping, sightseeing, or try nature activities such as rice-paddy trekking, cycling, diving, snorkeling, and yoga–they have it all.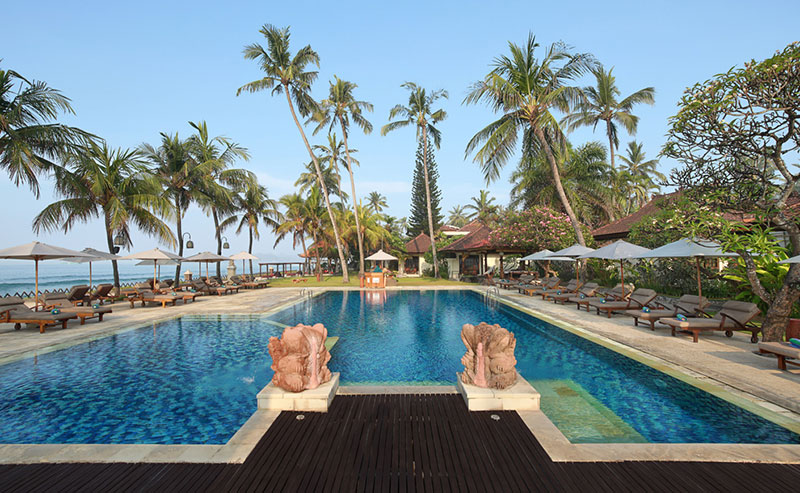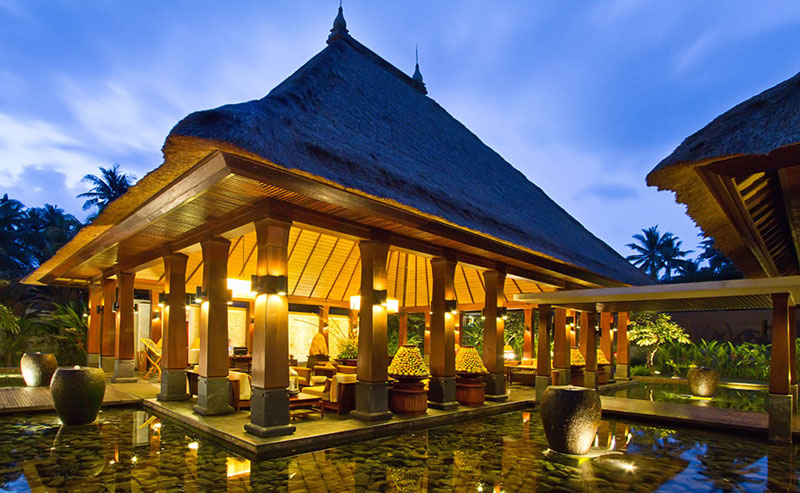 (14) Taman Sari Bali Resort and Spa
Far, far away from the busy Bali tourist centers, the unspoiled northwest offers you a view of the true uniqueness of Bali. During your stay in this secluded haven, you will see and feel nature's best through the grand expanse of coconut groves, the beautiful ancient temples dotting the coastal mountain landscape, the magnificent volcanoes of Java, and Bali's holy mountains that rise from the sea. The resort's luxurious cottages and suites blend wonderfully with nature and are surrounded by tranquil gardens and ponds. Taman Sari is also committed to the protection of natural beauty as it is the world's largest coral restoration project and a United Nations awarded site. Book this place for a unique and organic experience of Bali's natural beauty!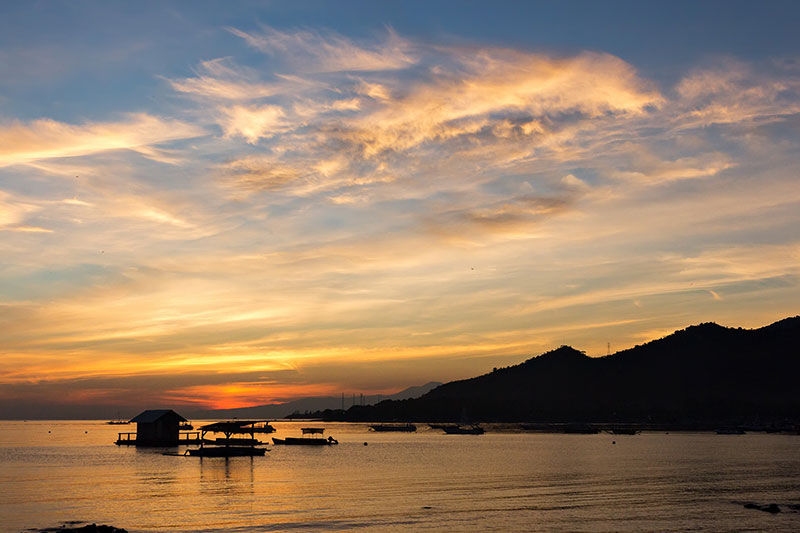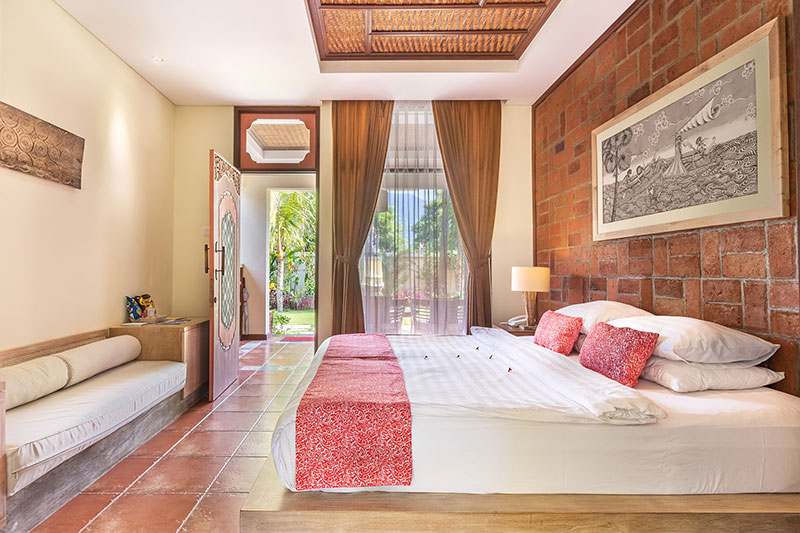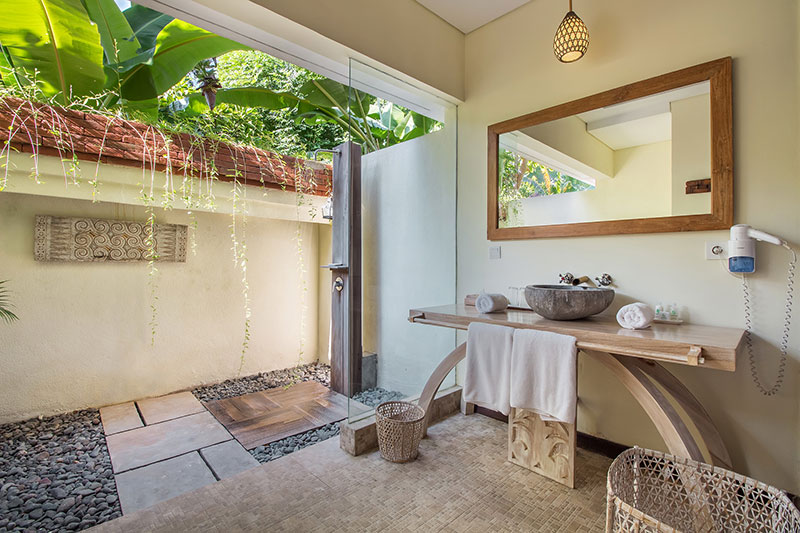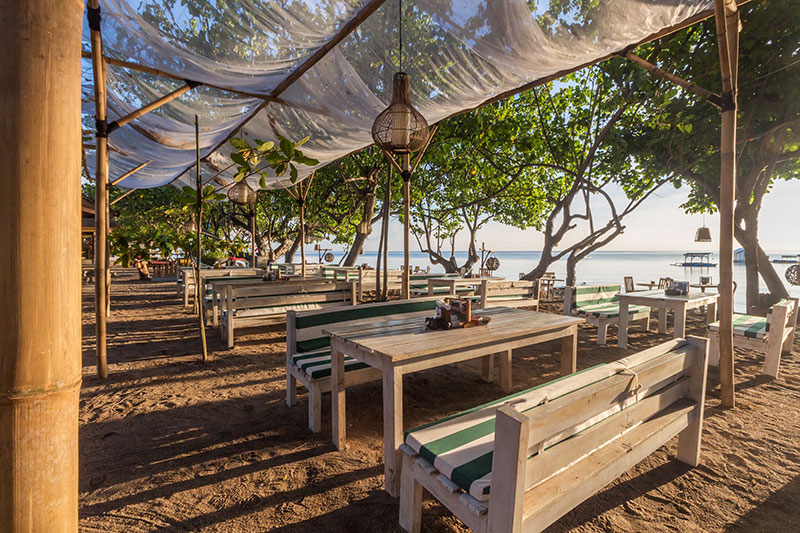 Are you now feeling really excited to hop on that plane after the wedding? For more information, click on the links to go to the website of your chosen beach destination. And to get further discounts, try searching for deals online!
Images and other information from the resort websites.