During the wedding planning process, one of the first things a couple sets is the wedding budget. They account for all costs related to the wedding, plan how much they will spend for each item, and set what their maximum spending cap will be. What couples usually fail to account for during this early planning stage are small hidden costs that arise in between taking care of all the big ticket items–costs other than those of the venue, the dress, the decorations, etc. They then find themselves unprepared for all these other expenses and struggle to stay within their initial budget! To help you avoid facing the same challenge, we've listed down the hidden wedding costs that you also need to prepare for. You know how some couples say to have extra buffer on top of your wedding budget? They probably are referring to these expenses that tend to appear when you least expect them to.
Pre-wedding Costs
Bridesmaids Proposal Gift
[From: Personalized Feather Balloons by Molala]
Some brides want to ask their bridesmaids to join the entourage in fun and creative ways. While this  gimmick is unique, it was will cost you a bit.
When you're preparing your legal requirements for the marriage you will need to pay some fees for the processing and approval. While this is minimal, you need to be aware of the costs for these charges as well.
Aside from stationery for your invitations, you also need to prepare for the stationery for wedding day signages, menu cards, food labels, and the like, especially if this is not part of the styling package of your floral decorations vendor.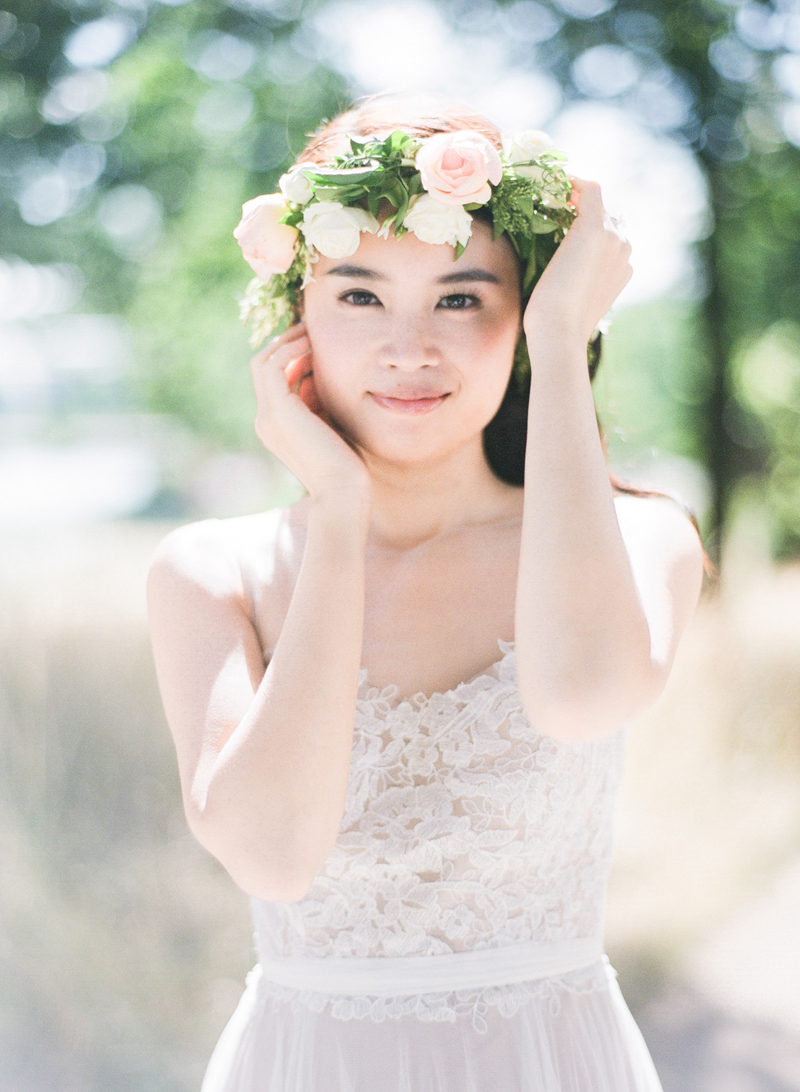 [From: Wedding Skincare Secrets / Photo: Jada Poon Photography]
From skincare regimens and hair treatments, to nail art and more, these pre-wedding beauty treatments can get pricey. Make sure to set aside a generous amount for your beauty needs.
Before booking a makeup artist and hairstylist, it's important to undergo trial sessions with potential vendors. Trial sessions come with a price. If you plan to try several beauty artists, you might want to allocate a generous budget for this.
Postal Costs for Invitation Delivery
This cost is especially crucial if you have a lot of friends and relatives abroad. Sending formal invitations overseas will cost you a bit, too.
[From: Fun Forest Bridal Party Photoshoot / Photos: Angel Cheung]
Most of the time your bridesmaids will cover this for you. But in case you have a really big bash, you might also have to share in the cost.
Dress and Suit Alterations
Lucky are those who fit perfectly into their dress and suit right away. But the reality is, most couple go through numerous alterations before they find their attires fitting perfectly.
Since wedding dresses are special attires, special undergarments are also needed to make sure the dress fits well, there's enough support where needed, and no unwanted parts or skin shows. Allocate enough for your special undergarments.
Pre-wedding Photoshoot Attire
[From: A Romantic Engagement by a Scenic Waterfall Site /  La French Touch Photography]
Depending on the theme of your pre-wedding photoshoot, you may or may not need to rent or buy your attire. If in case you do, it's best to have already set aside some money for it beforehand.
If you're planning to get fit and fab for your wedding day, then make sure you've taken into consideration the extra costs for your diet plan and workout routines.
Costs On the Wedding Day
[From: A Traditional Wedding at the Helena May / Photos: Hyvis Tong Design and Photography]
If you're getting a package this may be included with the hotel venue. But if you have an outdoor venue or an events place that doesn't have extra rooms, you will have to book a separate room for your bridal preparations.
Some venues only come with basic equipment sound and lighting equipment. Hence, it's common for couples to upgrade for better audio and lighting quality for the wedding.
Vendors' Meals for Wedding Day
Don't forget to allocate budget for the meals of your vendors. Most couples don't realize how much this impacts the budget until the wedding day is near. Make a rough estimate on the headcount way in advance.
Wedding Day Presents for Parents
[From: An Elegant All-White Wedding at the Pavilion / Photos: MC Photography]
To show love and appreciation for the people who are responsible for everything you are, brides and grooms like to give their parents special gifts. Add this to your budget if you also want give your parents a little something on your wedding day.
Sure, you plan to party the night away on your wedding night. But did you allocate money for corkage fees? Venues have different policies on drinks and corkage so it's best to prepare for this expense accordingly.
Yes, tipping will cost you quite a bit, especially if your vendors provided excellent service and you want to give them a little extra for the job well done. There will be so many staffs around – the venue staffs and the vendor team, make sure you don't miss anyone.
Tent for Outdoor Weddings
[From: A French Affair / Photos: Claire Morris]
For couples who plan to wed outdoors, plan B might be to have a tent on stand by. You might be surprised by how much you'll need for a tent but better to be safe than sorry.
Valet, Parking Fees, Guests Transportation
Don't overlook your transportation costs. Venues usually offer complimentary parking and valet services for a limited number of cars. If not, then be ready to pay. If you're arranging transportation for your guests, then this is another expense to prepare for.
The truth is, not all venue will give you the night to party away without a price. So if you do want to enjoy until the wee hours of the morning, prepare to pay more for overtime fees and other charges. This also applies to other vendors like photographers, makeup artists etc.
Finally, we hate to say it but yes, sometimes accidents happen and they will cost you. You really need that buffer in your budget for unexpected expenses.
Now that you know about these costs that are commonly overlooked, you can plan ahead and set a more accurate and realistic wedding budget.