What intrigues me about the Chinese pre-wedding traditions is the bride's beautiful attire–from her Qun Gua, all the way to her gold jewelry. Each part of a bride's traditional Chinese attire is so full of meaning that it makes the whole ensemble so, so special. We've already examined the Qun Gua and its origins, so today we're going to find out more about the gorgeous gold accessories a bride wears on her wedding day.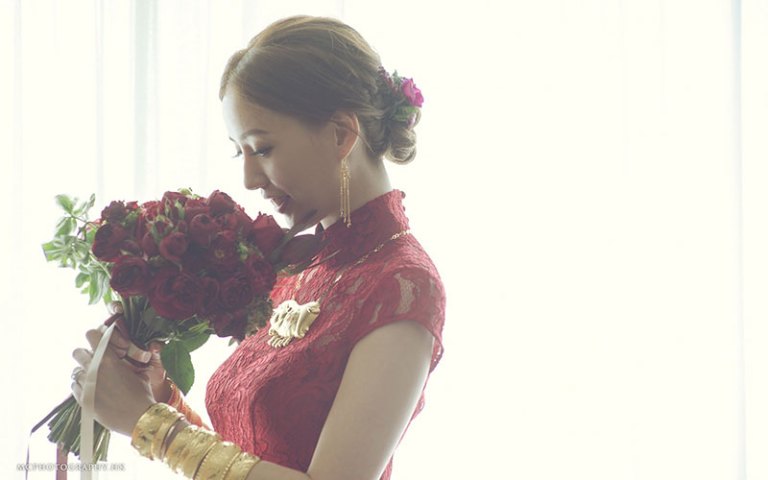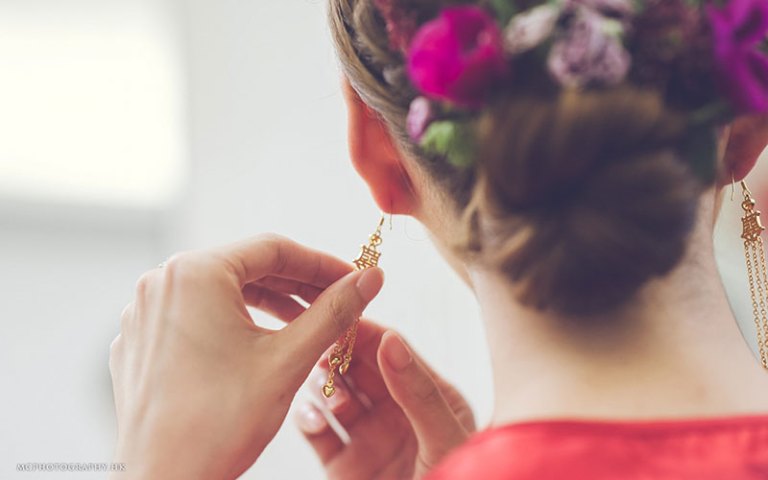 [From: Heartwarming Cream-colored Wedding at Hyatt Regency Shatin / Photos: MC Photography]
The gold Chinese jewelry that brides wear on their wedding day is rooted deep in their culture and represents both, past tradition and what she and her husband-to-be look forward to as they start their new life together.
The jewelry is usually given to the brides family along with the Pin Jin, or the cash gift. The jewelry represents the groom's ability to provide for the bride and their future family–that she will be well taken care of and will not experience hard times. It also symbolizes the welcoming of the bride into the family, regarding her as a prized possession. Only the best kind of gold should be worn by the bride, usually 24-karat gold, because anything less pure is not seen as appropriate to secure the best outlook for the couple.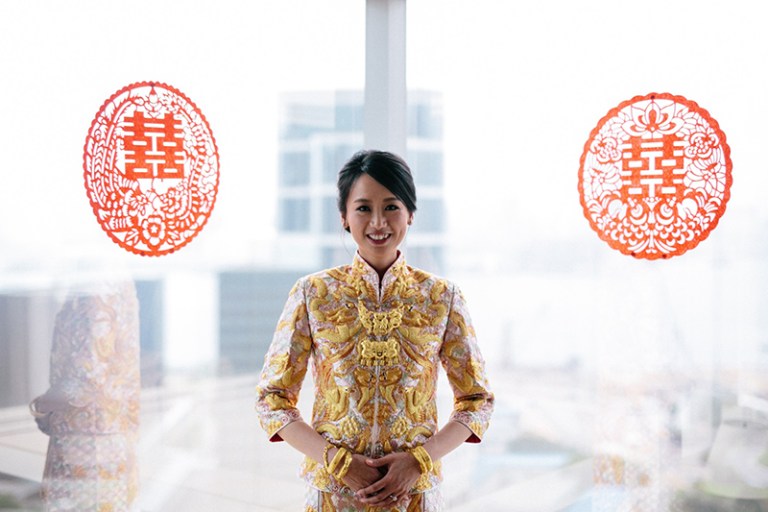 [From: Traditional Pink and White Wedding at the J.W. Marriott / Photos: Patrick Photography]
While modern brides are more open to trying new styles and jewelry, these kinds of jewelry styles still remain to be very popular because of their meaning and significance.
Dragon and Phoenix
The dragon is a male symbol (yang), while the phoenix is a female symbol (yin). When combined, the two symbolize everlasting love and marital bliss. They also symbolize success, properity, and abundance of offspring.
Four Pieces of Gold
A custom wedding jewelry gift is a gold set comprised of a necklace, bracelet, earrings, and ring. This is Chiu Chow and Hokkien families' custom. The groom's parents will give the wedding gift as four pieces of gold jewelry to assure the bride will always have a roof over her head and will always be provided for.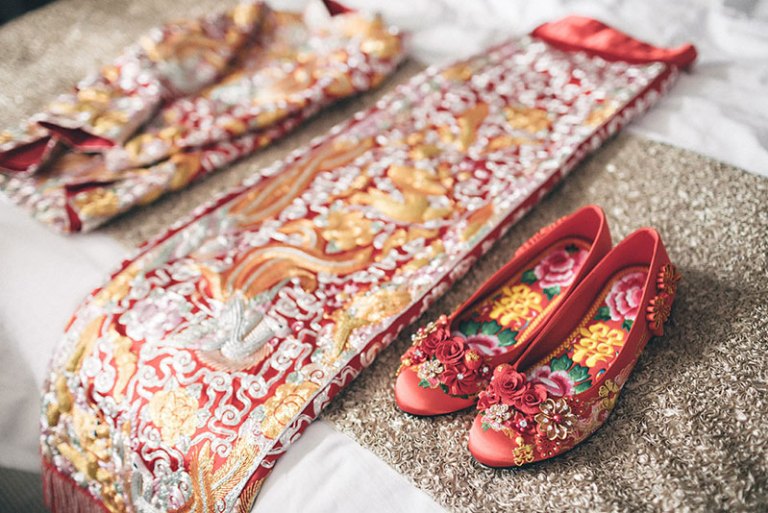 [From: A Traditional Blush-Themed Wedding at the Marco Polo / Photos: History Studio]
Floral Designs
The most common floral jewelry design given to women on their wedding day are the lily and the lotus. These flower designs represent children and a long and happy marriage.
Mandarin Ducks
Mandarin duck figurines of jewelry are also a favorite wedding gift. Mandarin ducks are believed to promote love and marriage as well as faithfulness between the couple.
Golden Pig
The golden pig symbolizes prosperity and good fortune.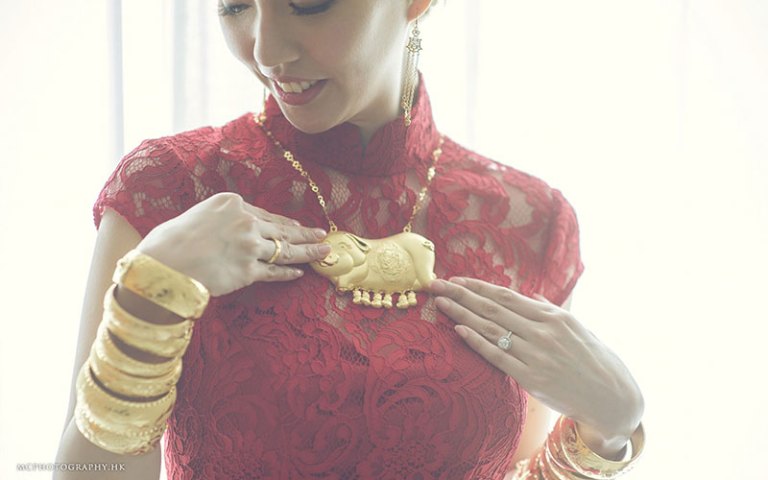 [From: Heartwarming Cream-colored Wedding at Hyatt Regency Shatin / Photos: MC Photography]
9 Treasures Wedding Box
In earlier times, brides were presented with a dowry of nine auspicious items for her new life. The items are placed in a beautiful red box with each item representing specific well-wishes for the marriage.
Scale – Symbolises the beginning of marital bliss.
Mirror – Represents harmony.
Happiness Basket – Represents abundance.
Scissors – Wish for wealthy life.
Abacus – Represents that the parents wish the couple financial stability.
Embroidered Shoes – Represent fidelity and harmony.
Comb – Represents the bonding of the husband and wife for them to live in harmony.
Ruler – Symbolize prosperity and success in career.
Peanuts – Symbolize prosperity and long life.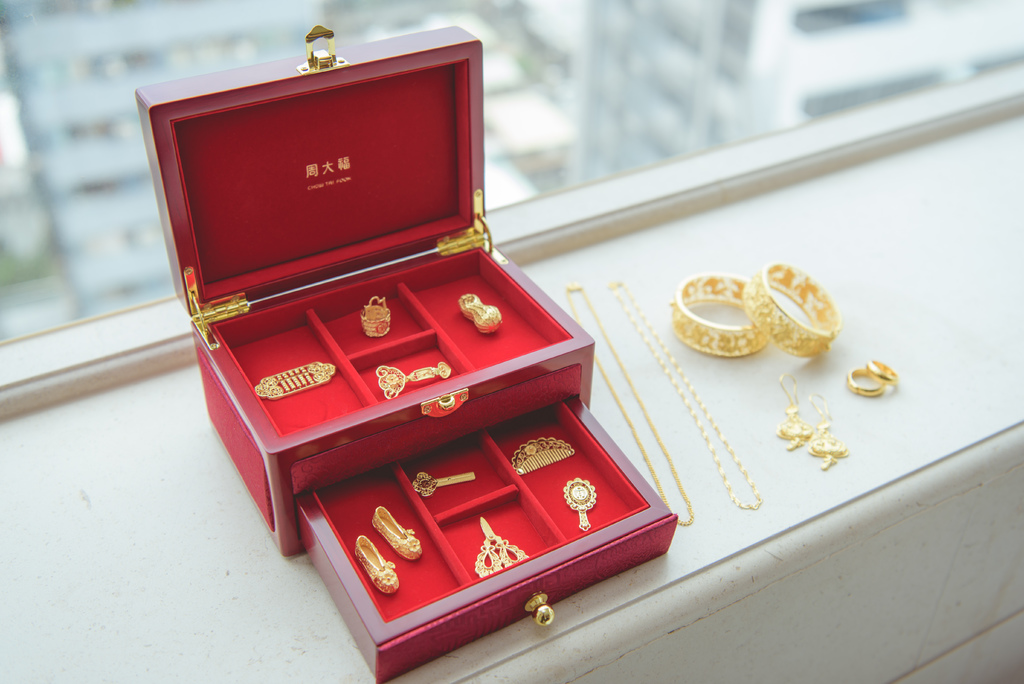 [From: tailatyra0212]
Sources: Hong Kong Tatler, Lao Feng Xiang, Facts and Details – China