The event calendar is a section in Bride and Breakfast where readers can get information on wedding-related events listed by various organizers. To get your event listed here, please fill up this form.
這個活動年曆是讓Bride and Breakfast的讀者得知由不同主辦商即將舉行的婚嫁活動有關資訊。要列舉你的活動,請到這????填寫表格。
Lyrique Floral Masterclass by Myrtle et Olive & JF Floral Couture
January 27, 2018 | 11:00 AM

-

4:00 PM

HKD$5080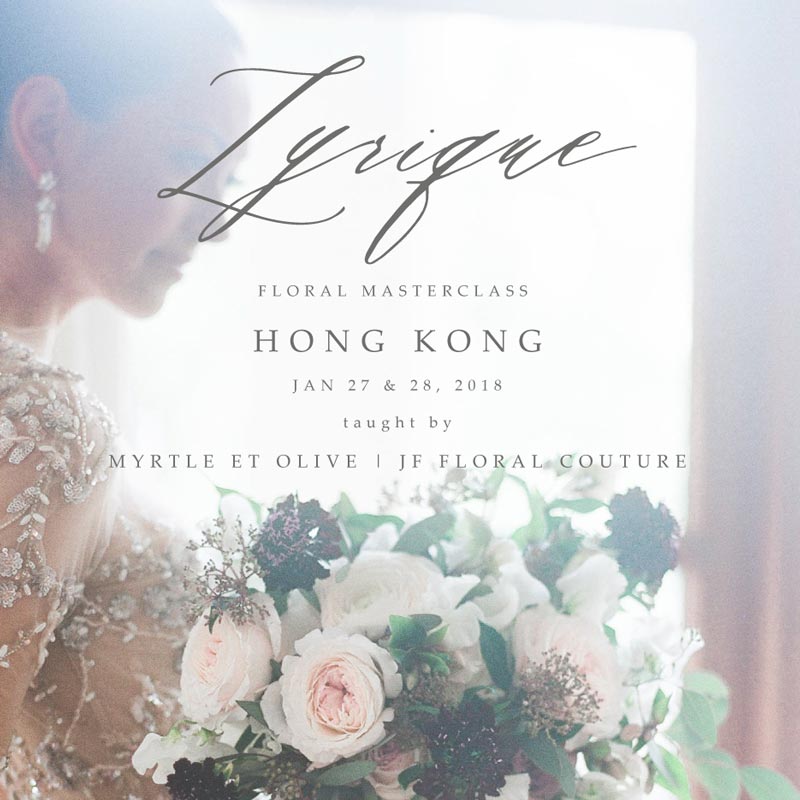 This Masterclass is a full day, floral design and technique focused course. Heather of Myrtle et Olive and Joyce of JF Floral Couture will be teaching their signature, lyrical style of floral design with a focus on creating beautiful, overgrown bouquets.
Participants will get to learn the art of bouquet, details and floral styling with their own floral creation and our on-site model.
Fine Art wedding photographer, Jada Poon, and Hilary Chan will be capturing the workshop and all students will receive copies of the images for their portfolio.
All participants will receive a beautiful welcome gift sponsored by California's Flutter Magazine, Written Word Calligraphy, and Lark & Ives.
All materials, a selection of premium florals and tools included. The designs you create are yours to keep, and photos for your portfolio will be available approximately 6-8 weeks after the workshop.
*This Masterclass is focused on technique and design and does not cover business topics
*Airfare and transportation are not included and are the responsibility of each guest
*Images can be used for own portfolio if they are credited as being photographed with the "Lyrique Floral Masterclass by Myrtle et Olive & JF Floral Couture"