Choosing wedding decorations is such a fin part of wedding planning. From your mood board–the big idea, you move to the more intricate details that will make your dream wedding come to life. Because there are countless options to choose from and elements that come into play, brides tend to get overwhelmed what it comes to picking wedding decoration details. The quick solution for this is to stick to essentials. Wedding decoration stylists Home Sweet Florist and Once Wedding Decoration helped us define what these essentials are. Before going crazy with all the pretty photos on Pinterest, check out these must-have details first.
(1) Flowers and Candles
Combining flowers and candles never goes out of style, claims Home Sweet Florist. They're essential elements that also deliver a class look to any wedding. This pairing is especially part for your wedding banquet head table. Let's also not forget that candles deliver extra romantic lighting during the evening.
(2) Three-dimensional Elements
If you have a fairly large space to play with Once Wedding Decoration says you can add three-dimensional elements to fill in the area. For example, this layered background matched the large-scale wedding venue. Aside from breathing life into an otherwise bare space, this three-dimensional decorations give photographers a unique element to take beautiful photos with.
(3) Fresh Floral Arch
A fresh flower arch is always a must for your wedding! Whether you're having an indoor or outdoor wedding, this will add romance to your union, says Home Sweet Florist. Floral arches are also very versatile, you can achieve all kinds of looks for any wedding style.
(4) Blush Pink and Gold Elements
This tender color combinations is delicate, dreamy and sophisticated all at the same time! Once Wedding Decoration says that if you still haven't pinned down on your wedding accent colors, these hues are a favorite among brides for a very good reason: they make everything look beautiful, harmonious and so romantic!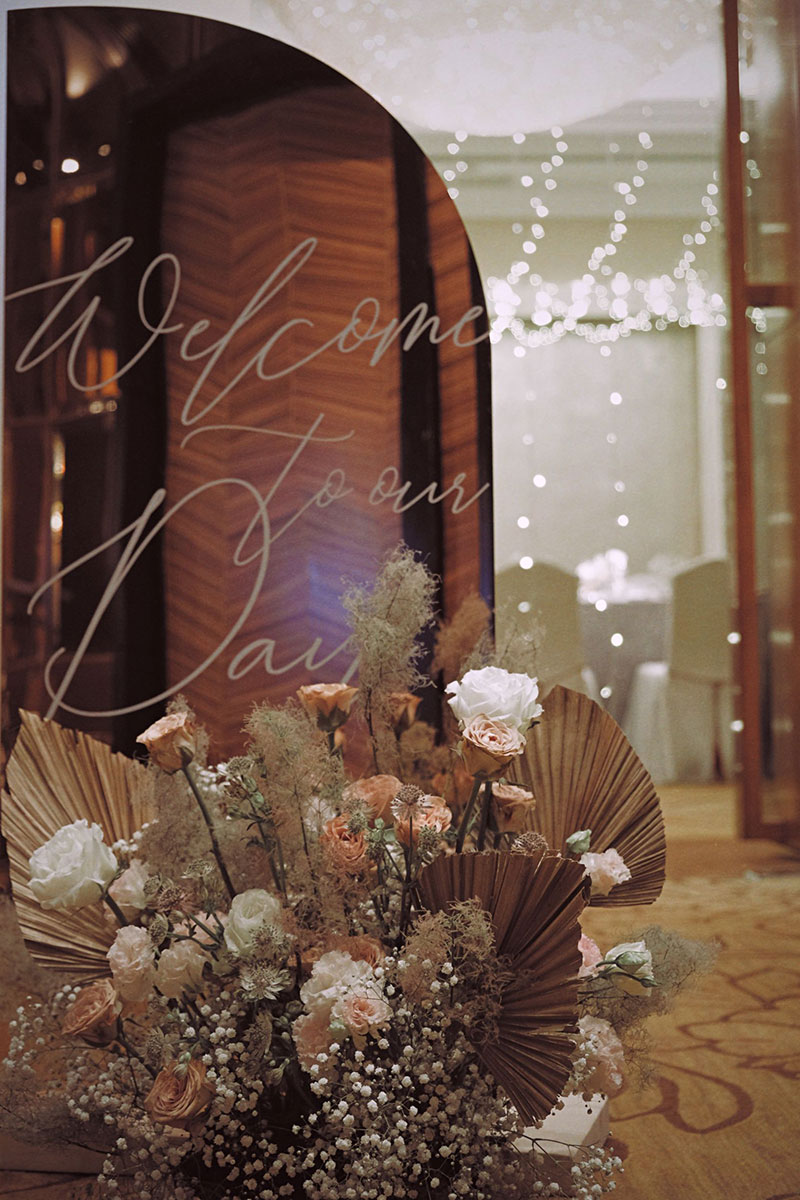 (5) Mix and Match Vases
Home Sweet Florist highly recommends using classy vases of different forms–tall vases, short vases, etc. They add dimension to tables and depending on the kind of vases you choose, they can look extra stylish. In this example, the clear vases complemented the colorful flowers and pastel candles. If you have simple flowers, you can go with more elaborate vases.
(6) Love Quotes
Sweeten your wedding day with love quotes, shares Once Wedding Decoration. Adding love quotes, song verses, or even your own sweet messages as decorations all over your wedding venue serve as inspiration for you all all your guests. Here's an idea: grab some quotes from your vows and scatter these using elegant calligraphy signs hung throughout your reception venue. It will impress everyone!