I hope you enjoyed our first D.I.Y. post a few weeks ago! In addition to making the boutonnieres for my friends' wedding, I also created simple hand-tied bouquets for the bride and her bridesmaids. Flowers are again from Wayfoong Florist (except for the dried lavender) and supplies from Brighten at the Prince Edward flower market.
Here's what you'll need:
Supplies: Gardening shears, floral tape, extra thin wire, lace ribbon
A variety of flowers and foliage. For this project, I picked white peonies, white ranunculus, purple lilacs, dried lavender, and dusty miller leaves.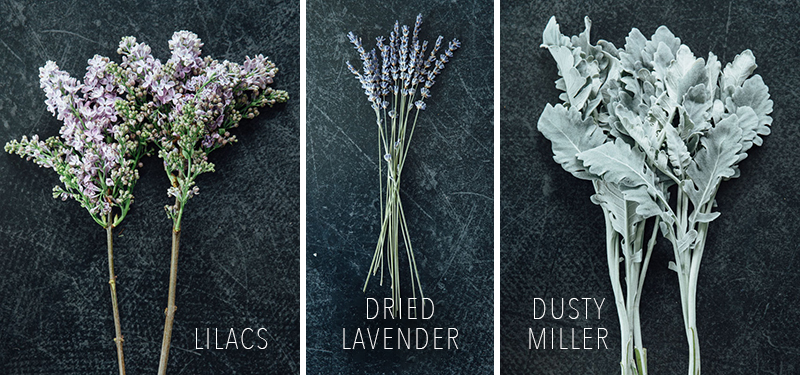 For the bride's bouquet, I wanted something loose and elegant. Here's how I did it:
1) Start with a few flower stems that you want to be in the center of the bouquet. For this bouquet, I picked a stem each of peony, lilac and ranunculus. Add different flowers one stem at a time, twisting the bouquet as you go to ensure that it keeps a round shape. (Tip: If you're using flowers with soft stems like ranunculus, insert thin wire through the stem until it touches the bottom of the flower. This will help keep its shape.)
2) Keep the arrangement loose, and place the flowers at different heights to create a more natural look. Add a few leaves to finish off the bouquet.
3) Once you're happy with how the bouquet looks, use floral tape to wrap the stems. Try to do it close to the flowers to make the arrangement more secure. Be sure to stretch the tape to activate the adhesive. Cut off excess stems.
4) Cover up the taped area with some lace ribbon starting from the top and then criss-crossing down and up again. Tie a ribbon and snip off ends. Be sure to put it in water to keep the bouquet fresh until the bride needs to use it.
For the bridesmaids, we simply rearranged dried lavender stems to ensure that the bridesmaids bouquets were all the same size and height. We tied the same lace ribbon to match the bride's bouquet. You can skip the floral tape if you can tie the ribbon tightly. It's the easiest bouquet you can make, and it smells great, too!
Let us know what you think about this tutorial, and if you have suggestions for our next DIY project!
Photographer: Nikki Li