A few weeks back, I volunteered to do the flowers for my friends' wedding. Although I adore flowers and have always dreamt of opening my own flower shop, I've never really had the chance to learn proper floral arrangement. So I did what most people would do: watch YouTube tutorial videos! Once I kinda figured out what I had to do, I headed to the Prince Edward flower market and grabbed flowers from Wayfoong Florist and supplies from Brighten.
Today, I'd like to share with you my first attempt at making boutonnieres. Although far from perfect, I think they turned out pretty well!
Here's what you'll need:
Supplies: Floral tape, gardening shears, floral pins, jute twine, extra thin wire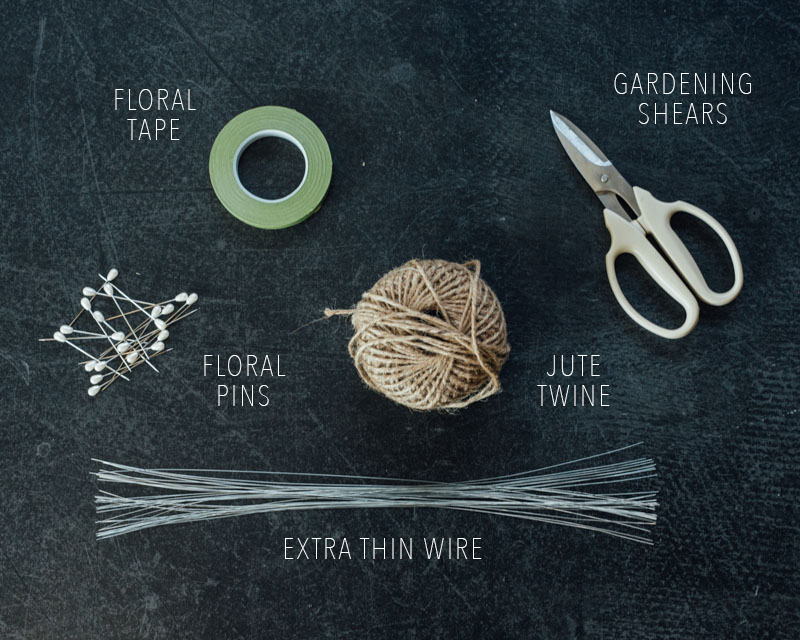 A variety of green leaves. For this project, I got rosemary sprigs, small dusty miller leaves, and a few sprigs of an evergreen plant.
A selection of flowers, both main and filler flowers. For this project, I picked white ranunculus, blue thistle, dried lavender, and a mix of filler flowers.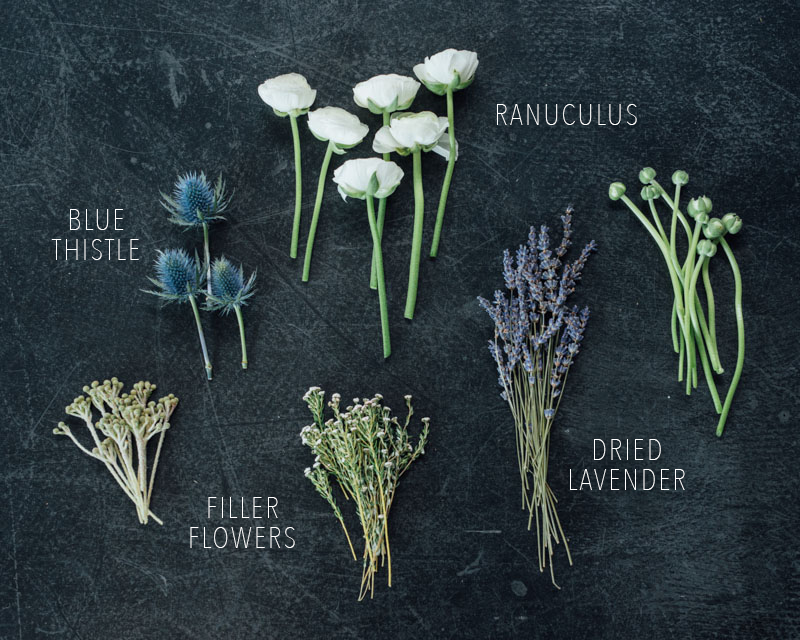 For the groomsmen, I wanted something very simple so that the groom can stand out a bit more.
1. Start by arranging a few sprigs of rosemary, dried lavender, and some filler flowers.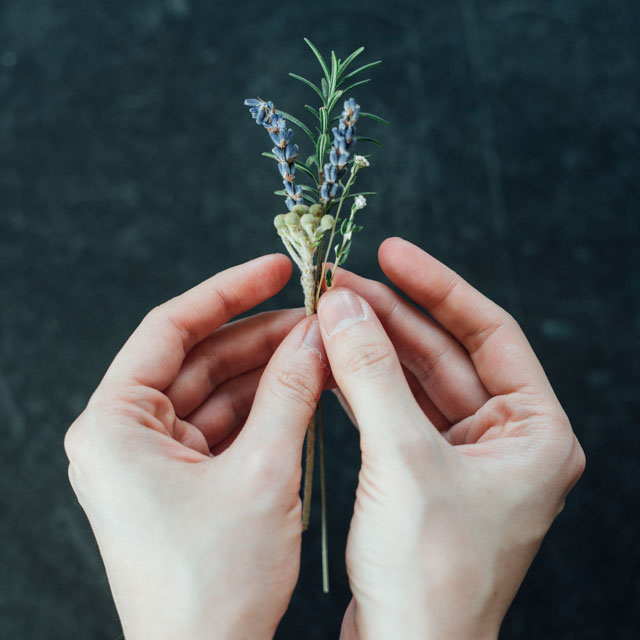 2. Wrap the stems with a bit of floral tape. Make sure you stretch the tape to release adhesive.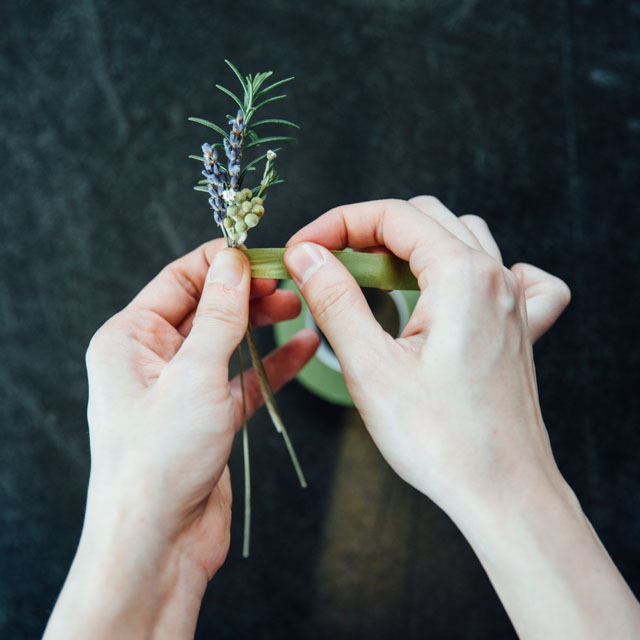 3. Cut off excess stems.
4. Cover the taped area with jute twine and tie a knot around the back. Snip off ends.
For the groom, I added a few elements to match both the bride's bouquet and the groomsmen's boutonnieres:
1. Pick one or two leaves as the backdrop of the boutonniere. If you pick a flimsy leaf like dusty miller, bend a piece of thin wire in half and thread it through the middle of the leaf. Carefully wrap the remaining wire around the stem.
2. Arrange a few filler flowers on top of your leaf to add color, shape, and texture. Place your main flower on top. Wrap the stems with some floral tape. Try to do it as close to the main flower to make the arrangement more secure. Cut the excess stems. Tie some jute twine to cover the area with tape. Snip off excess twine.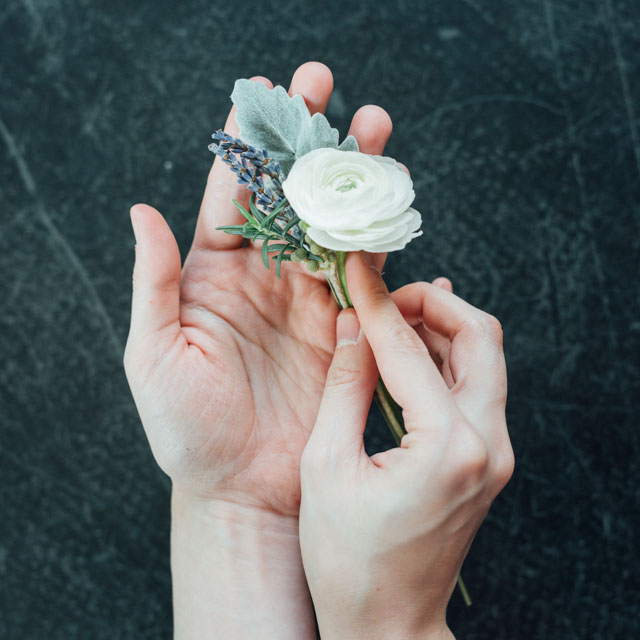 Here's the finished product. Tada!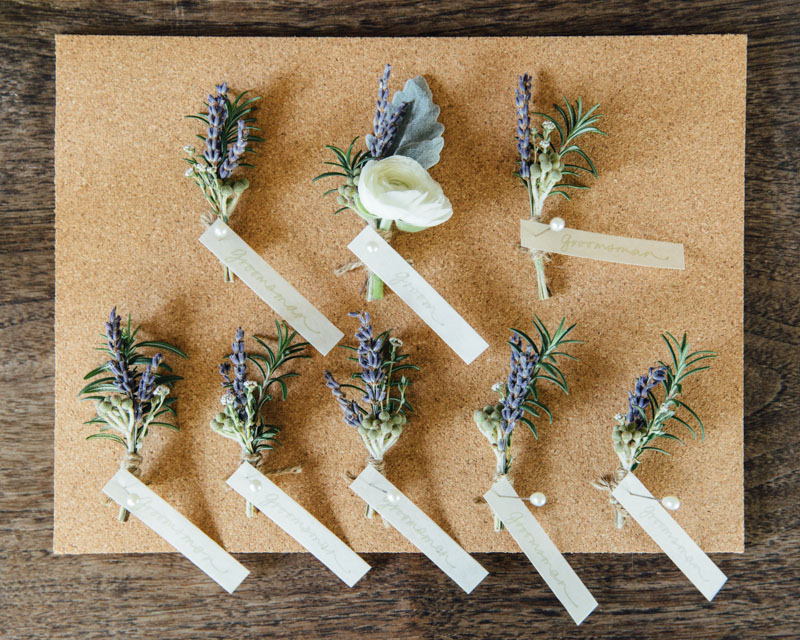 I made a few more variations for the couple's parents and grandma plus the officiant. For the women, you can make the corsages a bit bigger by adding more flowers.
Hope you enjoyed this tutorial. Please send us photos of what you come up with!
Photographer: Nikki Li