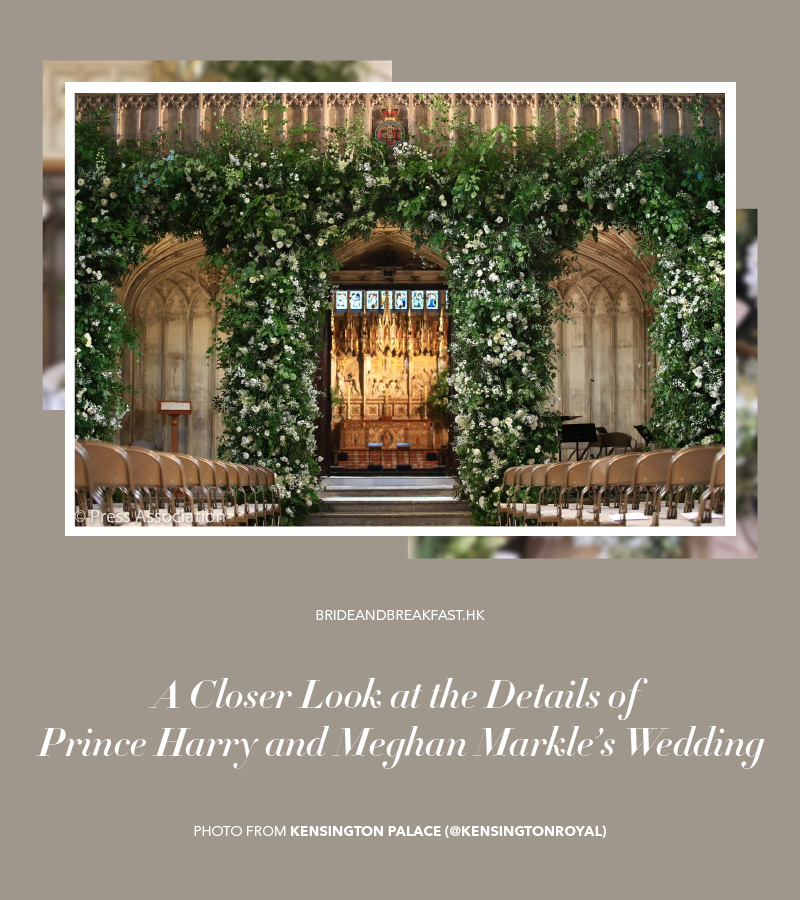 When you know more about the work that goes on behind a wedding, or any event for that matter, you have a better appreciation of the outcome. This applies even to the royal wedding of Prince Harry and Meghan Markle. We were all so enthralled by the whole wedding last weekend, but now that we've had a closer look at all the details that made this wedding come to life, we're even more drawn to everything about the royal wedding! Come on over and see some behind-the-scenes footage of the wedding that we've gathered for you. You'll realize that this wedding high is not going to subside right away–especially after seeing this.
The Ceremony Dress
Givenchy released the final sketches of Meghan's ceremony gown made by Claire Waight Keller. Seeing the sketches must have made Meghan extra excited for the final product.
https://www.instagram.com/p/BjAwnRwhHJT/?taken-by=givenchyofficial
https://www.instagram.com/p/BjA5WsbhVt9/?taken-by=givenchyofficial
https://www.instagram.com/p/BjAR_L3Bz5J/?taken-by=givenchyofficial
The Second Look
Stella McCartney also released a congratulatory greeting in Instagram that revealed a drawing of the dress Meghan wore for her second look. Aren't the lines on this gown so gorgeous?
The Tiara
Knowing that this tiara dates back to 1932, when it was made, with the entire brooch from even way before that, 1863, makes this piece of the ensemble extra precious.
After more pictures, the tiara #MeghanMarkle's wearing today looks very much like Queen Mary's filigree Tiara. pic.twitter.com/TTDoAoPpbQ

— Meghans Mirror (@MeghansMirror) May 19, 2018
The Wedding Cake
In this article, we mentioned that the flavor of this cake makes up one of the ten ways in which the royal couple didn't follow tradition. Here's a closer look at how it was made by cake baker, Clair Ptak.
The Floral Decorations
Walking into something this grand would be the dream! Philippa Craddock adorned St. George's with the most beautiful blooms and greenery.
Flowers adorn the walls of St George's Chapel at Windsor Castle ahead of the wedding of Prince Harry and Ms. Meghan Markle #RoyalWedding pic.twitter.com/mkDWSVSBLH

— Kensington Palace (@KensingtonRoyal) May 19, 2018
Watch the #RoyalWedding live:

💻🌍 https://t.co/dcDaicPngZ
📺🇬🇧 @BBCOne @ITV @SkyNews
📷 https://t.co/FEjF2bymqU
📱 https://t.co/9kF5H9BBYO pic.twitter.com/kWG1g3ZfQn

— Kensington Palace (@KensingtonRoyal) May 19, 2018
The Music
Finally, who can forget the music during this wedding? I don't think we'll ever get over the hair-standing performances of soprano, Elin Manahan Thomas, The Choristers, and The Kingdom Choir.
The Bride moves in procession through the Nave where she is joined by The Prince of Wales #RoyalWedding pic.twitter.com/d9HrWsMjRt

— Kensington Palace (@KensingtonRoyal) May 19, 2018