Lots of our brides and grooms have shared with us the pain of ploughing through the 200-page list of Civil Celebrants online when trying to find someone to officiate at their wedding ceremony. Some ended up picking the ones they found on the first page of their Google search, while others opted for those who can do it at the lowest fee, or just picked whoever was officiating at the last wedding they attended. They are all pretty much the same anyway, aren't they? Maybe not.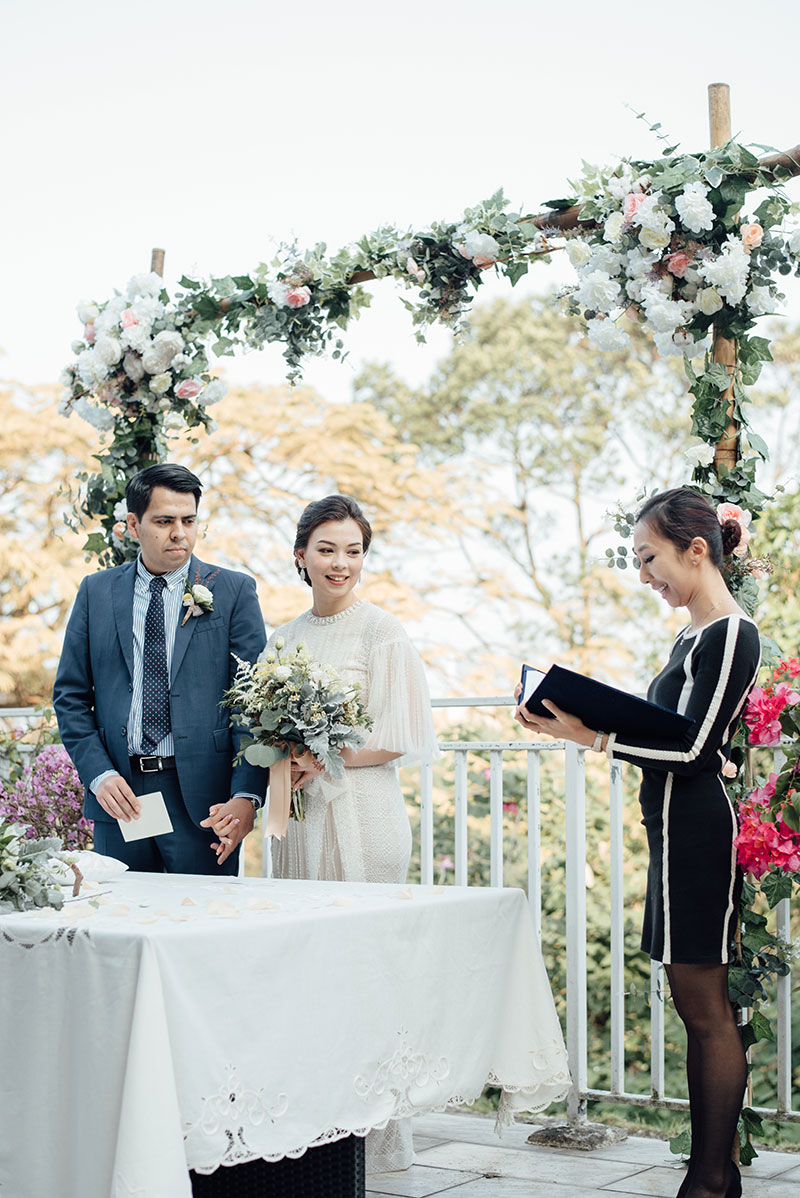 [Photo: Lauhaus.co]
As a Civil Celebrant, Amy specializes in creating and conducting bilingual and bespoke marriage ceremonies which incorporates the couple's unique story and donates part of her proceeds to a charity chosen by them. Read on to find out more about her services.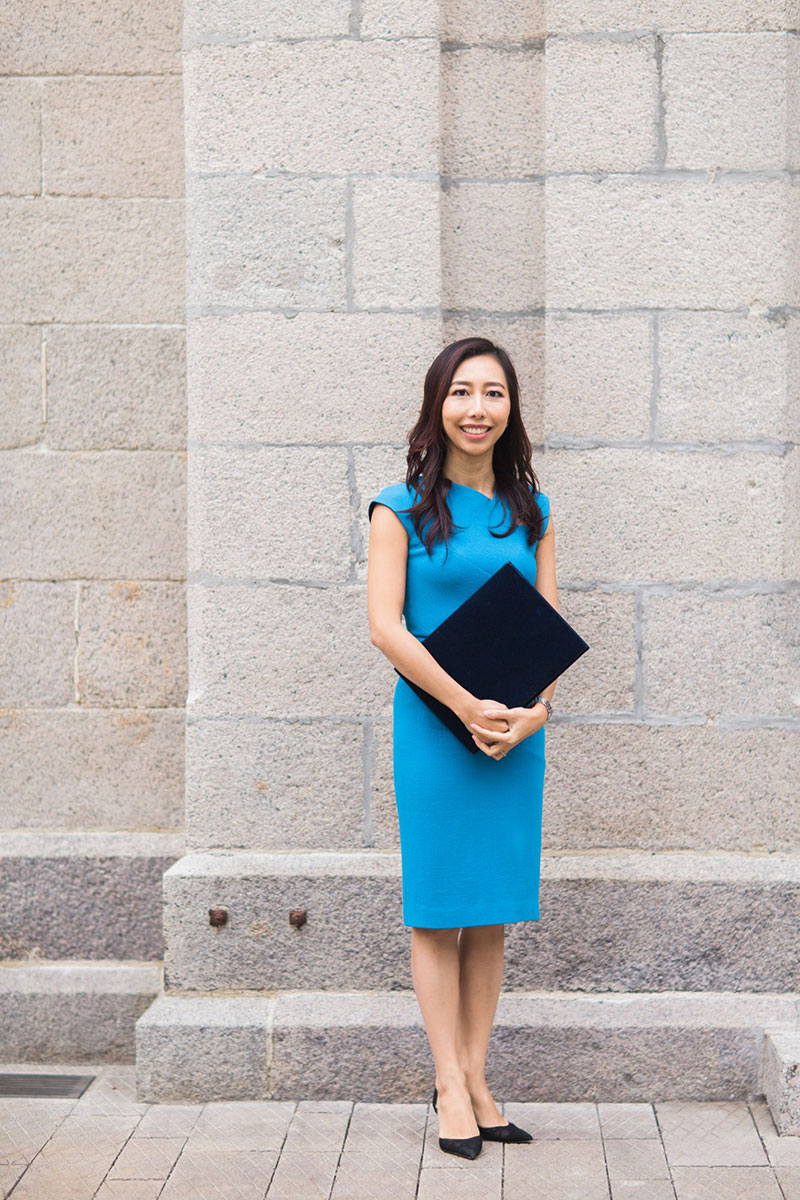 Q:You are qualified to practice law in Hong Kong and New York and have been a corporate lawyer for most of your career – could you share with us why you decided to become a Civil Celebrant as well?
A: Sure. I actually started doing it for friends and relatives and found that I really enjoyed being part of the most joyful day of a couple's life, and doing my part to take some stress off them. Couples and guests encouraged me to extend my services to a wider audience –they said there is a real demand for celebrants who can fluently conduct a ceremony in English, Mandarin, and Cantonese and will gladly spend the time and effort to steer away from cookie-cutter ceremonies (and not costing an arm and a leg)! So in addition to the referrals I get via word of mouth, I decided to create a website (www.hkmarriagecelebrant.com) to share what I can offer.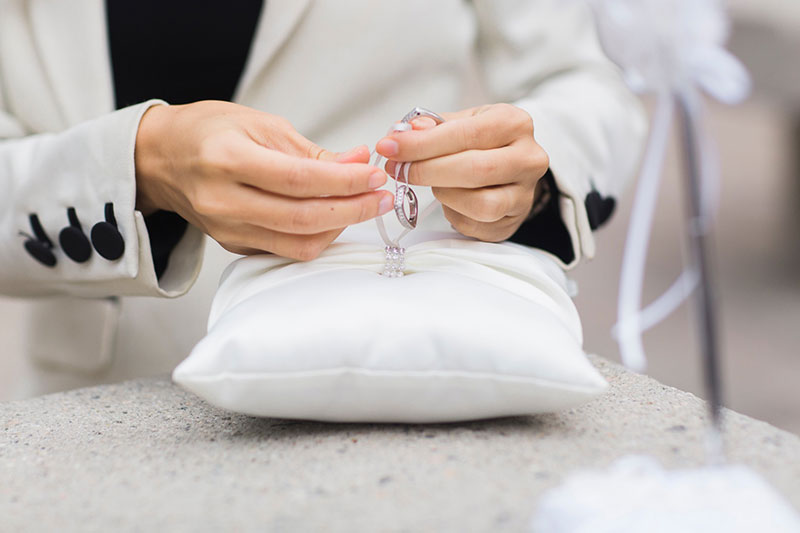 Q: How would you differentiate yourself from other celebrants on the market?
Clients have kindly shared with me that it is a combination of my international background, my strengths in multiple languages, my friendly and flexible approach, and my offer to donate to charity that attracted them to engage me.
Having lived in New York, London, Barcelona, Beijing, Shanghai, and my hometown Hong Kong, I can naturally relate to different cultures and easily build rapport with both expat and local couples. They also appreciate my passion in personalizing the ceremony, clarifying every step, and making sure things go smoothly.
The fact that I donate a percentage of my fee in the name of the couple to a charity chosen by them is always something they find both innovative and meaningful, and I love being able to extend their happiness to those in need. Donations have been made to a variety of organizations, including Medicins Sans Frontieres and the Hong Kong Dolphin Conservation Society. For those who do not have a preference, I have recommended Charitable Choice through which they can support a multitude of meaningful causes through one single donation.
I feel humbled when they say I am like a breath of fresh air and their testimonials made me believe that I do have something special to offer.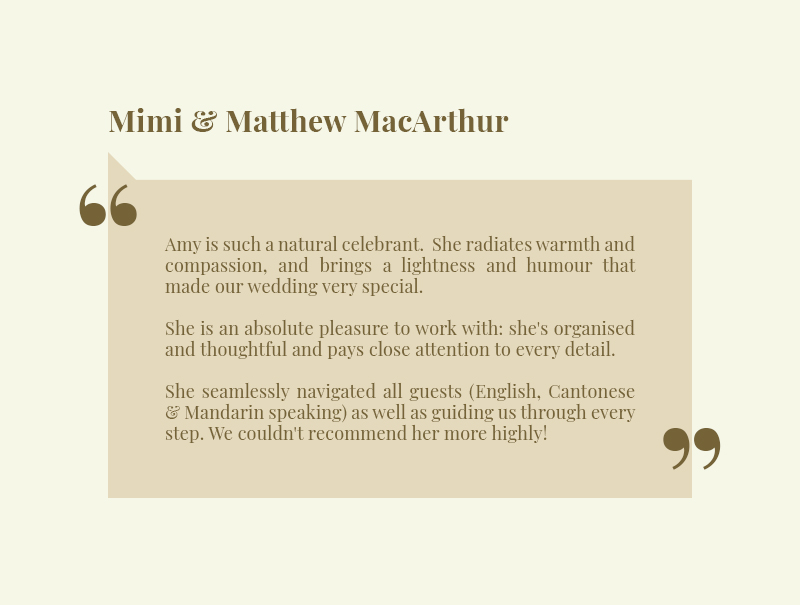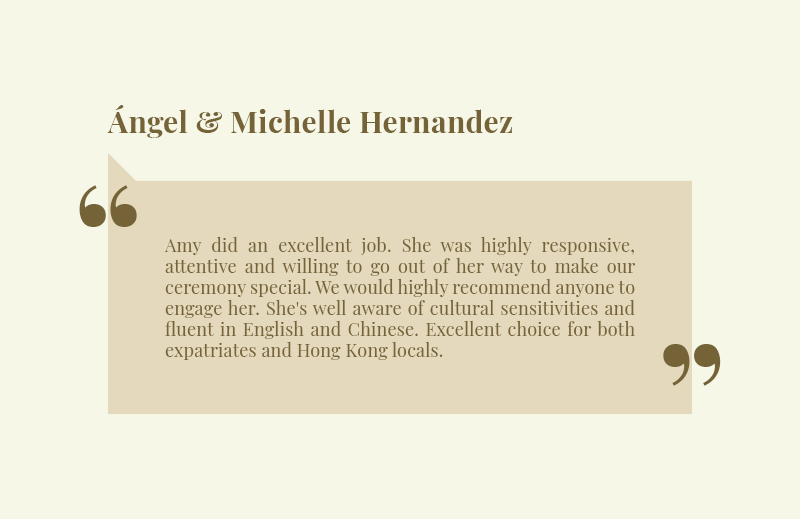 Q: What are your top tips for wedding couples in creating a personalized ceremony?
I always ask them to share their story with me and I try to understand their style and what is important to them. Whether it is a ceremony with 15 or 500 people, there is a way to make it special for the couple as well as the guests. For example, I have separately asked a bride and a groom to share with me what they love most and least about each other, and why they decide to be together regardless. We then incorporated it into my speech and their vows–the couple loved it and the guests were pleasantly surprised.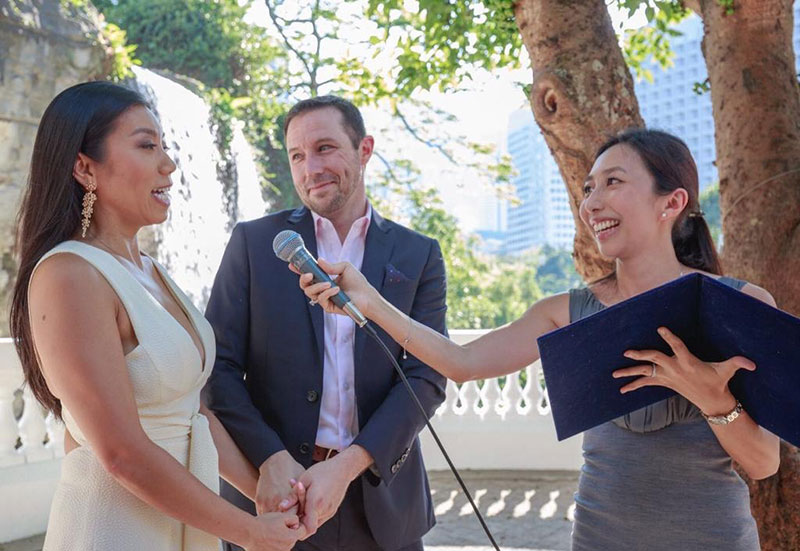 [Photo: Berton Chang Photo]
I also provide couples with samples of readings and poems based on their style and work with them to add a personal touch to their readings. Most couples tend to prefer more modern ones which depict not just the wonders of marriage but also its challenges–the key is to pick something that truly reflects them.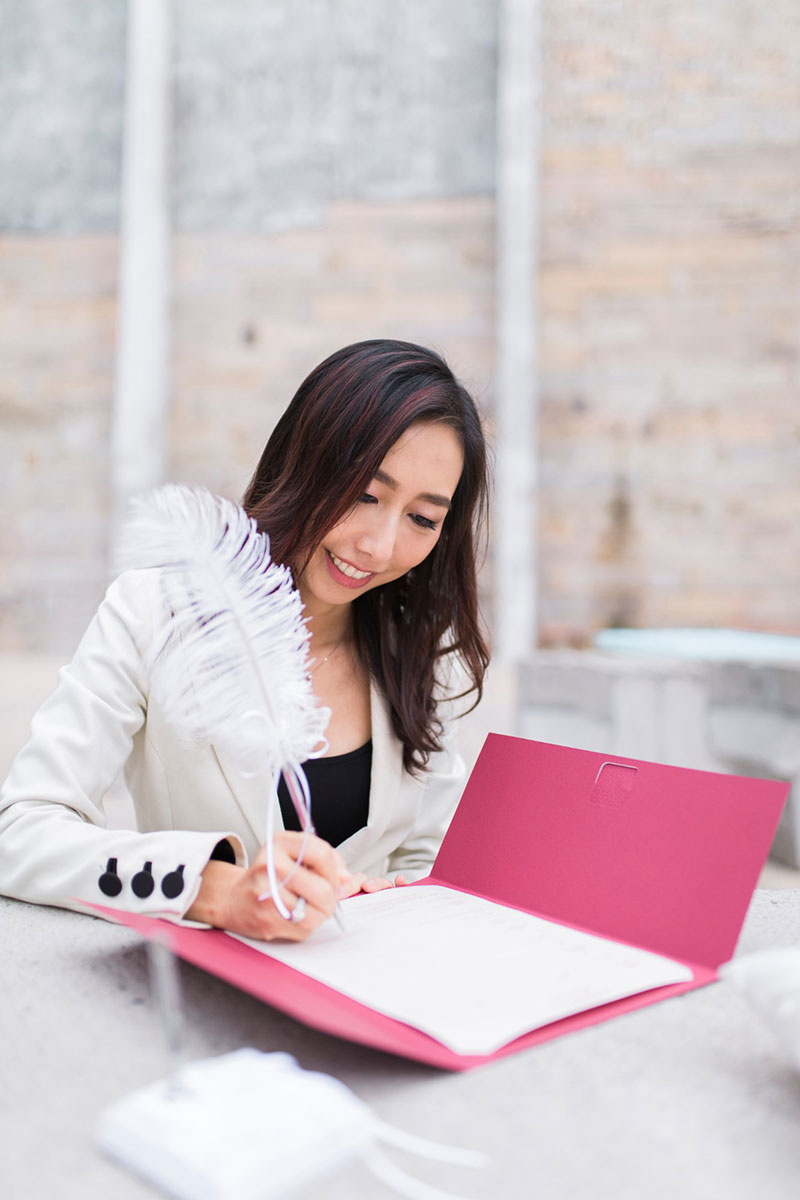 Last but not least, I recommend couples to find a way to involve their loved ones, e.g., for the 5 minutes or so when we have to sign the marriage certificate at the end of the ceremony, we have had a family member play a musical instrument live at one wedding, and a close friend (who happened to be a professional singer) singing live at another wedding. The guests thoroughly enjoyed the entertainment while I was guiding the couple and the witnesses through the signing process–a truly lovely way to wrap up the ceremony!
Valentine's Giveaway Alert!
Amy is offering a civil celebrant services package to one lucky couple–to be redeemed on or before 31 March 2020. Terms and conditions apply. Please check out her Instagram account (@hkmarriagecelebrant) to find out more!