One of the most important elements in a Chinese wedding ceremony is the bride's traditional two-piece wedding dress called the Qun Gua (裙褂), which literally means "long skirt and top coat." A tradition that originated from Guangdong province, the Qun Gua or Gua for short is the most expensive gift from the bride's family–usually a family heirloom passed down from generation to generation. It symbolizes an abundance of children and is telling of the family's wealth and reputation, so wearing a fine Gua on your wedding day is very important!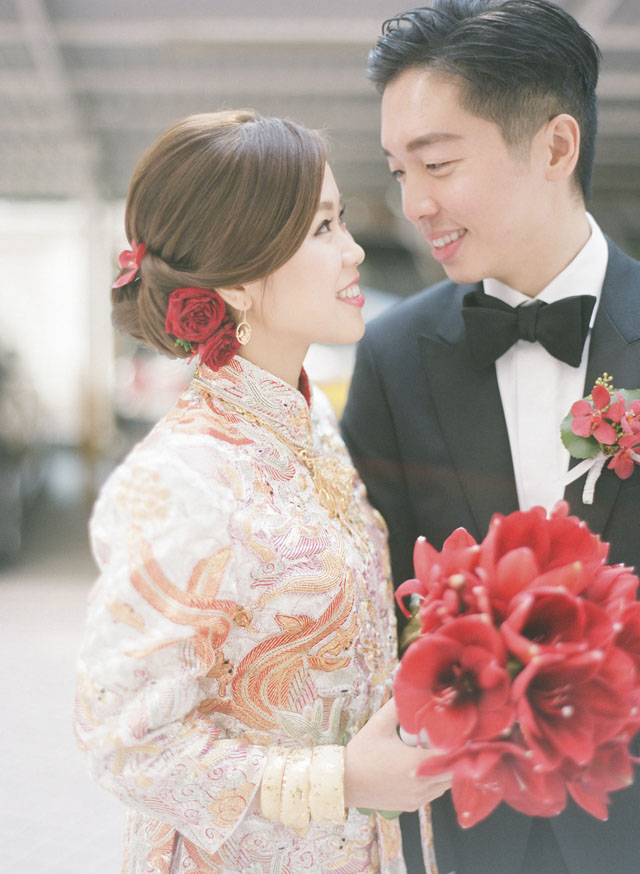 [Full feature: Endearing Romance / Photos: Jada Poon Photography]
The original Gua was made up of a black jacket and a red dress. The full red Gua only appeared in the 1960s, but since then the black and red became the style for mothers. A Gua normally takes a master tailor and embroiderer 3-8 months to finish. They usually come in red fabric embellished with gold and silver embroidery. The denser the embroidery, the more expensive the Gua becomes. With barely any trace of red, the most expensive Guas can take up to a year to make and would cost the family a small fortune.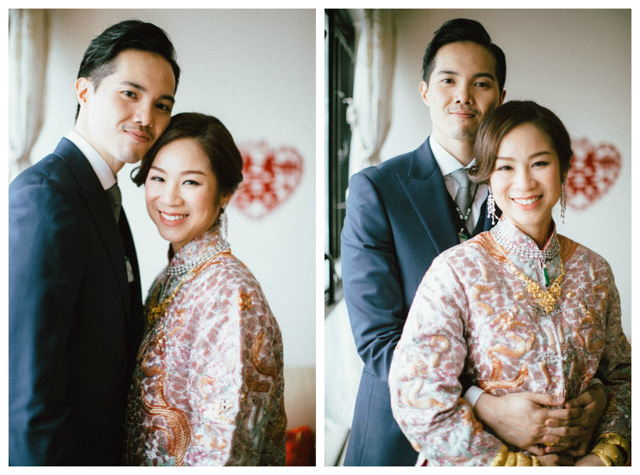 [Full feature: Peach Perfection / Photos: Mary Ann Art & Photography]
Guas are always tailored to a loose fit because this represents bountiful years of marriage ahead where the bride would be expected to put on more weight each year. If you look at the designs closely, you will also notice a variety of symbols that are incorporated into the Gua. Each of these elements represent different auspicious things. Some of the more popular ones are as follows:
Dragon and Phoenix: represents a happy and successful marriage, with the dragon (male) symbolizing auspicious power complemented by the phoenix (female) symbolizing prosperity and happiness
Pomegranate: symbolizes fertility as the fruit is full of seeds
Peony or Lotus Flower: symbols of spring and summer, represents beauty, prosperity, and fertility
Other animals (Bats, Gold Fish, Butterflies, or Birds): represents a good pairing, wealth, and luck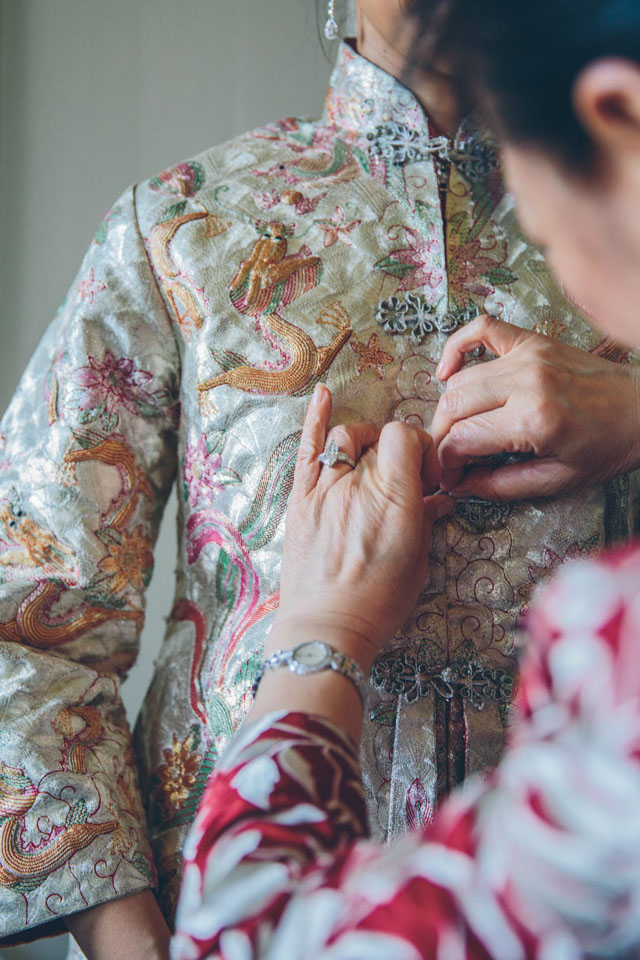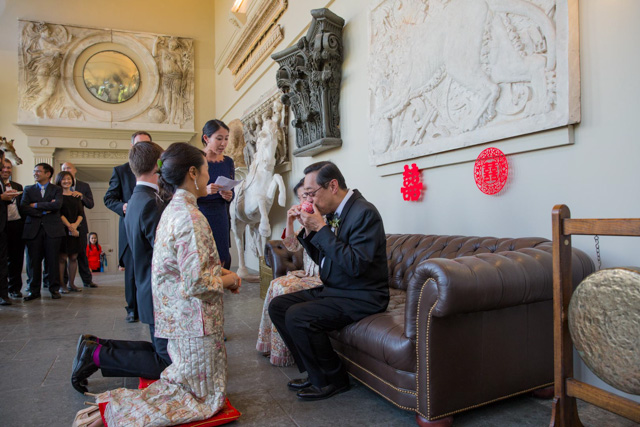 [Full feature: Whimsical Aynhoe Park Wedding / Photos: Shanna Jones]
[Full feature: A Splendid Match / Photo: Patrick Photography]
But not all brides choose to wear a Gua for their big day. Those that come from families that are not very traditional sometimes opt for these alternatives:
1. Traditional Kei Po (旗袍) or Qi Pao in Mandarin
This body-hugging one-piece Chinese dress was made popular in the 1920s by Shanghainese socialites. It has also become widely known as Cheong Sam (長衫), although technically the term Cheong Sam could refer to an outfit for either male or female.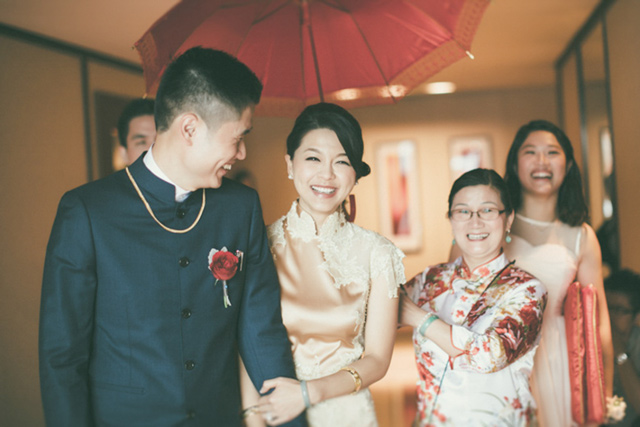 [Full feature: Classic Love Story / Photos: Martin Aesthetics]
2. Modern Kei Po
Sometimes the traditional cut of the Kei Po is difficult to wear, so some brides do a modern spin on it, so they can go with a silhouette that is more flattering for their body shape. From daring cuts to 3D embellishments, the options are endless.
[Full feature: Vibrant Forevers / Photos: Brian Jala]
3. Western Style Kei Po
Instead of changing the silhouette of the Kei Po, some brides choose to use Western fabric to change up the look. The most common fabric of choice of late is most definitely red lace.
[Full feature: Lovely Tuscan Engagement / Photo: Facibeni Fotografia]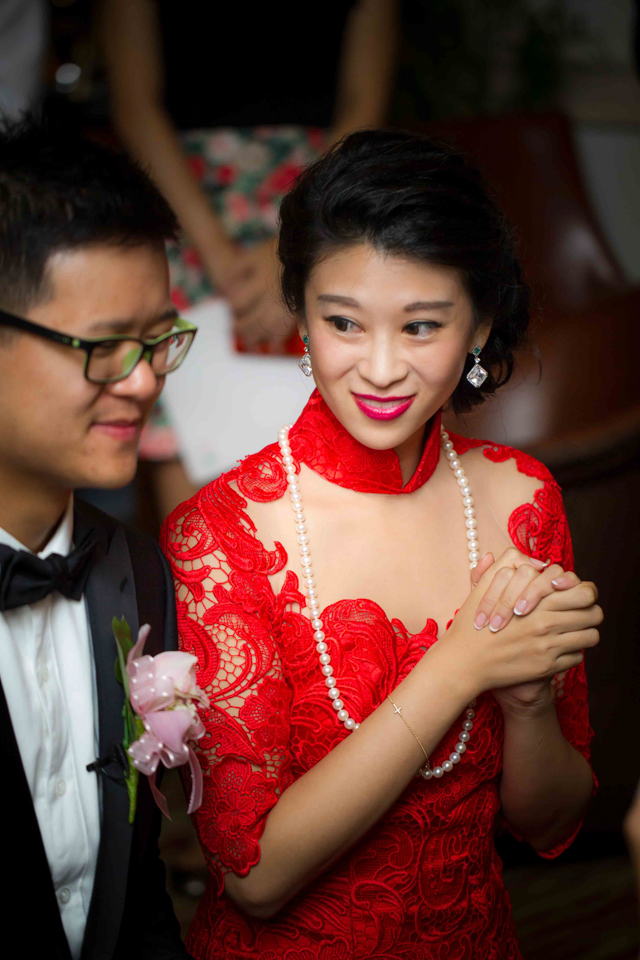 [Full feature: Regal Elegance / Photo: Edmon Leong]
4. Any Red Dress
For brides that are not bound by tradition, the practical choice is just to go with a red dress that they can wear again in the future.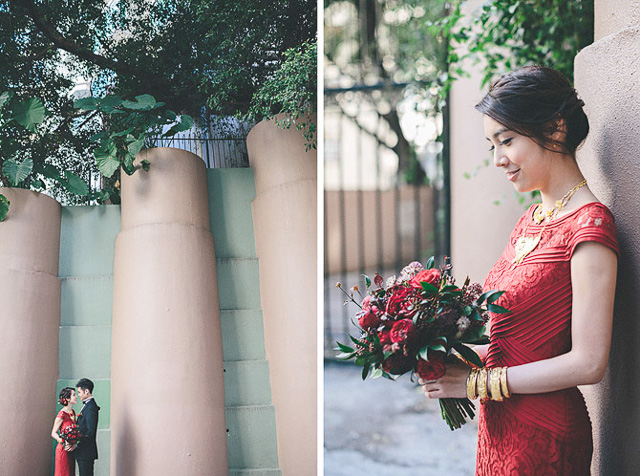 [Full feature: Elegant Ever After / Photos: History Studio]
[Full feature: Jungle Serenade / Photo: Jonas Peterson]
And that's it! I hope you found this post helpful and informative. Until our next instalment for our Chinese Wedding Traditions series!
Source: doublekwedding, Elle, epochtimes and baidu