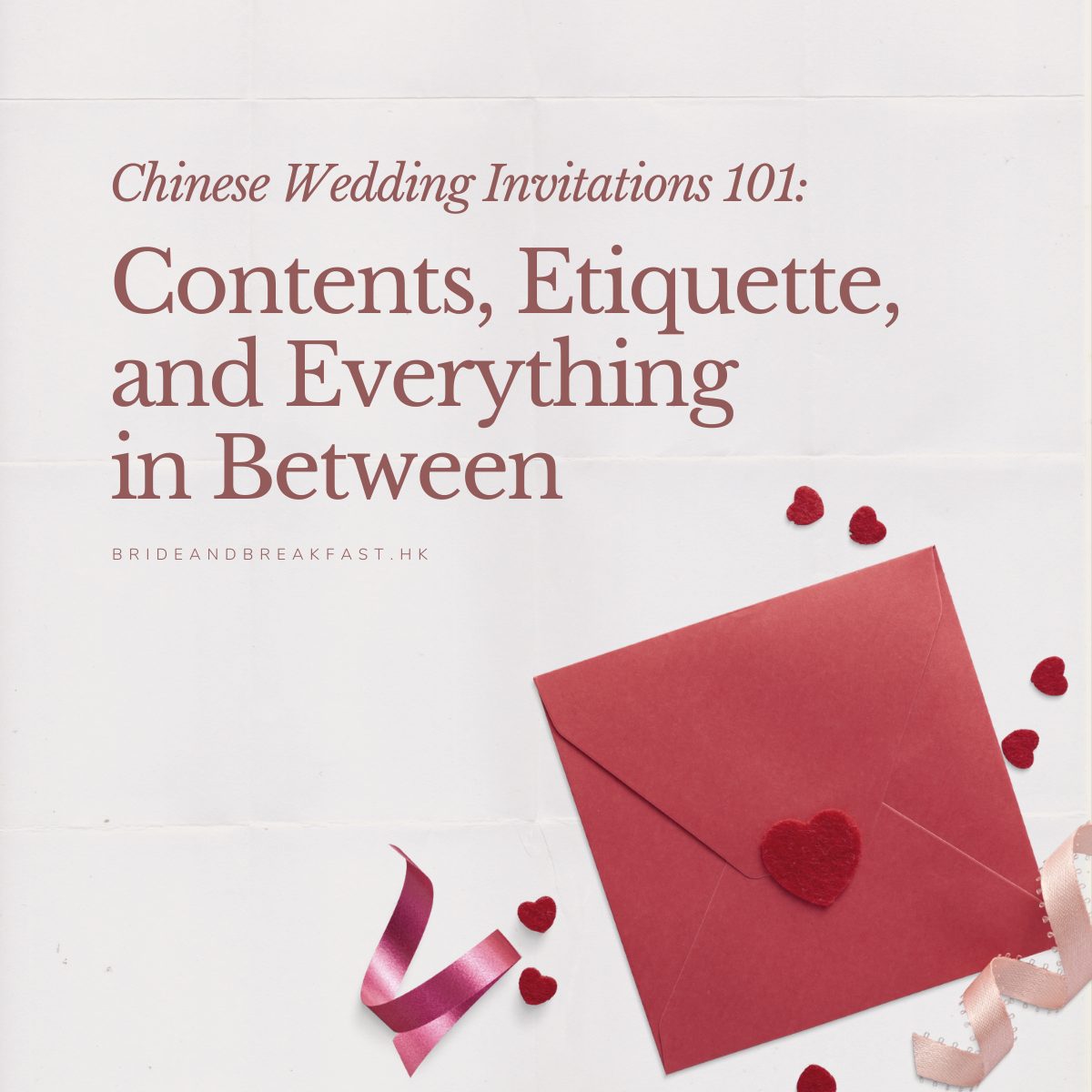 We wish we could say that sending out invitations was as easy as one, two, three. But the truth is, there are a lot of details that couples need to be aware of. Remember, invitations give guests the first preview of your wedding, so you want to make sure you make a good impression and you want to do it the proper way. Here's a helpful guide you can use to ensure that your formal Chinese invitations make it to the right people, in the right way, and at the right time. Read along now!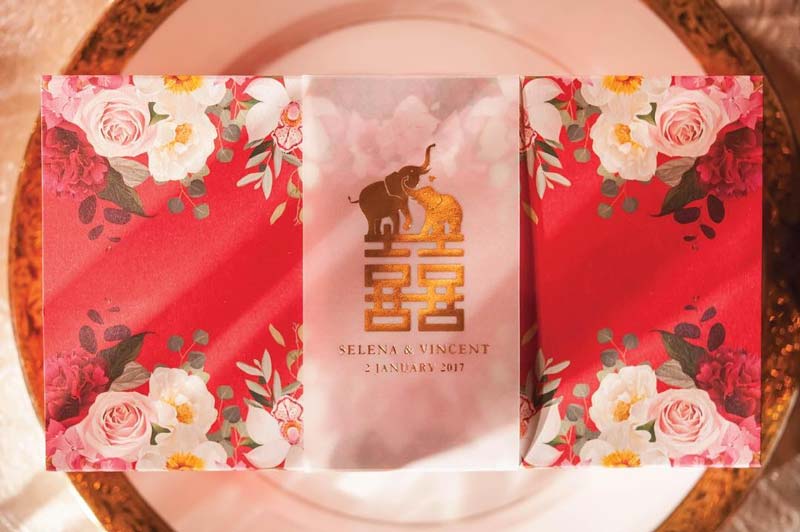 [Stationery: The Treo Design]
(1) What are the contents of a formal Chinese invitation card?
Formal Invitation Card: This contains the formal text and all the details of the wedding.

Gregorian calendar dates
Chinese calendar dates
Order of birth of the bride and groom
Names of the bride and groom
Names of the parents
Ceremony venue
Dinner venue
Time of cocktail reception
Time of dinner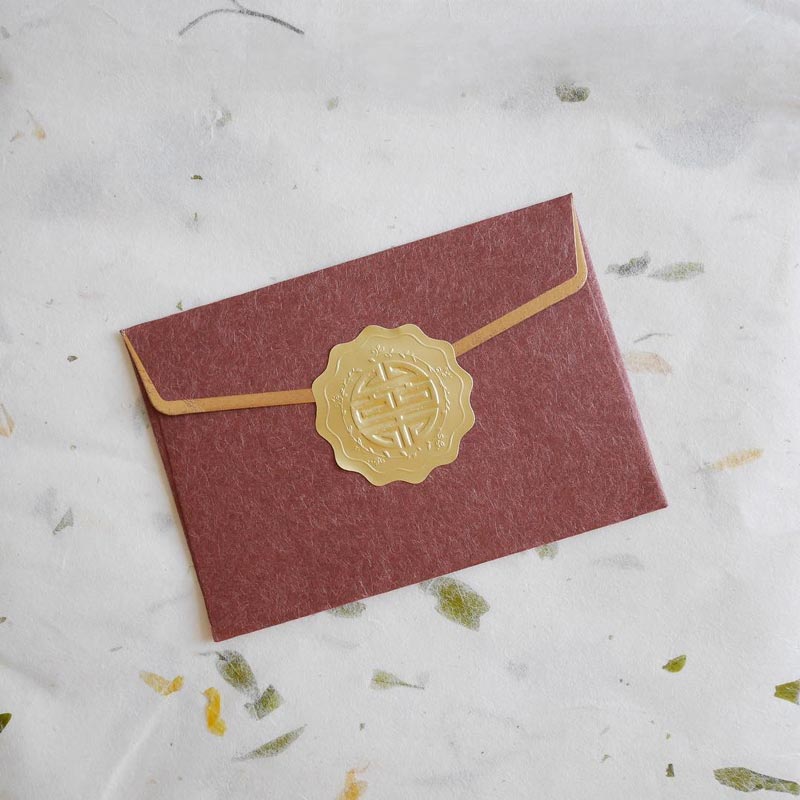 [Stationery: atelier saturday]
Bride's Cake Card: The bride's cake card is one of the Hui Li presented by the groom during the Chinese Betrothal Ceremony. It's customary for the bride to distribute this to her relatives to when announcing her engagement. For the groom's family, this is not required.
Red Lai See with HK$ 20: Since guests will give couples monetary gifts in lai see packs after the wedding, couples, out of courtesy, include a little 'thank you' lai see in invitation with HK$20.
Other Important Details: Don't forget to include a map and the dress code details.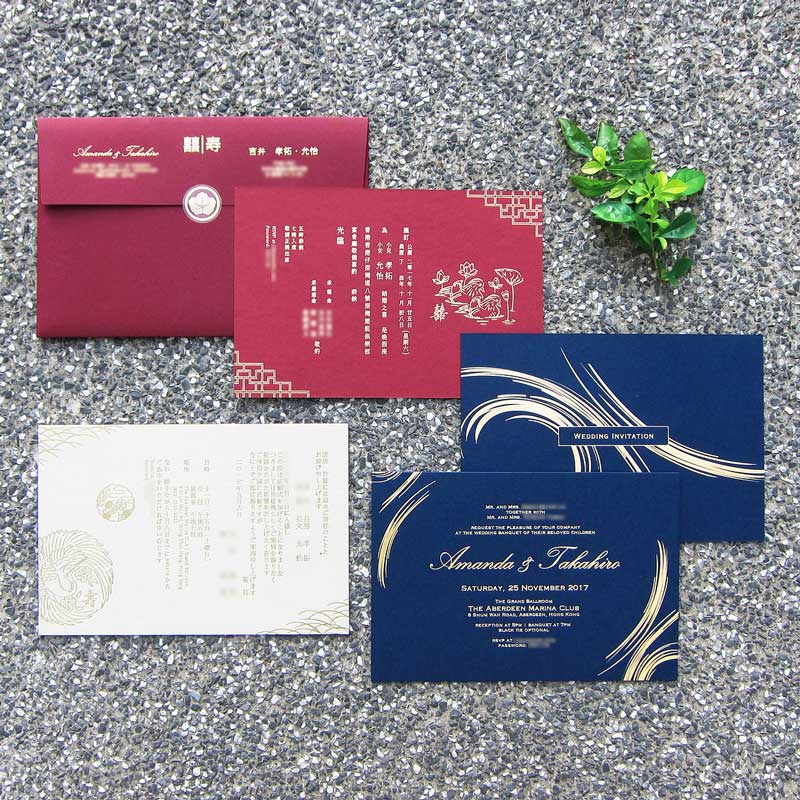 [Stationery: BW Cards]
(2) What if I plan to have mix of English-speaking and Chinese-speaking guests?
You can opt for a bilingual invitation. If you're planning to have a bilingual wedding invitation, here's what you need to remember.
Decide on what information you will include in English and Chinese.
If your guests are mostly English-speaking, you can keep the details in English and just include your formal Chinese names in the opening text.
Address the invitations correctly, using either the formal Chinese name or English name.
Another option is to have separate inserts that you can interchange depending on the language spoken by your guest. Or, you have have two separate invitations, one in formal Chinese, and the other, in English.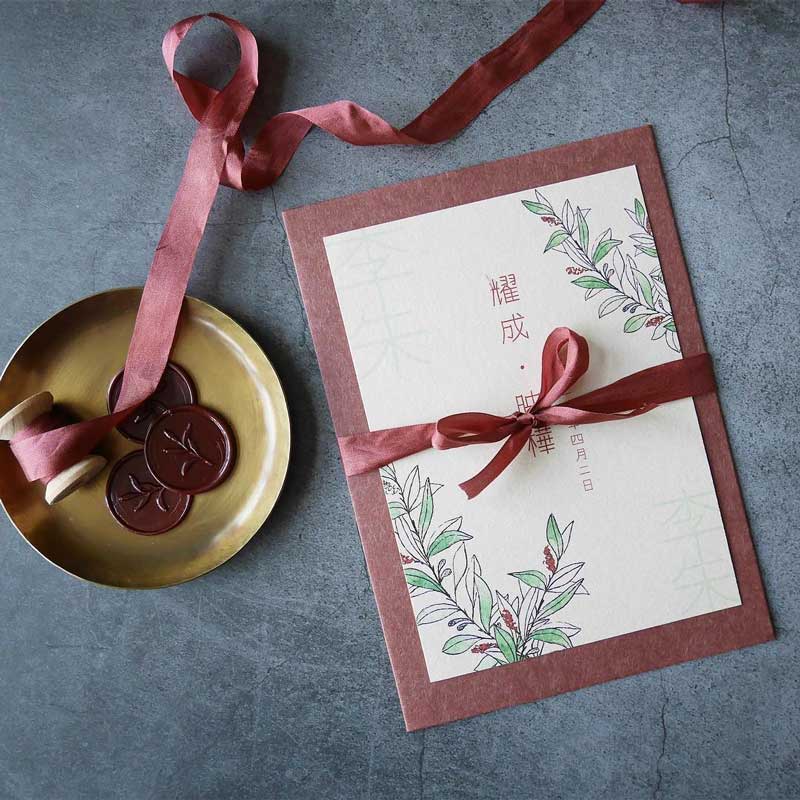 [Stationery: atelier saturday]
(3) How must do I address the invitations?
There are strict rules on how to properly address formal Chinese invitations–from the name titles of the invitees, to from whom the invitation must come from. Take note of these details so you know how exactly you should address your Chinese wedding invitations.
Formal Chinese invitations require the proper Chinese family titles of your relatives. Be aware of the formal title.
Only the formal Chinese guest name should be written on the invitation. Nothing else.
Family friends and relatives should be invited by the groom's or bride's parents.

grandparents and siblings
parents and siblings
siblings
married sisters and their husbands
son-in-law's parents
daughter-in-law's parents
cousins

Friends are invited by the couple.
Indicate if you're inviting the the guest's spouse 夫婦 or whole family 伉儷.
If you will also have English invitations, you can use the formal titles Mr., Mrs., and Ms., followed by the guest's complete name.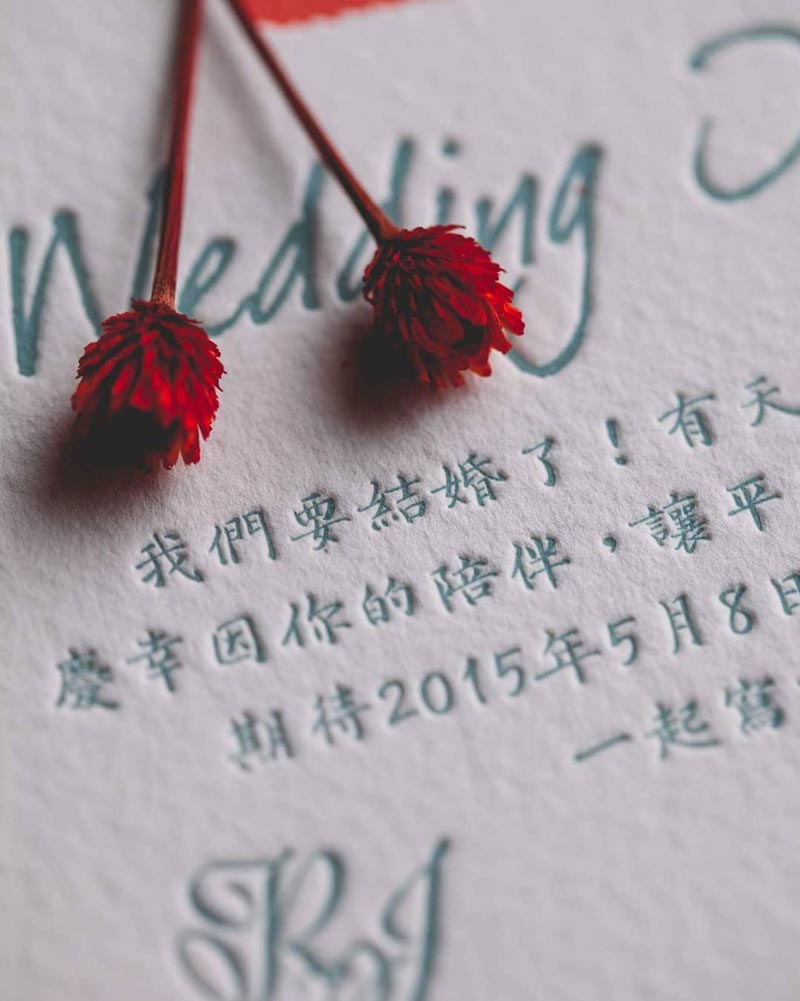 [Stationery: 紙品的美好]
(4) How do I send the invitations?
Personally handing over invitations to elders and family members is greatly appreciated. To make it easier, you can hand over your invitations during a family gathering. Other guests' invitations may be sent through mail since it will be quite a feat to try to meet everyone.
(5) When should the invitations be sent?
When making your wedding planning timeline, make sure to include the important milestones for your wedding invitations. Timing is key for both, you and your guests. The formal Chinese invitations should be sent as early as 3 months before the wedding day, or right after the Chinese Betrothal Ceremony, where the groom makes his formal proposal and the bride's family accepts his offer. The reason for sending invitations early is for guests to have ample time to make preparations and transportation arrangements, especially if the wedding will be held overseas.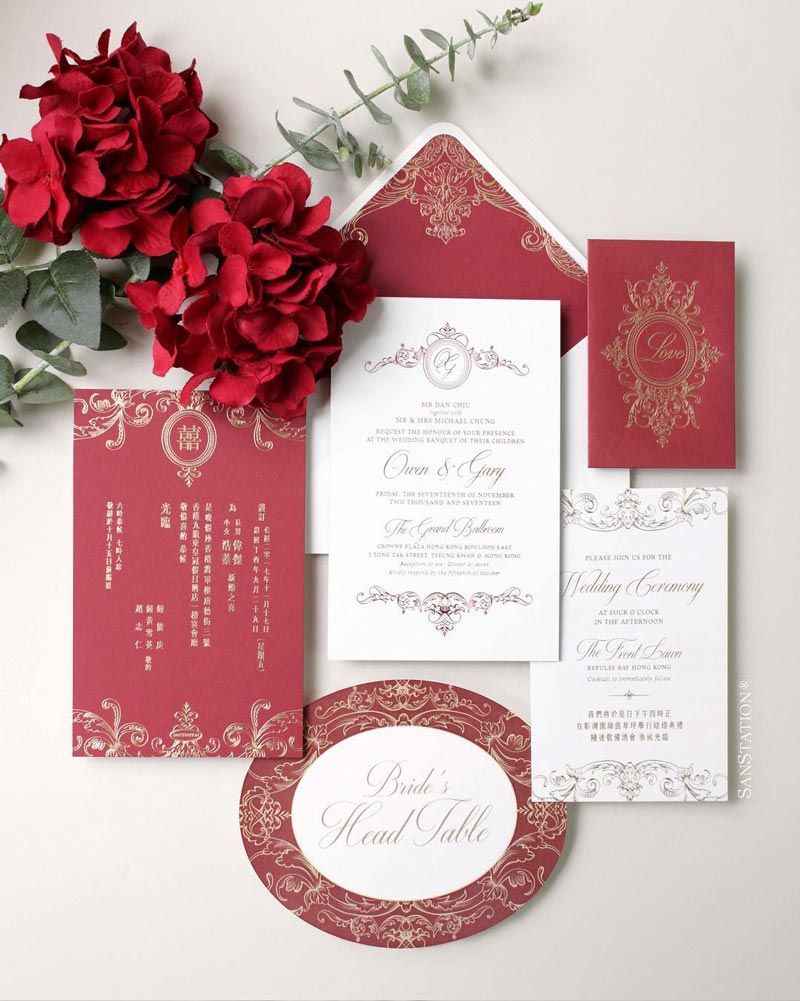 [Stationery: Sanstation]
(6) What if I have more than one wedding banquet?
In this case, you can have a separate invitation for your other banquet, or an additional insert that you can include in the envelope or interchange the other contents with if a guest is only invited to one banquet.