How you will look on the most special day of your life is one of the top priorities for all brides-to-be. So when it comes to makeup, a popular question among brides is whether to go for airbrush or traditional makeup. What's the difference? Which one will best suit your needs? Today, we hope to help you figure out which one is for you. We've listed out the difference between and some pros and cons to consider. Read on to find out what kind of wedding day makeup you should go for.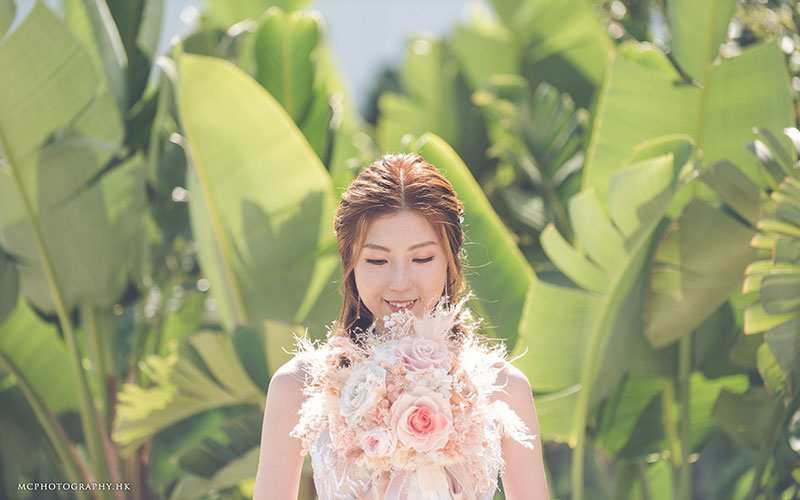 [From: This Couple Planned A Simple Outdoor Ceremony in a Month / Photo: MC Photography]
What is airbrush makeup and what is traditional makeup and how do they differ?
Airbrush makeup refers to makeup that is applied with a special air compression machine. This machine sprays on a very fine layer of foundation onto the skin. This machine requires silicone-based on water-based foundations with formulas specifically made to work withe the air compressor–in other words, you can't just use any kind of foundation with the air compressor. Because of the machine, airbrush makeup results in a very light and flawless finish.
Traditional makeup refers to makeup–either in liquid, cream, or powder form–that is applied using different kinds of makeup tools. These tools include all kinds of brushes and sponges. Makeup artists have a wide variety of foundation products to use for traditional makeup for all kinds of skin types, making traditional makeup a very versatile option.
Let's move on to the pros and cons of each.
[From: A Classic All-White Wedding in Bali Overlooking the Sea / Photo: Imaj Gallery]
Airbrush Makeup
PROS
Airbrush makeup leaves your skin looking extra flawless. Because the foundation is applied using the air compressor, it falls on the skin evenly. It looks and feels light with a very light and flawless finish.
Airbrush makeup is buildable. If more coverage is needed, airbrush makeup is also buildable with the same flawless finish. It can still look effortless and natural as more layers are added on to it.
Airbrush makeup is breathable. As mentioned, airbrush makeup is light. So if you're the type of person who doesn't like heavy makeup, this is perfect for you.
Airbrush makeup lasts long. Because airbrush makeup is made with silicone, it's more water resistant is really a good long-wear solution that is perfect for your wedding day. It can withstand all the tears and kisses. However, you must also note that your skin type also affects the longevity of makeup, including airbrush makeup.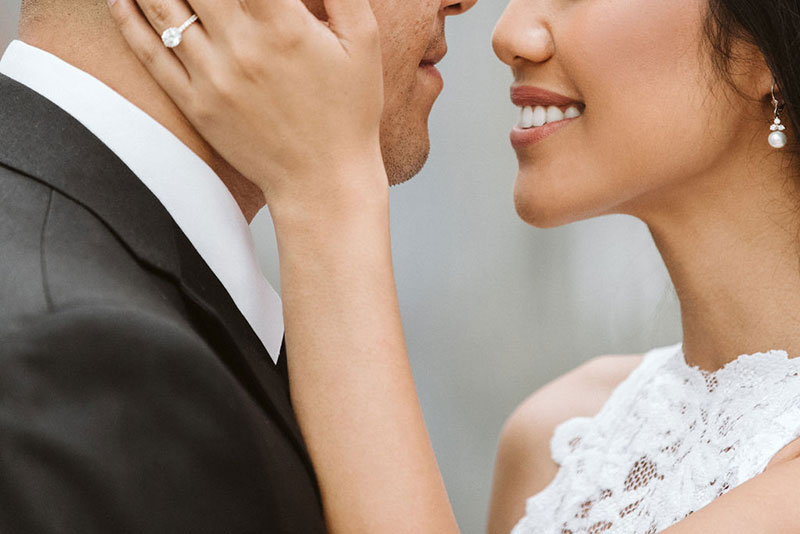 [From: A Modern Black, White, and Gold Themed Wedding in Phuket / Photo: Danae Herrmann]
CONS
It does not cover imperfections as well as traditional makeup. Since airbrush makeup is light and very fine, it's less effective in covering up troubled skin. You may consult with your makeup artist first so she can see if your skin is suitable for airbrush makeup.
Airbrush makeup tends to look flaky on dry skin. Airbrush makeup looks extremely good on well-hydrated skin. But if you have dry skin, airbrush makeup might just make your dryness even more noticeable. So just as we mentioned, it's best to have an initial consultation with your makeup artist.
Airbrush makeup can be hard to blend. In case you do end up with smears and uneven discoloration, it's harder to fill these in with airbrush makeup. Seamless blending is harder to achieve with airbrush makeup because of the way it is applied, with the air compressor.
Airbrush makeup has less variety. Because you can't just use any foundation with the air compressor, airbrush makeup leaves you with less color options for the foundation base. Many makeup artists mix and match tones to get the right color for clients but without the blending ability for airbrush makeup and the color variety, it might be difficult to come up with the exact match. There are also so many types of foundation–with formulas for every kind of skin type–but you will need to stick to those specifically made for the air compressor.
Lastly airbrush makeup is more costly. Airbrush makeup is more expensive than traditional makeup. You'll need to have a bigger budget if you want this for your wedding.
Traditional Makeup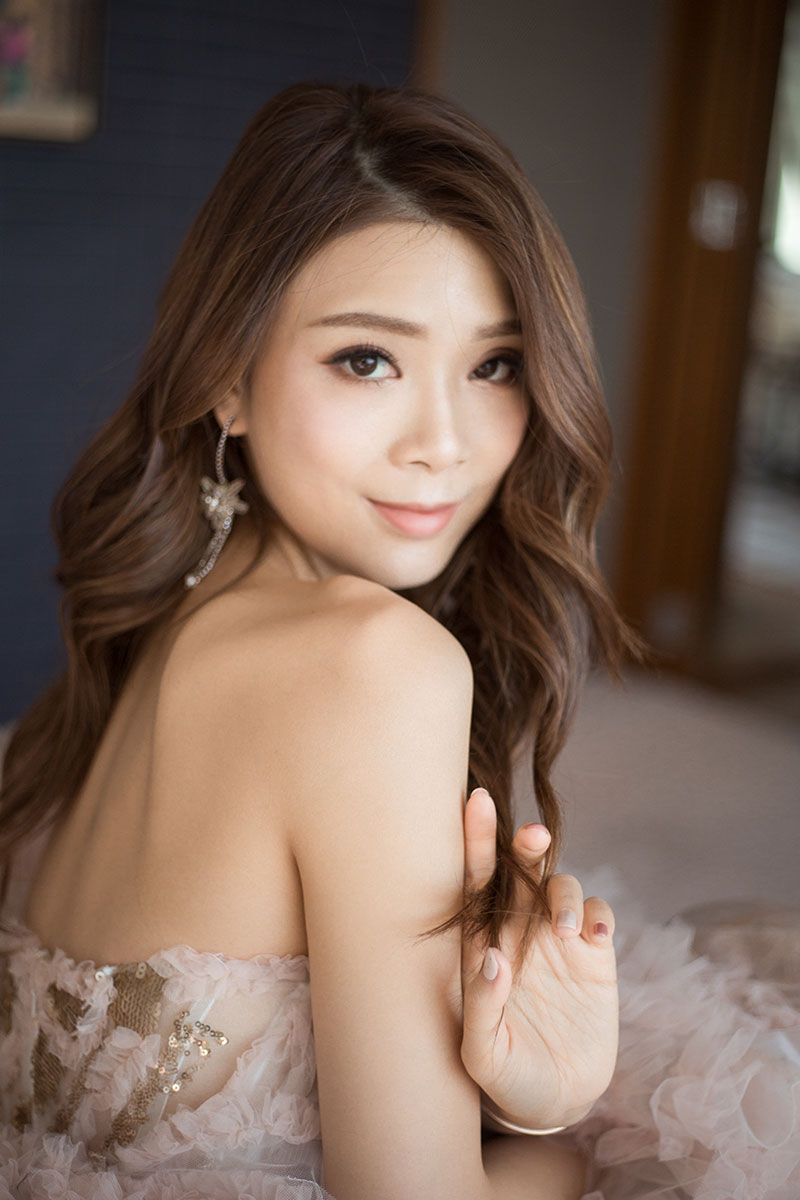 [From: A Romantic Pre-wedding Indoor Portrait Session at Rosewood Hong Kong / Photo: Hilary Chan]
PROS
Traditional makeup is buildable is and blendable. Because of the consistency and way it's applied, traditional makeup is more buildable. It's also more blendable. Hence, traditional makeup will give you more coverage and is easier to work with if you want to cover imperfections.
Traditional makeup comes in a variety of formulations. Traditional makeup is very, very versatile. There are a myriad of kinds that will suit all all skin types and skin colors. It's easier to match your skin color using traditional makeup. You can also find specific formulations of skin types-oily, dry, combination, etc.
Traditional makeup is more affordable. If you're working with a very tight wedding budget, traditional makeup is easier on the pocket. You can still get your desirable wedding look for less with traditional makeup.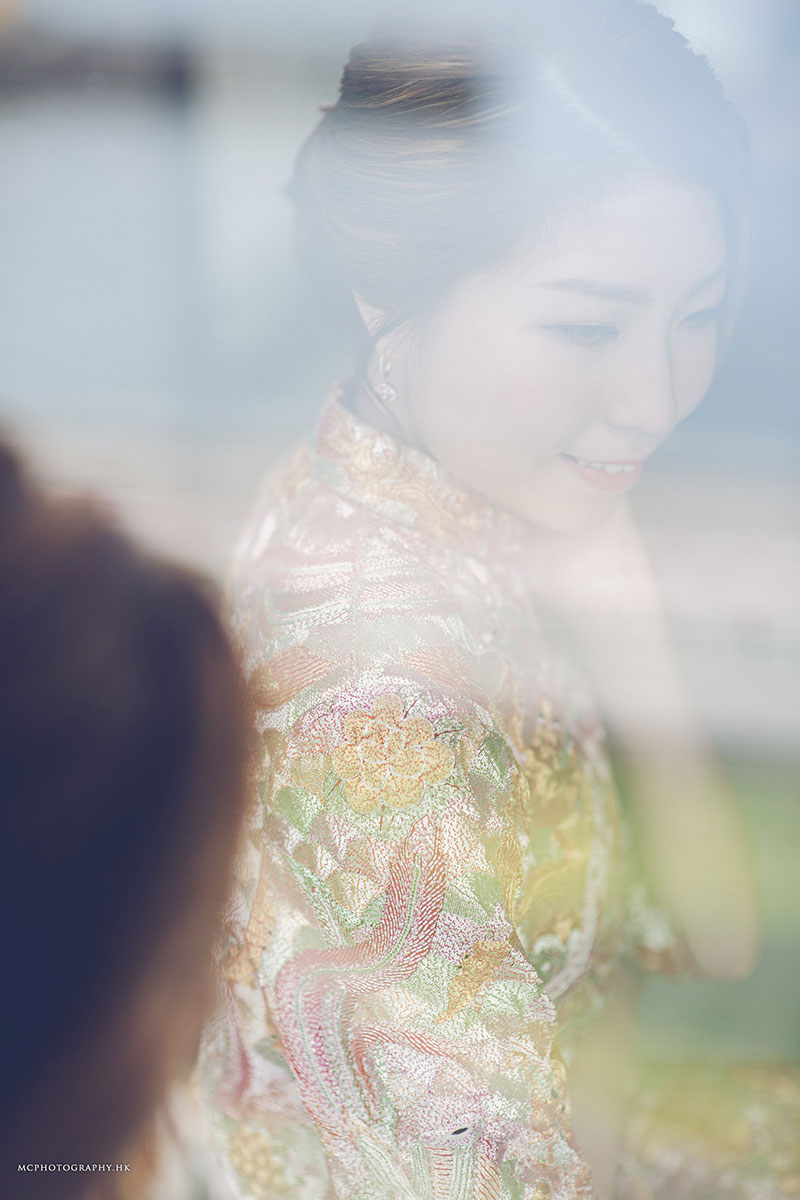 [From: This Couple Planned A Simple Outdoor Ceremony in a Month / Photo: MC Photography]
CONS
Traditional makeup can feel heavy. In contrast to airbrush makeup, traditional makeup can feel heavy and thick, especially if you build up for more coverage. It's not as breathable or flawless looking either.
Traditional makeup is more time consuming to apply. Makeup artists require more time to apply traditional makeup because of the need to match, blend, and ensure an even finish. If you're going for traditional makeup, make sure you allot enough time for your makeup artist.
The longevity of traditional makeup depends on the preparation. For traditional makeup to last, your skin must be properly prepped, else it will not hold. Unlike airbrush makeup–which is known to last long–the longevity of traditional makeup depends highly on the preparation beforehand. And as we mentioned, the kind of skin you have also affects how long your makeup will last, for traditional and airbrush makeup, alike.
Now that you know the pros and cons of both, airbrush and traditional makeup, which one do you think is for you? Don't forget to sit down with your makeup artist for more information and insight on the best wedding day makeup for you. We can't wait to see how stunning you are then!