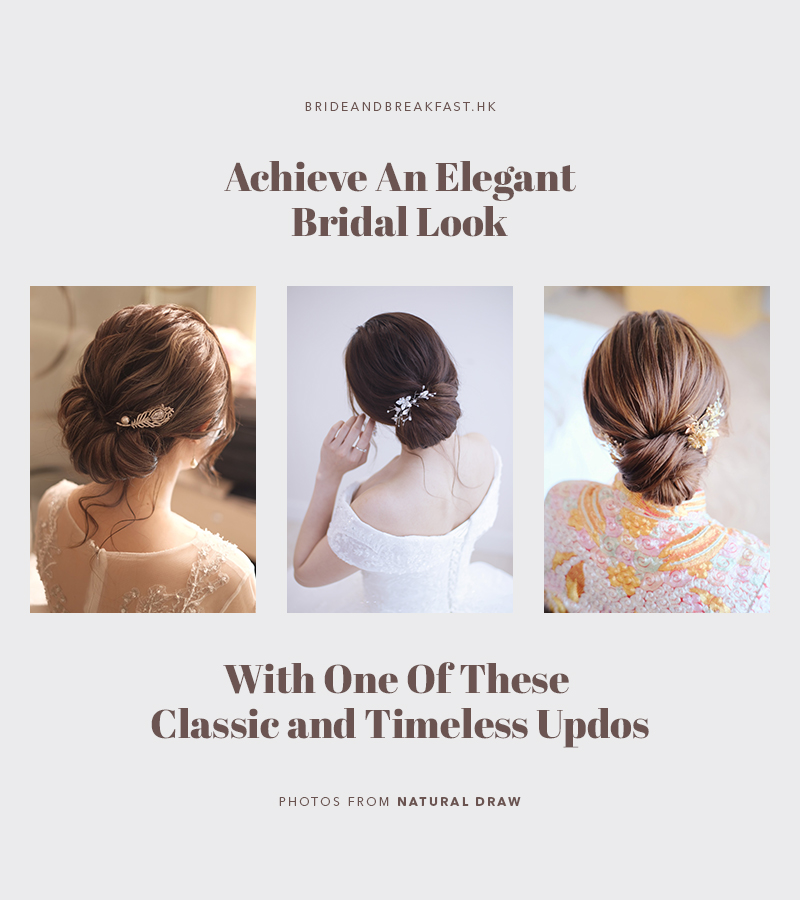 You can't deny that an updo will always look elegant. So why not consider this for your wedding day? You won't need to worry about feeling restricted with an updo either because there are so many ways you can spice it up and still achieve that classic look. Today, we've rounded up some gorgeous updos to take inspiration from! Whether it be for your pre-wedding look in a gua, for your wedding gown, or for your reception dress, any one of these will deliver that timeless look you know you want!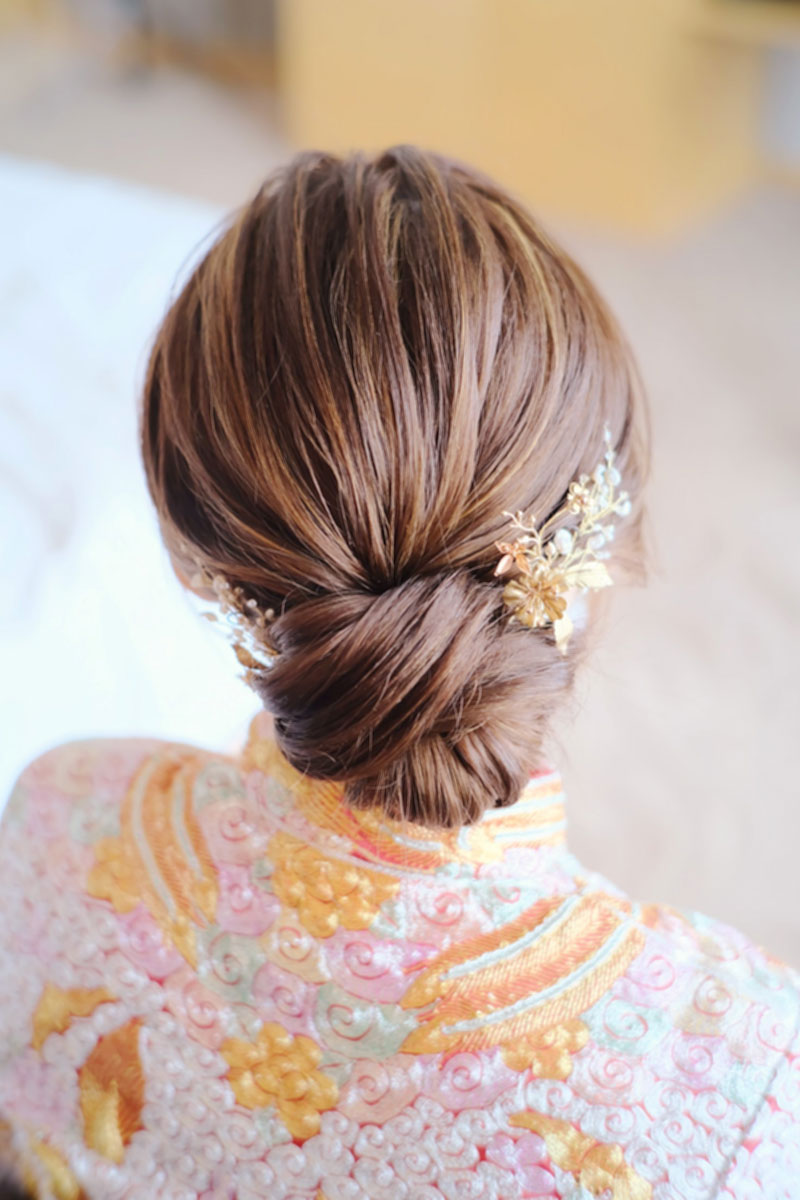 A clean knot bun will be just as appealing for a traditional Chinese tea ceremony or a wedding gown look. Just add a delicate veil and you're ready to walk down the aisle. Artist Koey from
Natural Draw
created this neat look and finished it up with some gold hair accessories to match the bride's
gua
.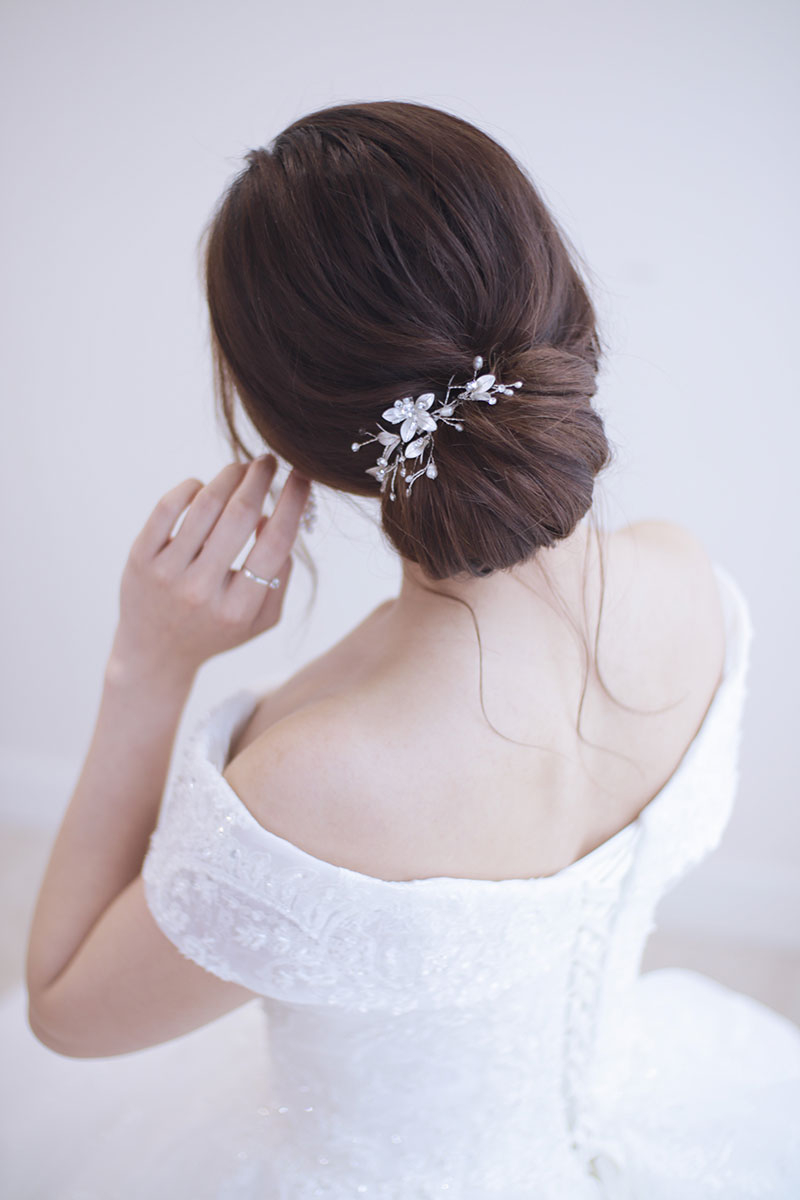 If you prefer a classic bridal hairstyle, try this low, loose chignon updo for a more timeless appeal. With a simple bouffant, it will be just as chic in 20 years.
Natural Draw
stylist Amy matched this do with the bride's
Je Promets Wedding
gown to achieve a polished look.
The Textured Braided Low Bun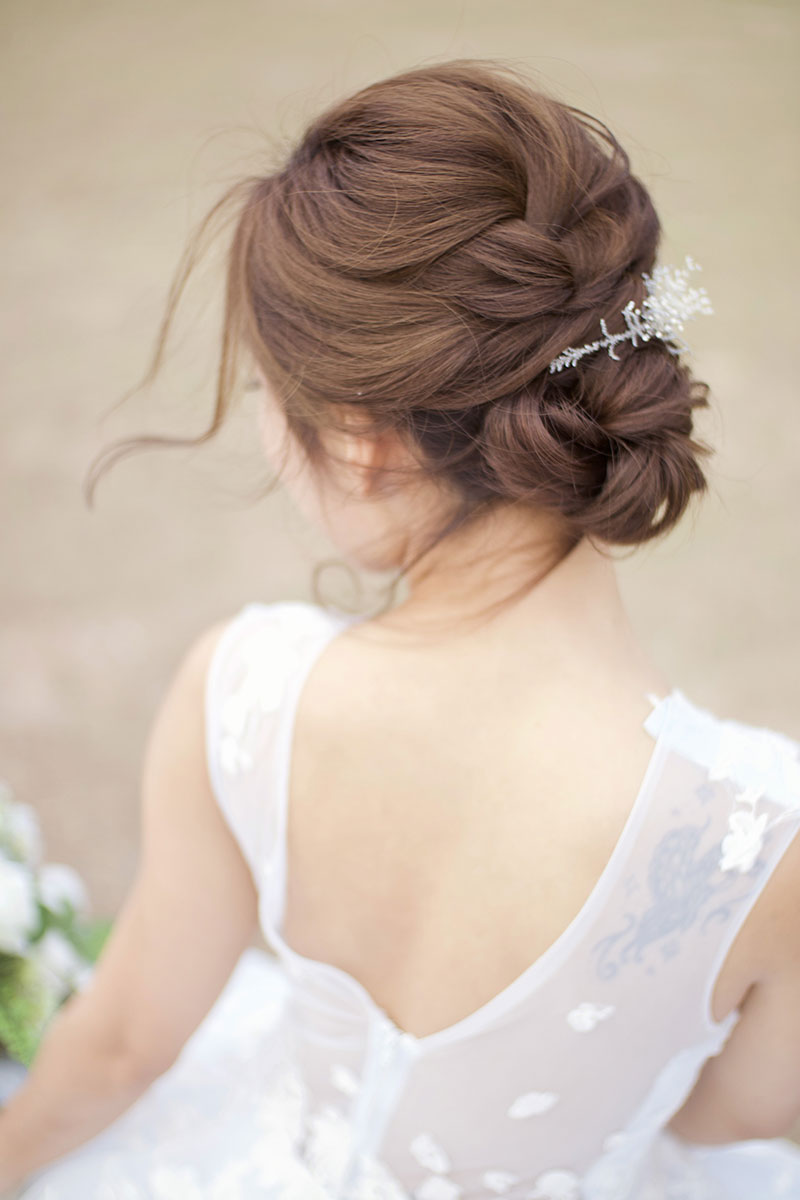 If you seek an updo with added details, this textured braided low bun by Christine at 
Natural Draw
is right up your alley. It has a soft, undone look that will perfectly complement a feminine bridal ensemble.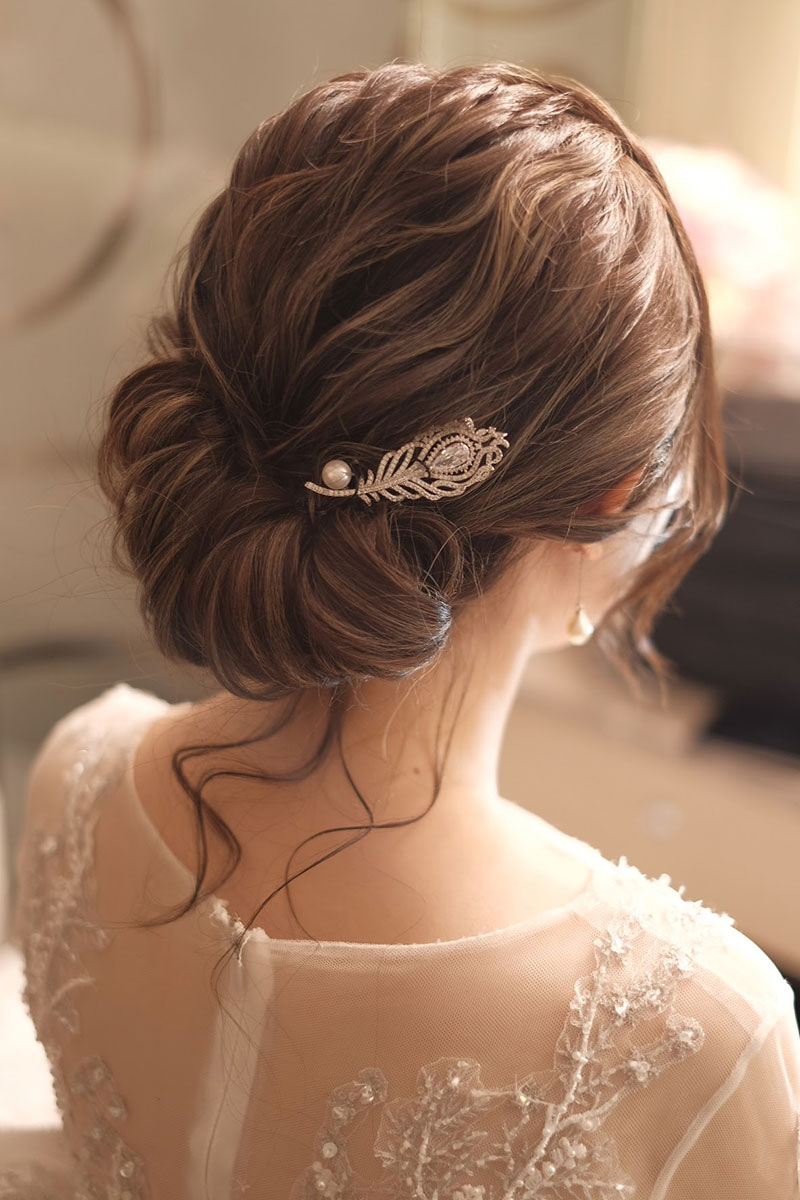 If the classic chignon is a little too neat for your liking, then consider this low textured chignon instead. The loose tendrils at the sides enhance the natural-looking messiness of the updo. Natural Draw 's favourite final touch to this look would be the delicate hair piece–a stunning decoration that completes the style!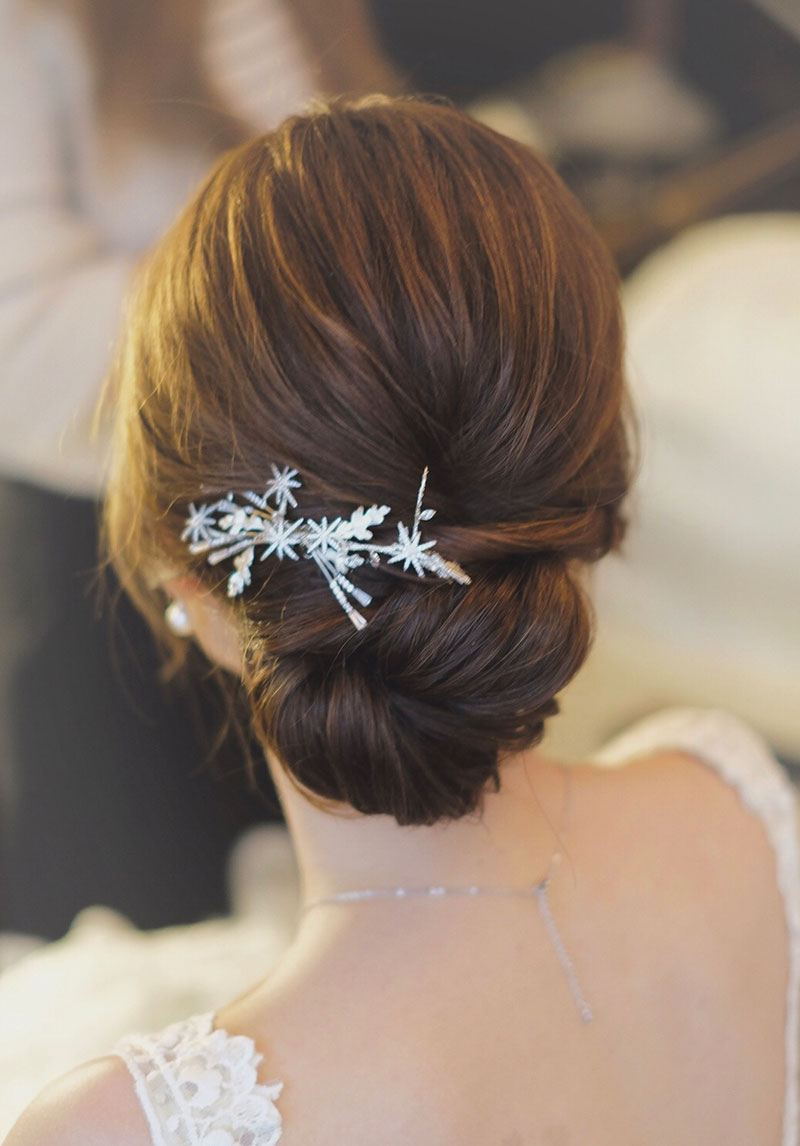 This hairstyle is made of wavy hair that's twisted and wrapped into a loose, low bun.  Natural Draw added a soft bouffant to balance the overall look and included a dainty hair piece as well.Surely, this low bun will get you from ceremony to reception looking effortlessly elegant.
Audrey Hepburn Inspired High Bun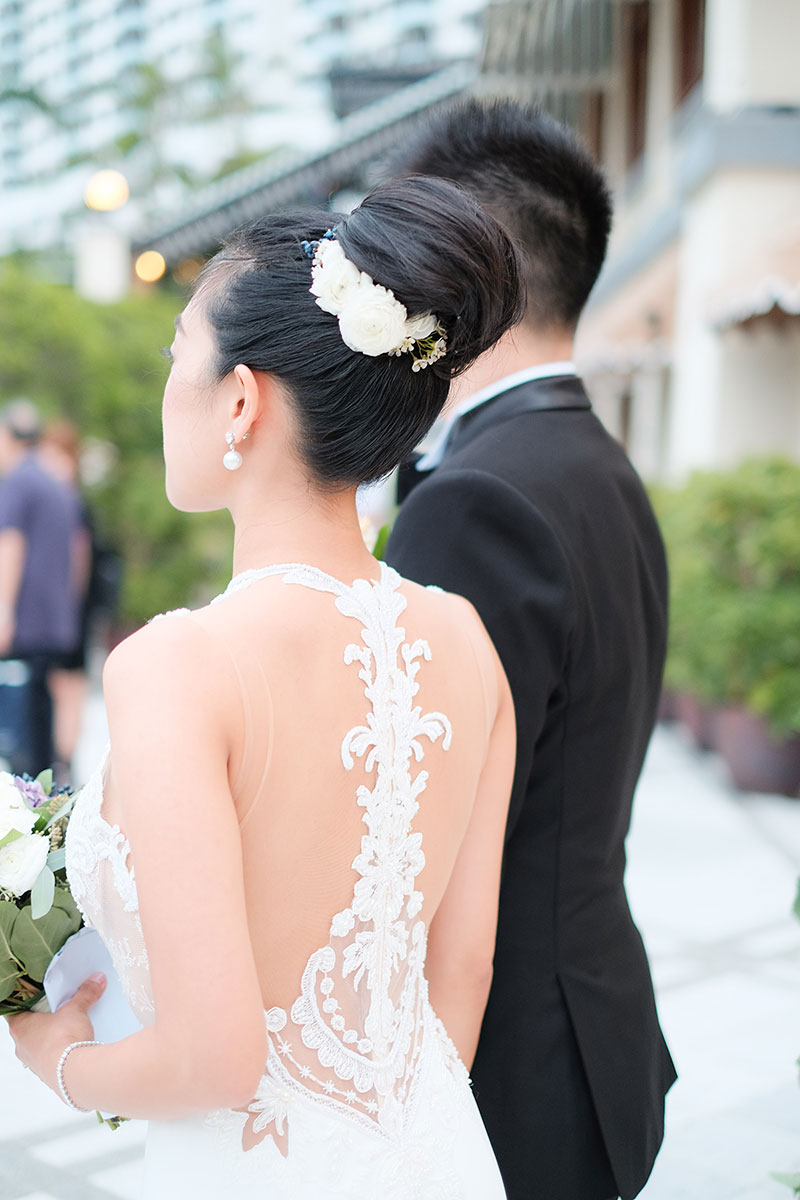 This Audrey Hepburn inspired bun by She Makeup Studio is for brides who are not used to having extra volume and prefer something more sleek. It has a very clean finish and that sophisticated vibe. Channel that inner Audrey Hepburn in you this this chic updo!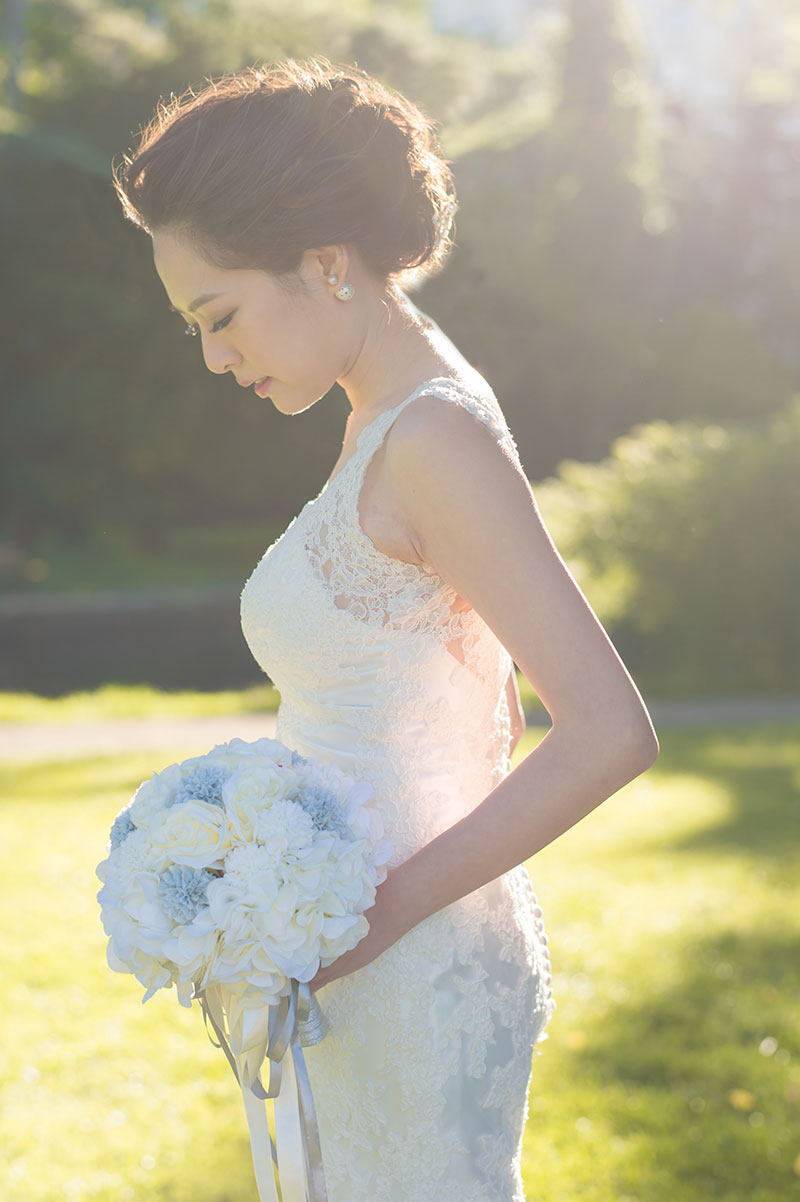 Try an edgy, gelled updo for a change, suggests She Makeup Studio. Such a look makes a big impact. Its wispy details, result in the perfect balance of messy and neat, with a structured yet feathery soft look, perfect for your wedding day.
The Effortless Wrapped Bun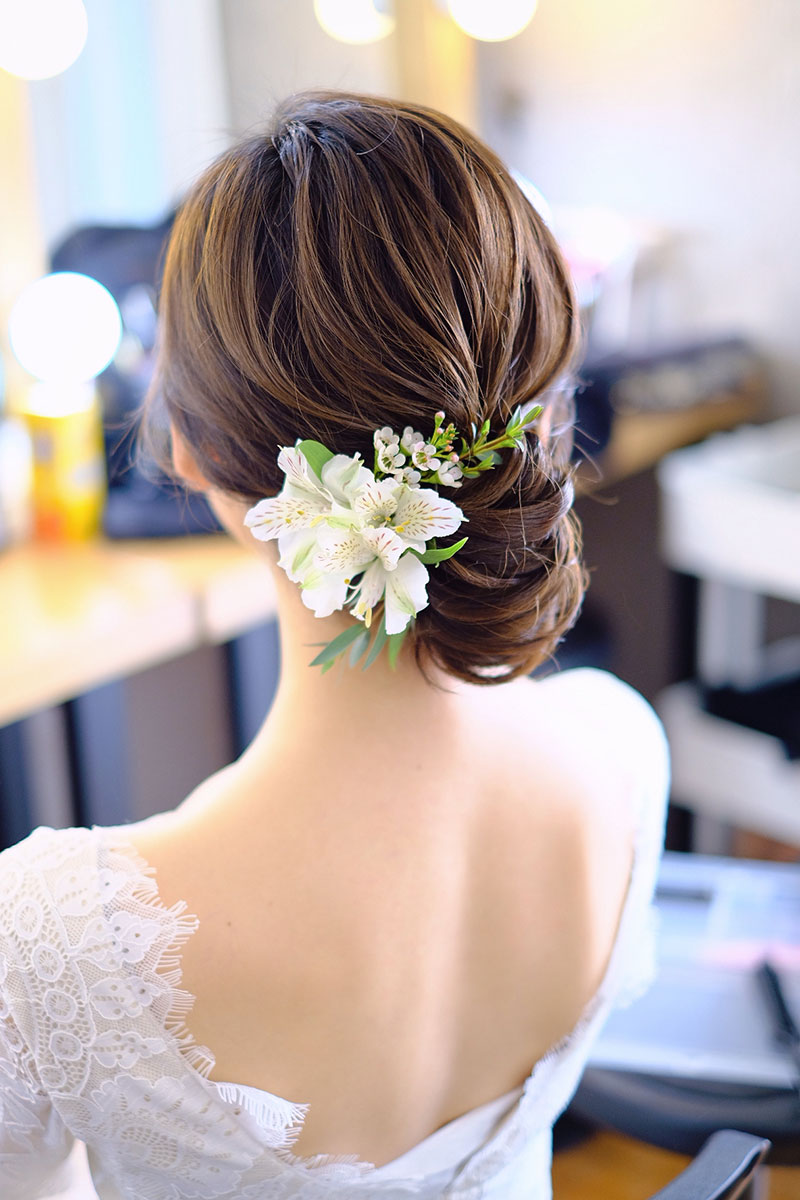 Tousled, yet still defining grace, this loosely wrapped bun by Yumi's makeup & hair is truly a charmer. Topped off with delicate white flowers, what more can a bride-to-be ask for? This updo will go well with a garden-themed wedding, or even a classic hotel wedding–it wins either way!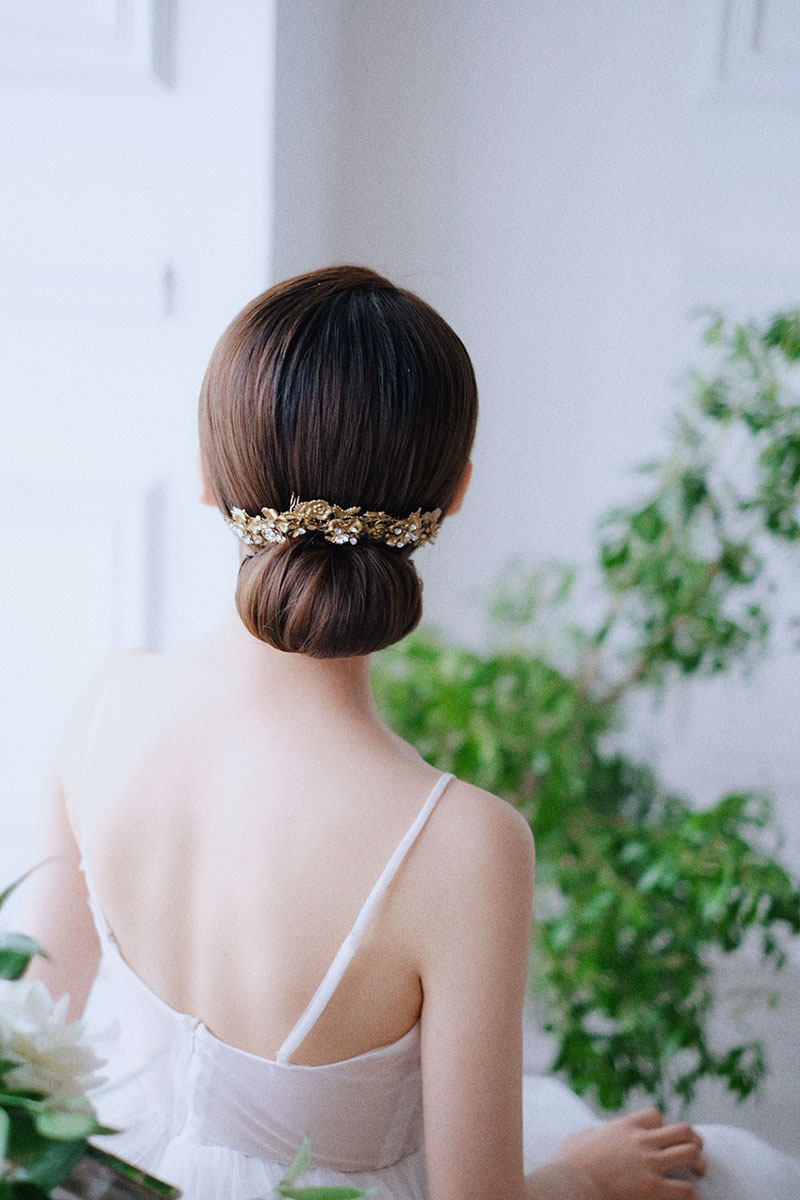 We've been talking about chignons and so we can't miss out on this sleek version by Yumi's makeup & hair. We can definitely see this paired with a minimalist look, a modern dress, or even a classic gown. Chignons like this have been around for years–and for obvious reasons why!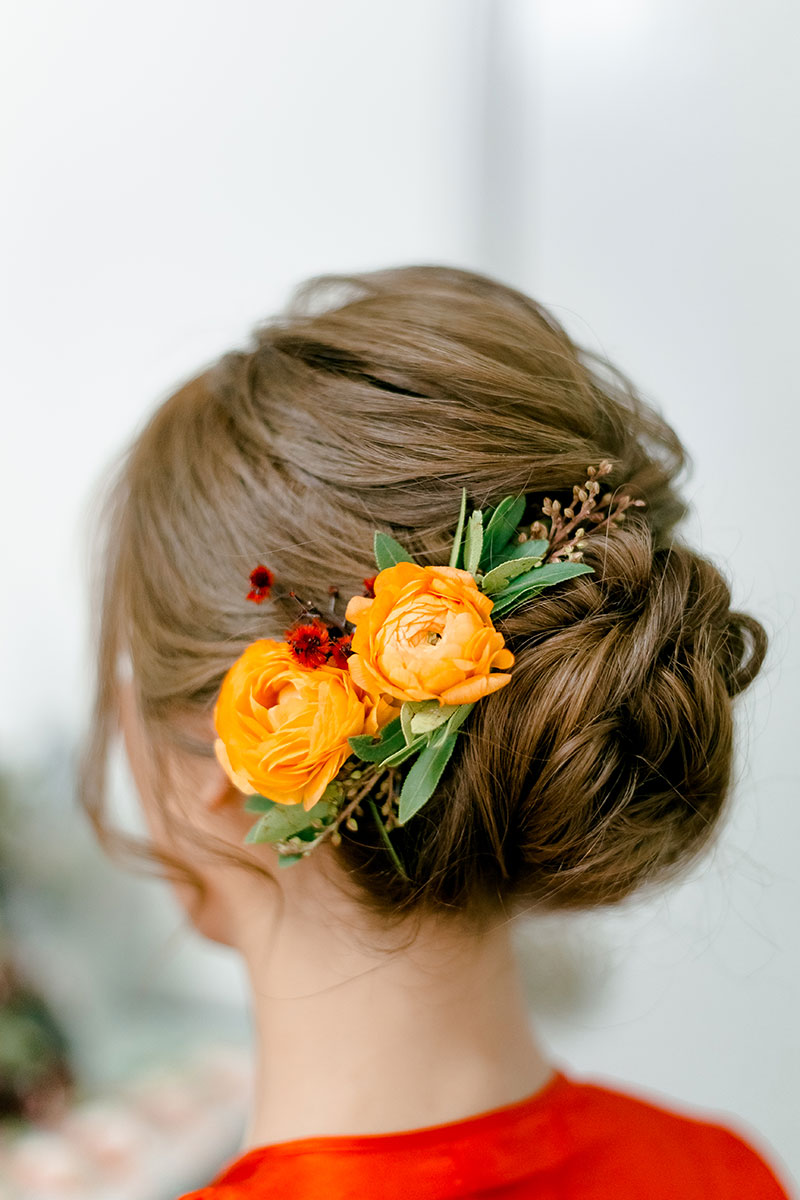 Vivid flowers can turn a simple rolled bun into a more playful updo. A Little Something by Veronica created this fresh floral bun to match the bride's gua. This bright accent complements the colors of the traditional garment perfectly!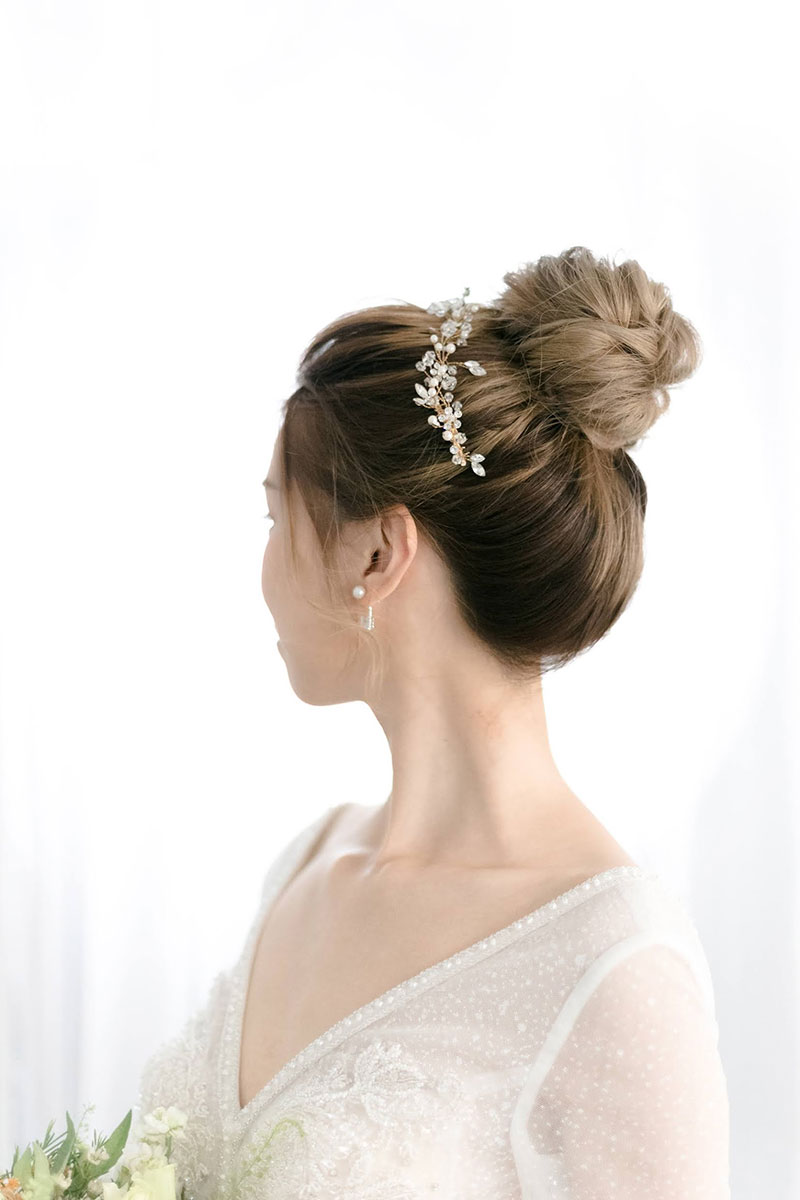 Did you know that a high updo can make you look slimmer? A Little Something by Veronica shares that this look frames the face. So if you want to achieve both elegance and a slimmer looking face, you know what to do.
The High Bun With Accent Braids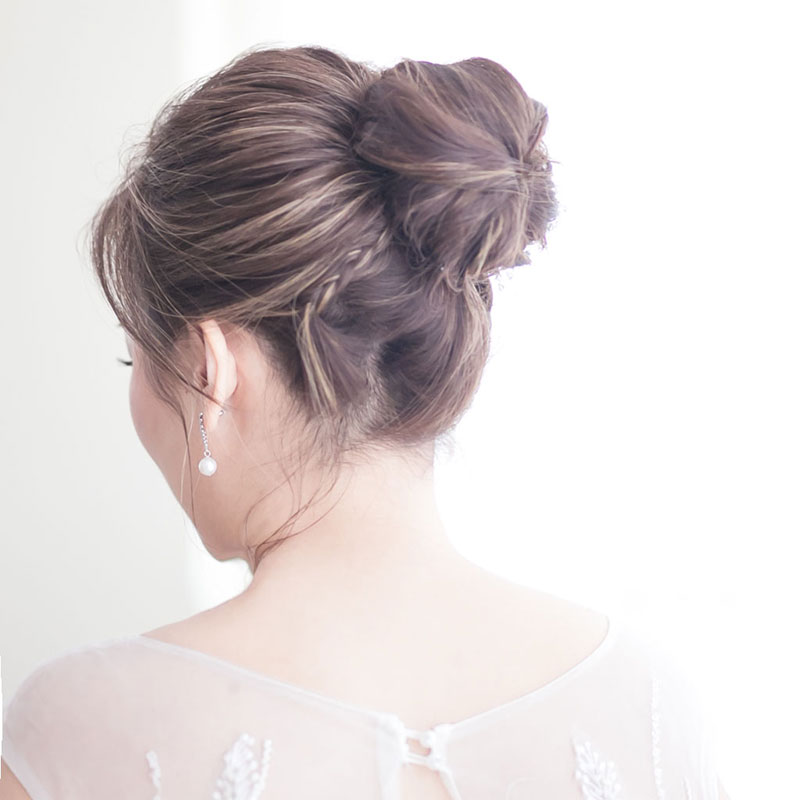 Here's a twist to the semi high updo: a little braid as an added highlight. Elegant, with a little bohemian touch Sarah's Bridal Styling says that adding special accents like this braid makes the bun an even more popular choice for weddings. Why should it not? It's definitely pretty.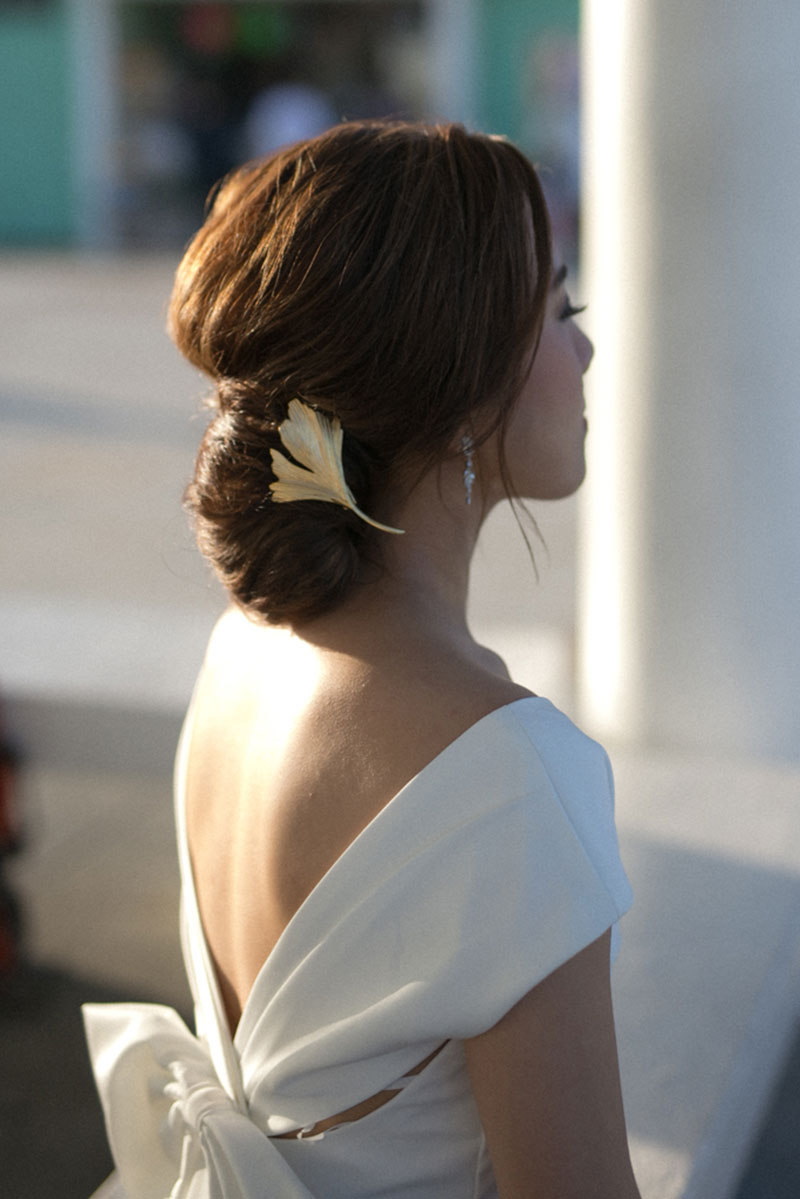 Finally, here's a low updo that is romantic and tender. Sarah's Bridal Styling created this look with a loosely tied french twist that sits right at the nape of the neck. Then, to add that a chic touch to the style, she attached a golden hair piece by the twist's edge. An updo like this will not go unnoticed.
An updo will always be a classic choice, and you can easily dress it up a little with an accent hair piece or some volume and tousled details. So for all you brides who want to achieve an elegant bridal look, choose an updo for you wedding day!