After taking gorgeous pre-wedding photos, what do you do with them? Most couples use them as display in their new homes. But did you ever think of using them as personalized decorations at your wedding? They're really cute additions to your wedding! How about using old photos of family and friends as decorations, too? You'll have everyone feeling all sentimental when they see that you pulled up photos and memories from the past and used them at your wedding. Here are nine creative ways you can use photos at your wedding. Surely, your guests will love looking at your photos and will appreciate the extra effort.
(1) As Guest Place Cards
Make those place cards a little more interesting by using fun photos of you and your husband-to-be!
[Photo: J'ai Dit Oui]
(2) As Table Name or Number Decorations

The same goes for table names and numbers, you can use your photos for these as well.
[Photo: Etsy via Cjsworks]
We love how this couple added some trivia to their table photo decoration. This will take a lot of effort, but your guests will love it!
[Photo: Katch Studios]
(3) For Your Seat Plan
Creating a seat plan made with guests' photos will definitely result in giggles here and there. It will also be an enjoyable display for everyone.
[Photo: Maui Creative Photography, Elise Events]
(4) As Decoration All Around The Venue
Like we said, you can make use of your pre-wedding photos everywhere! Don't be shy, show everyone all your gorgeous shots.
[From: This Bride Wore an Elegant Ivory Qipao and Modern Gown to Her Wedding / Photo: Jada Poon Photography]
[From: This Wedding at Intercontinental Hong Kong Has The Sweetest Moments / Photo: History Studio]
[From: This Traditional Hong Kong Wedding is Extra Charming and Heartwarming / Photo: Ming Yung Photo]
(5) As a Photo Wall
Why not deck the photo wall with your photos? Every snap will include you in the background–isn't that sweet!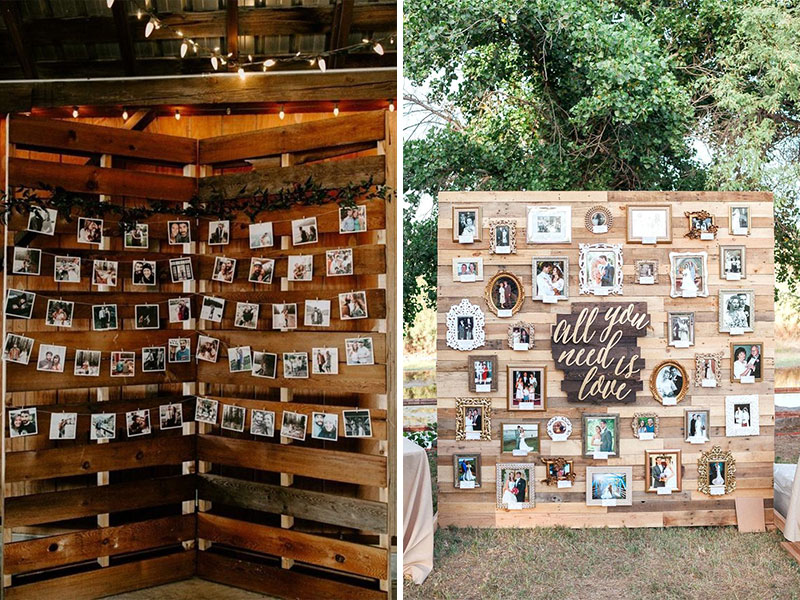 [Photos: Dawn Charles, Moncherie Bridals]
(6) As a How-We-Met or Through-The-Years Story Display
Photos are always a great way to share your love story with everyone. So do consider a photo display that shows how you and your husband-to-be met, or your favorite memories throughout the years. This is, by far, one of our most favorite ways couples use photos in their weddings.
[Photo: Kaoverii Silva]
(7) As your Invitation
Do you feel like something is missing on your invitation or it looks too empty? Yes! Why not put your photos in? It will certainly look unique. And it is good to introduce your partner to the guests if not all of them has known him or her yet.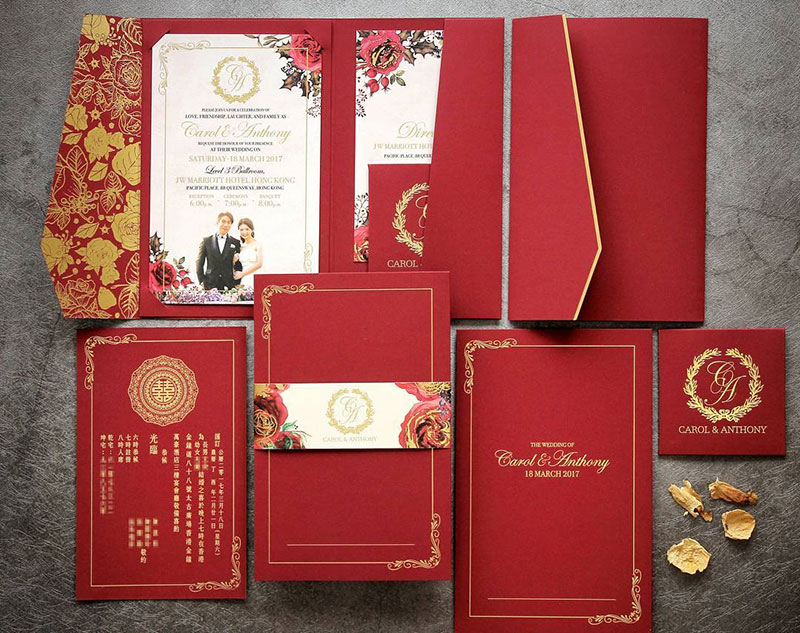 [From: 16 Red Invitation Ideas For Your Chinese Wedding / Invitation: @ppweddingdesign]
(8) As a Bouquet Accessory
Why not have a photo of your parents, or even your fiancé as an added detail in your bouquet? Or, if a family member or friend is no longer here but remains close to your heart, one special way to keep that person's memory with you on your wedding day is by using his or her photo as a bouquet decoration.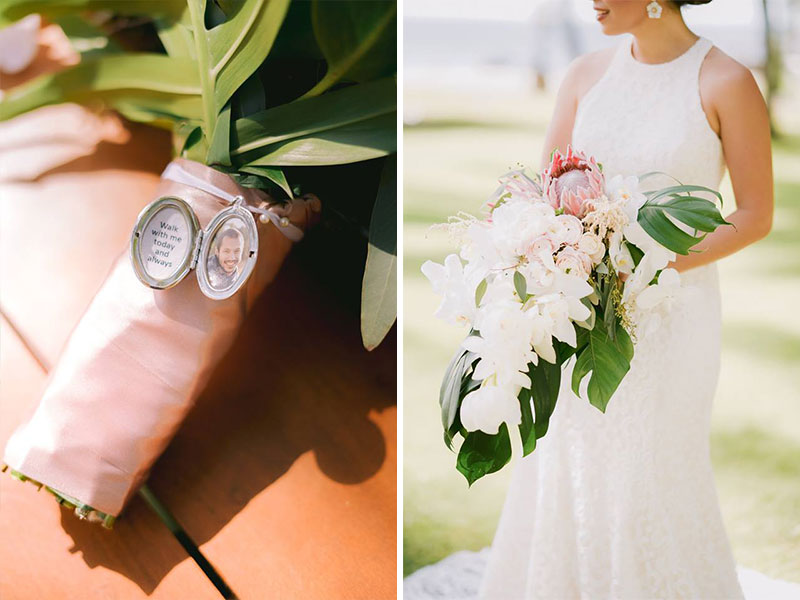 [Photo: Jaja Samaniego]
(9) As a Boutonnière Accessory
Likewise, your groom can also add a photo of you, or any other person close at heart to his boutonnière.
[Photos: Webook, Shop Journey Lockets]