You might be surprised by today's unusual post. I can't say for sure, but I might have just seen Deadpool, and I might have always had a secret Ryan Reynolds obsession. But lately, it's hard for anyone to miss this guy's face especially with his back-to-back interviews and red carpet appearances. It also doesn't take a lot for one to notice his stream of perfectly polished looks which I thought were totally groom-worthy. Each of these looks could fit different types of weddings, so this would be a great place to start for all the clueless grooms-to-be out there. Let's get drooling started!
1. Sophisticated City Wedding
This slim fit 3-piece number in the handsomest shade of blue is the epitome of cool. Paired with sleek black oxfords, a maroon tie, and a patterned pocket square, this flawless look would be ideal for a swanky metropolitan wedding.
[Photos from: Elle and Marie Claire / 2016 amfAR New York Gala]
2. Casual Backyard Wedding
This richer shade of khaki is a fresh spin on the usual summer wedding go-to color. The navy tie keeps the look young and cool, perfect for a homey laid-back celebration.
[Photo from: GQ / Attire: Salvatore Ferragamo suit, Albert Hammond Jr. tie, Christian Louboutin shoes / Deadpool fan screening, Soho Hotel]
3. Luxe Black Tie Wedding
For the man who's not afraid to stand out, you can't get any bolder than a midnight blue velvet tux for your big day. This luxurious look would be fitting for a black tie soiree at an exclusive 5-star venue.
[Photos from: Popsugar and Elle Decor / MET Gala 2014]
4. Afternoon City Hall Wedding
This fuss-free classic blue suit paired with a patterned skinny tie is all you need for an intimate civil celebration with only your nearest and dearest in tow.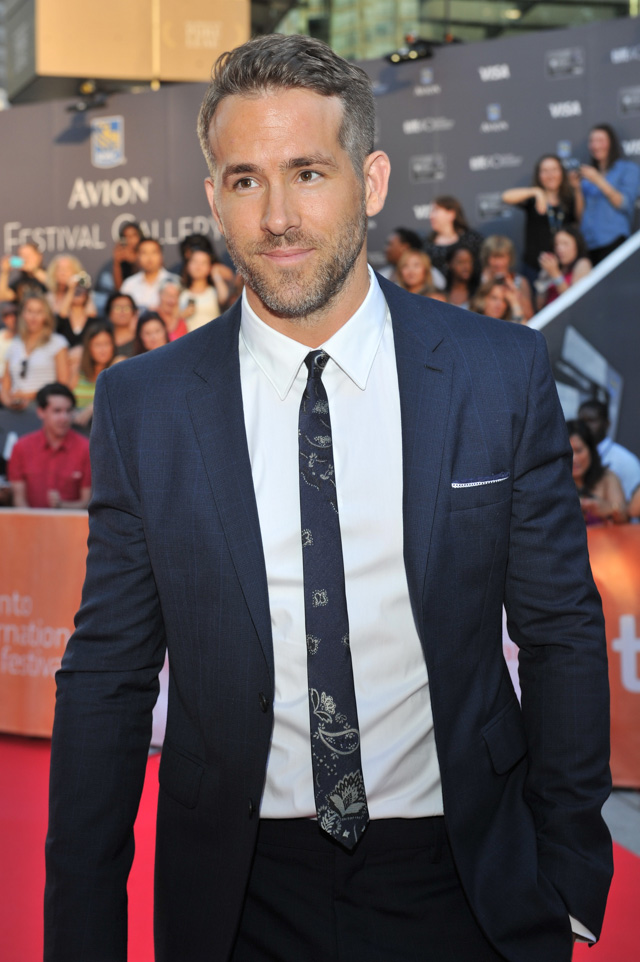 [Photos from: Popsugar and Celebs Gallery / Attire: Burberry Tailoring / Toronto International Film Festival 2015]
5. Modern Courtyard Wedding
Sharp and unique, a light grey suit worn with a burgundy tie and brown lace ups would be a perfect combination for a modern outdoor ceremony.
[Photos from: CQ Mode and Zimbio / Attire: Bruno Cucinelli / The Tonight Show]
6. Vintage-Inspired Wine Cellar Wedding
Maybe it's just the beard, but I can imagine this three-piece look on a groom that's a true gentleman. His bride would be wearing a vintage-inspired ensemble, and they would dine in a moody intimate setting with no shortage of good wine.
[Photos from: The Fashionisto / Attire: Dolce & Gabbana / 2014 A Funny Thing Happened On The Way To Cure Parkinson's]
7. Fit-for-Royalty White Tie Wedding
Reserved only for the ultimate formal celebrations, this white tie ensemble deserves to be seen in a palatial ballroom fit for royalty.
[Photo from: Sugarscape / Attire: Gucci / Cannes 2014]
8. Fun-filled Quirky Wedding
Lastly, for grooms that want to show a bit more personality, what about pairing a printed shirt, modern tie, and velvet lace up shoes with a classic suit? You get to inject a bit more fun into your look and fit the quirky theme of the day but still keep it subtle and classy.
[Photos from: Elle and Popsugar / Attire: Burberry / Deadpool Fan Event]