With the limited number of guests allowed at weddings, intimate restaurant weddings have taken the main stage in the wedding industry. Aside from providing a cozy feeling and superb menu options for the celebration, many restaurants already come with beautiful interiors. This set-up might not be what you initially hand in mind, but you can save the grand ballroom for a later time and make the most of the situation. If you're going for an intimate restaurant wedding, we want to help you make it even more special and meaningful. We thought about the things you can do to turn your wedding day into an even more personal celebration and came up with this list of must-haves just for you! Read on to find out what they are.
(1) Personalized Ceremony
The apex of any wedding is the ceremony, specifically when the bride and groom pledge to love each other for ever. With that said, wouldn't it be more special if you could make this specific moment more meaningful? How, you might ask? Here's a suggestion: personalize your wedding ceremony by including support for your favorite cause. This way, you can celebrate your love and help others at the same time! You can read this article to learn about Civil Celebrant Amy Pan's services which include this option.
[Photo: Lauhaus.co]
(2) Creative Table Names
What do you and your fiancé love? Books, movies, traveling? Make every part of your wedding a way for guests to learn about you and your partner! For instance, reference table names to themes that you love as a couple, so even when guests need to find their seats, they're learning about you. Adding details that reflect your shared interests will just make your wedding memorable for everyone. Now, if you need ideas, get inspired by these couples' creative table names.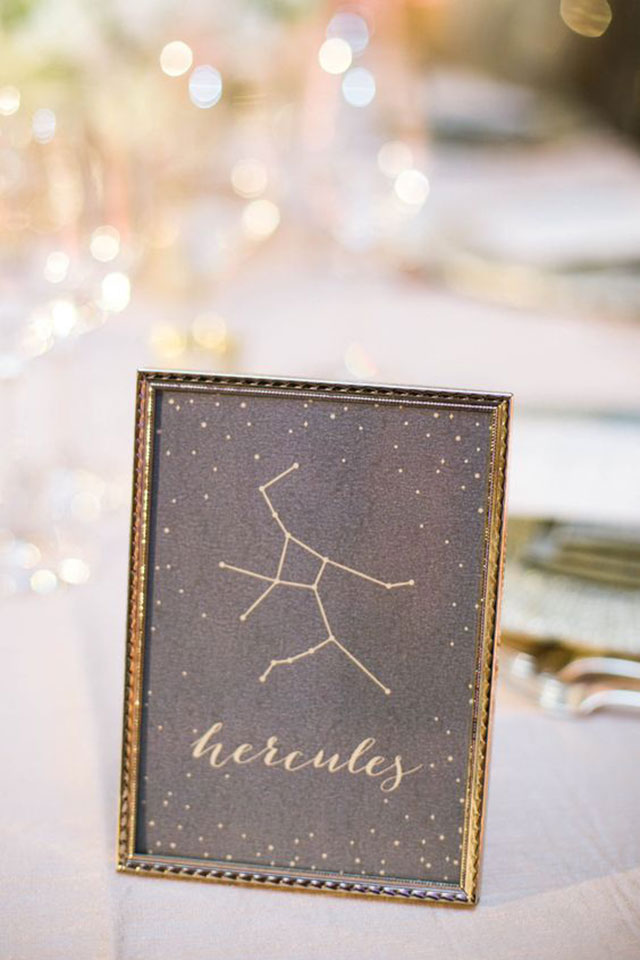 [Photo: Jasmine Lee Photography from Style Me Pretty]
(3) Fun Table Escort Cards
If you don't wish to use creative table names, how about fun escort cards instead? Fun is always a good ingredient in any wedding. Even with just a handful of attendees, you can put in fun elements that will make your small-scale wedding extra enjoyable. See just how much joy you can add to your wedding day with these 10 fun escort card ideas.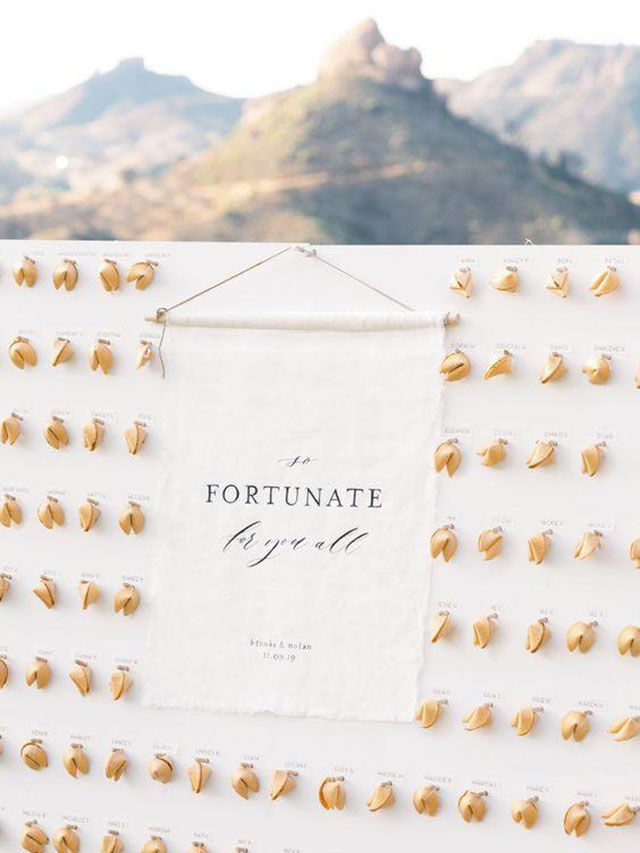 [From: Style Me Pretty / Photo: Anya Kernes Photography]
(4) Unique Food Bar Ideas
Food is a wedding element that brings everyone together. We can't deny the fact that the wedding banquet is the time guests get the chance to relax and immerse themselves in the celebration. Even if you're having a small wedding, you can step up your game by stationing unique food bars at your venue. Work with the restaurant you're planning to hold your intimate banquet in and come up with food bars guests can keep coming back to. Here's a list of food bar ideas to get you started.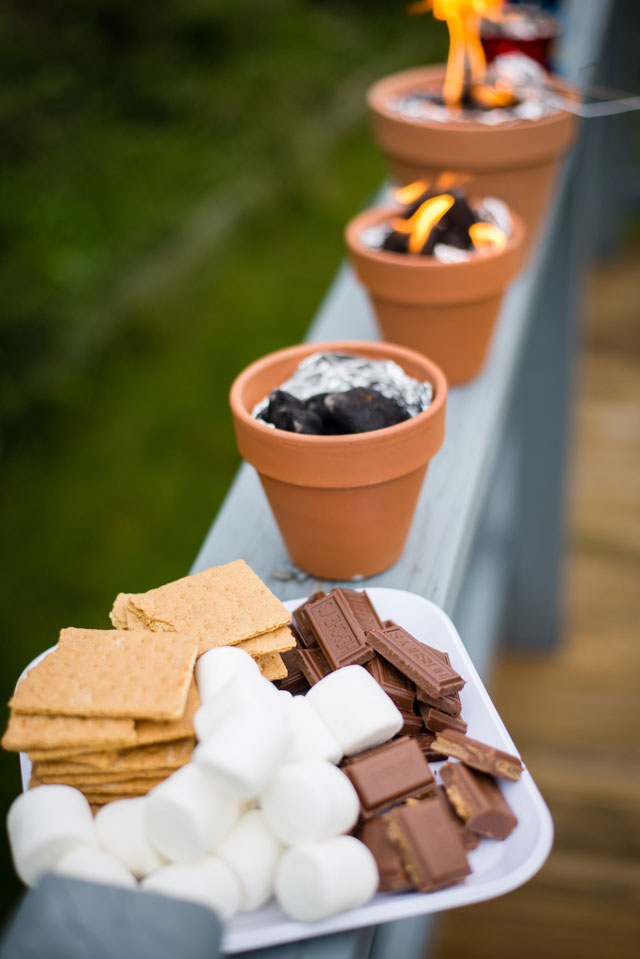 [Photo: Elizabeth McKnight]
(5) A Light and Enjoyable Wedding Program
Put together a light and enjoyable wedding program that will encourage guests to engage and participate. You don't need anything fancy–drop the games and performance numbers. You can just have a few speeches or toasts followed by you and your partner spending time with each table. Keep the flow flexible and simple, too. With a relaxed, free-flowing program, your restaurant banquet will feel like a family gathering–natural, spontaneous, and fun!
[From: A Cozy Rooftop Wedding in Hong Kong / Photos: Patrick Photography]
(6) Thoughtful Details
Since intimate restaurant weddings are smaller and less complicated to arrange, you can divert more of your time to including well-though-out details, such as giving away personalized wedding favors and incorporating special stationery. You can level up on other wedding details and even add handmade items from local Hong Kong artists and vendors like these ones. Guests do take notice when couples go the extra mile for even the most simple wedding elements.
[Photo: Little Days]
(7) Special Wedding Favors Packaging
Saying "thank you" sincerely is enough, but you can take it a notch further by adding chic packaging to your wedding favors. Check out these 17 personalized wedding favors and see if you fancy any one of them to your wedding. On top of the special packaging, you can also extend the the gesture by handing your wedding favors out personally, one by one, at the end of the wedding. For large weddings, favors are usually already placed at the tables. Take this chance to give the wedding favors yourselves.
(8) Virtual Updates

Lastly, just because many of the guests on your initial invitation list can't make it to your wedding in person, that doesn't mean they can't be a part of your celebration. Thanks to the digital age, you can connect with all your loved ones all over the world. Let them tune in live and give them virtual updates, from the wedding planning process up until the wedding day. There are many ways you can make guests feel more like a part of your wedding. Use all online resources all around you!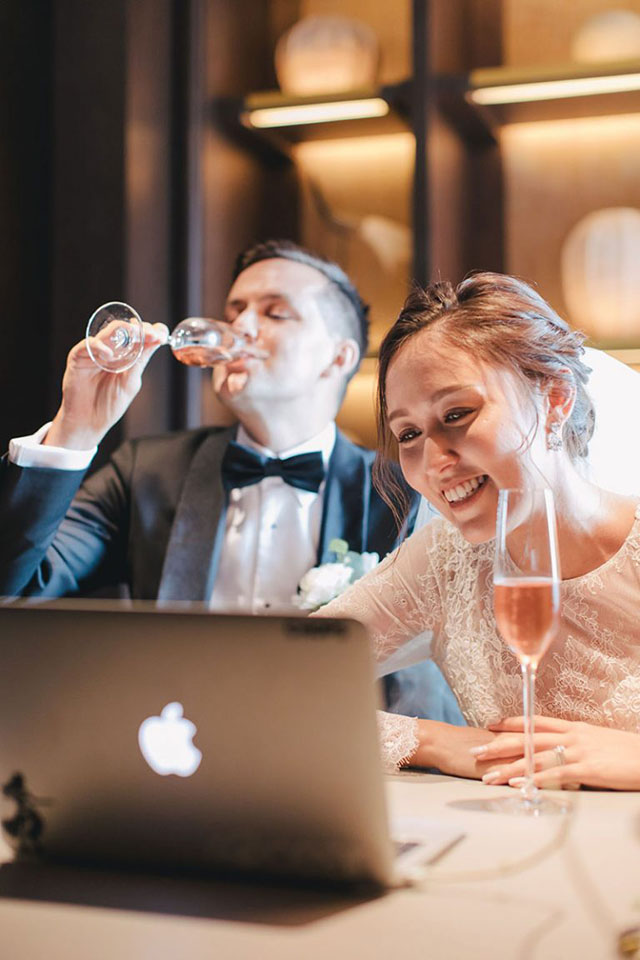 [From: After Cancelling Twice, This Couple Finally Pushed Through with a Wedding with Only 8 Guests / Photo: Jeremy Wong]
With these tips, your intimate restaurant wedding can turn into a magical celebration for all your guests, whether they're with you at the event, or rooting for you online!