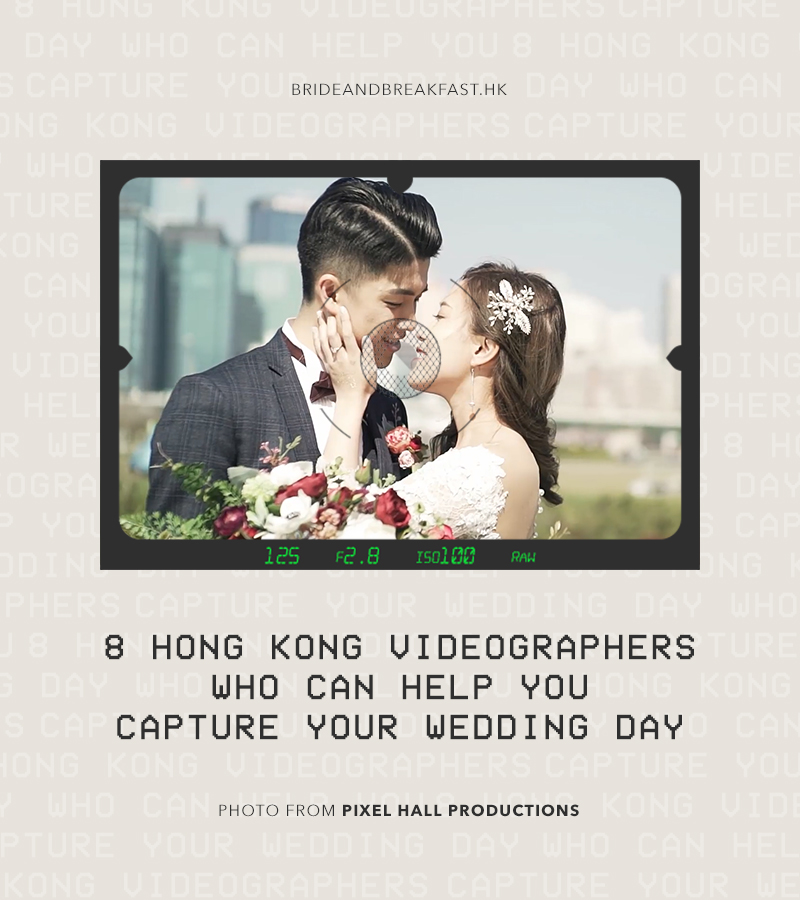 Of course you want to document your wedding day–it's only the most important moment in your life! You want to be able to look back and relive everything that transpired on your special day. You'll need a talented team behind the lens to document every little detail and create a wedding day video that narrates your love story. So today, we've rounded up a selection of Hong Kong wedding videographers and cinematographers that you can turn to for this important task. Browse on and check out how these teams can help you!
(1) Pixel Hall Productions
Pixel Hall Productions is a team of Hong Kong wedding cinematographers led by Ethan Li. Pixel Hall is known for their exquisite cinematography and moving story-telling style. Through wedding cinematography, they promise to provide couples with the best service by striving to have a deep understanding of the couple's love journey. Their vision is simple: to capture each couple's story in the most truthful and beautiful way possible and to inspire others through their work. This vision has been cherished not only by clients, but also by the team of film makers because it gives purpose in all the work they put in.
Starting rate for wedding day videography: HK$ 9,800
(2) AP Studio
AP Studio is passionate about their profession, and knows precisely what it takes to capture sweet interactive moments between couples, and among their family and friends. Weddings do not differ too much in terms of form, style, venue, and proceedings, but the interaction between each couple is exclusive and that's what they focus on. AP Studio also strives to strike a balance between creativity and documentation by incorporating movie filming techniques. This way, the videos can come across as real, touching, and intriguing to watch. Scenes and shots in the videos produced by AP Studio are poetically romantic and exude a sense of sweetness that overflows from the couples naturally. Audiences will find themselves watching a romantic documentary, while the couple will see all their endearing moments immortalized in a motion picture.
Starting rate for wedding day videography: HK$ 18,800
(3) Part of You
Part of You is a videography brand that offers a creative approach to documenting weddings with artful cinematic flare in combination with the team members' unique skills behind the lens. Their style can be described as "simple yet elegant." They also use the latest in cinematic approach and make use of actual story-boarding techniques in their editing to make couples' wedding day films unique and captivating.
Starting rate for wedding day videography: HK$14,500
(4) Woody Storytelling
United by passion, Woody Storytelling consists of a band of storytellers who embrace the magnetic force of an artfully crafted story. Capturing a meaningful story is never easy, but the passion for great storytelling keeps them moving forward. Two cinematographers, Woody and Matt, lead the team behind Woody Storytelling with the promise to deliver you only the things that truly inspire and excite us all.
Starting rate for wedding day videography: HK$ 15,800
(5) BOZZ Wedding
Bosco Shum is the founder of BOZZ wedding and a contemporary artist who lives and works in Hong Kong. Under his lens, he likes capturing people and their natural emotions.
"Wedding is all about the people,
The parents who going to miss you;
The friends grew up with you;
The tear and the laugh"
He believes through interaction, a million unexpected emotions and feelings among people unfold–and this is what he strives to capture in every wedding entrusted to him. He says, "I hope my work rewinds the clock and brings the couples back to their sweetest day together. Just like in the movie About Time".
Starting rate for wedding day videography: HK$ 18,000
(6) Johnny Productions
Johnny has  produced videos for more than 2,000 weddings to date, and has had so much experience that it's led him to approach his work with high expectations. He aims for his work to allow the memories of an event to resonate even years after. He also strives to strike the perfect balance between his clients' preferences and his creativity, the result of which is an artistic narration of a couple's special day. And though the wedding videography landscape has been evolving, Johnny claims that  if you have any unique, feasible ideas, you should take advantage of it. He certainly has.
Starting rate for wedding day videography: HK$ 12,000
(7) OR iMAGE
Be true, be yourself–this is the most fundamental and important philosophy OR iMAGE strives for in every wedding film that they make. Weddings are memorable, not because it is a once-in-a-lifetime event for couples. Rather, it's a special day overflowing with all kinds of love.  Obviously, the couple tying the knot are the stars of their wedding day. However, OR iMAGE also pays tribute to the couples' friends and family who are there to support them. OR iMAGE aims to capture the most genuine reactions and flooding emotions on the day–every small detail matters and these moments are what make each wedding unique and personal. The responsibility of OR iMAGE is to capture and create the most personal and unique love story that lasts a whole life time.
Starting rate for wedding day videography: HK$ 7,800
(8) HW Motion Story
HW Motion Story believes a good wedding video should be timeless. Whether it is watched on the wedding day, ten years later, or watched with a child and grandchild, it should always truthfully reflected the details, the moments, and all emotions of the wedding. Through their videography service, HW Motion Story captures moments that are close to the heart and tell heartfelt stories of the couple, their family, and friends.
Starting rate for wedding day videography: HK$ 13,800